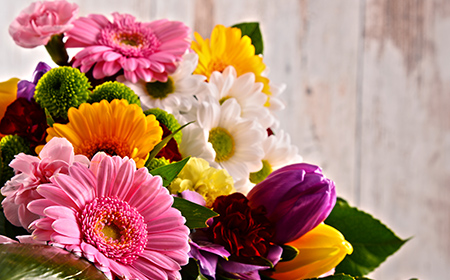 Celebrating a special event, remembering a loved one, or just looking to brighten a table setting? Our floral experts have the solution. From custom creations to bouquets to go, the pros at the Brookshire Brothers Floral Department create arrangements that will enhance or commemorate any occasion, with quality and value in every arrangement we offer. Call ahead or select from our pre-made arrangements– getting you what you need when you need it is our pleasure. (Floral departments are not available in all locations).
Fresh-cut flowers or a plant dressed for giving are available everyday at Brookshire Brothers. Make someone's day with a variety of grab-and-go bouquets in every price range, and see what we have to offer in our seasonal bouquets!
Learn More »
Well-arranged flowers can make the promise of a lifetime even more memorable. There's plenty to take care of for your wedding day, so our experienced florists are ready to assist you in making your wedding bouquet and centerpieces worry-free. Learn More »
Condolences shared with flowers is a thoughtful expression to show support in a difficult time. The Brookshire Brothers floral team creates dignified, respectful, and tasteful presentations appropriate for the services or the home. For your convenience, Brookshire Brothers provides floral delivery to funeral homes within the city. Learn More »
Homecoming? Prom? We at the Brookshire Brothers Floral Department are here for your high school celebrations. We love to create clever high school mums, classic boutonnieres, stunning corsages, and nosegays for that night to remember. Place your order early for the best selection of flowers, trinkets, ribbon, and – of course – bling! Learn More »
Celebrate the new arrival! Flowers, door wreaths, or baskets are the perfect way to welcome a new baby to the family. Share the joy with Brookshire Brothers floral! Learn More »
Gifts and Gift Baskets
We have a broad selection of Gift Baskets for any occasion – birthdays, graduations, anniversaries, thank yous, final exams – even car washes! You're only limited by your imagination. Our selection of gifts and home decor may vary by location, but that doesn't mean you won't find your ideal gift with Brookshire Brothers.