Posted on Thursday, June 4, 2020
By: Julie Wood, Co-Owner of Wood Blueberry Farm
So we started a Blueberry Farm... What were we thinking?
After a trip to the California wine country in 2005, we decided we wanted to plant a vineyard. We had the available land, had the soil tested, and realized it was not suitable so much for wine grapes as it would be for blueberries. After some research, talking to other blueberry farmers, and the help of family and friends we started planting just one year later. We both had full-time careers away from the farm, Craig a Veterinarian, and Julie the Director of Food Service at a local school district. It was our plan that this venture would be our part-time retirement hobby to keep us active and outdoors. Luckily, we had 3 teenage boys that were able to help us run the farm during harvest in the summer. Without their help, we could not have managed it.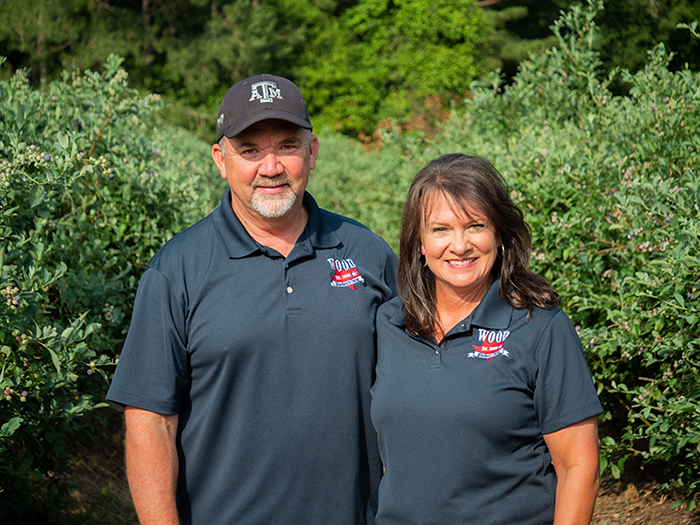 Craig and Julie Wood of Wood Blueberry Farm in Burke, TX.
We were so excited when we harvested the first fruit in 2007, it was enough to make a really nice cobbler. Now our field totals nearly 8,000 plants and will produce 35,000 pounds of fruit in a good year.
Find fresh blueberries from Wood Blueberry Farm and more local products at your nearest Brookshire Brothers!
The farmer's life is interesting and should be highly respected by those that enjoy the harvest. The weather all year long determines the quality and quantity of fruit produced. We spend many hours watching the weather forecasts and predicting how it will affect our crop.
Harvest time is highly anticipated. We cannot wait for the first buds to pop and flower! Once we get into full-blown harvest it is long hard exhausting days of work - daylight till dark. This is the time of year we say, "What were we thinking?". But the harvest is short term and makes us appreciate the vacation we usually plan at the end of each season.
And by the way, we did plant that small vineyard that grows really pretty grapes; we just make really bad wine - So thankfully our blueberry crop is plentiful and delicious!
Wood Blueberry Farm is proud to be Aggie owned & operated and to be a hometown partner of Brookshire Brothers.
Julie Wood '85, is now retired from Hudson ISD and manages the farm full time.
Dr. Craig Wood '85, is still a full-time Veterinarian at Lone Star Veterinary Clinic in Lufkin.
Their three boys all graduated from Texas A&M, '13, '15, '15, and now work in the Houston area.