Posted on Monday, May 18, 2020
Nothing says summertime quite like freshly picked blueberries! Julie Wood, of Wood Blueberry Farm in Burke Texas, has provided us two great recipes to enjoy the tiny fruit's bursting flavor.

Blueberry Cheesecake Cupcakes
Ingredients:
Slice & bake sugar cookie dough

8 ounces cream cheese, room temperature

½ teaspoon vanilla

1 cup of sugar

3 tablespoons flour

2 eggs

1 cup blueberries

½ cup sour cream
Instructions:
Pre-heat oven to 325 degrees and line 12 muffin cups with foil liners.

Portion sugar cookie dough to a small size and bake till just slightly browned on the edges but still soft, about 8-10 minutes. Remove from oven and while warm press one cookie into the bottom of the foil-lined muffin cups.

Beat together cream cheese and sugar on medium speed in large bowl until smooth. Add eggs, beating just until blended. Beat in sour cream and vanilla. On low speed, beat in flour. Stir in blueberries.

Spoon batter into muffin cups, dividing equally.

Bake for 35-40 minutes, until cakes are set.

Cool cakes in pan on a rack for 20 minutes.

Remove cakes to a rack to cool then refrigerate.

Garnish the top with fresh blueberries, strawberries and a sprig of fresh mint before serving.
Pick up farm-fresh blueberries today at your local Brookshire Brothers!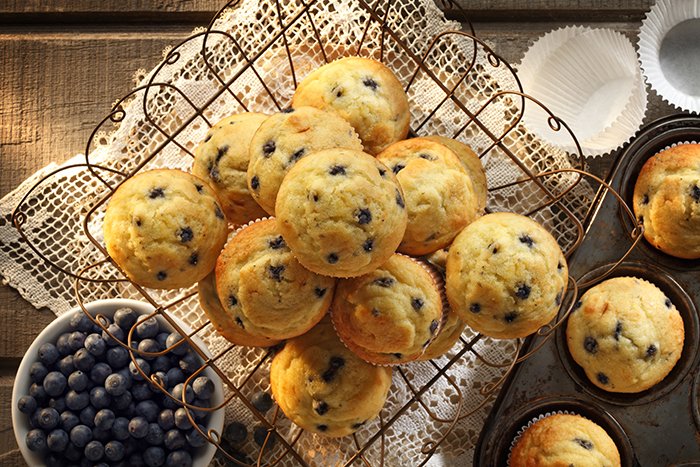 Blueberry Buttermilk Muffins
Ingredients:
2 ½ cups flour

2 large eggs

1 cup of sugar

1 cup buttermilk

2 ½ teaspoons baking powder

¼ cup butter, melted

¼ teaspoon salt

1 ½ cups blueberries
Instructions:
1. Combine flour, sugar, baking powder & salt. Mix well. In a separate bowl, combine eggs, buttermilk & melted butter.
2. Stir wet ingredients into dry ingredients just until moistened. Fold in blueberries.
3. Fill 12 greased or paper-lined muffin cups ¾ full. Bake at 400 degrees for 20-24 minutes.