Tuesday June 2, 2015
2015 Texas Blueberry Festival
We are happy to once again sponsor the 26th annual Texas Blueberry Festival happening June 13, 2015! The most delicious festival in the Lone-Star State attracts thousands of blueberry-lovers to the downtown square of Nacogdoches, Texas. Guests of all ages will be entertained starting at 8AM and lasting through the day to 4PM. Live music, shows and activities can be expected, but here is a list of the tastiest attractions.

Blueberry Pie Shoppe
Join us at the corner of N. Mound & Main St. to purchase your fresh, hand-made blueberry pie. Beginning at 8AM, Brookshire Brothers' pie experts will be selling a limited amount of delicious pies for $10/piece. Keep it for yourself or give as a gift! The pies will be plated in a nice glass dish perfect for a special presentation. But be sure to stop by first thing, because when the pies are gone, they're gone!

Blueberries for Sale
2015 is a historic year for blueberry sales as we will have a record-breaking number of flats of blueberries available. At $25/flat or $2.50/pint, these Texas-Grown blueberries are sure to sell quick! And no need to worry about transportation of blueberries to your car - we will have a golf cart available to escort you and your berries safely. Don't want to wait until the day of the festival to get your favorite blueberries? Stop by your local store to get the same Texas-Grown quality blueberries. 

Blueberry Pie Baking Contest
"It's easy as PIE!" The highly anticipated bluebery pie baking contest is back and bringing multiple prizes with it! You could win up to a $100 Brookshire Brothers gift card by entering your family recipe. Participate in the contest by downloading the form below and returning to a Nacogdoches Brookshire Brothers stores or the Nacogdoches Chamber of Commerce. Entries will also be accepted the day of until 10AM at the Visitors Center, 200 E. Main St. We hope to see you there!
Click here for more information on the 2015 Texas Blueberry Festival.
Monday June 1, 2015
Cooking with Kate: Bursting with Blueberries
Summertime growing up in Nacogdoches meant one thing – the Texas Blueberry Festival. From enjoying the Kiwanis Club's blueberry pancakes first thing in the morning, to cooking chicken and fish for the Rotary Club's chicken and fish fry, to sunny afternoons sitting on the brick streets, sipping blueberry lemonade, and listening to live music – the Blueberry Festival has always been one of my favorite weekends of the year. In honor of the 2015 Texas Blueberry Festival on June 13th, we're highlighting some quick and easy beginner recipes as well as recipes for our more seasonsed chefs. Each recipe features the little berry that grows so well here in Deep East Texas.
Beginner Recipes
Your family and friends won't believe how easy these recipes are. Beginner or not, everyone will enjoy these dishes!
Fresh Green Salad with Blueberries and Candied Honey Pecans
Toss fresh assorted spring greens, baby spinach, fresh blueberries, chopped candied honey pecans, and shredded mozzarella or crumbled feta cheese. Drizzle with a slightly sweet vinaigrette (champagne or blush wine vinaigrettes work well) for a quick summer salad!
Blueberry Ricotta Crostini
Brush thin slices of baguette with olive oil and bake at 350°F for 5-8 minutes until crisp. Lightly spread each slice with 1 teaspoon ricotta cheese and top with fresh blueberries and a drizzle of good quality honey or spiced blueberry jam and a sprinkle of cinnamon sugar.
Expert Recipes
Channel your inner cooking goddess and try your hand at recipes that chef-worthy!
Spiced Blueberry Jam
10 cups fresh blueberries, stems removed
1 lemon
¼ teaspoon cinnamon
½ teaspoon apple pie spice
5 cups sugar
1 package fruit pectin
1 dozen (4 oz.) canning jars with lids and rings
Add blueberries, spices, lemon juice, and pectin to a large pot over medium-high heat. Crush blueberries with a potato masher or stick blender. Add pectin, mix well, and bring to a boil. Cook for 1 minute. Immediately add all the sugar and mix well. Bring to a full, rolling boil and cook for 1 minute, stirring constantly. Remove from heat and skim foam with a metal spoon. Fill clean, hot jars with the hot jam to within 1/8. Cover with sterilized lids and rings, and process in boiling water bath for 5 minutes.
Blueberry Balsamic Glazed Chicken
2 tablespoons extra virgin olive oil
2 tablespoons butter
4 to 6 skinless, boneless chicken breasts (or 2 pounds chicken legs and thighs)
salt and pepper
2 shallots, thinly sliced (about ¼ cup)
2 cups fresh blueberries
½ cup balsamic vinegar
1/3 cup maple syrup
1 tablespoon coarsely chopped fresh rosemary
Preheat oven to 350°F. Heat 1 tablespoon each oil and butter in a large, heavy skillet. Season chicken with salt and pepper. Sear chicken breasts over medium-high heat until golden brown, about 1 minute per side or until a light crust forms. Remove to a baking dish and set aside. Add remaining olive oil and butter to the skillet and, when hot, stir in shallots and cook until soft and lightly caramelized, about 4 minutes. Add blueberries and cook 1 minute. Stir in balsamic vinegar, maple syrup, and rosemary and simmer about 10 minutes, or until the blueberries have collapsed. Pour the blueberry balsamic mixture over chicken and put baking dish in the top half of the oven for about 10 minutes, until the chicken has cooked through to a temperature of 165°F.
Lemon Blueberry Bars
1 cup white granulated sugar
1 teaspoon baking powder
3 cups all-purpose flour
1 cup unsalted butter
1 egg
1 teaspoon pure vanilla extract
½ teaspoon kosher salt
zest of two lemons
4 cups fresh or frozen blueberries
½ cup white sugar
3 teaspoons cornstarch
Preheat oven to 375°F. Line a 9×13 inch pan with parchment paper and spray with nonstick cooking spray. In a medium bowl, mix sugar, flour, salt, lemon zest and baking powder. In a small bowl, whisk the egg and vanilla together until combined. Use a pastry cutter or your food processor to blend the flour mixture with the butter and egg/vanilla mixture. Dough will be crumbly. Pat half of dough into the prepared pan. In another bowl, stir together sugar and cornstarch. Gently mix in the blueberries. Sprinkle the blueberry mixture evenly over the crust. Crumble remaining dough over the berry layer. Bake in preheated oven for 45 minutes, or until top is slightly brown. Cool completely before cutting into squares.
Friday May 29, 2015
Blueberry How-To
Blueberries couldn't be a more effortless fruit. There's no peeling, coring or cutting — just pick and enjoy! This native North American fruit has been prized for centuries.
Types of Blueberries
Highbush, or cultivated, blueberries are grown for primarily commercial use.
Lowbush, or wild, blueberries occur naturally and grow in carpetlike vines in northern areas
Picking Blueberries
When you're picking blueberries, make sure they are plump and firm and are a frosted indigo color. Blueberries do not ripen after picking, so avoid picking berries that aren't fully ripened.
Blueberries are in peak season from late May to mid-August. One pint of blueberries is equal to 2 cups. Cover berries and store in the refrigerator after purchasing or picking. They will keep up to 10 days. Wash just before using.
Freezing Blueberries
Freezing blueberries is easy. Do not wash blueberries before freezing. The waxy coating protects them when frozen.
Spread berries on a cookie sheet or in a baking pan, and freeze until berries are frozen. Transfer them to a freezer container or a plastic freezer bag. If you're planning to use frozen blueberries in baked goods, the color may bleed into the batter. To prevent this, be sure the berries are frozen solid and stir them into the batter just before baking.
Blueberries and Nutrition
Don't let their small size fool you! Blueberries are a superfood with high nutritional value.
Blueberries are sometimes referred to as "brain berries" or brain food, because they are a top source of antioxidant phytonutrients. Early research suggests that regular consumption of phytonutrients may support healthy brain function.
Blueberries contain antioxidants called anthocyanins, which are thought to prevent harmful cell damage and reduce "free-radicals" in the body. These may help slow the aging process.
Blueberries are a good source of Vitamin C, as well as potassium, magnesium and fiber.
Blueberries are lower in calories than many fruits and have zero fat.
Tuesday May 26, 2015
Nature's Health Food - Blueberries
Enjoy Nature's Health Food for June. Blueberries are healthy and are sure to please the whole family.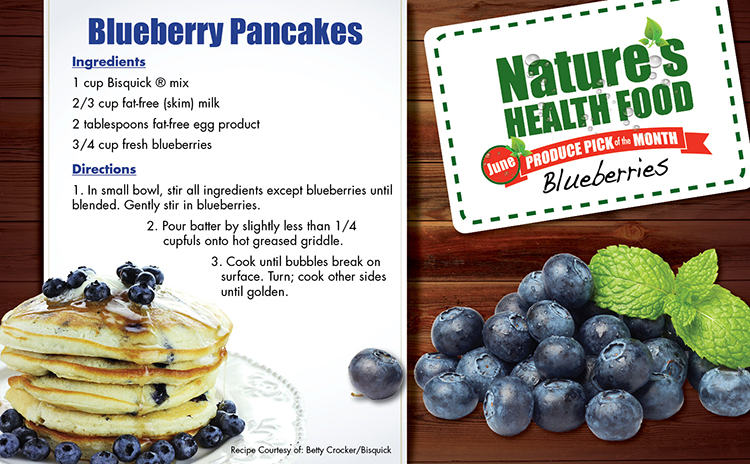 To download PDF, click here