Posted on Tuesday, March 5, 2019
We recently partnered with a vineyard in Australia for a multi-course dinner where we were able to research Australian cuisine and food culture. These two popular recipes from the dinner are simple to put together, with readily available ingredients. Try a small taste of Australia sometime soon!
Australian Sausage Roll
Popular in Australia and New Zealand, these sausage rolls are eaten for breakfast, lunch, and as appetizers at parties. They are delicious warm or room temperature.
Ingredients

1 pound pork sausage

¾ cup onion, finely chopped

2 teaspoons fresh basil, finely chopped

1 tablespoon fresh chives, thinly sliced

3 garlic cloves, minced

1 teaspoon paprika or smoked paprika

¼ teaspoon salt

¼ teaspoon pepper

¼ cup flour, reserved for rolling out pastry

1 sheet frozen puff pastry, thawed

1 egg, beaten with 1 tablespoon water
Directions
Preheat oven to 350°F.
In a large bowl, mix together the sausage, onion, basil, chives, garlic, paprika, salt and pepper until thoroughly combined.
Lightly dust the counter with a small amount of flour. Roll out the sheet of puff pastry into a 12x15 inch rectangle.
Slice it across the middle so you have two 6x15 inch rectangles. Brush each longer edge with the egg wash.
Using your hands, divide the sausage mixture in half. Form a long log of sausage along the edge of the dough of each rectangle.
Roll it up and press the edge to seal. No need to seal the ends because you want the grease to cook out.
Place each roll on a cookie sheet lined with parchment paper.
Brush the entire roll with the egg wash and then sprinkle the tops with paprika, white and black sesame seeds.
Place in oven and bake at 350°F for 20 minutes.
When the 20 minutes is up, remove from oven and tip pan to drain grease.
Increase heat to 375°F and bake for another 8-10 minutes, or until the tops are golden brown.
Remove from oven and let cool for at least 15 minutes.
Slice into 2 inch pieces and serve.
*Don't worry the sausage cooks in the pastry.
Anzac Biscuits
These nationally-famous cookies have a long-standing history with Australia's ANZAC Day – originally a day of remembrance for the members of the Australian and New Zealand Army Corps who fought in the first World War, it is now a day of remembrance to honor all servicemen and women.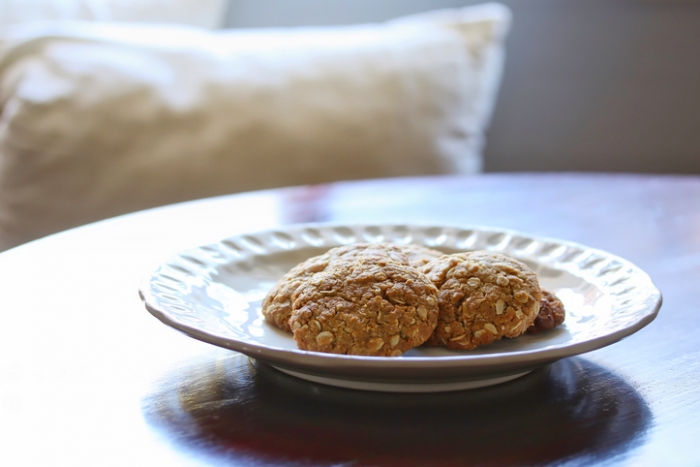 Ingredients
1 cup old-fashioned rolled oats
1 cup all-purpose flour
¾ cup sugar
1/8 teaspoon salt
¾ cup shredded or flaked sweetened coconut
½ cup (1 stick) butter
2 tablespoons golden syrup or dark corn syrup
1 ½ teaspoons baking soda
2 tablespoons boiling water
Directions
Preheat the oven to 350°F.
Line sheet pans with parchment paper.
In a large bowl, stir together the oats, flour, sugar, salt, and coconut.
In a saucepan over medium-high heat, melt the butter and dark corn/golden syrup until mixture is bubbling.
In a large bowl, combine the baking soda and boiling water, then stir in the hot butter mix. Be prepared: the mixture will bubble up energetically.
Stir the butter mixture into the dry ingredients until mixed.
Drop the dough, by teaspoonful, onto the prepared baking sheets. Leave at least 1 1/2" between them; they will spread quite a bit.
Bake the cookies for 12 to 15 minutes, until they are a deep mahogany brown; the cookies are meant to be crisp/crunchy and dark brown, not chewy/light brown.
Remove the cookies from the oven, and cool them on the baking sheets.
Store, well wrapped, for a week or so at room temperature; freeze for longer storage.
Yield: about 3 dozen 2 1/2" cookies.
---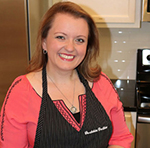 Kate knows food. She grew up with the Southern tradition of good food with the hospitality to match. A graduate of Texas A & M University, a student of The Texas Culinary Academy, and a Nacogdoches, Texas native, Kate's greatest joy is bringing people together over a scrumptious meal.