Tuesday July 31, 2018
Back to the Hatch
New Season, New Recipes
It's that hot time of the year again! Hatch chile peppers have come into their summer season, and we have a few refreshers as well as a whole batch of new recipes to celebrate! Think: Roasted Hatch Chile Mac 'N' Cheese, Bleu Cheese Stuffed Hatch Chile Burgers, and Quick Hatch Chile Salsa Fresca—all courtesy of our vendor-friends at 
Melissa's Produce
.
Fun Hatch Facts: 
One fresh medium-sized green chile has as much Vitamin C as six oranges.
Green chiles are also a great source of Vitamin A, Vitamin B, and fiber.
Capsaicinoids—the chemical that make chile peppers spicy—are used in muscle patches for sore and aching muscles, as well as pepper spray!
You might think that green and red chiles are different types of peppers, but they are in fact fruit of the same plant picked at different times. The red chile is the fully ripened version of the green chile.
These spicy peppers are finding their way into everything—sauces, breads, cheeses, even ice cream! Check your local store for all the available Hatch chile products.
For a brief refresher on the nutritional merits of other summer produce, check out the blog post "Summer Fruit: A Delicious Problem" by our local registered dietitian, Angela Larson!
How To: Roasted Hatch Chiles
Roast green chiles using one of the methods below:
Broiler: Preheat broiler on high. Place chiles on a baking sheet and place under the broiler for 6-10 minutes, turning often, until chile skins blacken and blister.
Charcoal or Gas Grill: Preheat grill and place chiles 4-6 inches from heat. Cook, turning often, until chile skins blacken and blister.
Gas Stove: Turn stove to high. Using tongs, hold chiles over flames, turning often, until skins blacken and blister.
Once chiles are roasted, place in a plastic or paper bag for about 10 minutes to steam. Wearing gloves, take the chiles out of the bag and remove the skins by rubbing gently. Use a sharp knife to cut pepper open and remove the stems, membranes, and seeds. Use chiles immediately or let cool completely, package in airtight freezer bags and place in the freezer until ready to use.
And now, the spicy fun part: easy Hatch Chile recipes you can put together quickly to spice up your next dinner! Recipes courtesy of vendor partner
Melissa's Produce
.
---
Roasted Hatch Chile Mac 'N' Cheese
by Chef Tom Fraker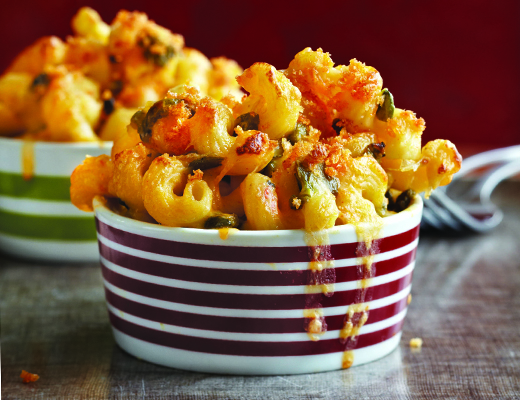 Prep Time: 25 min. / Total Time: 1 hr. 15 min. / Serves: 12 (1¼ cups) 
Ingredients
One 16-ounce box cavatappi or macaroni pasta
3 tablespoons olive oil, divided
8 tablespoons unsalted butter (½ cup)
½ cup all-purpose flour
2 cups milk
1 cup crema or crème fraîche
½ teaspoon freshly grated nutmeg
2 cups preshredded cheddar-Jack cheese (about 8 ounces) 
2 cups preshredded Gouda cheese (about 8 ounces)
1½ teaspoons smoked paprika, divided
Salt
Freshly ground white pepper
4 fresh Hatch Chile peppers, charred, peeled, stems and seeds removed, finely diced
¾ cup panko (Japanese breadcrumbs) 
Directions
Special note: If you don't have foil loaf pans, use other small baking dishes
Prepare pasta according to package directions; drain. Drizzle with about 1 tablespoon oil to keep pasta from sticking.
Preheat oven to 350°F. 
Coat insides of 6 (6x2-inch) foil loaf pans with cooking spray. 
Melt butter in a large saucepan over medium heat; whisk in flour until a smooth paste is formed, about 3 minutes. Whisk in milk, crema, and nutmeg until smooth; whisk in cheeses until completely melted. Whisk in 1 teaspoon paprika; whisk in salt and white pepper to taste. Remove from heat. 
Add pasta and Hatch Chile to cheese mixture; toss together. Pour evenly into prepared pans. 
In a bowl, combine remaining 2 tablespoons oil, remaining ½ teaspoon paprika, and breadcrumbs; stir in salt to taste. 
Sprinkle evenly over pasta mixture. 
Bake at 350°F until bubbly and lightly browned, about 25 minutes. Let rest 5 minutes. Serve.
---
Bleu Cheese Stuffed Hatch Chile Burgers
By Chef Tom Fraker
Makes 4 burgers
Ingredients 
1 pound Lean Ground Beef
1 cup Crumbled Bleu Cheese to taste
Salt and Freshly Ground Pepper
4 slices Cheddar Cheese
2 Hatch Chiles — roasted, peeled, seeded, halved 
4 Hamburger Buns
Directions
Special note: These burgers can also be done on the grill.
In a bowl, combine the beef, bleu cheese and salt and pepper until well mixed.
Form the mixture into 4 patties.
Place the patties onto a wire rack and place it onto a sheet pan.
Place 1 piece of cheddar cheese onto each burger and then top each with one half of a Hatch chile.
Place under the broiler and cook to your desired doneness.
Add your favorite condiments and enjoy.
---
Quick Hatch Chile Salsa Fresca
By Chef Tom Fraker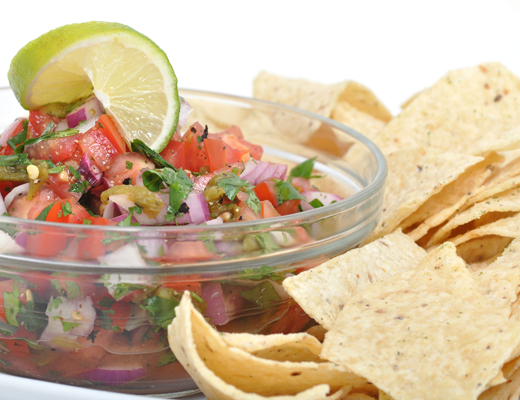 Ingredients
2 cups Organic Roma Tomatoes diced
½ Red Onion, diced
1½ Hatch Chiles — roasted, skinned, seeded, and diced
½ bunch Cilantro chopped
6 Key Limes, juice freshly squeezed
Freshly Ground Black Pepper to taste
Directions
Mix all the ingredients together in a small bowl. Season with salt and pepper according to your desired taste. Chill and serve with chips or as desired.
Keep in refrigerator up to 2 days.