Posted on Monday, December 3, 2018
Looking for the perfect homemade gift that is sure to make the season merry, bright, AND delicious? Try gifting scrumptious and moist muffins that are freezer friendly for a quick breakfast or a perfect pairing with a cup of coffee for chilly mornings. Muffins are the perfectly portable crowd-pleasing present.
Banana nut muffins
are one of my favorite varieties, but for something a little extra special, try this recipe for Harvest Muffins that have a delicious and nutritious secret—they are sweetened with sweet potato instead of any added sugars! Sweet potato adds natural sweetness and extra nutrition in every bite. I hope you make a double batch for you and as a gift to a loved one this holiday season!
Merry Christmas!!
Harvest Muffins
(Adapted from America's Test Kitchen)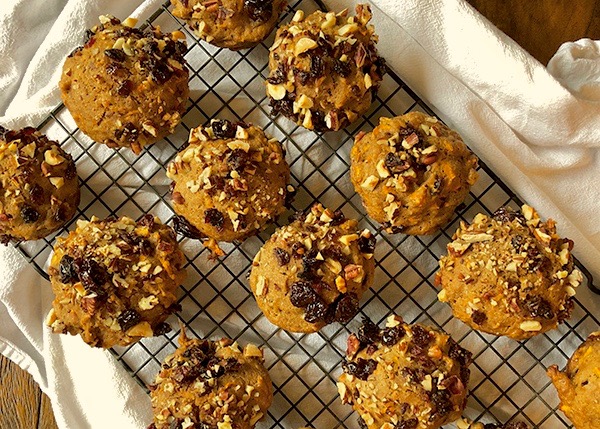 Bringing Baking Back: Make memories in the kitchen this holiday season with recipes, savings, and more!
INGREDIENTS
1¼ cups dried cranberries or cherries
¾ cup pecans, toasted and chopped fine
6 tablespoons unsalted butter
¾ cup apple cider
2/3 cup buttermilk
2 large eggs
1 tablespoon vanilla extract
¼ teaspoon grated orange zest
2 1/3 cup all-purpose flour
1½ teaspoons baking powder
¾ teaspoon baking soda
1½ teaspoon cinnamon
1 teaspoon ground allspice
½ teaspoon table salt
¼ teaspoon ground cloves
1 ¼ cups peeled and shredded sweet potato (about 1 small potato)
INSTRUCTIONS
Adjust oven rack to middle position and heat oven to 375 degrees. Line 12-cup muffin tin with parchment liners or grease well. Finely chop ¼ cup cranberries and combine with ¼ cup toasted pecans. Set aside for topping.
Melt butter in a 10-inch stainless skillet over medium-high heat until it begins to turn golden brown, about 2 minutes.Cook, stirring pan constantly until has a nutty aroma and is dark golden brown, another 1 minute or so.Set aside to cool slightly.
Whisk apple cider, buttermilk, eggs, vanilla, and orange zest into the browned butter until smooth. In a separate large bowl, whisk flour, baking powder, baking soda, cinnamon, allspice, salt, and cloves together. Using rubber spatula, stir the butter mixture until combined.Fold in sweet potato and remaining 1 cup cranberries and remaining ½ cup pecans.
Divide batter evenly among muffin cups and sprinkle with reserved topping mixture.Bake 18-20 minutes until golden brown and toothpick inserted in center of a muffin comes out with a few moist crumbs attached but no wet batter.Rotate muffin tin halfway through baking.
Let muffins cool for 10 minutes before turning them out of muffin tin and transfer to a wire rack to finish cooling.Serve.
---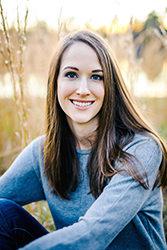 Angela Larson is a registered dietitian (RD) who works with Brookshire Brothers promoting
real fresh, real delicious
foods and nutrition education to the community. She is also a clinical dietitian representing Woodland Heights Medical Center in Lufkin where she does outreach education on food and nutrition. Food is her passion, so Angela loves trying new recipes and exploring the more holistic side of nutrition. Angela loves to cook, garden, and spend time outdoors. In addition to the
Brookshire Brothers blog
, look for Angela's monthly articles in Charm East Texas.