Tuesday December 18, 2018
Mrs. Lynne's Famous Holiday Party Punch
This holiday, we are delighted to feature Mrs. Lynne Haney with Lufkin Coca-Cola and her famous Holiday Party Punch. Simple to make and spectacular to taste, this punch is everything you and your favorite folks needs for a holiday get-together. Trust us, you'll be thanking Mrs. Lynne later!
Lufkin Coca-Cola has always been one of our favorite companies to collaborate with because our stories and values have grown from the same rich Texas roots. We both began as family-owned companies in the early 1900's and care deeply about our local communities. What an honor it is to live and work alongside another local business always seeking better growth for our community!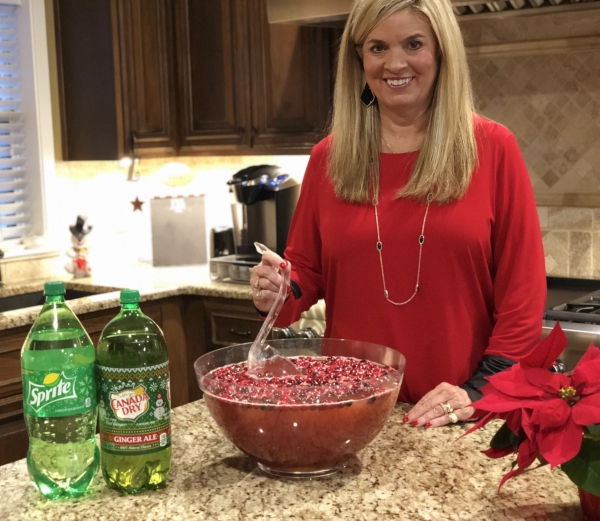 And oh by golly,
DON'T FORGET
: The deals are coming down like confetti this week, one of which is PERFECT for this recipe!
Coca-Cola and Dr Pepper products (2 liter bottles) are $0.88,* now through January 1.**
THAT'S RIGHT, you better check your RSVP list twice—you might need to double down on this great deal!! 
*When you buy 5
**Offer valid at these participating stores: Groveton, Trinity, Apple Springs, Corrigan, Diboll, Huntington, Pollok, Wells, Zavalla, Livingston, Onalaska, and all Lufkin locations.
Mrs. Lynne's Famous Holiday Party Punch
This recipe is wonderful for any occasion but we especially love it during the holidays! So easy, so yummy, such a great compliment to your holiday party!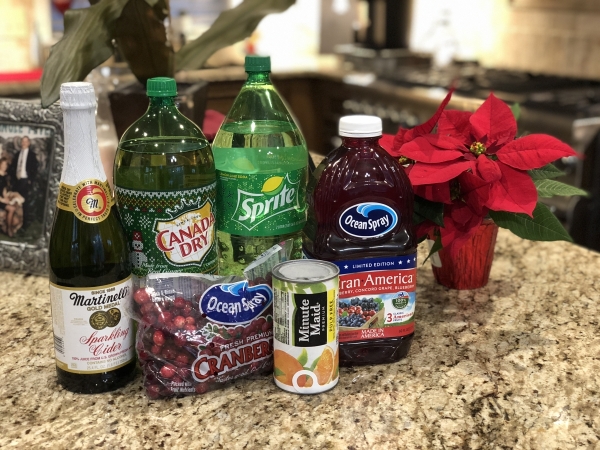 INGREDIENTS
One 2 liter bottle of Sprite, chilled
One 2 liter bottle of Ginger Ale, chilled
25 ounces (one bottle) Sparkling Cider, chilled
12 ounces Frozen Orange Juice Concentrate, slightly thawed
64 ounces (one bottle) Cranberry Juice, chilled
Fresh Cranberries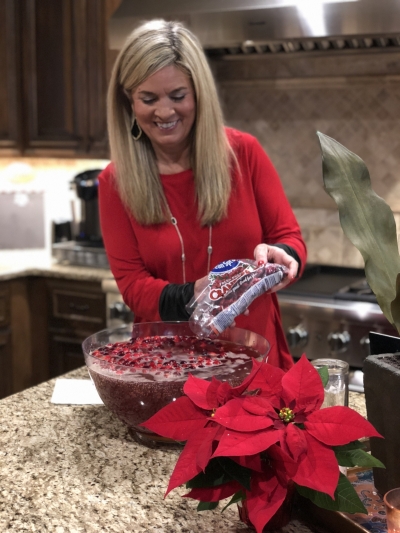 DIRECTIONS
Combine all ingredients together, stir… and serve! ENJOY!
PRO TIPS
Serves approximately 35 one-cup servings. Depending on party size, you may want to double or triple the recipe. When determining amount to make, take into consideration the size of your cups, and keep in mind that guests may want seconds (or even thirds).
If you would like your party punch to have a little more "punch", add champagne!
Tuesday December 18, 2018
Have Yourself A Healthy Little Christmas
Real Fresh, Real Delicious: Roast Chicken
Looking for a Christmas dinner that's a little different from the traditional fare but just as special and delicious? Try a variation of one of my go-to nutritious dishes—roast chicken and potatoes! This meal is even better when it's prepped a day ahead, which can
ease some of your stress
with all the holiday hustle and bustle. When it's chow time, all you have to do is throw the feast in the oven and spend some time with the ones you love. The instructions are the same for each recipe, so pick the variation that suits your holiday mood, fix up the marinade, prep the chicken (up to a day in advance), and let the oven do all the hard work. Easy, healthy, and satisfying!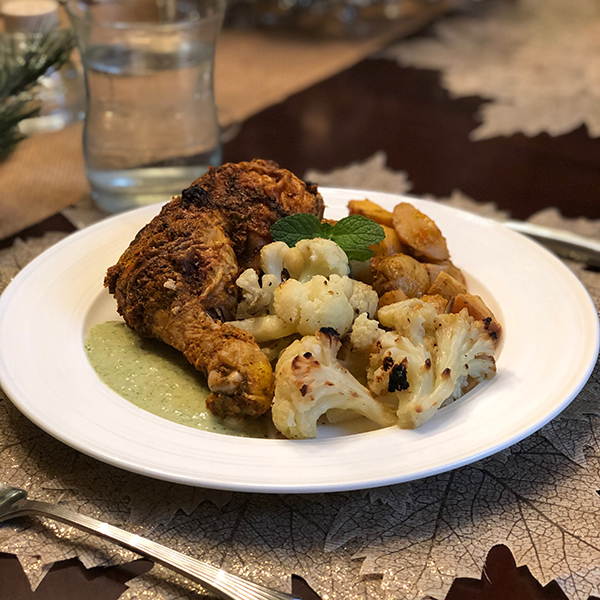 For a bigger crowd, this recipe can be easily doubled with the chickens placed side by side on the same large sheet pan. While the chicken is resting after coming out of the oven, I like to work on a family-favorite all-purpose side dish: roasted cauliflower. Quick and simple, all this takes is fresh or frozen cauliflower pieces plus a drizzle of olive oil and a sprinkle of salt and pepper. I put the veggies in the oven to roast at 475℉ for 20-25 minutes until the tips are caramelized and golden brown. And that's it! Dinner is served.
DIRECTIONS FOR ALL VARIATIONS
Combine all ingredients except chicken and potatoes in a food processor or blender and blend, scraping down sides as needed, until a thin paste forms, about 30 seconds.  
Cut out chicken's backbone with a sharp knife or kitchen shears and open the chicken out flat with skin side up. With your palm, firmly press down the breast area to flatten (you should hear a snap when the breast bone breaks).  Stuff most of the herb paste under skin (separate skin from meat gently with a spoon if needed), and spread remaining marinade all over the rest of the chicken (the easiest way to do this is in a casserole dish). Cover casserole dish and place in the refrigerator to marinate until ready to cook, up to 24 hours. The longer marinade time will make a more flavorful dish.
When ready to begin cooking, adjust oven rack to middle position and preheat oven to 400F. Scatter potatoes evenly on a sheet pan. Sprinkle potatoes evenly with salt pepper to taste. Place chicken, skin side up, on top of potatoes.  Pour any excess marinade from chicken over potatoes. Roast 70-90 minutes until the thigh meat reaches 175℉ on an instant read thermometer and the juices run clear.  Check potatoes about halfway through cooking; if pan is dry, add 1/2 cup of water.  
Allow chicken to rest for at least 10 minutes before carving. Serve with potatoes and pan juices on the side.  
---
Mediterranean Roast Chicken with Green Olives, Fennel Seeds, and Thyme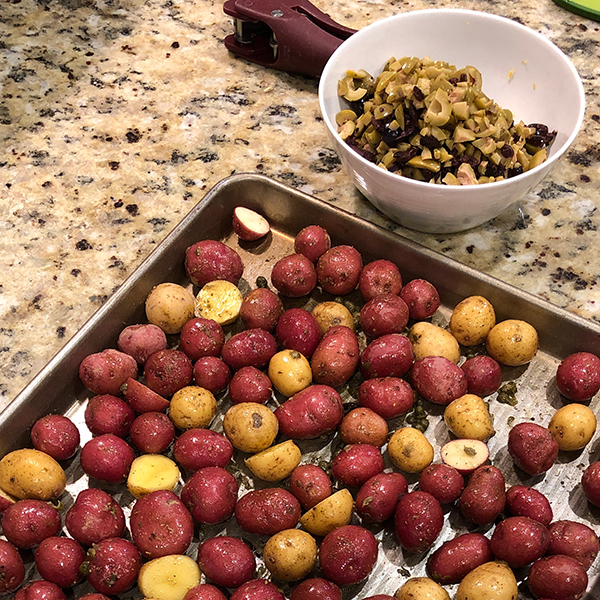 Adapted from The Perfectly Roasted Chicken by Mindy Fox
INGREDIENTS
1 3½ to 4 pound chicken
3 lbs red or gold potatoes, washed and cut into 1/2 inch pieces
For the marinade:
1 cup pitted green olives
2 Tbs dried thyme
2 teaspoons fennel seeds
3 garlic cloves, peeled
2 tsp lemon zest
1 Tbs fresh lemon juice
3 Tbs extra virgin olive oil
2 Tbs kosher salt (or 1 Tbs table salt)
Follow directions above.
---
Peruvian Roast Chicken with Cilantro and Jalapeno Sauce
INGREDIENTS
1 3½ to 4 pound chicken
3 lbs red or gold potatoes, washed and cut into 1/2 inch pieces
For the marinade:
3 Tbs extra-virgin olive oil
1/3 cup lightly packed fresh mint leaves
6 garlic cloves, peeled
1 Tbs ground black pepper
1 Tbs sugar
2 Tbs ground cumin
3 ½ teaspoons smoked paprika
1 Tbs dried oregano
2 ½ tsp fresh lime zest
¼ cup fresh lime juice
1 habanero chile, seeds and ribs removed (use gloves when handling)
1 red bell pepper, seeds and ribs removed and chopped coarse
2 Tbs kosher salt (or 1 Tbs table salt)
Follow directions above.
Cilantro and Jalapeno Sauce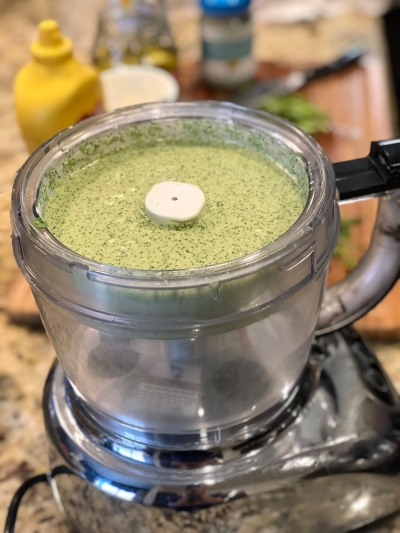 Ingredients
¾ cup mayonnaise
¼ sour cream
1 teaspoon onion powder
1 Tbs fresh lime juice
½ cup jarred pickled jalapenos (mild variety is best)
2 tsp pickled jalapeno juice
1 medium bunch cilantro leaves and tender stems (use entire bunch)
1 garlic clove, peeled
2 tsp yellow mustard
1 teaspoon kosher salt (or ½ teaspoon of kosher salt)
Instructions for sauce:
Blend all ingredients in a food processor or blender for about 1 minute until all ingredients are smooth and well blended. Taste to adjust seasoning. Serve with Peruvian chicken.
---
Balsamic Roast Chicken and Potatoes

Adapted from The Italian Country Table by Lynne Rossetto Kasper
INGREDIENTS
1 3½ to 4 pound chicken
3 lbs red or gold potatoes, washed and cut into 1/2 inch pieces
For the marinade:
1 medium onion, peeled and chopped coarse
6 cloves garlic, peeled
1/2 tightly packed cup of fresh basil leaves
3/4 teaspoon dried basil
1 teaspoon dried oregano
6 slices of bacon or pancetta, chopped
1/2 cup high quality balsamic vinegar (thicker, well-aged varieties are best)
2 Tbs kosher salt (or 1 Tbs table salt)
Follow directions above.
---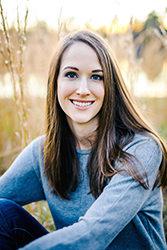 Angela Larson is a registered dietitian (RD) who works with Brookshire Brothers promoting 
real fresh, real delicious
 foods and nutrition education to the community. She is also a clinical dietitian representing Woodland Heights Medical Center in Lufkin where she does outreach education on food and nutrition. Food is her passion, so Angela loves trying new recipes and exploring the more holistic side of nutrition. Angela loves to cook, garden, and spend time outdoors. In addition to the 
Brookshire Brothers blog
, look for Angela's monthly articles in Charm East Texas. 
Monday December 3, 2018
Real Fresh, Real Delicious: Harvest Muffins
Looking for the perfect homemade gift that is sure to make the season merry, bright, AND delicious? Try gifting scrumptious and moist muffins that are freezer friendly for a quick breakfast or a perfect pairing with a cup of coffee for chilly mornings. Muffins are the perfectly portable crowd-pleasing present.
Banana nut muffins
are one of my favorite varieties, but for something a little extra special, try this recipe for Harvest Muffins that have a delicious and nutritious secret—they are sweetened with sweet potato instead of any added sugars! Sweet potato adds natural sweetness and extra nutrition in every bite. I hope you make a double batch for you and as a gift to a loved one this holiday season!
Merry Christmas!!
Harvest Muffins
(Adapted from America's Test Kitchen)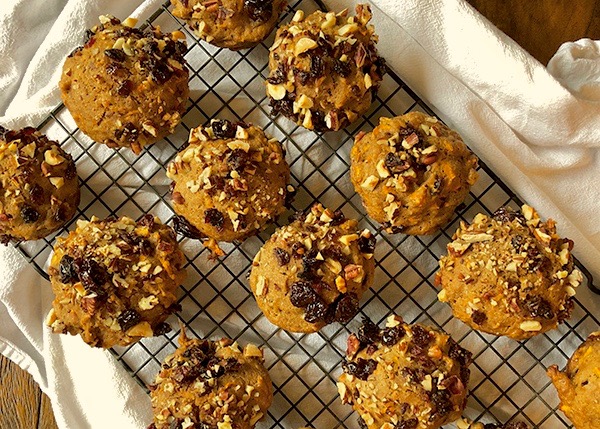 Bringing Baking Back: Make memories in the kitchen this holiday season with recipes, savings, and more! 
INGREDIENTS
1¼ cups dried cranberries or cherries
¾ cup pecans, toasted and chopped fine
6 tablespoons unsalted butter
¾ cup apple cider
2/3 cup buttermilk
2 large eggs
1 tablespoon vanilla extract
¼ teaspoon grated orange zest
2 1/3 cup all-purpose flour
1½ teaspoons baking powder
¾ teaspoon baking soda
1½ teaspoon cinnamon
1 teaspoon ground allspice
½ teaspoon table salt
¼ teaspoon ground cloves
1 ¼ cups peeled and shredded sweet potato (about 1 small potato)
INSTRUCTIONS
Adjust oven rack to middle position and heat oven to 375 degrees. Line 12-cup muffin tin with parchment liners or grease well. Finely chop ¼ cup cranberries and combine with ¼ cup toasted pecans. Set aside for topping.
Melt butter in a 10-inch stainless skillet over medium-high heat until it begins to turn golden brown, about 2 minutes.Cook, stirring pan constantly until has a nutty aroma and is dark golden brown, another 1 minute or so.Set aside to cool slightly.
Whisk apple cider, buttermilk, eggs, vanilla, and orange zest into the browned butter until smooth. In a separate large bowl, whisk flour, baking powder, baking soda, cinnamon, allspice, salt, and cloves together. Using rubber spatula, stir the butter mixture until combined.Fold in sweet potato and remaining 1 cup cranberries and remaining ½ cup pecans.
Divide batter evenly among muffin cups and sprinkle with reserved topping mixture.Bake 18-20 minutes until golden brown and toothpick inserted in center of a muffin comes out with a few moist crumbs attached but no wet batter.Rotate muffin tin halfway through baking.
Let muffins cool for 10 minutes before turning them out of muffin tin and transfer to a wire rack to finish cooling.Serve.
---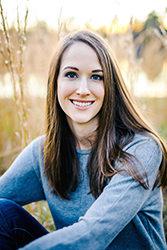 Angela Larson is a registered dietitian (RD) who works with Brookshire Brothers promoting 
real fresh, real delicious
 foods and nutrition education to the community. She is also a clinical dietitian representing Woodland Heights Medical Center in Lufkin where she does outreach education on food and nutrition. Food is her passion, so Angela loves trying new recipes and exploring the more holistic side of nutrition. Angela loves to cook, garden, and spend time outdoors. In addition to the 
Brookshire Brothers blog
, look for Angela's monthly articles in Charm East Texas. 
Wednesday December 20, 2017
Give the Gift of Food: 5 Fun & Easy Ideas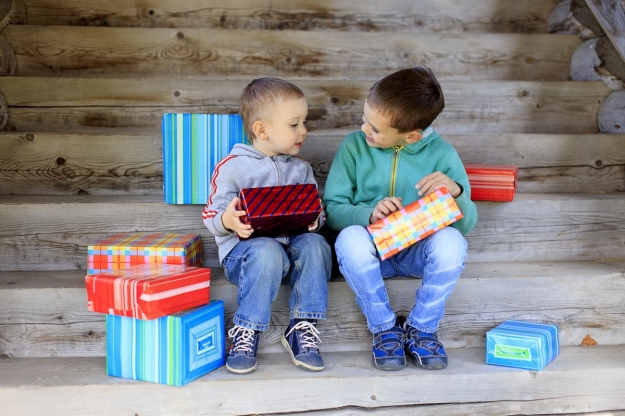 'Tis the season of giving… but that can add up pretty quickly if you're shopping for friends, family, coworkers, cousins, neighbors, and more! Don't stress. One gift that's quick, easy, and cheap while still being thoughtfully creative is FOOD. Here's a list of fun and simple ideas for edible gifts you can do without breaking the bank:
GO NUTS
Fill quart-sized mason jars with different types of nuts and dried fruits as a beautiful and nutritious gift of trail mix. Try alternating layers of shelled pistachios with dried cranberries for a festive red-green treat that is sure to satisfy.  Top with a piece of red or green construction paper, a piece of twine, and a gift tag to complete the presentation.
Find a nearby Brookshire Brothers to pick up any ingredients you don't already have on hand!
 ALL BARK AND TASTY BITES
Chocolate bark is one of the easiest confections, and you can go as far as the North Pole in terms of flavor combinations! Just melt your favorite baking chocolate according to the package instructions, spread on a baking sheet lined with parchment paper, add mix-ins and toppings, and then refrigerate until hardened. One of my favorite colorful holiday combinations is white chocolate, crushed peppermints, and unsalted pistachios or pumpkin seeds. S'more bark is another fun take: chocolate + marshmallows + pieces of graham crackers + pecans = YUM.
EVERYONE LOVES BANANA BREAD
Banana Nut Bread is always a classic, plus it's a great source of potassium and B vitamin! Check out my recipe for the best banana nut bread ever, which can easily be made into mini-loaves or muffins for easy distribution. Your friends and family will surely appreciate your loaves of love.
INFUSE OLIVE OIL WITH ROSEMARY
Olive oil is a unique gift with a bright shining halo of health in the world of nutrition. You can personalize the gift buy infusing it with rosemary. If time allows, you can easily personalize the gift by infusing the olive oil with rosemary. Dry whole sprigs of fresh rosemary by placing washed sprigs on a baking sheet. Put it in the oven for 2 - 4 hours on the lowest temperature setting. When the rosemary sprigs are brittle and have cooled, add to a bottle with your favorite extra virgin olive oil and allow it to infuse for a week or up to several months. Gift the oil for dipping with your favorite Brookshire Brothers artisan bakery bread. #BestNeighborEVER
For more on the health benefits of olive oil (as well as a recipe for an Easy Caprese Salad), read my ode here!
WARM UP WITH HOMEMADE SOUP
Share your Christmas spirit by the spoonful when you save your loved ones meal prep time with homemade soup! Fix your favorite wintertime soup, separate it into mason jars to distribute, and add a tag with freezing and re-heating instructions for a personal touch. This gift is delicious and easy to freeze if your friends/family want to save it for later. One of my favorites to share is winter squash soup—get the recipe here!
May your holidays be filled with delicious treats and special memories.  Merry Christmas!  
---
Angela Larson is a registered dietitian (RD) who works with Brookshire Brothers promoting 
real fresh, real delicious
 foods and nutrition education to the community. She is also a clinical dietitian representing Woodland Heights Medical Center in Lufkin where she does outreach education on food and nutrition. Food is her passion, so Angela loves trying new recipes and exploring the more holistic side of nutrition. Angela loves to cook, garden, and spend time outdoors. In addition to the 
Brookshire Brothers blog
, look for Angela's monthly articles in Charm East Texas. 
Tuesday December 20, 2016
Holiday Centerpieces You'll Love
The sounds and smells of the season have you feeling festive, but is something missing? Maybe your decorations are a little light this year, or you want to change them up. Let us help you bring the cheer indoors with our ideas of the best holiday centerpieces!
For the DIY Diva
If you're the type who is crafty, artsy, and likes using your creative flair, this is for you! Head to your local Brookshire Brothers Floral Department and grab your favorite single stem flowers. As a DIY Diva, we're sure you have a vase around your craft closet somewhere that you can use. Fluff up your centerpiece by adding some ornaments, candles, paper snowflakes, doilies or draped fabric to create a fun and simple table-scape.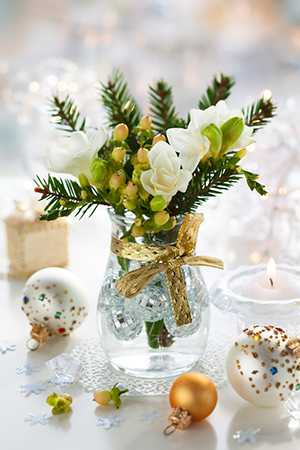 For the Holiday Hostess
Yes, you love the holidays and parties. But, do you find yourself wanting to change decorations for each party you host? You may be a DIY Diva at heart, but sometimes, even the best run out of ideas. We're here to give your next celebration the boost it needs! Our florists are pros at Seasonal Arrangements and have exactly what you need. Go by your Floral Department and speak to the florist to brainstorm. We know that between the two, the centerpiece will transform into the center of the party.
For the Maxed-Out-Mama
Between making your list for perfect presents, shopping for those hard-to-find presents, wrapping said perfect presents, you're likely to be wiped out come Christmas Day. Although you've thought long and hard on each gift, we don't want you to miss out on the best part of the entire Christmas Season: giving gifts and watching your loved ones' reactions. Swing in and browse the broad selection of Gifts and Gift Baskets we have! You're only limited by your imagination when selecting the perfect gift at your local Brookshire Brothers Floral Department.
Monday November 28, 2016
Holiday Traditions
Now that Thanksgiving has passed, it seems like our December calendar is filling up quickly! Between Christmas parties, school programs, Secret Santa drawings, parades, bake sales, and gift-buying, when do you have time to start a tradition? We've asked our employee partners to share their favorite Holiday Traditions, and we hope you'll feel inspired to continue or start a new tradition of your own. Merry Christmas and Happy Holidays!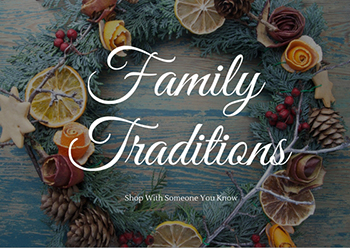 "Our family participates in the annual Lufkin Community Food Drive every year. It's something my girls, both now in college, look forward to every year. We help box the food, deliver it…the whole nine yards. I'm so glad we're able to do it as a family each year."
                                                                         Sally Alvis, Senior Director of Marketing and Public Relations
"Sharing the holiday with family is tradition enough, but we do have a few things we look forward to each year. My wife and I pick out the ugliest Christmas ornaments we can find and hang it on the tree. We've gotten so many now and it's so fun decorating the tree and retelling all the stories. We also attend a Christmas candlelight service at our church every year."
                                                                                                        Doug Barnett, Marketing and Procurement
"We have a few traditions in our house – We always have a Lego Advent calendar and we take turns who builds the item for the day, attend the midnight Mass on Christmas morning, and have a nativity scene that we do not complete until Christmas morning when we place baby Jesus in the manger. We also cook sausage balls, empanadas (fried meat pies) and banana pudding along with getting a 6-pack of glass coke bottles because it is essential to our Christmas celebration!"
                                                                         Corry Lankford, Graphic Designer/Store Signage Coordinator
"Our family traditions are long-standing and long-winded! Just to name a few, we take an annual Girls Christmas Shopping Trip, with my extended family, the first weekend of December. We try to knock out as many gifts as we can, while spending some much needed time together. With my husband and kids, we get into the Christmas spirit when we decorate our tree with themed ornaments from every year while listening to Christmas music. Finally, making Christmas candy is always a fun tradition with my mom and sisters."
                                                                                             Angela Gandy, Digital Media Associate/Copywriter
"The Lowther family always watches National Lampoon's Christmas Vacation on Christmas Eve, helps Mom make fudge and pumpkin bread, gets commemorative Christmas ornaments for each year, and eats Mexican food on Christmas Day."
                                                                                                          Adam Lowther, Public Relations Associate

Get great recipe ideas here to start your own tradition this Holiday Season!
Thursday December 10, 2015
Las Posadas
As the holiday season is nearing, we are encouraging our customers and employees to share their traditions. We hope you enjoy the tradition of Las Posadas and encourage your family to participate with us this year!
The Tradition of Las Posadas
The Mexican Posadas is a 9-day Mexican Christmas celebration to recreate the journey that Mary and Joseph took traveling from Nazareth to Bethlehem looking for a warm place to give birth. During the journey, Mary and Joseph are turned away by many but finally come to a home that lets them in. However, in Hispanic cultures, the recreation of the journey is represented by those who attend the Posadas and ask for a 'welcoming' via songs. Traditionally, most begin singing further away from the home and are turned down until they reach the front home. After entering the home, one of the most important things in the celebration is the food that brings people together. Enjoy tamales, empanadas, and all traditional hispanic dishes.
Join us in the celebration of Las Posadas and tell us your Posadas turned out!
Posada Song
           Outside:                                            Inside:
In the name of Heaven                   This is not an inn
I beg you for lodging,                        so keep going.
for she cannot walk                           I cannot open
my beloved wife.                           you may be a rogue.
         Outside:                                              Inside:
We are worn out                      I don't care about your name.
coming from Nazareth.                     Let me sleep,
I am a carpenter,                       because I already told you
Joseph by name.                          we shall not open up.
         Outside:                                              Inside:
My wife is Mary                                  Are you Joseph?
She's the Queen of Heaven          Your wife is Mary?
and she's going to be a mother     Enter, pilgrims.
of the Divine Word.                   I did not recognize you.
          Outside:                                              Inside:
May God pay, gentle folks,           Blessed is the house
your charity,                                    that shelters this day
and thus heaven heap                        the pure Virgin,
happiness upon you.                        the beautiful Mary.
Outside and Inside Sing together:
Enter, holy pilgrims, holy pilgrims, receive this corner, for though this dwelling is poor, I offer it with all my heart.
To find a great Red Chili Pork Tamale Recipe, click here
Tuesday December 1, 2015
Cooking with Kate: It's the Most Wonderful Time of the Year
Christmas season is here! Bring on the twinkle lights, hot chocolate by the fireplace, and fun times with family and friends at a myriad of Christmas parties. With all the hustle and bustle, it's easy to get overwhelmed by party details. Whether you're serving adults or a roomful of kiddos, keep things simple and quick with a few make-ahead appetizers and a decked out hot chocolate bar. Here are two crowd pleasing party appetizers and my favorite recipe for homemade hot chocolate mix.
Merry Christmas to you and your family as you celebrate this season!
Polish Mistake(s)
1 lb lean ground beef
1 lb Owens hot ground sausage
1 lb Velveeta cheese, cubed
½ teaspoon Worcestershire sauce
½ teaspoon garlic powder
½ teaspoon onion powder
½ teaspoon oregano
2 packages cocktail rye bread 
In a large skillet, brown ground meat and sausage over medium high heat until fully cooked. Drain well. Add cubed Velveeta cheese to the meat mixture and heat until melted. Add remaining ingredients and stir well. Mixture can be made up to 4 days ahead of time and refrigerated. To serve – Preheat oven to 350° degrees. Spread meat mixture over sliced cocktail rye and place on cookie sheets. Bake for 10-15 minutes until bubbly and lightly browned. Enjoy immediately.
Pinecone Dip
2 (8 oz) packages cream cheese, softened
1 package Hormel dried beef, diced
1 bunch green onions, thinly sliced
1 small can chopped black olives
3 tablespoons Accent seasoning
1 bunch flat leaf parsley, chopped (no stems)
1 small package sliced almonds
assorted crackers and pita chips, for serving
Blend cream cheese, dried beef, green onions, black olives and Accent seasoning in medium bowl until well combined. Shape into desired shape (pinecone or Christmas tree, etc) on serving platter. Press sliced almonds into dip to resemble a pinecone and sprinkle with chopped parsley. If making a Christmas tree – use almonds as tree trunk, chopped parsley as leaves/needles, and pieces of red/yellow bell pepper as ornaments. Cover and chill well until ready to serve. Dip can be made up to 2 days in advance.
FC's Hot Chocolate Mix
1 cup powdered coffee creamer, original or plain
1 ½ cups powdered sugar
2 ¾ cups powdered chocolate milk mix (like Nestle Quick)
3 cups powdered milk
1 tablespoon cinnamon
Mix all ingredients in a large air tight container. Hot chocolate mix can be stored for up to one year in an airtight container in a cool, dry area. To use: Mix 2-3 tablespoons of mix with 8-10 ozs hot water until blended. Add additional mix to taste.
Topping ideas for the hot chocolate bar:
whipped cream
chocolate and caramel syrups
mini marshmallows
flavored marshmallows – French vanilla, peppermint, toasted coconut, cinnamon bun, pumpkin spice
Kraft caramel bits (small balls of caramel used for caramel apples)
Andes mint pieces (found on the baking aisle near the chocolate chips)
Heath toffee bits (found on the baking aisle near the chocolate chips)
Chopped peppermint bits (use soft peppermint sticks)
Tuesday November 17, 2015
Jingle the Elf Coloring Contest
Our Christmas Elf, Jingle, is ready to celebrate! Either pick up a coloring sheet in store or print one here to enter for a chance to win up to $100 Visa Gift Card!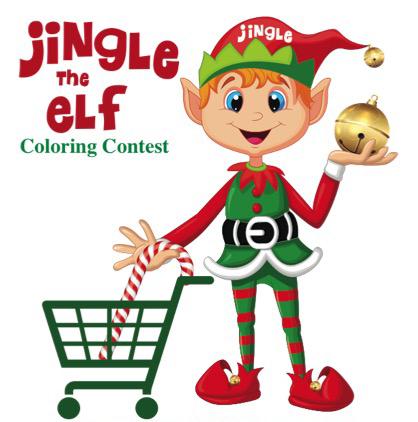 *Entries must be completed and submitted to your local store by Wednesday, December 16.
*Children 10 and under can participate.
*Prizes include $100 Visa Gift Card, $50 Visa Gift Card, and $25 Visa Gift Card.
Friday December 5, 2014
Christmas Favorites
Holiday entertaining can be a joy – if you let us in on the planning.  Folks love to gather around during the Christmas season, and we want to provide some solutions that will 'de-stress' the situation.
We have 5 'go to' favorites on our list:
Gourmet Pecan Pies
Made with love in our bakeries!  Served in its own glass plate, no one will think you didn't whip it up yourself.  Slice and serve at home or put it on an inexpensive charger or Christmas plate, add a bow and you're in the 'gifting' business.  They come in three amazing flavors – original, chocolate chip and white chocolate chip.

Premium Fudge 
Heavenly!  We started making our own right in time for Christmas.  Buy a pound, slice it into bite size pieces, serve on a festive plate for a party nibble.  If you're stuck on a teacher gift, slice it up, put in a decorative tin or a cello bag, tie on a bow and it's MERRY CHRISTMAS to your child's favorite teacher.  Pick your favorite flavor – or sample all four – original, heath bar, peanut butter chip or pecan!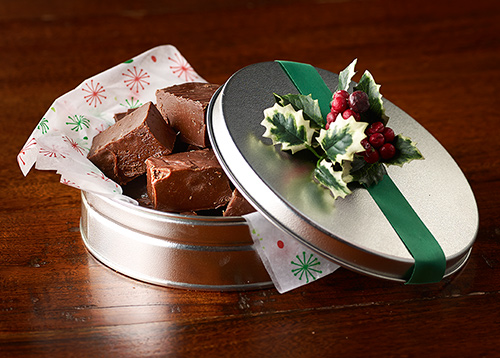 Big Easy Poppers
Pop these little bites of South Louisiana flavor in the oven and you'll have your guests screaming for more!  Find these snappy appetizers in our frozen food section. Cook them as instructed, throw away the 'evidence', and your friends will think you've been cooking all day.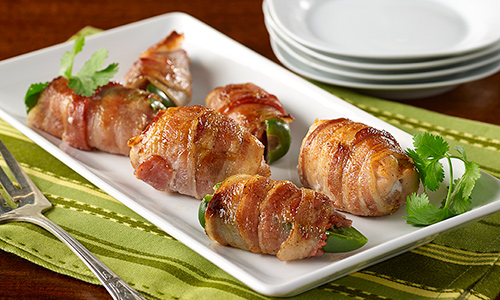 Pepper It Up! 
We love another South Louisiana favorite – Tabasco Red Jalapeno Jelly.  Put it on a block of Hytop cream cheese, sprinkle a few pecans on top and serve with your favorite cracker or Primizie's crisp bread.  This is always a crowd pleaser.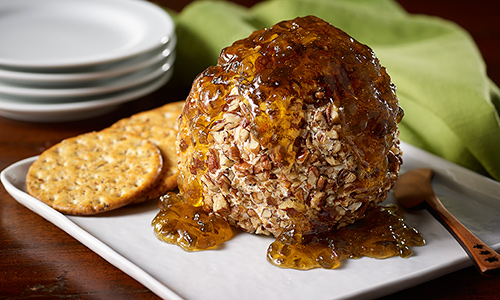 Fruit and Nuts!
Nothing says Christmas like fruitcake. The elves in our Central Bakery started making fruitcake back in October.  You know…the longer it keeps…the more flavorful it gets!  Our fruitcakes are renown. Pick up one in the store or order online today!
Pages