Tuesday December 1, 2015
Cooking with Kate: It's the Most Wonderful Time of the Year
Christmas season is here! Bring on the twinkle lights, hot chocolate by the fireplace, and fun times with family and friends at a myriad of Christmas parties. With all the hustle and bustle, it's easy to get overwhelmed by party details. Whether you're serving adults or a roomful of kiddos, keep things simple and quick with a few make-ahead appetizers and a decked out hot chocolate bar. Here are two crowd pleasing party appetizers and my favorite recipe for homemade hot chocolate mix.
Merry Christmas to you and your family as you celebrate this season!
Polish Mistake(s)
1 lb lean ground beef
1 lb Owens hot ground sausage
1 lb Velveeta cheese, cubed
½ teaspoon Worcestershire sauce
½ teaspoon garlic powder
½ teaspoon onion powder
½ teaspoon oregano
2 packages cocktail rye bread 
In a large skillet, brown ground meat and sausage over medium high heat until fully cooked. Drain well. Add cubed Velveeta cheese to the meat mixture and heat until melted. Add remaining ingredients and stir well. Mixture can be made up to 4 days ahead of time and refrigerated. To serve – Preheat oven to 350° degrees. Spread meat mixture over sliced cocktail rye and place on cookie sheets. Bake for 10-15 minutes until bubbly and lightly browned. Enjoy immediately.
Pinecone Dip
2 (8 oz) packages cream cheese, softened
1 package Hormel dried beef, diced
1 bunch green onions, thinly sliced
1 small can chopped black olives
3 tablespoons Accent seasoning
1 bunch flat leaf parsley, chopped (no stems)
1 small package sliced almonds
assorted crackers and pita chips, for serving
Blend cream cheese, dried beef, green onions, black olives and Accent seasoning in medium bowl until well combined. Shape into desired shape (pinecone or Christmas tree, etc) on serving platter. Press sliced almonds into dip to resemble a pinecone and sprinkle with chopped parsley. If making a Christmas tree – use almonds as tree trunk, chopped parsley as leaves/needles, and pieces of red/yellow bell pepper as ornaments. Cover and chill well until ready to serve. Dip can be made up to 2 days in advance.
FC's Hot Chocolate Mix
1 cup powdered coffee creamer, original or plain
1 ½ cups powdered sugar
2 ¾ cups powdered chocolate milk mix (like Nestle Quick)
3 cups powdered milk
1 tablespoon cinnamon
Mix all ingredients in a large air tight container. Hot chocolate mix can be stored for up to one year in an airtight container in a cool, dry area. To use: Mix 2-3 tablespoons of mix with 8-10 ozs hot water until blended. Add additional mix to taste.
Topping ideas for the hot chocolate bar:
whipped cream
chocolate and caramel syrups
mini marshmallows
flavored marshmallows – French vanilla, peppermint, toasted coconut, cinnamon bun, pumpkin spice
Kraft caramel bits (small balls of caramel used for caramel apples)
Andes mint pieces (found on the baking aisle near the chocolate chips)
Heath toffee bits (found on the baking aisle near the chocolate chips)
Chopped peppermint bits (use soft peppermint sticks)
Tuesday November 17, 2015
Jingle the Elf Coloring Contest
Our Christmas Elf, Jingle, is ready to celebrate! Either pick up a coloring sheet in store or print one here to enter for a chance to win up to $100 Visa Gift Card!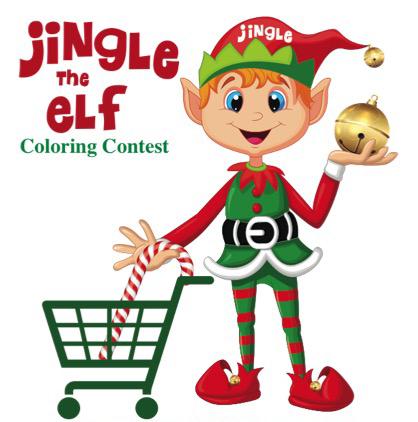 *Entries must be completed and submitted to your local store by Wednesday, December 16.
*Children 10 and under can participate.
*Prizes include $100 Visa Gift Card, $50 Visa Gift Card, and $25 Visa Gift Card.
Friday December 5, 2014
Christmas Favorites
Holiday entertaining can be a joy – if you let us in on the planning.  Folks love to gather around during the Christmas season, and we want to provide some solutions that will 'de-stress' the situation.
We have 5 'go to' favorites on our list:
Gourmet Pecan Pies
Made with love in our bakeries!  Served in its own glass plate, no one will think you didn't whip it up yourself.  Slice and serve at home or put it on an inexpensive charger or Christmas plate, add a bow and you're in the 'gifting' business.  They come in three amazing flavors – original, chocolate chip and white chocolate chip.

Premium Fudge 
Heavenly!  We started making our own right in time for Christmas.  Buy a pound, slice it into bite size pieces, serve on a festive plate for a party nibble.  If you're stuck on a teacher gift, slice it up, put in a decorative tin or a cello bag, tie on a bow and it's MERRY CHRISTMAS to your child's favorite teacher.  Pick your favorite flavor – or sample all four – original, heath bar, peanut butter chip or pecan!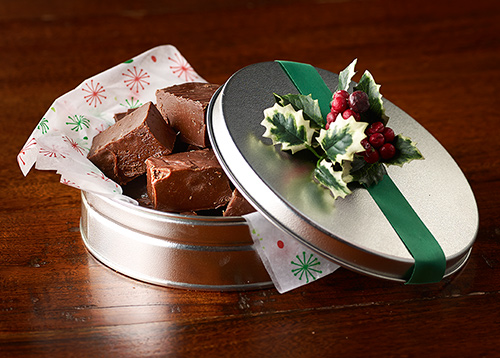 Big Easy Poppers
Pop these little bites of South Louisiana flavor in the oven and you'll have your guests screaming for more!  Find these snappy appetizers in our frozen food section. Cook them as instructed, throw away the 'evidence', and your friends will think you've been cooking all day.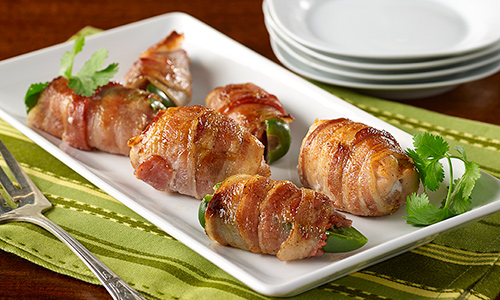 Pepper It Up! 
We love another South Louisiana favorite – Tabasco Red Jalapeno Jelly.  Put it on a block of Hytop cream cheese, sprinkle a few pecans on top and serve with your favorite cracker or Primizie's crisp bread.  This is always a crowd pleaser.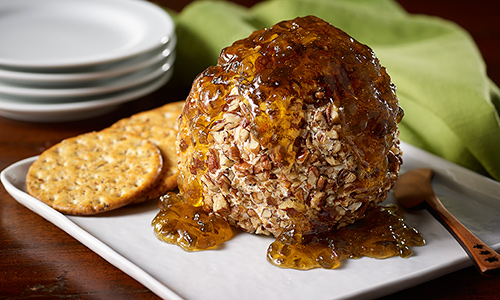 Fruit and Nuts!
Nothing says Christmas like fruitcake. The elves in our Central Bakery started making fruitcake back in October.  You know…the longer it keeps…the more flavorful it gets!  Our fruitcakes are renown. Pick up one in the store or order online today!
Wednesday November 26, 2014
Celebrate the Holidays Deliciously With 12 Wines of Christmas From Cupcake Vineyards
A Perfect Cupcake Wine for Any Holiday Festivity
With the holidays approaching, Cupcake Vineyards offers 12 wines of Christmas that can accompany just about any festive occasion. Whether searching for the right hostess gift or relaxing after a grueling day of gift shopping, Cupcake Vineyards has delectable wines that will keep you celebrating deliciously throughout the season.
"Cupcake Vineyards wines are rich, full and elegant, a true indulgence without an exorbitant price tag to match," said winemaker Adam Richardson. "Christmastime is filled with reasons for gifting, celebrating and simply enjoying a special time of year. With a varietal for every taste and occasion, we keep our fans celebrating deliciously throughout the season."
Without further ado, the 12 Wines of Christmas from Cupcake Vineyards:
On the first day... 
For many, surviving a day of big crowds and holiday shopping calls for a toast. Break out Cupcake Vineyards Prosecco; it's light and refreshing, and its fine effervescence gives way to creamy flavors of ripe lemon, refined citrus and toasted brioche. Pair it with gorgonzola crostini and melon wrapped in prosciutto for a flavorful holiday kick-off.
On the second day...
 Keep the shopping momentum going online, where you can shop deliciously from home. Sip a glass of Cupcake Vineyards Angel Food, a proprietary white blend centered on premium chardonnay grapes. Luscious and aromatic, Angel Food offers flavors of baked Granny Smith apple and hints of toasty vanilla.
On the third day...
 Whether watching the lighting of the national holiday tree in Washington, D.C., or heading to a local tree lighting ceremony, pair this vibrant evening with our equally vibrant Pinot Grigio. Fragrances of pineapple, pears and sweet lemons give way to a full body with a creamy mid-palate that integrates tropical and citrus fruits.
On the fourth day...
 Secret Santa gifts often tend toward dubious tastes. Skip the kitsch, and instead, share deliciously with a bottle of our Sauvignon Blanc. Hints of grapefruit, gooseberry and citrus simply give away the fact that this Secret Santa has impeccable taste. Slip in a note with recommendations, such as serving the wine chilled with oysters on the half shell or with a rich lobster risotto, to make the gift truly memorable.
On the fifth day...
 If you're inviting friends or family to a tree decorating party, prepare some simple appetizers to pair with Cupcake Vineyards' crowd-pleasing Chardonnay. With decadent layers of butter, cream, citrus and vanilla that meld into balanced oak and subtle spice, the wine is delicious with a simple selection of cheeses and fresh-baked French bread as well as seared Ahi tuna on waffle crackers.
On the sixth day...
 Take in a traditional holiday performance of the Nutcracker, and enjoy Cupcake Vineyards Riesling an aperitif before a light late-night, post-ballet supper. Our Riesling starts with a nose hinting of ripe honeydew and lemon chiffon, then fills the palate with creamy lemons, bright citrus fruits and a touch of sweetness.
On the seventh day...
 Don plush velvet for the office holiday bash, and give likewise to the event host with Cupcake Vineyards Red Velvet. This blended red features over-the-top aromas of chocolate, deep rich blackberries and red fruits that follow through the palate to a creamy mocha finish with just a hint of coconut. Our rich, decadent Red Velvet is just the thing to top off a year of hard work.
On the eighth day... 
Heading to a Christmas wine and cocktail party with friends? Cupcake Vineyards Cabernet Sauvignon is a perfect hostess gift and a perfect winter wine with dark fruit flavors of blackberry, dark cherry and cassis, as well as tastes of cocoa and toasty oak. Bring along some baked brie drizzled with honey to add to the appetizer selection and complement this full-bodied wine with a long, smooth and silky finish.
On the ninth day...
 Continue the magical mood from a night touring community Christmas light displays with a glass of Cupcake Vineyards Pinot Noir. An aroma of cherries gives way to a touch of red currants and a hint of spice, perfect after cold winter's evening out. Pair it with smoked sausage or mushroom risotto for a hearty, warming meal.
On the tenth day...
 Christmas Eve is full of anticipation, and if dining with loved ones on the occasion, bring along Cupcake Vineyards Malbec to share. This wine has a heady, yet dry nose with aromas of blueberries and leather. Intense flavors of chocolate, mocha and plums are matched by a soft velvety texture, a hint of spice and a note of toasted oak. Versatile with food, it works well with hearty dishes, such as steak, a mushroom and bacon salad or chili.
On the eleventh day...
 Gather around the holiday table for a decadent Christmas dinner complemented by Cupcake Vineyards Merlot. Our full-bodied yet smooth Merlot displays supple tannins with flavors of red cherries that evolve into decadent levels of cocoa and espresso. From the meal's starring roast served with a port-fig reduction sauce to a decadent chocolate dessert, this Merlot will make merry throughout the meal.
On the twelfth day...
 Known as the second biggest shopping day of the year, Dec. 26 comes with the knowledge that another holiday has been celebrated deliciously. Make one last trip to the mall, then break out our bubbly Moscato D'Asti for a final toast to the Christmas season (and consider saving a bottle or two for New Year's Eve festivities). A vibrant, expressive sparkling wine, our Moscato D'Asti has floral notes with flavors of peach, tropical fruit and lychee. Enjoy with a delicious seasonal dessert, like vanilla bean poached pears.
About Cupcake Vineyards
Cupcake Vineyards, located in Livermore, Calif., introduced a fruit-forward, indulgent and eminently approachable portfolio of wines in 2008. The inaugural release of Chardonnay, Merlot and Cabernet Sauvignon has since grown to include an array of varietals from Central California as well as from other world-renowned wine-producing regions, including Marlborough, New Zealand; Mendoza, Argentina; Prosecco, Trentino and Asti, Italy; Barossa Valley, Australia; and Mosel Valley, Germany. Winemaker Adam Richardson and his team never rush the winemaking process, taking time to create the complex, rich and creamy wines that enable everyone to "Live Deliciously."
Pages