Posted on Friday, June 25, 2021
It's Northwest Cherry season, and these recipes are perfect to showcase the flavor and versatility of the fruit you can now find in the produce section of your Brookshire Brothers.
These recipes were created by chefs in states that grow Northwest Cherries. Enjoy!
Cherry Sauce
Recipe by Chef Andy Blanton of Cafe Kandahar in Whitefish, Montana
Makes about 1 and ½ quarts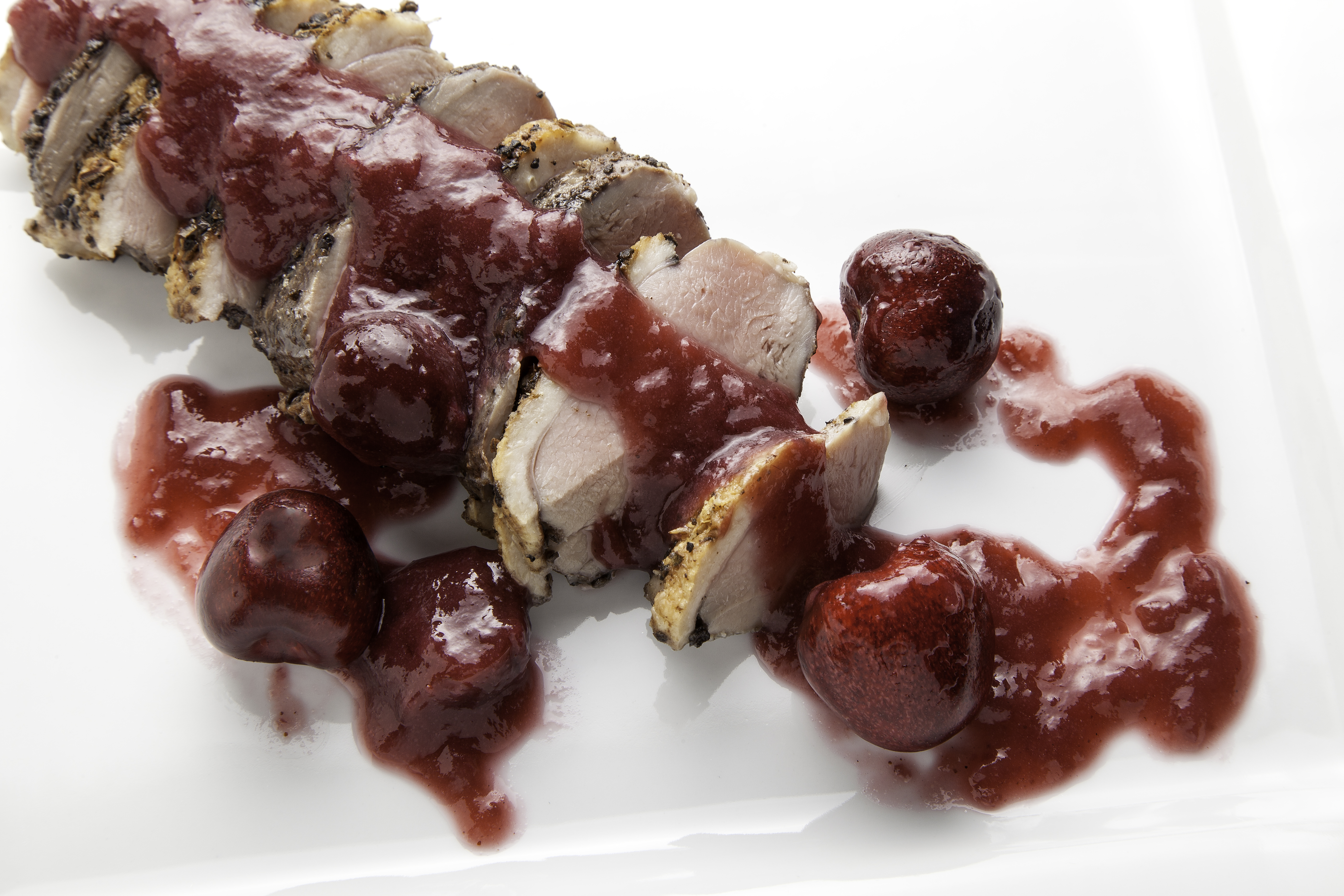 Ingredients
2 cups NW sweet cherries, pitted and de-stemmed
2 oz. shallots, peeled and minced
1 oz. olive oil
2 bay leaves
1 bouqet garni of fresh thyme (about the width of a cigar, tie with butchers twine)
½ cup Balsamic Vinegar
¾ cup Port wine
1 qt. Demi-Glace
Kosher Salt/Black Pepper
Directions
Heat a large skillet over medium high heat, add olive oil and shallots, sweat (until translucent), about 2-3 minutes, and add a pinch of kosher salt and black pepper. Add bay leaves and cherries.
Continue to cook over medium high heat until cherries begin to sweat slightly, about 2-3 minutes, stirring often. Do not allow shallots to brown.
Add Balsamic Vinegar, Port wine, and bouqet garni of thyme, continuing to cook over medium high heat, until fully reduced, about 5-10 minutes. The mixture should become syrupy and almost fully evaporated. At this stage, add the demi-glace and reduce to desired consistency. Remove bay leaves and thyme. Sauce can be kept for several days, or served immediately. Enjoy!
Cherry Tart
Recipe by Chef Andy Blanton of Cafe Kandahar in Whitefish, Montana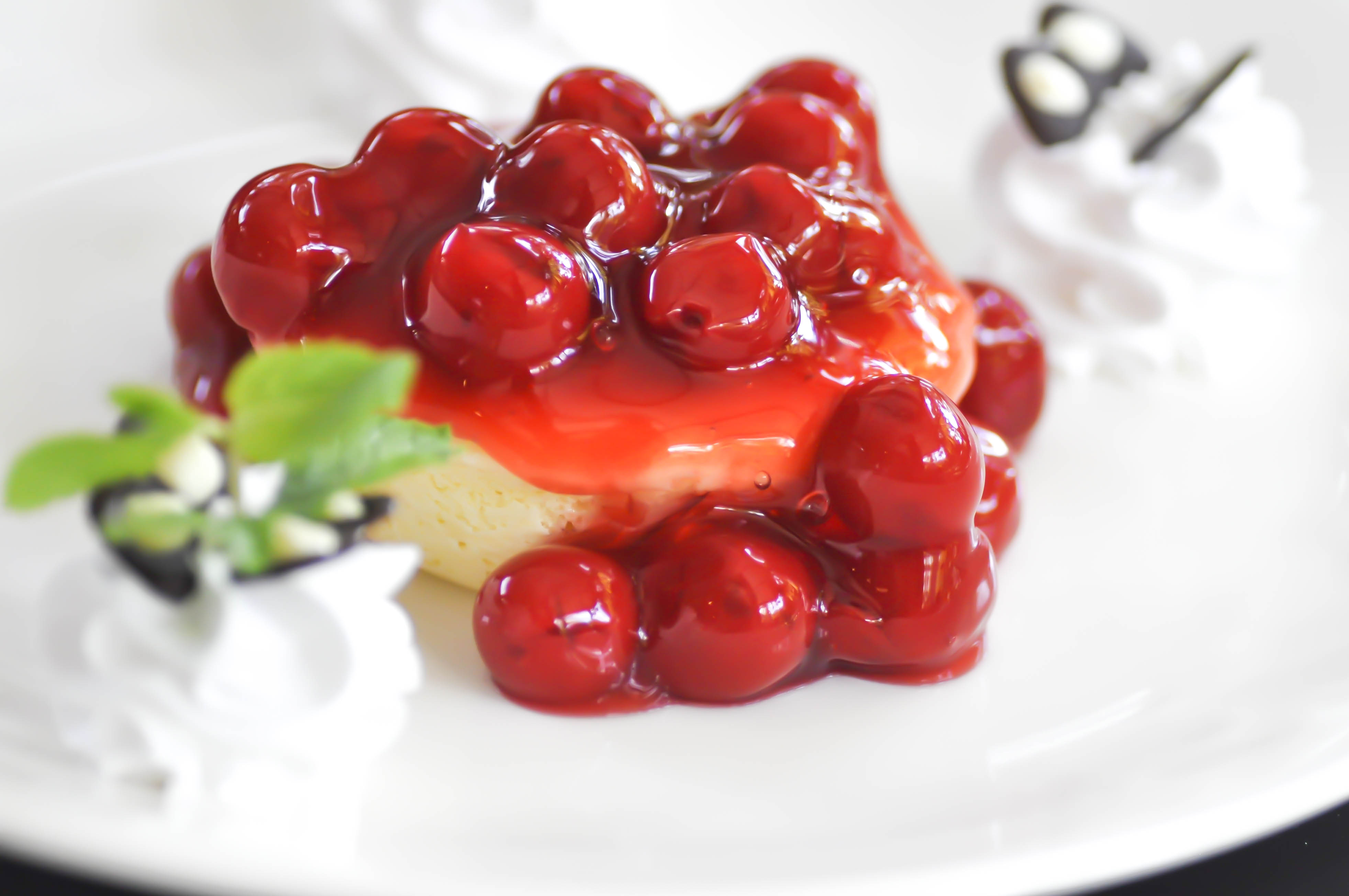 Ingredients - Pie Dough
16 oz all purpose flour
10 oz unsalted butter
6 oz cold water
Pinch of salt
Ingredients - Pastry Cream
2 oz all purpose flour
6 oz granulated sugar
16 oz whole milk
6 egg yolks
½ vanilla bean (split)
1 oz unsalted butter
Ingredients - Cherry Topping
2 cups NW sweet cherries (pitted)
½ cup sugar in the raw
Water
Directions
Place the flour and salt in a mixing bowl, stir until well combined. Make the pie dough by grating in the butter to the flour, stirring the flour to incorporate the butter. What you are after are pea size chunks, so the grating technique works well to achieve a uniform consistency. Rub the butter and flour between your fingers to insure the butter is the right size and is mixed in. Pour in the cold water, and mix only to combine. Do not knead dough. The less you work it, the more flaky the crust will become. You should have a nice dough. Wrap with plastic film, and place in a refrigerator for at least one hour.
Prepare the pastry cream. Sift the flour and sugar together. Then place yolks into a mixing bowl, add 8 oz of the milk. Stir the flour/sugar mixture into the yolk/milk mixture until smooth and combined. Heat the remaining milk and vanilla bean in a heavy duty saucepan (copper works best, stainless steel also). Scald milk (just before boiling), then temper the milk mixture into the egg mixture by slowly adding hot milk stirring constantly. Once all the scalded milk is incorporated, pour mixture back into the sauce pan. Heat over medium heat, stirring constantly with a wooden spoon (or heat resistant metal spatula) until the mixture begins to thicken. Using a stiff whisk, continue to stir constantly until the mixture is very thick, and pulls away from the whisk (or the sides of the pan), about 2-3 minutes. The key is to allow the starchiness from the flour to cook out, yet at the same time stirring constantly as not to allow the mixture to scorch or overcook the eggs. The mixture will be very thick at this stage. Remove from the heat, place saucepan in ice bath, add butter and stir constantly until butter is combined. Set aside and reserve once cooled, removing the vanilla bean from the now cooked custard.
Prepare the cherry topping. Place cherries and sugar, with a touch of water, in a saucepan over high heat. Cook until the cherries begin to release their juices. Keep the mixture on high heat, and as the liquid in the pan (from the cherries and sugar) begins to reveal a syrupy consistency, continue to cook until desired consistency, about 5-10 minutes. Strain the cooked sweet cherries and reserve the liquid. At this point, you can continue to reduce the liquid by cooking over low heat, allowing the syrup to naturally thicken. This liquid can be used as a garnish for the tart.
To assemble the tarts, roll out the pie dough. Butter and flour a tart pan, the size is dependent upon the amount being made. At any rate, roll out the dough to even thickness, form dough in tart pan. Spoon pastry cream so that the entire base of the tart is covered with the pastry cream, about a ½ thick. Add cherries on top of the pastry cream. Bake at 375 until the crust begins to brown, about 15-20 minutes. Use cherry syrup for garnish if desired once the tart is unmolded. Alternatively, you can by a pre-made tart. We like to use a tart pan with a fluted edge and a removable bottom for easy unmolding. Serve warm and enjoy!
Brioche Panzanella with Cherries, Mint, Basil and Feta
Recipe by Chef Jenn Louis of Lincoln Restaurant in Portland, Oregon
Serves 4

Ingredients
4 c brioche, made into 1-inch cubes
1 ½ c cherries, pitted and cut in half
10 large leaves basil, sliced into ribbons
10 large leaves mint, sliced into ribbons
2 ounces arugula leaves
1/2 c crumbled feta
1c white balsamic vinaigrette or more as needed, recipe below
Salt and pepper
Directions
Place brioche cubes onto a sheet pan and place in a preheated 325-degree oven. Bake until completely dry and lightly golden. Once the croutons are cool they can be held for 1 to 2 days in an airtight container.
In a large bowl, toss croutons with ½ cup white balsamic vinaigrette, allow croutons to soak up vinaigrette, 2-3 minutes. Add remaining ingredients, season with salt and pepper and add a drizzle of vinaigrette. Toss to combine. Add dressing as needed to lightly coat all ingredients.
White Balsamic Vinaigrette
Makes: 3 cups
Ingredients

1 c white balsamic vinegar
2 c extra virgin olive oil
1 tsp honey
Zest of 1 orange
1 large shallot, sliced thinly
Combine all ingredients in bowl and stir together.
Cherry + Tarragon Limeade
Recipe by Chef Jenn Louis of Lincoln Restaurant in Portland, Oregon
Serves: 1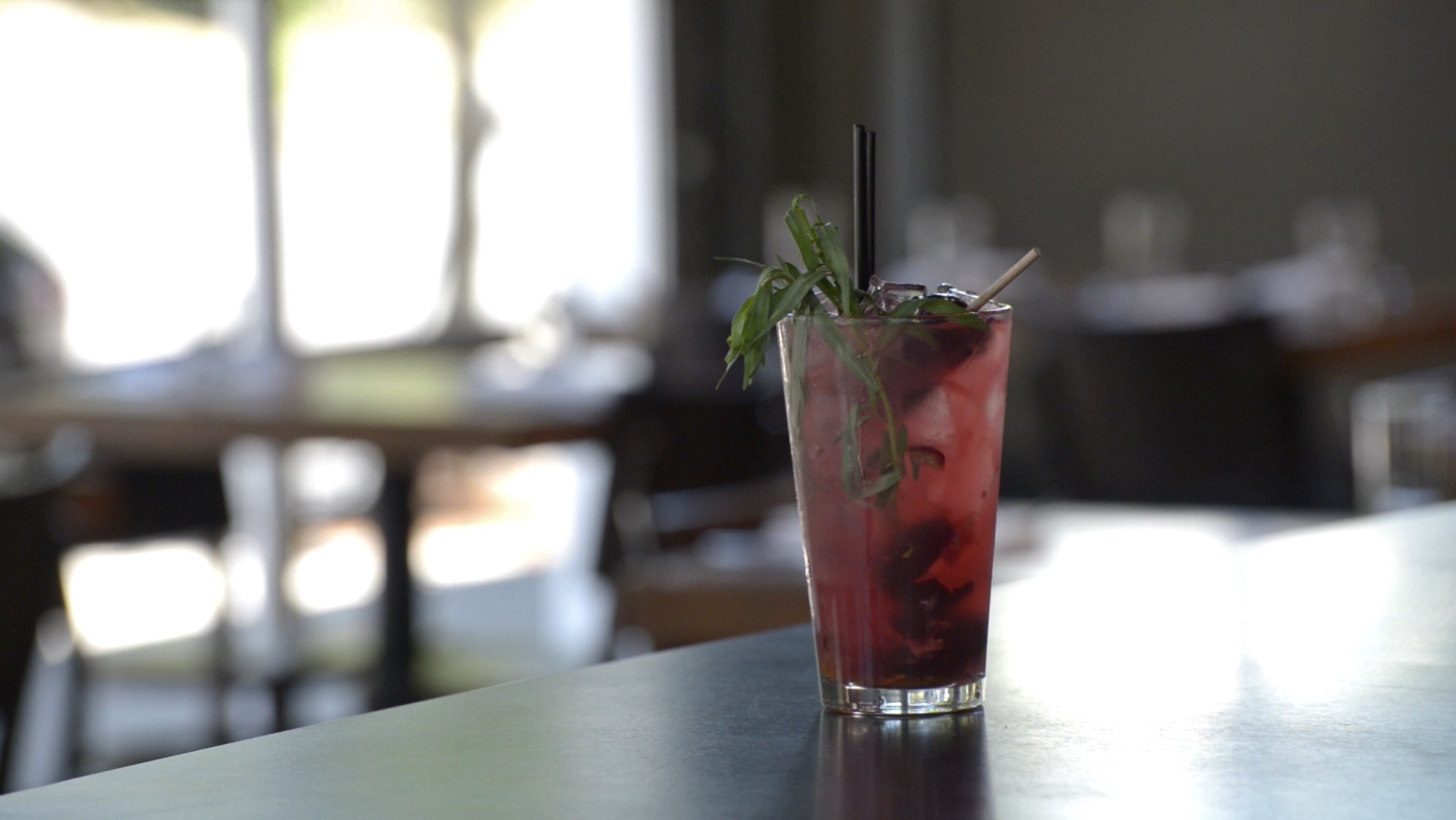 Ingredients
1 ½ ounces tarragon simple syrup
1 ½ ounces lime juice
5 pitted cherries
Soda water
Ice
Directions
Fill a pint glass halfway with ice. Add 3 cherries and, using a wooden muddle, crush cherries to break apart and release juices. Add tarragon syrup, lime juice and stir. Fill pint glass to the top with ice and fill to top with soda water. Skewer remaining 2 cherries and place on top as garnish with a sprig of tarragon.
Tarragon Simple Syrup
Makes: 3 ounces
Ingredients

2 ½ ounces sugar
2 ½ ounces water
3 fat branch fresh tarragon
Zest of ½ orange, zested on a microplane
Apple and Cherry Glazed Pork Tenderloin
Recipe by Chef Steven Topple of The Narrows in McCall, Idaho
Makes 4 servings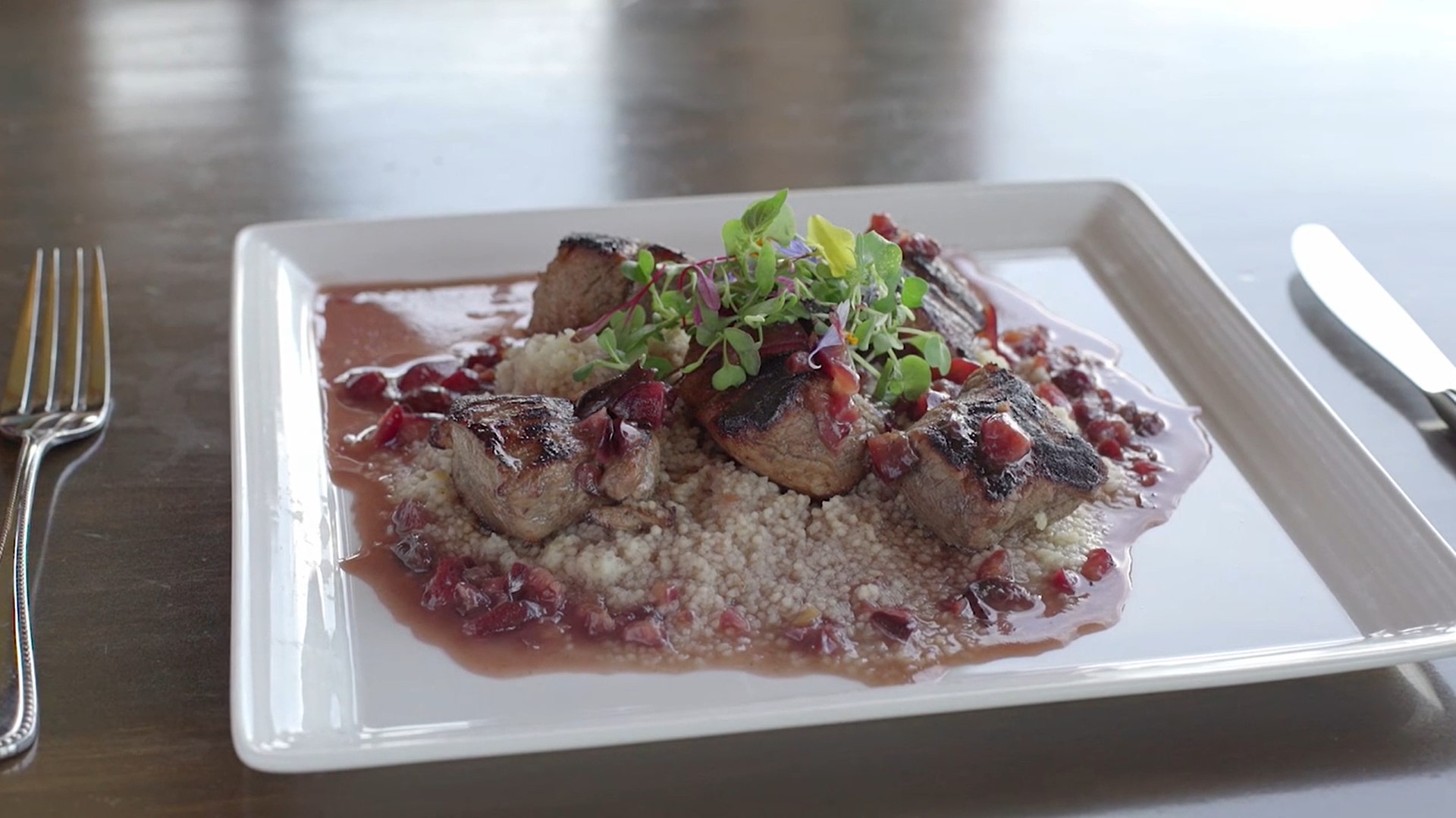 Ingredients
1/4 cup fresh cherries chopped and smashed
1 cup of apple juice
1 teaspoon of ground ginger
1 teaspoon of allspice
2 tablespoons honey
2 whole pork tenderloin, cleaned and trimmed, cut into medallions
1 (14 1/2-ounce) can chicken broth
2 teaspoons cornstarch
Salt and Pepper
Directions
Combine first 5 ingredients in a shallow dish or large heavy-duty zip-lock plastic bag, gently squeezing to blend; add pork medallions. Cover or seal, and chill 30 minutes
Remove pork from marinade, reserving marinade.
Turn BBQ Grill on
Season pork with Salt and Pepper, Arrange pork medallions over grill, rotate pork on both sides 5 minutes or until done.
Pour reserved marinade into a small saucepan. Add chicken broth to marinade. Bring mixture to a boil over medium-high heat; boil, stirring occasionally, 5 minutes. You might need to thicken with a touch of corn starch.