Monday July 31, 2017
Seasonal Produce: Summer Refresher
In our current society of instant everything, it's easy to forget that some things aren't so "ready-right-now." Produce is one such thing that often requires extra time and patience. Sure, some fruits and vegetables are available to purchase all year round, but there's usually a time and place when you can get them at their best flavor and greatest value. It may be hard, for example, not to indulge a craving for summer blueberries at any time during the year, but consider how during the winter it would take two weeks for blueberries to be shipped from Chile—with tax. Shopping according to the seasons means you'll save money, plus you'll prepare five-star meals with ingredients that are seasonally fresh. 
Our point is, it's always good for any shopper to get a refresher on what's currently in season and what's not. Since it's the beginning of August—which most of us equate with being the height of summer, according to the temperatures—let's talk summer 
produce
:
Summer Fruits
(According to the USDA)
Apples
Apricots
Avocados
Bananas
Blackberries*
Blueberries*
Cantaloupe*
Cherries*
Honeydew Melon*
Kiwifruit*
Mangos
Nectarines*
Peaches*
Plums*
Raspberries
Strawberries
Watermelon*
Summer Vegetables
(According to the USDA)
Beets
Bell Peppers
Corn*
Carrots
Collard Greens
Cucumbers*
Eggplant*
Garlic
Green beans
Lima beans*
Okra*
Summer Squash & Zucchini*
Tomatillos*
Tomatoes*
The produce marked with an asterisk(*) is only in season during the summer. All other produce is in season for more than one season.
Next time you
visit your local store
, keep this guide handy! You can always count on Brookshire Brothers to do our best in bringing quality produce to customers.
Looking for ideas on how to tap into your taste buds with summer produce? Check these out:
Healthy fruit snacks—with a twist! Here's the menu: Grape Sticks, Grilled Peach Salsa, Melon Rings, and more.
Corn, zucchini, squash… a whole garden of summer veggies comes together to make two garden fresh recipes from our Catering Coordinator, Kate Rudasill.
In case you need another reason to fill up on summer fruit, here's a brief overview of their nutritional merits from Angela Larson, a registered dietitian.
Sweet tooth? Kate's got you covered. Amaretto Peach Parfaits and Peach Blueberry Upside-Down Cake are great recipes to send off the summer before school starts.
Tuesday May 31, 2016
Simply Lemonade Ice Pops
Chill out and beat the summer heat with this delicious mix of Simply Lemonade and fresh berries.
Ingredients:
Simply Lemonade
Fresh blueberries and raspberries
Ice pop molds and sticks
Instructions:
Pour Simply Lemonade into ice pop mold.
Add blueberries and raspberries.
Freeze & enjoy.
Also, you can use any of your favorite Simply Beverages. 
Tip: Soak ice pop mold in warm water to loosen and remove the ice pop.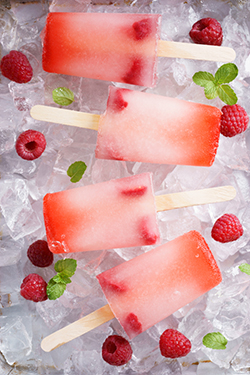 Monday May 16, 2016
Snackspiration!
Melon with Prosciutto: Sweet melon and salty prosciutto go together like peanut butter and jelly. Which is to say, you'll probably never want to eat one without the other ever again. 
Grape Sticks: There's something about eating off of a stick that makes everything more delicious—grapes included. If you have extra time on your hands, pop them in the freezer for a super-chill twist.
Melon Rings: Sure you could just eat slices of melon, but what's the fun in that? To make these show-stopping rings, we first cut slices of watermelon, muskmelon and cantaloupe in 1.5-inch slices, then we used circle cookie cutters to make the rings. Last step is to stack them and you're set!
Grilled Peach Salsa: If you thought salsa was just made from tomatoes, think again! Throw some grilled peaches in your next batch for a summertime spin that you can't get enough of.


Monday March 14, 2016
DIY Easter Egg Pancakes
Hatch a new pancake tradition this Easter with this easy and colorful egg-shaped pancake art breakfast activity.
It's the traditions that make family holidays like Easter so special. This year start a new one with this easy DIY Easter Egg Pancake Decorating Station. Kids big and small can make and decorate their own Easter egg pancakes using colorful batter-filled squirt bottles and sliced fruit.
To get started, gather these essential items: Bisquick® mix, four clear plastic condiment bottles (available at most grocery stores; these pancake batter pens from the Betty Crocker store are another great option), neon gel food coloring, grapes, strawberries, blueberries, cereal or any other topping of your choice.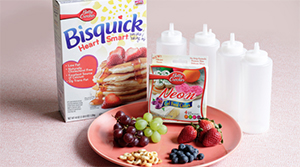 Prepare the pancake decorating station by slicing fruit. Sort the sliced fruit into individual bowls for easy access.
Next, make some pancake batter following this classic Bisquick® pancake recipe. (Double the recipe if feeding a crowd.) Divide batter equally between four separate bowls. Add a few drops of the neon gel food coloring to each bowl, creating the desired color intensity. Whisk batter until evenly blended.
Then pour colored batters into individual squirt bottles. Place the bottles on a tray near the griddle to create a pancake-making station. Remember to keep those little fingers away from the hot griddle.
Adults and older children can use the squirt bottles to draw their egg-shaped pancakes on the griddle. This is the time to be creative! Eggs can be small or large, striped, polka dotted or zigzagged -- the more colors and shapes the better.
After the Easter egg-shaped pancakes have been drawn and bubbles start to form, flip the pancake over and cook until done.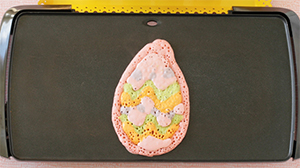 But wait, the pancake isn't complete until the fruit has been added. Set out the fruit and other decorative toppings on the table and let family members young and old get to work decorating their pancake. Not only are the fruit trimmings nutritious, but they're also a great way to teach little ones about creating patterns.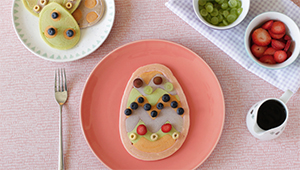 Happy Easter creations!
Friday October 9, 2015
Have a Spook-tacular Healthy Halloween
Candy may be everywhere you look this time of year, but your Halloween celebration can be on the healthy side. Enjoy serving these great recipes that will still satisfy your sweet tooth and cast a spell on all your party goblins!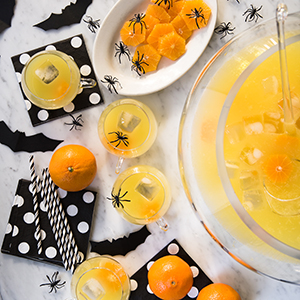 Bubbling Witches Brew
(Makes 5 cups)
3½ cups fresh mandarin orange juice
½ cup fresh lemon juice
1 cup chilled sweet sparkling soda
Chill freshly squeezed mandarin orange juice and lemon juice. Before serving, mix into a punch bowl or pitcher and stir in 1 cup chilled sweet sparkling soda and ice cubes. Taste for sweetness. To garnish, peel and slice mandarin oranges.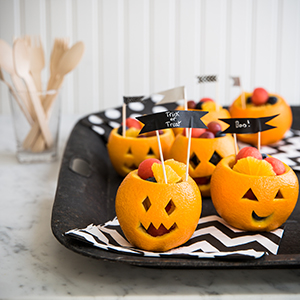 Spook-tacular Fruit Cups
(Need 1 orange for each fruit cup)
Orange Pieces
Melon Balls
Grapes
Blueberries
Cut off the top 1/5 of the orange and use a paring knife to separate the fruit from the inside of the orange, being careful not to cut through the peel. It's not necessary to get all of the flesh out, just enough to fill with cut fruit. If necessary, shave a small amount of peel off the bottom so the cups sit level, being careful not to create an opening in the base. Use a paring knife to carve faces and fill each cup with your choice of orange pieces, melon balls, grapes and blueberries.     
Wednesday May 6, 2015
Summer Snackin'
School is almost out and I can see a pantry full of cookies, chips, and popcorn. This is the go-to for most school-aged kids, but what if we made healthy snacks just as available? This year, take the time to prepare some cute and healthy snacks and your kids will thank you.
String Cheese & Pretzel Sticks
Give your kids a protein boost and a low-fat snack. This combo will keep your kids satisfied while you can catch up on a good book!
Want to make this snack extra fun? Split the cheese stick half way up and push the pretzel stick in the other end of your cheese stick to make a witch broomstick. We all know the way to a kid's tummy is through fun food!
Apples & Peanut Butter
You can't get away from this classic duo when thinking of healthy snacks. However, you can put a spin on it for your kids. Make little sandwiches out of apple slices and peanut butter. Create an even more filling combo by adding oats and raisins on the peanut butter. This treat will help you remember…an apple a day really will keep the doctor away.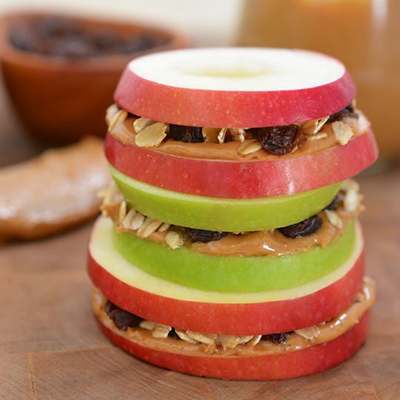 Grapes and Cheese Cubes
This fresh snack will be a family favorite. Stack the grape on top of the cheese cube and use toothpicks to make this a grab-and-go snack. If your kids are craving a sweet and salty bite, they'll polish off a plate of these.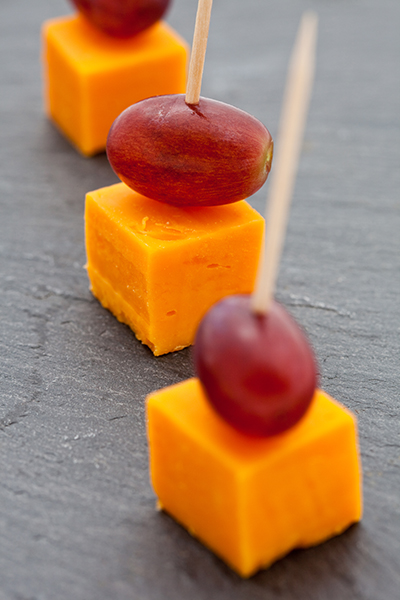 Don't just stop there. Continue making food fun for your kids with bento box ideas. Grab cookie cutters to create shapes or create a face in your yogurt. You could even use cheerios for eyes! Be playful and your kids will love the time and creativity spent in each delightful dish.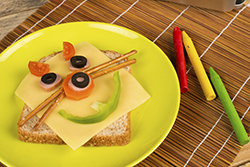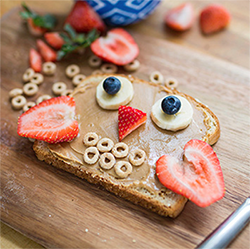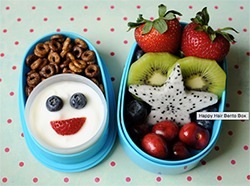 Borden Cheese is helping to keep your summer healthy!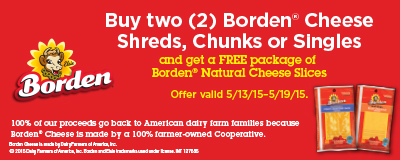 Monday December 22, 2014
Cottage Cheese Perfect Pairings
Perfect Pairings 
Whether sweet or savory, Daisy Cottage Cheese can be the perfect complement to your favorite foods.  When you combine it with veggies, nuts or fruit, you get a satisfying yet healthy twist to an old favorite.

Avocados with Cilantro & Tomatoes
Craving guacamole? This pairing provides the taste, texture of a traditional guacamole and adds extra protein to keep you feeling satisfied longer.

Bananas & Pecans
Behold –bananas, and pecans, make a delicious pairing that are truly satisfying and still incredibly healthy. A pairing that calms the sweet tooth yet provides decent nutrition – what a lovely thing.

Beets & Baby Romaine
This colorful pairing provides a harvest blend of nutrients.

Blackberries & Walnuts
This unique flavor combination offers a high nutritional content of fiber, vitamins and antioxidants with protein to boot.

Blueberries & Almonds
This pairing is sure to make your heart happy!
Figs with Pistachios & Cardamom
Feel like something exotic and nutritious? These classic flavors offer more than just good taste

Granny Smith Apples & Cinnamon
Give this staple snack of green apples and cinnamon a boost of protein by adding cottage cheese! It will be sure to leave you satisfied!

Grapefruit with Mint & Honey
This unique combination offers a refreshing, light, decadent snack.

Grapes & Spinach
Sweet juicy grapes combined with bitter-earthy spinach greens offers is bursting with essential nutrients.

Kale & Almonds with Rosemary
Kale is hotter than ever! This delicious pairing is a trend that will be sure to last.

Mandarin Oranges & Toasted Almonds
This pairing adds a sweet citrus taste to roasted almonds for a delicious crunch that also can help you stay well.

Mangoes & Mint
Colorful, tasty and antioxidant-rich.

Marinated Artichokes & Sun-Dried Tomatoes
This Mediterranean inspired pairing is bursting with flavor and health-boosting, nutrients.

Mushrooms & Spinach
This delicious pairing packs a powerful punch of nutrients and flavor.

Papayas & Macadamia Nuts
This sweet and crunchy pairing makes a snack you can feel good about!

Peaches & Cinnamon
A fiber-rich, protein-packed combo that may help promote stable blood glucose levels.

Pomegranate & Honey
Mix up pomegranates, honey and Daisy Brand Cottage Cheese for a powerful antioxidant-protein buzz.

Raspberries & Muesli
Hearty crunch of the muesli mixed with the sweetness of the raspberries provides a snack that satisfies you anytime of the day.


Red Pepper & Sunflower Seeds
Try this snack your heart, body and soul will love.
Roasted Brussels Sprouts & Hazelnuts
Forget all your notions of what Brussels sprouts used to taste like. This flavorful combination is festive enough for a special occasion and easy enough for every day.

Strawberries & Baby Spinach
Think smart: combine this trio to boost brain power.

Strawberries & Cinnamon
Combine these pairings for a sweet treat that packs a nutritious punch.

Tomatoes & Dill
This savory pairing is packed with antioxidants!