Posted on Tuesday, September 15, 2015
Gather guests around an outdoor fire pit or an indoor fireplace. Cheer them with cheese and cider. That's just the beginning! Soup and salad are the perfect endings to an afternoon doing invigorating yard work, volunteering, crafting or baking together.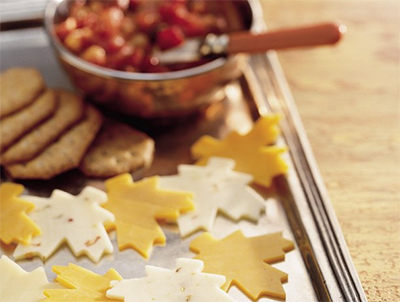 Soup Service
Try a variety of soups, but keep the favorites for your less adventurous eaters such as Taco Soup, Vegetable Soup, Beef Stew, or Chili.
Serve Slow-Cooker soups for easy prep.
Make your own bread bowls. To make, cut off tops of small, round bread loaves, and scoop out the bread from the loaves, leaving a 1-inch-thick wall (use the scooped-out bread for bread crumbs another time). Ladle soup into loaves just before serving; replace tops.
Buffet Best
Have guests serve themselves buffet-style. Have TV trays or other trays available for guests to place their dishes and silverware on. They can then easily balance their meals on their laps while watching the big screen or sitting by the fire.
Make it easy for guests to grab silverware and a napkin by wrapping each place setting in a napkin with a piece of raffia or twine, like a package.
Centerpieces that "Center" Around Your Theme
Arrange apples and bananas in a wicker basket for an apple-picking party.
Arrange fall garden produce and colorful leaves for a yard clean-up party.
Or let an array of homemade bakery treats be your centerpieces. We love fall desserts that use apples, peaches, and pumpkins!
Favors & Crafts
Get ideas from Home Design magazines on the latest fall craft. Some of our favorite easy fall decor staples are wreaths, centerpieces and candles.
Send guests home with bags of home-baked or hand-made goodies to bring fall to their homes too.