Monday September 19, 2016
Fall Neighborhood Soup Supper
A fun, affordable way to bring the whole neighborhood gang together is to stir up a pot (or two). Soup makes the perfect hearty meal for a casual crowd on a crisp fall day—it requires little fuss, it can be made well in advance, and neighbors can ladle it up themselves. Start up the fire pit or indoor fireplace, pull out a football and a few Frisbees, open your door and welcome the neighbors inside.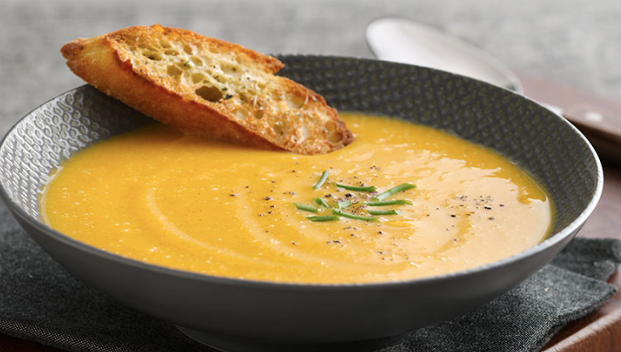 The Soups
Serve two or three soups for variety, making sure at least one is vegetarian. Offer a creamy soup and a broth-based soup to provide a good flavor balance. 
Prepare your soups a day or two in advance (soups taste better when the flavors have had time to meld) and borrow crock pots so you can warm the soups up in your kitchen the day of. 
For your third soup, consider starting a "stone soup" tradition—a potluck with a twist—where each neighbor contributes a little bit to the empty pot. Invite everyone to bring a basic pantry item or some good scraps from the fridge—cans of chicken broth, leftover veggies, potatoes, chunks of chicken, noodles, rice, herbs, Parmesan cheese. Stir it all together for a true taste of community. Have one of the eldest kids gather the younger ones around to read Marcia Brown's famous "Stone Soup" book to tie in with the theme. 
Simple Setup 
To make a simple centerpiece, collect fall leaves from the yard and scatter them around the table and mix them in with the flower arrangements. Fill glass bowls and baskets with apples, and pile up pretty pumpkins and squash. 
Fill a percolator with spiced cider and provide juice boxes for the kids, but ask guests to bring their own beer, wine and libations to contribute to your fridge and coolers. 
Label each soup and set out ladles; make sure everyone's kids know that serving the hot soup is an "adults only" task. 
Provide small bowls of soup toppings around the table for the garnish lovers. Options might include Parmesan cheese, cheddar cheese, toasted sunflower seeds, yogurt or sour cream, croutons and fresh herbs. For sides, choose an easy appetizer like a cheese platter and a couple of green salads. 
Block Party
The best part about the entertainment is that you have the run of the block—let the kids dash from yard to yard playing tag and Red Rover. Set out your lawn games and get a game of bocce or touch football going. Light up a fire pit and ask someone to bring a guitar for a sing-along. 
Take-Home Treats
Make a big batch of home-baked cookies in fall flavors and send the guests home with brown paper bags filled with the treats.
Tuesday September 15, 2015
Bringing Fall to the Neighborhood
Gather guests around an outdoor fire pit or an indoor fireplace. Cheer them with cheese and cider. That's just the beginning! Soup and salad are the perfect endings to an afternoon doing invigorating yard work, volunteering, crafting or baking together.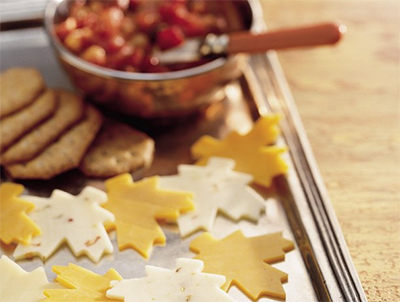 Soup Service
Try a variety of soups, but keep the favorites for your less adventurous eaters such as Taco Soup, Vegetable Soup, Beef Stew, or Chili.
Serve Slow-Cooker soups for easy prep.
Make your own bread bowls. To make, cut off tops of small, round bread loaves, and scoop out the bread from the loaves, leaving a 1-inch-thick wall (use the scooped-out bread for bread crumbs another time). Ladle soup into loaves just before serving; replace tops.
Buffet Best 
Have guests serve themselves buffet-style. Have TV trays or other trays available for guests to place their dishes and silverware on. They can then easily balance their meals on their laps while watching the big screen or sitting by the fire.
Make it easy for guests to grab silverware and a napkin by wrapping each place setting in a napkin with a piece of raffia or twine, like a package.
Centerpieces that "Center" Around Your Theme
Arrange apples and bananas in a wicker basket for an apple-picking party.
Arrange fall garden produce and colorful leaves for a yard clean-up party.
Or let an array of homemade bakery treats be your centerpieces. We love fall desserts that use apples, peaches, and pumpkins!
Favors & Crafts
Get ideas from Home Design magazines on the latest fall craft. Some of our favorite easy fall decor staples are wreaths, centerpieces and candles.
Send guests home with bags of home-baked or hand-made goodies to bring fall to their homes too.