Tuesday January 9, 2018
Chili: A Cold-Weather Comfort Recipe
A hot pot of chili on a cold winter's day is one of the most comforting foods in the south—Texas in particular. Chili warms you inside and out, plus it's filling, easy to make, and nutritious to boot. It really doesn't get any better than that, does it?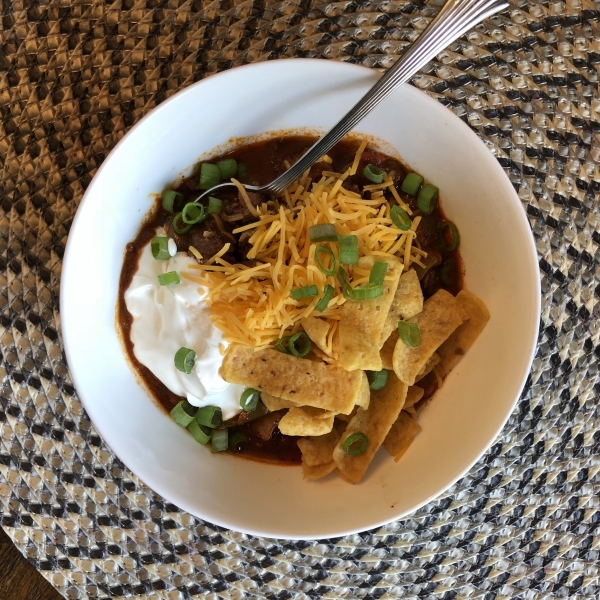 Everyone has their own homemade version, and mine is a little different from the usual fare of the region with its heavy reliance on bell peppers and tomatoes. I fall on the "no beans" side of the chili aisle, but feel free to change things up and make my recipe your own.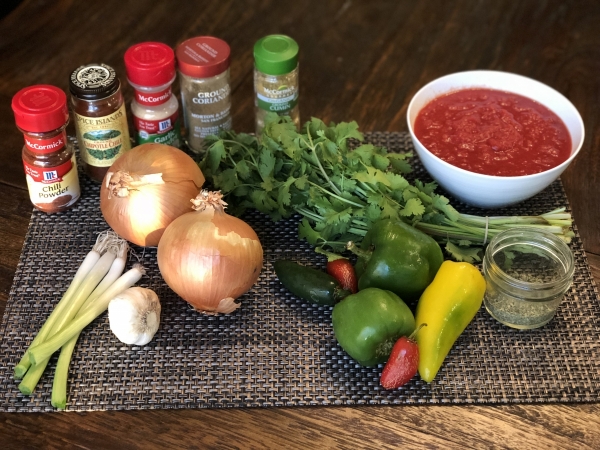 Even though it's not vegetarian, my chili recipe definitely has its fair
share of vegetables
. I like to go heavy on the spices, but the spiciness of the finished dish is easy to adjust. Sour cream is my go-to topping if I'm in the mood for a slightly less spicy dish.
After prepping the ingredients, heat up the olive oil to get the party started.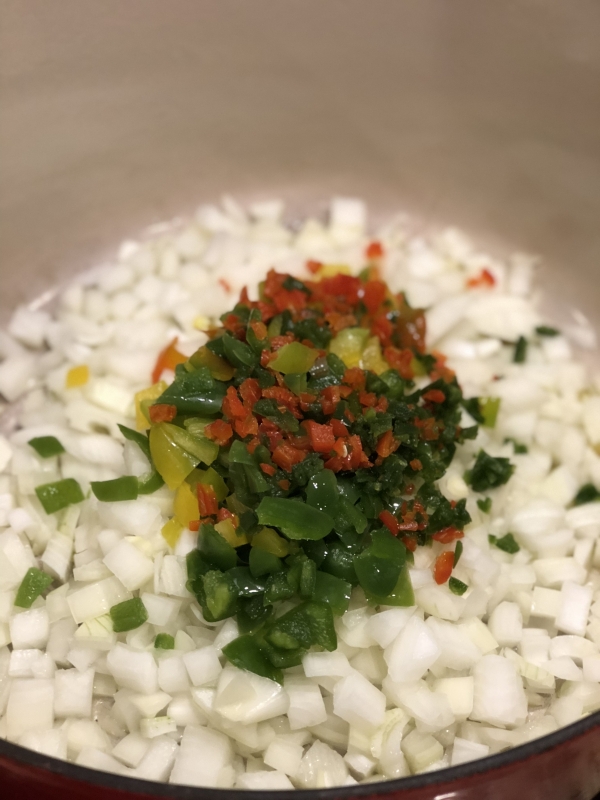 When the oil begins to shimmer, add the onions, white parts of the scallions, and all the peppers to the pot. Once they are softened, add the garlic and cook for a minute. Remove the mixture from the pot and set aside before cooking the ground beef. 
Onions and peppers are rich in immune system boosting antioxidants and vitamin C, so my chili doesn't just warm you up, it can keep you well too!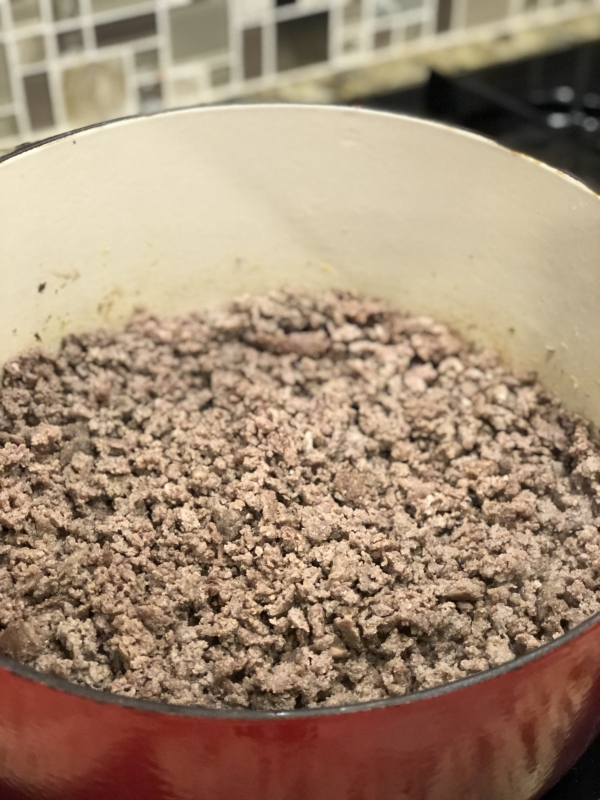 After the pot is empty, add the ground beef and two teaspoons of salt to the pot. 
I prefer 85/15 ground beef because the finished result tastes beefier and is tender. Beef is rich in a variety of vitamins and minerals, not the least of which is iron.  If you prefer to go the vegetarian route, just sub in your favorite variety of canned beans.
P.S. - You can get $5 OFF on a $50 purchase of meat with this week's Member Monday offer (01/15). Not a member? Sign up TODAY!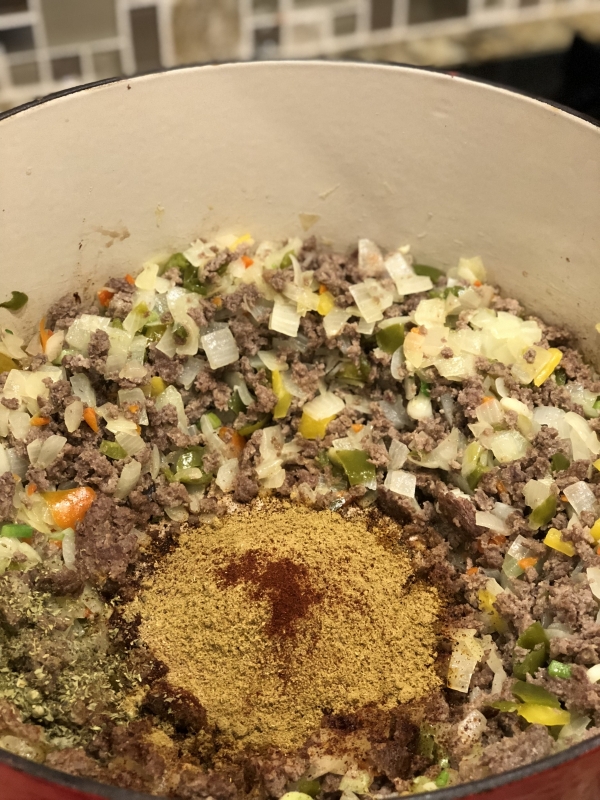 Once the beef is cooked through and broken up, add the onions back to the pot. Create a little well in the center of the pot before adding the spices. Toasting the spices briefly in the well helps brighten the flavors. 
Spices are one of the richest sources of antioxidants for your diet. I like to add a little chipotle chili powder for a smoky kick.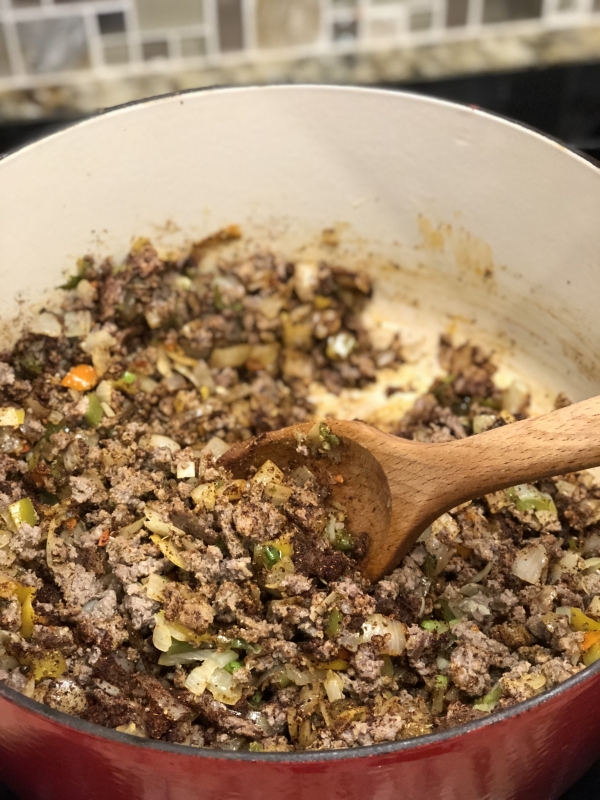 Now it's starting to look like chili.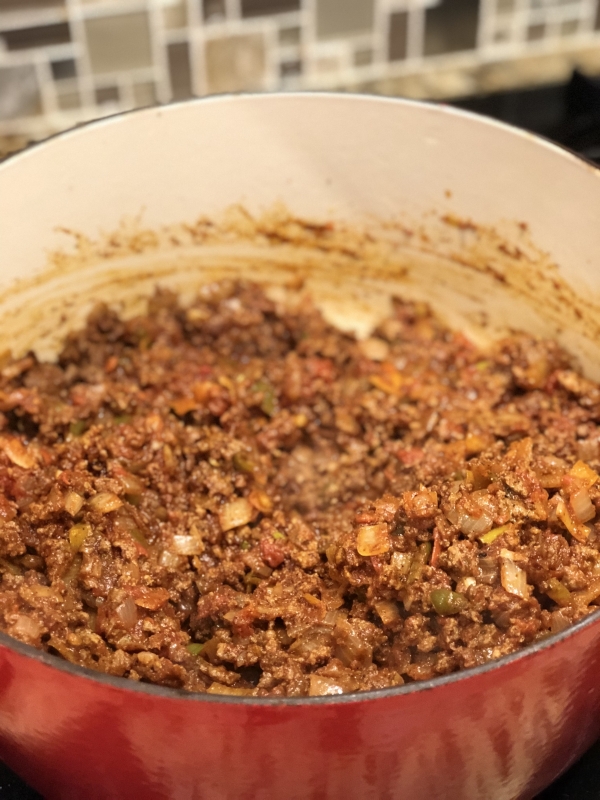 Stir in the tomatoes. They add a bright punch of sweetness and acidity to balance out the flavors.
THIS WEEKEND ONLY: We're sending out a text offer for $5 off on a $75 purchase of groceries! To sign up, text JOIN [insert your store number] to 59652.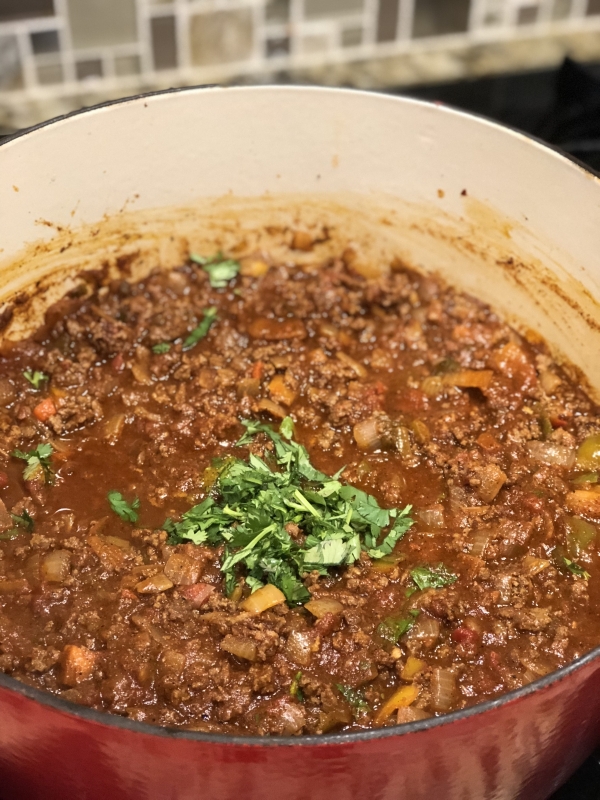 Add water until the right consistency is reached and then let it simmer a while for the flavors to meld.  When it's finished cooking, add the chopped cilantro. 
I love the flavor and color cilantro brings to the dish, but if you lean more towards the "cilantro tastes like soap" side, feel free to skip it.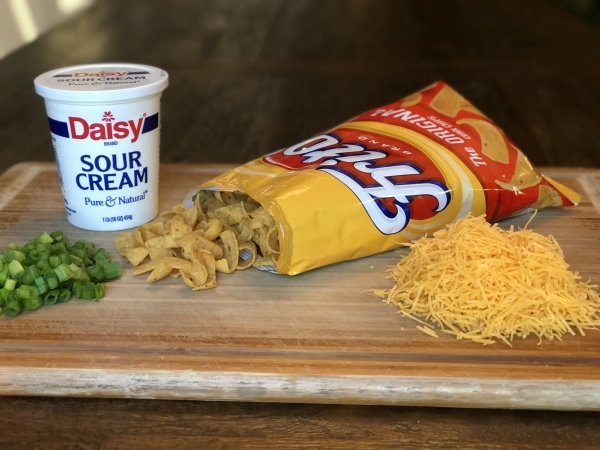 Top with your favorites and enjoy!
INGREDIENTS
2 tablespoons olive oil
2 medium onions, diced medium
4 scallions, white parts minced and green tops sliced thin for toppings
1 large green bell pepper, diced medium
1 large yellow or orange bell pepper, diced medium
2 medium jalapenos, chopped fine
2 cloves of garlic, minced
2 pounds 85/15 ground beef
2 teaspoons salt
½ cup chili powder
2 tablespoons plus 2 teaspoons ground cumin
2 teaspoons garlic powder
1 teaspoon ground coriander
1 teaspoon dried oregano
¼ teaspoon chipotle chili powder (optional)
1 can crushed tomatoes (23 oz)
2 cups filtered water
2 tablespoons fresh cilantro leaves, chopped
TOPPINGS
Shredded cheese
Corn chips or tortilla chips
Sour cream
Sliced green onions
INSTRUCTIONS
1. After prepping all ingredients, heat olive oil in a large pot over medium-high heat. 
2. Add the onions, white part of the scallions, and peppers to the pot with the olive oil and cook for 6-8 minutes until softened.  Add the garlic and cook until fragrant about 1 minute, stirring constantly.
3. Remove onions from the pot and set aside.  Add ground beef and salt.  Cook, breaking up meat with a wooden spoon, until beef is no longer pink and cooked through, stirring occasionally, about 8-10 minutes. 
4.  Add the cooked onion mixture back to the pot and stir it in. 
5.  Make a well in the middle of the ground beef mixture and add all the spices and cook for thirty seconds before stirring into the beef mixture (toasting the spices briefly in a dry pan helps to bloom the flavors).
6.  Stir in the entire can of crushed tomatoes.  Add water until the correct consistency is achieved (about two cups) and adjust seasoning. Turn the heat down to medium-low and let the chili simmer gently until the meat is tender and flavors have melded (about 20 to 30 minutes). Add additional water as needed to adjust consistency. Turn off heat, stir in chopped cilantro.  
7. Serve with desired toppings.
Need some more fast recipes to keep warm with? Check these out:
Butternut squash is a seasonal favorite because of its delicious buttery undertones, plus it's oh-so-nutritious! Check out the recipe from registered dietitian Angela Larson.
Turnips are a delicious low-carb alternative to potatoes with less than half the calories and carbs. Furthermore, they're rich in minerals, B vitamins, vitamin C, and—most importantly—in flavor.
Check out Kate's favorite recipes for #NationalSoupMonth: White Chicken Chili and Tuscan Bean & Kale Soup!
---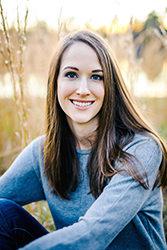 Angela Larson is a registered dietitian (RD) who works with Brookshire Brothers promoting 
real fresh, real delicious
 foods and nutrition education to the community. She is also a clinical dietitian representing Woodland Heights Medical Center in Lufkin where she does outreach education on food and nutrition. Food is her passion, so Angela loves trying new recipes and exploring the more holistic side of nutrition. Angela loves to cook, garden, and spend time outdoors. In addition to the 
Brookshire Brothers blog
, look for Angela's monthly articles in Charm East Texas. 
Monday September 19, 2016
Fall Neighborhood Soup Supper
A fun, affordable way to bring the whole neighborhood gang together is to stir up a pot (or two). Soup makes the perfect hearty meal for a casual crowd on a crisp fall day—it requires little fuss, it can be made well in advance, and neighbors can ladle it up themselves. Start up the fire pit or indoor fireplace, pull out a football and a few Frisbees, open your door and welcome the neighbors inside.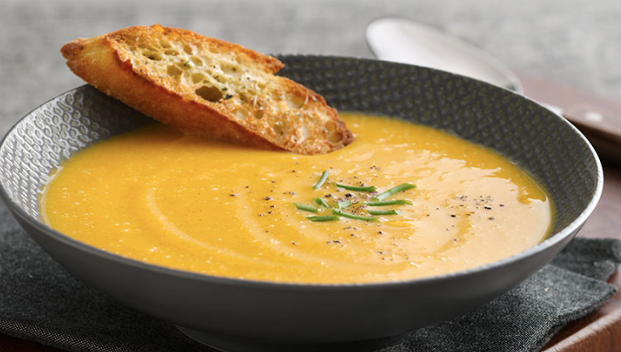 The Soups
Serve two or three soups for variety, making sure at least one is vegetarian. Offer a creamy soup and a broth-based soup to provide a good flavor balance. 
Prepare your soups a day or two in advance (soups taste better when the flavors have had time to meld) and borrow crock pots so you can warm the soups up in your kitchen the day of. 
For your third soup, consider starting a "stone soup" tradition—a potluck with a twist—where each neighbor contributes a little bit to the empty pot. Invite everyone to bring a basic pantry item or some good scraps from the fridge—cans of chicken broth, leftover veggies, potatoes, chunks of chicken, noodles, rice, herbs, Parmesan cheese. Stir it all together for a true taste of community. Have one of the eldest kids gather the younger ones around to read Marcia Brown's famous "Stone Soup" book to tie in with the theme. 
Simple Setup 
To make a simple centerpiece, collect fall leaves from the yard and scatter them around the table and mix them in with the flower arrangements. Fill glass bowls and baskets with apples, and pile up pretty pumpkins and squash. 
Fill a percolator with spiced cider and provide juice boxes for the kids, but ask guests to bring their own beer, wine and libations to contribute to your fridge and coolers. 
Label each soup and set out ladles; make sure everyone's kids know that serving the hot soup is an "adults only" task. 
Provide small bowls of soup toppings around the table for the garnish lovers. Options might include Parmesan cheese, cheddar cheese, toasted sunflower seeds, yogurt or sour cream, croutons and fresh herbs. For sides, choose an easy appetizer like a cheese platter and a couple of green salads. 
Block Party
The best part about the entertainment is that you have the run of the block—let the kids dash from yard to yard playing tag and Red Rover. Set out your lawn games and get a game of bocce or touch football going. Light up a fire pit and ask someone to bring a guitar for a sing-along. 
Take-Home Treats
Make a big batch of home-baked cookies in fall flavors and send the guests home with brown paper bags filled with the treats.
Friday August 12, 2016
Turnip the Volume: Vegetable Beef Soup Recipe
TURNIP the volume on dinner with summer vegetable beef soup, featuring the oft forgotten and lowly turnip.  Turnips are a delicious low-carb alternative to potatoes with less than half the calories and carbs.  They are rich in minerals, B vitamins, and vitamin C, but most importantly in flavor.  Prepare them just like you would a potato by peeling and throwing in the soup pot until they are tender. 
Turnip the Volume:  Vegetable Beef Soup
Ingredients
7-bone steaks or blade steaks- about 2 lbs (2-3 steaks)
2 Tbs Extra-virgin olive oil
1 medium onion, diced
6 oz tomato paste (1 small can or jar)
3 cloves garlic, minced
4 cups beef stock, reduced sodium or homemade
4 cups chicken stock, reduced sodium or homemade
2 stalks celery, small dice
4 medium turnips, peeled and diced
1 ½ cups petite baby carrots
1 28 oz can diced tomatoes
2-3 fresh tomatoes, diced (optional)
10 oz frozen corn (1 small bag)
3-4 sprigs fresh thyme (or ½ teaspoon dried)
2 dried bay leaves
¼ cup minced fresh parsley
Salt and pepper, to taste
Instructions
1.  Season steaks with a sprinkle of salt and pepper. Pat steak surface dry with paper towels. Heat olive oil in a large soup pot over medium-high heat until just smoking. Add steak and cook until well browned on all sides, 5-6 minutes per side. Remove steak and set aside.  
2.  Add onion and tomato paste to the pot and sauté for 3 minutes until just softened. Add minced garlic and cook, stirring for 30 seconds. Return steak to the pot. Add beef stock and simmer steak gently for 1 1/2 hours or until tender.  
3.  Remove steak from the pot and set aside. Add chicken stock, celery, turnips, baby carrots, diced tomatoes with juices, fresh tomatoes, frozen corn, fresh thyme, and bay leaves. Allow to simmer until vegetables are tender, about 20 minutes. When steak is cool enough to handle, shred beef, discarding any bones, and return shredded beef to soup pot. Add additional broth or water as needed to thin soup to desired consistency.  
4.  Remove bay leaves, thyme sprigs, and season with salt and pepper to taste. Add fresh parsley off heat. Serve.  
Angela Larson is a registered dietitian (RD) who works with Brookshire Brothers promoting real fresh, real delicious healthy foods and providing nutrition education to the community. She is also a clinical dietitian representing Woodland Heights Medical Center in Lufkin where she does community education on food and nutrition. Food is her passion, so Angela loves trying new recipes and exploring the more holistic side of nutrition. Angela loves to cook, garden, and spend time outdoors. Look for Angela's monthly articles in Charm East Texas.  
Tuesday September 15, 2015
Bringing Fall to the Neighborhood
Gather guests around an outdoor fire pit or an indoor fireplace. Cheer them with cheese and cider. That's just the beginning! Soup and salad are the perfect endings to an afternoon doing invigorating yard work, volunteering, crafting or baking together.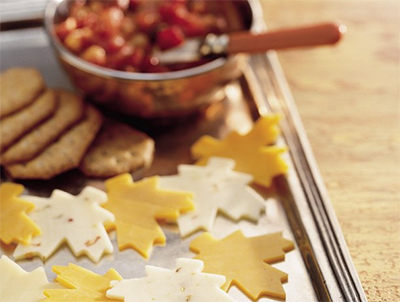 Soup Service
Try a variety of soups, but keep the favorites for your less adventurous eaters such as Taco Soup, Vegetable Soup, Beef Stew, or Chili.
Serve Slow-Cooker soups for easy prep.
Make your own bread bowls. To make, cut off tops of small, round bread loaves, and scoop out the bread from the loaves, leaving a 1-inch-thick wall (use the scooped-out bread for bread crumbs another time). Ladle soup into loaves just before serving; replace tops.
Buffet Best 
Have guests serve themselves buffet-style. Have TV trays or other trays available for guests to place their dishes and silverware on. They can then easily balance their meals on their laps while watching the big screen or sitting by the fire.
Make it easy for guests to grab silverware and a napkin by wrapping each place setting in a napkin with a piece of raffia or twine, like a package.
Centerpieces that "Center" Around Your Theme
Arrange apples and bananas in a wicker basket for an apple-picking party.
Arrange fall garden produce and colorful leaves for a yard clean-up party.
Or let an array of homemade bakery treats be your centerpieces. We love fall desserts that use apples, peaches, and pumpkins!
Favors & Crafts
Get ideas from Home Design magazines on the latest fall craft. Some of our favorite easy fall decor staples are wreaths, centerpieces and candles.
Send guests home with bags of home-baked or hand-made goodies to bring fall to their homes too.