Posted on Monday, May 4, 2020
White sauce and spicy slaw makes Our Director of Catering Kate Rudasill's Quick Fish Tacos extra delicious.
Quick Fish Tacos with White Sauce and Spicy Slaw
Ingredients
10 small corn tortillas
1 (19 oz) box frozen battered white fish fillets
Lime wedges, for serving
White Sauce
½ cup plain yogurt
½ cup Food Club mayonnaise
½ cup Food Club sour cream
2 tablespoons lime juice
2 tablespoons minced capers
½ teaspoon Italian seasoning
1 teaspoon cumin
½ teaspoon dill weed
½ teaspoon garlic salt
1 teaspoon dry minced onion
pinch of cayenne pepper
Spicy Slaw:
1 (10 oz) pkg shredded cole slaw
1 tablespoon lime juice
1 tablespoon honey
¼ cup Food Club Italian dressing
¼ small red onion, minced
¼ bunch fresh cilantro, chopped
Directions
Preheat oven to 425°F.
Wrap corn tortillas in foil.
Line a baking sheet with aluminum foil.
Add frozen fish fillets in a single layer.
Bake in preheated oven for 20 minutes.
Remove pan, turn fillets over, return pan to the oven and add foil wrapped tortillas and cook for an additional 10 minutes or until fillets are hot and crispy.
Cut each fillet in half lengthwise.
For white sauce:
Mix all ingredients together in a medium bowl.
Taste and adjust seasonings as needed.
Chill until ready to serve.
For spicy slaw:
Whisk together Italian dressing, honey, and lime juice. In a large bowl, mix shredded slaw, red onion, and cilantro.
Add dressing and toss to coat.
Chill at least 1 hour before serving.
Assemble tacos:
Add crispy fish fillet to a tortilla, top with slaw and a spoonful of white sauce.
Serve with lime wedges.
---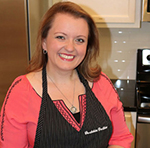 Kate knows food. She grew up with the Southern tradition of good food with the hospitality to match. A graduate of Texas A & M University, a student of The Texas Culinary Academy, and a Nacogdoches, Texas native, Kate's greatest joy is bringing people together over a scrumptious meal.