Monday May 4, 2020
Cooking With Kate: Quick Fish Tacos with White Sauce and Spicy Slaw
White sauce and spicy slaw makes Our Director of Catering Kate Rudasill's Quick Fish Tacos extra delicious.
Quick Fish Tacos with White Sauce and Spicy Slaw
Ingredients
10 small corn tortillas
1 (19 oz) box frozen battered white fish fillets
Lime wedges, for serving
White Sauce                                               
½ cup plain yogurt                                            
½ cup Food Club mayonnaise                       
½ cup Food Club sour cream                          
2 tablespoons lime juice                                  
2 tablespoons minced capers                         
½ teaspoon Italian seasoning                        
1 teaspoon cumin
½ teaspoon dill weed
½ teaspoon garlic salt                                      
1 teaspoon dry minced onion
pinch of cayenne pepper
Spicy Slaw:
1 (10 oz) pkg shredded cole slaw
1 tablespoon lime juice
1 tablespoon honey
¼ cup Food Club Italian dressing
¼ small red onion, minced
¼ bunch fresh cilantro, chopped
Directions
Preheat oven to 425°F.
Wrap corn tortillas in foil.
Line a baking sheet with aluminum foil.
Add frozen fish fillets in a single layer.
Bake in preheated oven for 20 minutes.
Remove pan, turn fillets over, return pan to the oven and add foil wrapped tortillas and cook for an additional 10 minutes or until fillets are hot and crispy.
Cut each fillet in half lengthwise. 
For white sauce:
Mix all ingredients together in a medium bowl.
Taste and adjust seasonings as needed.
Chill until ready to serve.
 For spicy slaw:
Whisk together Italian dressing, honey, and lime juice. In a large bowl, mix shredded slaw, red onion, and cilantro.
Add dressing and toss to coat.
Chill at least 1 hour before serving.
Assemble tacos:
Add crispy fish fillet to a tortilla, top with slaw and a spoonful of white sauce.
Serve with lime wedges.
---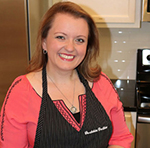 Kate knows food. She grew up with the Southern tradition of good food with the hospitality to match.  A graduate of Texas A & M University, a student of The Texas Culinary Academy, and a Nacogdoches, Texas native, Kate's greatest joy is bringing people together over a scrumptious meal.
Friday September 14, 2018
Real Fresh, Real Delicious Charred Chile and Corn Salsa
In the mood for something sweet, salty, and a little spicy?  I have just the thing to satisfy cravings for all things fresh, simple, and delicious—Charred Chile and Corn Salsa! Whether you're tailgating with friends or
enjoying #TacoTuesday with family
, this corn salsa is a guaranteed crowd-pleaser. Plus, it's easy and quick to prepare, and it's a great way to enjoy seasonal
produce
!
Charred Chile and Corn Salsa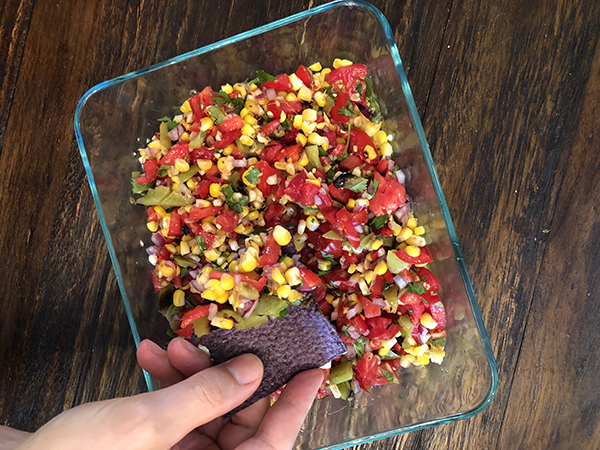 Ingredients
2 ears fresh corn, husked
2 large tomatoes or 3 medium, cored and chopped
1 fresh jalapeno, seeds and ribs removed, chopped fine (optional)
½ red onion, chopped fine
½ teaspoon of salt, plus more to taste
¼ cup fresh cilantro leaves, chopped
2 tbs fresh lime juice
Pepper to taste
Tortilla chips for serving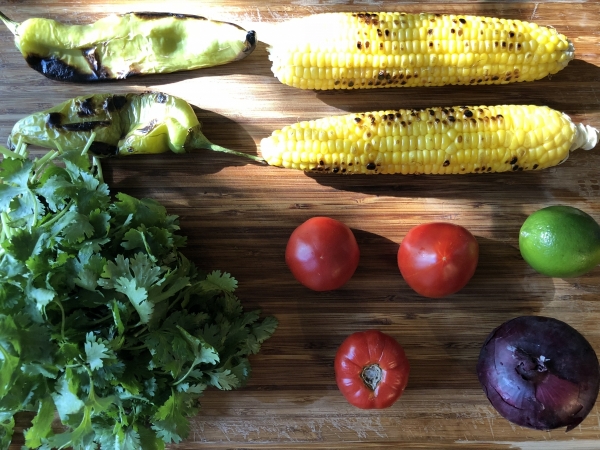 Directions
Sprinkle ½ teaspoon of salt over chopped tomatoes and place in a fine mesh strainer to drain excess juice while preparing the rest of the recipe.
Place the fresh ears of corn and whole chile in a large cast iron or stainless skillet over high heat, turning occasionally until corn is charred in places and chile is blistered all over, about 10-14 minutes.  Reduce heat as needed to prevent scorching.  
Allow corn and chile to cool for a few minutes, then slice corn kernels off the cob with a sharp knife.  Remove the stem, core, and seeds from the chile, and roughly chop.  
Discard tomato juice.  In a medium bowl, combine tomatoes, corn, chile, and all remaining ingredients (except chips) and stir gently to mix.  Add additional salt and pepper to taste. Serve and enjoy!
---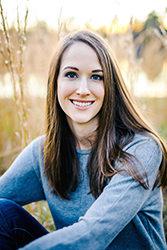 Angela Larson
 is a registered dietitian (RD) who works with Brookshire Brothers promoting 
real fresh, real delicious
 foods and nutrition education to the community. She is also a clinical dietitian representing Woodland Heights Medical Center in Lufkin where she does outreach education on food and nutrition. Food is her passion, so Angela loves trying new recipes and exploring the more holistic side of nutrition. Angela loves to cook, garden, and spend time outdoors. In addition to the 
Brookshire Brothers blog
, look for Angela's monthly articles in Charm East Texas. 
Monday October 3, 2016
Build Your Own Taco Bar
Crunchy or soft...beef or chicken...make your taco how you like it! Invite your friends, neighbors and family over for everyone's favorite, taco night!
Planning & Preparation
Get a head count. Once everyone RSVPs, start a list of who will bring what. Sides are easy for one couple/family, but you may suggest for two couples or families to split the cost of the meat. We're planning for a large crowd, so you don't want someone to feel overwhelmed!
Have variety. Your hot scale may be totally different than mine. So have mild, medium, and hot salsas available for everyone. Having a variety of flour, corn, and flavored tortillas and taco shells can be fun too. 
Embrace the theme. If you're planning the food to such detail, don't leave out the decor and drinks! Run to your local Brookshire Brothers or David's and grab some balloons and margarita mix. While you're out, try to find some fun margarita glasses too. You can send them home as a party favor, or keep them for your next taco night!
The Setup
Be strategic and create a flow. When your guests arrive, have a cocktail area where they can mingle and socialize before moving on to the food.
Invest in heavy duty! Let's be honest...everyone's eyes will be bigger than their stomachs. If you're going for paper and plastic, invest in heavy duty plates. 
Labels are important. Make sure you have labels in front of each station and/or food item. We wouldn't want anyone to confuse "mild" and "hot" salsa!
Enjoy 
You did it! You made your taco the way you want it and enjoyed your company along the way. Taco Tuesday may be when everyone wants tacos, but don't limit yourself to one day a week! Make taco night any night you're craving something salty and savory.