Tuesday July 28, 2020
Lunchbox Taco Salad
 Make lunch fun on the go or at home with this Lunchbox Taco Salad recipe.
Lunchbox Taco Salad
Ingredients
1 cup cooked chicken, cubed
1 teaspoon taco seasoning
2 cups romaine lettuce, chopped
1 cup cooked rice
1 cup corn kernels
1 cup black beans
3 ounces Food Club Jalapeno String Cheese Bites
1 (11.5-ounce) bag Food Club Nacho Cheese Tortilla Chips
1 cup of salsa
Directions
In a medium bowl, mix chicken and taco seasoning together until evenly coated.
Add a layer of lettuce to the largest lunch box compartment.
From left to right, top with lines of chicken, rice, corn, black beans, and string cheese bites.
Place tortilla chips and salsa separately in remaining lunch box compartments.
When ready to eat, crumble tortilla chips and mix them into the salad along with salsa.
Wednesday May 20, 2020
Real Fresh, Real Delicious Rice Noodles with Roasted Sweet Potatoes, Spinach, and Sesame Seeds
Noodle bowl.  Need I say more? 
Okay, I'll say more.  I always have plenty to say about everything (much to my husband's dismay).  There are so many options for noodle bowls that makes my heart sing.  Need a place to use up random produce left in the fridge?  Noodle bowl.  Need a quick dinner that's filling and made with pantry staples?  Noodle bowl.  Have chicken?  Add it.  A random head of broccoli?  Add it.  A half-empty week old jar of baby food?  Don't add that.  Don't add that to anything. 
Sorry, I am easily distracted.  But, back to noodles.  I love them.  But, you say, what if I don't have rice noodles on hand?  This recipe also works great with rice as a starchy stand-in.  Have only half the ingredients on hand?  Just go with it.  That's how easy it is to not mess up this recipe. 
And, yes, I know it looks like a lot of ingredients, but you can totally swap things in as desired or omit things if certain ingredients aren't available.  As long as you have rice noodles or rice, some kind of vegetable, soy sauce, and some kind of tahini or peanut butter, then you've got dinner.  All the other ingredients are just a bonus (and a great opportunity for using up some odds and ends, as outlined above.) 
And did I mention that this dish is totally plant-based?  That is, as long as you don't decide to add any non-plant-based ingredients.  (If you're a strict vegan, feel free to omit the honey.)
So, what are you waiting for?  Let's eat some noodles!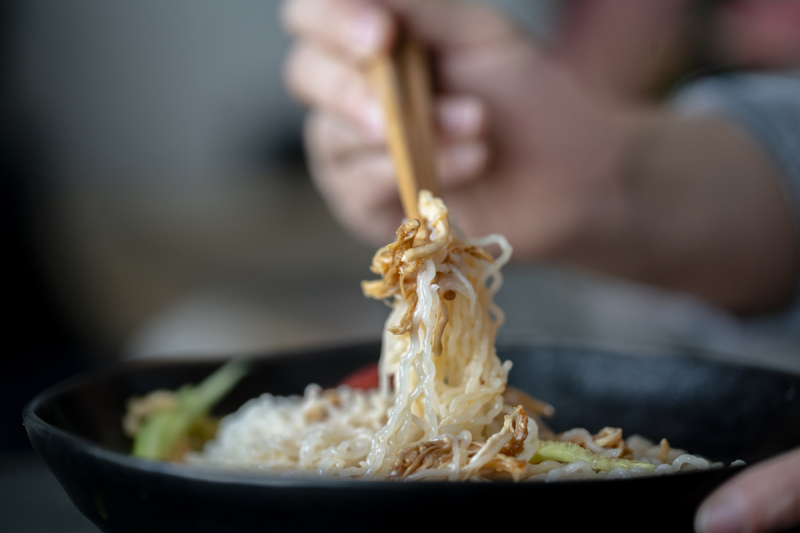 Rice Noodles with Roasted Sweet Potatoes, Spinach, and Sesame Seeds
Equipment Needed
Medium mixing bowl
1 large sheet pan
Parchment paper
Extra-wide aluminum foil
1 medium saucepan
Food processor or blender
Ingredients
Roasted Sweet Potatoes
5 small sweet potatoes, peeled and sliced into ½ inch thick rounds
3 tablespoons extra-virgin olive oil
1 tablespoon sesame seeds
1 teaspoon salt
¼ teaspoon red pepper flakes
1 tablespoon honey
Sauce
3-inch section of fresh ginger, peeled and roughly chopped (Alternately 1 teaspoon of ginger powder can be used.)
2 cloves of fresh garlic (or 1 teaspoon garlic powder)
½ cup tahini (or creamy peanut butter, if preferred)
½ cup low sodium soy sauce or tamari
2 tablespoons toasted sesame oil
3 tablespoons honey
1 tablespoon of red chili paste (I used Thai chili paste)
Zest of 1 lime
Juice of 1 lime
Water, as needed to thin consistency
½ cup of a combination of fresh cilantro and fresh basil leaves (use more or less of either depending on availability and taste)
Noodles
8 ounces of rice noodles
2 cups fresh baby spinach
Optional Toppings (mix and match as desired)
Toasted sesame seeds
Peanuts
Cucumber, sliced
Sweet bell pepper, cut into strips
Sliced green onions
Instructions
For the sweet potatoes:
Cover a large sheet pan with a piece of parchment paper.
Toss sweet potatoes in a medium bowl with olive oil, sesame seeds, salt, and red pepper flakes.
Spread sweet potatoes out on the prepared baking sheet, making sure that the flat side is down and none are touching. 
Cover the sheet pan tightly with extra-wide aluminum foil.  Place oven rack at top position and place sheet pan with sweet potatoes in the cold oven.
Turn on oven to 425 degrees and cook for 20 minutes.
Remove foil after 20 minutes and return to the top rack of the oven, roasting for an additional 25-30 minutes, rotating pan halfway through (drizzle the 1 tablespoon honey on potatoes when rotating pan).
Cook until golden brown around the top and bottom edges.
If top edges are not caramelized, turn the broiler on high for 2 minutes until browned, and watch carefully to prevent burning.
Remove from the oven and set aside. 
For the sauce:
Add fresh ginger and garlic (if using) to the food processor or blender, and pulse several times until chopped finely.
Add all other ingredients except fresh herbs to the blender, and blend until sauce is smooth and uniform in appearance (about 30 seconds).
Thin with water as needed to achieve the right consistency (should drizzle off a spoon).
Add fresh herbs and pulse 7-8 times until coarsely chopped within the sauce.
Set sauce aside. 
For the noodles: 
Meanwhile, bring a large pot of salted water to a boil.
Cook the rice noodles according to package directions.
Add spinach to pot with noodles during last 1 minute of cooking time.
Drain noodles and spinach in a colander and set aside.  (If noodles stick together after cooking, rinse gently with cool water to separate before serving.) 
To serve:
Plate spinach and noodles, drizzle with sauce as desired, and top with roasted sweet potatoes. Serve warm or at room temperature.
Finish with optional toppings. 
---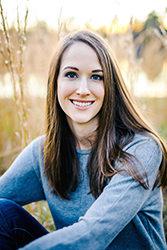 Angela Larson is a registered dietitian nutritionist (RDN) who works with Brookshire Brothers promoting real fresh, real delicious foods.  Delicious food is her passion, so she loves trying new recipes and exploring the more holistic side of health and nutrition.  When Angela isn't working with Brookshire Brothers, she's a mostly stay-at-home mom who loves to cook, garden, and spend time outdoors with her husband, Austin, and their two daughters.
Monday May 4, 2020
Cooking With Kate: Quick Fish Tacos with White Sauce and Spicy Slaw
White sauce and spicy slaw makes Our Director of Catering Kate Rudasill's Quick Fish Tacos extra delicious.
Quick Fish Tacos with White Sauce and Spicy Slaw
Ingredients
10 small corn tortillas
1 (19 oz) box frozen battered white fish fillets
Lime wedges, for serving
White Sauce                                               
½ cup plain yogurt                                            
½ cup Food Club mayonnaise                       
½ cup Food Club sour cream                          
2 tablespoons lime juice                                  
2 tablespoons minced capers                         
½ teaspoon Italian seasoning                        
1 teaspoon cumin
½ teaspoon dill weed
½ teaspoon garlic salt                                      
1 teaspoon dry minced onion
pinch of cayenne pepper
Spicy Slaw:
1 (10 oz) pkg shredded cole slaw
1 tablespoon lime juice
1 tablespoon honey
¼ cup Food Club Italian dressing
¼ small red onion, minced
¼ bunch fresh cilantro, chopped
Directions
Preheat oven to 425°F.
Wrap corn tortillas in foil.
Line a baking sheet with aluminum foil.
Add frozen fish fillets in a single layer.
Bake in preheated oven for 20 minutes.
Remove pan, turn fillets over, return pan to the oven and add foil wrapped tortillas and cook for an additional 10 minutes or until fillets are hot and crispy.
Cut each fillet in half lengthwise. 
For white sauce:
Mix all ingredients together in a medium bowl.
Taste and adjust seasonings as needed.
Chill until ready to serve.
 For spicy slaw:
Whisk together Italian dressing, honey, and lime juice. In a large bowl, mix shredded slaw, red onion, and cilantro.
Add dressing and toss to coat.
Chill at least 1 hour before serving.
Assemble tacos:
Add crispy fish fillet to a tortilla, top with slaw and a spoonful of white sauce.
Serve with lime wedges.
---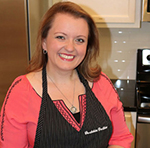 Kate knows food. She grew up with the Southern tradition of good food with the hospitality to match.  A graduate of Texas A & M University, a student of The Texas Culinary Academy, and a Nacogdoches, Texas native, Kate's greatest joy is bringing people together over a scrumptious meal.
Thursday June 6, 2019
Real Fresh, Real Delicious Sides to Serve With Steak
Round out your steak night with these three nutritious dishes from Angela Larson, RD: Roasted Potato Wedges, Roasted Squash, and Grilled Mushrooms. 
Looking for some tasty sides to accompany your special steak dinner? Check out some of my tried-and-true favorites, perfect quick and easy sides that will cook while your steaks are on the grill!
Grilled Button Mushrooms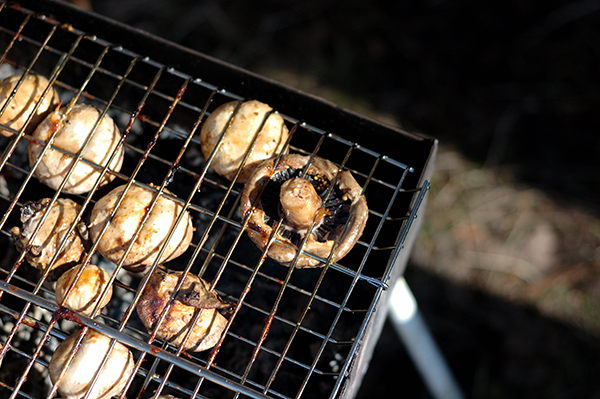 Ingredients
2 pounds white button mushrooms
2 tablespoons extra virgin olive oil
Salt and pepper
Instructions
Wash mushrooms.
Trim stems.
Toss with 2 tablespoons olive oil, and salt and pepper to taste. 
Place on grill gill side down and grill for 6 minutes until charred. 
Flip and grill for an additional 4-6 minutes until charred and tender. 
Serve.
---
Roasted Potato Wedges
Notes:  Choose potatoes that are somewhat uniform in size, about four to six inches long. 
Ingredients
3 tablespoons extra virgin olive oil
2 pounds Russet potatoes, scrubbed
Salt, to taste
Instructions
Position oven racks to top and bottom of oven. 
Preheat oven to 425 degrees. 
Prepare a sheet pan with parchment paper or spray generously with cooking spray. 
Prepare potatoes by cutting into 8 even wedges. 
Toss potatoes with extra virgin olive oil and salt to taste. 
Cover baking sheet tightly with aluminum foil and place in the oven for 10 minutes on bottom rack. 
Remove foil move potatoes to top rack of oven and roast for additional 10-13 minutes until tender and lightly golden brown, rotating pan halfway through cooking time.
---
Roasted Summer Squash
Ingredients
5-6 medium summer squash - zucchini and/or yellow squash will work (as much as can fit in a single layer on a rimmed sheet pan can be used)
2 tablespoons extra virgin olive oil
Salt and pepper
Optional: freshly grated parmesan cheese
Instructions
Position oven racks to top and bottom of oven.
Preheat oven to 425 degrees.
Prepare a sheet pan with parchment paper or spray generously with cooking spray. 
Prepare squash by washing, drying, and cutting into slices about ¼ inch thick.
Place in a single layer on sheet pan and drizzle with olive oil.
Season to taste with salt and pepper. 
Place in oven on bottom rack and cook for 10 minutes.
Rotate pan and move to top rack for an additional 10-12 minutes, until tender and starting to brown on bottom. 
Turn broiler on high and cook for an additional 1-2 minutes until spotty brown on top.
Monitor closely to prevent burning.
Remove from oven and serve immediately with optional grated parmesan cheese.
---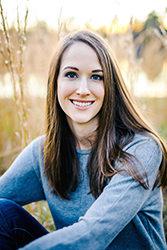 Angela Larson is a registered dietitian nutritionist (RDN) who works with Brookshire Brothers promoting 
real fresh, real delicious
 foods.  Delicious food is her passion, so she loves trying new recipes and exploring the more holistic side of health and nutrition.  When Angela isn't working with Brookshire Brothers, she's a mostly stay-at-home mom who loves to cook, garden, and spend time outdoors with her husband, Austin, and their two daughters.
Sunday October 15, 2017
Celebrating Hispanic Heritage 2017
Six Dishes, Four Countries, One Kitchen. 
While today marks the last day of National Hispanic Heritage Month, we think this bold and exciting culture is always worth celebrating. At Brookshire Brothers, we continually strive to understand and celebrate other cultures so that we can better serve our communities.  Hispanic heritage is particularly important to us as a company with a richly diverse workforce, as well as a footprint that reaches as far south as Ganado.
As such, we'd like to share six traditional dishes—courtesy of our vendor partner Goya Foods—to take a journey of flavors across the world without ever leaving your home kitchen. With a menu that's perhaps both familiar and foreign, treat your friends and family to an adventure at your next dinner or gathering.
Visit your local Brookshire Brothers to get started today!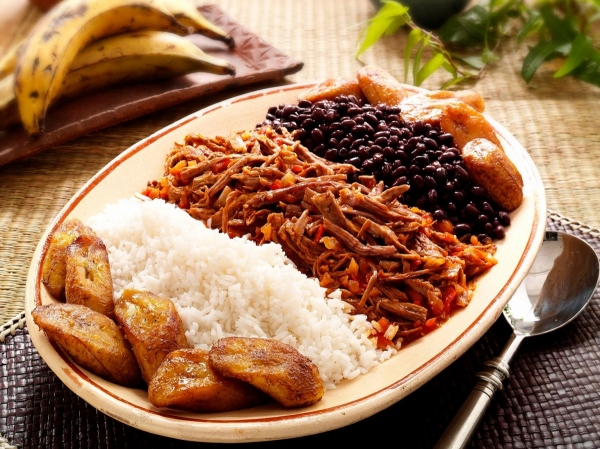 Venezuelan Shredded Beef (Pabellón Criollo)
 Yields 4-6 Servings
Ingredients
1 flank steak about 2 lbs., cut in 4 pieces
1 onion roughly chopped
2 packets GOYA® Beef Bouillon*
1 quart water
2 cups chopped onion
2 tsp. GOYA® Minced Garlic, or 4 cloves fresh garlic, minced* 
2 tbsp. GOYA®Corn Oil*
1 can (8 oz.) GOYA® Tomato Sauce*
1 packet GOYA® Sazón without Annatto*
½ tsp. GOYA® Leaf Oregano*
½ tsp. GOYA® Adobo with Cumin*
1 can (15 oz.) GOYA® Black Bean Soup, heated*
1 packet (11 oz.) GOYA® Frozen Ripe Plantain, cooked according to package directions*
3 cups cooked CANILLA® Extra Long Grain Rice*
* Brands are substitutable
Directions
In saucepan, combine meat, onion, bouillon and water. Bring to boil, lower heat and simmer until very tender (about 1½ hours). Add more water as necessary to keep meat covered. Allow meat to cool in broth. When cool enough to handle, shred meat. Reserve 1 cup of broth.
In meantime, puree onion, red pepper and garlic in food processor.
In skillet heat oil on medium high. Add shredded meat and lightly brown. Add pureed vegetables, tomato sauce, Sazon, oregano, Adobo and reserved broth. Bring to boil, lower heat and simmer until mixture dries about 20 minutes. 
Arrange meat, black beans, rice and plantain on platter and serve.
CONTINUE THE JOURNEY
Mexico
Chicken Flautas — "Tacos are an everyday event in Mexico with many different fillings. When tacos are rolled tightly and pan-fried until crisp so they resemble tubes or "flutes," they become flautas. This delicious, crunchy variation of tacos comes from Jalisco, Mexico, where it is a popular snack food. Here, chicken stewed with tomato sauce and onions is the filling of choice, but can be substituted for steak or pork. Whichever protein you choose, the flautas should be prepared and eaten right away for the best taste." (GOYA)
Grilled Chicken Fajitas — "For an outdoor meal that's fun for everyone, serve up a sizzling batch of Grilled Chicken Fajitas! Here, boneless, skinless chicken breasts come alive with flavor and pizzazz when marinated in GOYA® Mojo Criollo. Grill the marinated chicken breasts, peppers and onions and serve with the toppings of your choice for a festive dinner, tonight!" (GOYA)
Chicken and Avocado Quesadillas — "These chicken and avocado quesadillas are guaranteed to be the life of your summertime fiestas! Here, a tasty combination of GOYA® Fancy Pimientos, GOYA® Diced Green Chiles, scallions, fresh cilantro and GOYA® Salsita are topped with shredded cooked chicken and creamy avocado, coming cozily together in GOYA® Soft Taco Flour Tortillas with melted shredded cheese. This flavor-loaded quesadilla is bound to keep your party guests coming back for more!" (GOYA)
El Salvador
Salvadoran Pupusas with Cabbage Salad

 — "A staple of Salvadoran cuisine, 

pupusas

 are handmade, stuffed corn tortillas. Savory, flavor-packed 

pupusas 

Salvadoreñas are traditionally filled with beans, cheese, and pork. This 

pupusas

 recipe is especially easy, made with GOYA® Masarica Instant Corn Masa Flour, and stuffed with a choice of GOYA® Refried Red Beans (Volteados Style) and white cheese. 

Pupusas

 are served with a tangy pickled cabbage salad." (GOYA)
Colombia
Colombian Beef and Pork Empanadas

 — "These typical Colombian-style 

empanadas

 are tasty turnovers made with savory yellow corn dough stuffed with seasoned pork and beef mixed with cooked potatoes. The meat filling is typically made with cooked and shredded beef and pork, but here, we use ground meat to cut down in cooking time with similar tasty results. Served at social gatherings, family parties and celebrations throughout the year, these Colombian Beef and Pork Empanadas are the perfect tasty, hand-held party food. Serve with lime wedges and a 

ají picante

." (GOYA)
Friday July 21, 2017
Cooking with Kate: Destination Argentina
One of my favorite things about my job is researching different cuisines from around the world for themed events. Lately, I've been learning about Argentinian dishes, and one food keeps coming up over and over—quince. Argentina is one of the world's top producers of quince, and many describe the fruit as similar in texture and appearance to an apple or pear, but usually bright yellow when fully ripe. Unlike, pears and apples, quinces are rarely eaten raw because they are too hard and sour. Because
this produce
is high in pectin, it is often used to make jams and jellies. Commercially, quince is produced into a sweet/tart, sticky, hard paste known as
dulce de membrillo
. This paste is then used in sandwiches and tarts, like the pastafrola recipe below.
Pastafrola
Traditional Argentine Tarts with Quince Jam
Yield: 1 (9-10") tart or 8-10 individual tarts
Ingredients
For the crust:
1 cup sugar
1 stick + 6 tablespoons salted butter, room temperature
1 teaspoon good quality vanilla
1 egg + 1 egg yolk, room temperature
3 cups all purpose flour
1 egg + 1 tablespoon water, for egg wash
For the filling:
2 cups (15-16 ounces) quince jam / paste (dulce de membrillo or membrillo casero)*
2-3 tablespoons water
Directions
For the crust:
Mix the sugar and butter together with a hand mixer until creamy. Add the vanilla, egg, and egg yolk. Continue to mix with a hand mixer until smooth. Using a spoon, incorporate the flour and salt, a little at a time, being careful not to handle or overwork the dough too much. Wrap the dough in plastic wrap and refrigerate for 30 minutes.
For the filling:
Place the quince paste into a medium bowl. Add the water and mash with a fork until you have a smooth paste.
To assemble: 
Separate the dough into 2 pieces: ¾ for the crust and ¼ to make the strips for the lattice topping. Roll out the larger portion of dough to about ¼" thickness. Lightly coat a pie dish or tart pan with cooking spray or butter, and press the dough into the dish. Spoon the quince paste into the crust. Roll out the second piece of dough and cut into long strips with a knife or pizza cutter. Add the dough strips to the top of the tart in the classic lattice pattern or have fun making your own design.
In a small bowl, mix the egg with the water. Brush the crust with a little of the egg wash, and bake at 350°F for 20-30 minutes, until crust is golden brown. Let cool for 10-15 minutes before serving.
Monday September 19, 2016
Fall Neighborhood Soup Supper
A fun, affordable way to bring the whole neighborhood gang together is to stir up a pot (or two). Soup makes the perfect hearty meal for a casual crowd on a crisp fall day—it requires little fuss, it can be made well in advance, and neighbors can ladle it up themselves. Start up the fire pit or indoor fireplace, pull out a football and a few Frisbees, open your door and welcome the neighbors inside.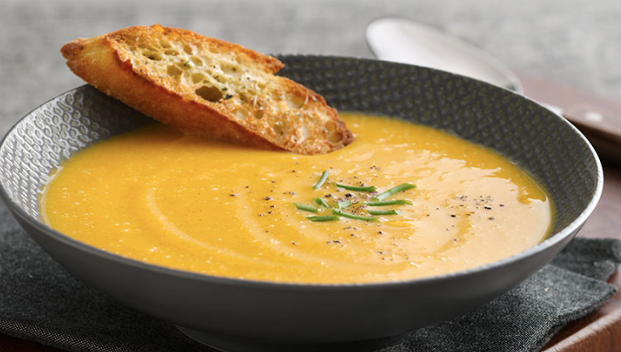 The Soups
Serve two or three soups for variety, making sure at least one is vegetarian. Offer a creamy soup and a broth-based soup to provide a good flavor balance. 
Prepare your soups a day or two in advance (soups taste better when the flavors have had time to meld) and borrow crock pots so you can warm the soups up in your kitchen the day of. 
For your third soup, consider starting a "stone soup" tradition—a potluck with a twist—where each neighbor contributes a little bit to the empty pot. Invite everyone to bring a basic pantry item or some good scraps from the fridge—cans of chicken broth, leftover veggies, potatoes, chunks of chicken, noodles, rice, herbs, Parmesan cheese. Stir it all together for a true taste of community. Have one of the eldest kids gather the younger ones around to read Marcia Brown's famous "Stone Soup" book to tie in with the theme. 
Simple Setup 
To make a simple centerpiece, collect fall leaves from the yard and scatter them around the table and mix them in with the flower arrangements. Fill glass bowls and baskets with apples, and pile up pretty pumpkins and squash. 
Fill a percolator with spiced cider and provide juice boxes for the kids, but ask guests to bring their own beer, wine and libations to contribute to your fridge and coolers. 
Label each soup and set out ladles; make sure everyone's kids know that serving the hot soup is an "adults only" task. 
Provide small bowls of soup toppings around the table for the garnish lovers. Options might include Parmesan cheese, cheddar cheese, toasted sunflower seeds, yogurt or sour cream, croutons and fresh herbs. For sides, choose an easy appetizer like a cheese platter and a couple of green salads. 
Block Party
The best part about the entertainment is that you have the run of the block—let the kids dash from yard to yard playing tag and Red Rover. Set out your lawn games and get a game of bocce or touch football going. Light up a fire pit and ask someone to bring a guitar for a sing-along. 
Take-Home Treats
Make a big batch of home-baked cookies in fall flavors and send the guests home with brown paper bags filled with the treats.
Monday June 13, 2016
6 Easy Ways to Mushroom with Monterey Mushrooms
Fresh mushrooms are truly a cook's best friend. Whether you need just a little something to dress things up or add a whole new dimension of flavor, your answer is mushrooms!
Basic Preparation: There is no need to peel mushrooms. The only trimming they may need is the stem end, if it's dry, or the tough stem portion of Shiitakes or the root of the Portabella. All other mushroom stems may be prepared along with the caps. Mushrooms can be sliced thick or thin, cut in quarters, coarsely or finely chopped using a sharp knife. For slicing or chopping large quantities, use a food processor with the slicing or wing blade attachment. If a recipe calls for just caps, twist stems loose or separate them from the caps with the tip of a knife.
Sautéing: The most popular way to cook mushrooms. For each eight ounces of mushrooms, melt one tablespoon butter or heat one tablespoon of oil in a large skillet. Add mushrooms. Cook and stir until golden and the released juices have evaporated, about five minutes. Don't overcrowd the skillet or the mushrooms will steam rather than brown.
Microwaving: Mushrooms cook extremely well in the microwave. Simply clean and cook as follows: Put eight ounces thickly sliced mushrooms in a microwavable bowl (no oil or butter needed); cover and cook on HIGH (100% power) for two to three minutes stirring once.
Roasting: Place mushrooms in a shallow baking pan, Toss with a little oil and roast in a 450 F oven, stirring occasionally until brown, about 20 minutes. Use about one tablespoon of oil for each eight ounces of mushrooms.
Grilling or Broiling: Preferred for larger capped mushrooms such as Portabellas and Shiitakes. Lightly brush caps and stems with oil to keep them moist, and season with salt and pepper. Grill or broil 4 to 6 inches from heat source for 4 to 6 minutes on each side, brushing again once or twice.
Seasoning: Mushrooms are very similar to meats and other vegetables. Virtually any and all seasonings go well with mushrooms. If serving as a side dish, use seasonings compatible with the main dish.
These are some easy methods for cooking mushrooms. Get to your local store and grab your favorite variety and fire up the grill...it's summer!
Tuesday March 1, 2016
Cooking with Wine
What wine to use? What to do with the leftover? Red or white, dry or sweet? So many questions, but they're all answered here with three simple rules!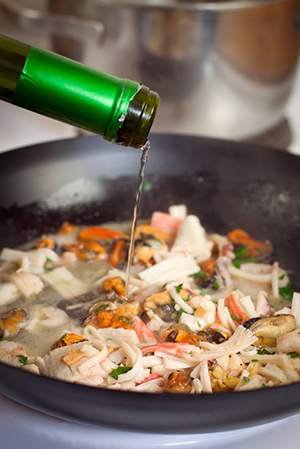 Buy a bottle you'll drink
Rule #1 - Don't venture into a new recipe that calls for a wine that you know you don't like. When cooking with wine, the alcohol cooks out and the flavors are more concentrated. If you are not a fan of a varietal of wine, don't attempt the recipe.
Money isn't everything
Rule #2 - Just because the price tag is more expensive, doesn't mean your meal needs it. Most recipes that call for using wine can have a price cap at $12-$15 per bottle. Also, "cooking wines" are not necessary. Buy your favorite bottle for your taste buds and budget.
Leftover wine?
Rule #3 - You've just finished your decadent dish, but you have half a bottle of wine leftover. Most people may know what we would do with it (drink it, right?)...But, for those who are avid chefs-in-the-making, store that bottle (with the cork) in the refrigerator. It should have a shelf life for up to a week for you to tackle your next recipe!
Now, go have some fun in the kitchen!
Monday June 1, 2015
Cooking with Kate: Bursting with Blueberries
Summertime growing up in Nacogdoches meant one thing – the Texas Blueberry Festival. From enjoying the Kiwanis Club's blueberry pancakes first thing in the morning, to cooking chicken and fish for the Rotary Club's chicken and fish fry, to sunny afternoons sitting on the brick streets, sipping blueberry lemonade, and listening to live music – the Blueberry Festival has always been one of my favorite weekends of the year. In honor of the 2015 Texas Blueberry Festival on June 13th, we're highlighting some quick and easy beginner recipes as well as recipes for our more seasonsed chefs. Each recipe features the little berry that grows so well here in Deep East Texas.
Beginner Recipes
Your family and friends won't believe how easy these recipes are. Beginner or not, everyone will enjoy these dishes!
Fresh Green Salad with Blueberries and Candied Honey Pecans
Toss fresh assorted spring greens, baby spinach, fresh blueberries, chopped candied honey pecans, and shredded mozzarella or crumbled feta cheese. Drizzle with a slightly sweet vinaigrette (champagne or blush wine vinaigrettes work well) for a quick summer salad!
Blueberry Ricotta Crostini
Brush thin slices of baguette with olive oil and bake at 350°F for 5-8 minutes until crisp. Lightly spread each slice with 1 teaspoon ricotta cheese and top with fresh blueberries and a drizzle of good quality honey or spiced blueberry jam and a sprinkle of cinnamon sugar.
Expert Recipes
Channel your inner cooking goddess and try your hand at recipes that chef-worthy!
Spiced Blueberry Jam
10 cups fresh blueberries, stems removed
1 lemon
¼ teaspoon cinnamon
½ teaspoon apple pie spice
5 cups sugar
1 package fruit pectin
1 dozen (4 oz.) canning jars with lids and rings
Add blueberries, spices, lemon juice, and pectin to a large pot over medium-high heat. Crush blueberries with a potato masher or stick blender. Add pectin, mix well, and bring to a boil. Cook for 1 minute. Immediately add all the sugar and mix well. Bring to a full, rolling boil and cook for 1 minute, stirring constantly. Remove from heat and skim foam with a metal spoon. Fill clean, hot jars with the hot jam to within 1/8. Cover with sterilized lids and rings, and process in boiling water bath for 5 minutes.
Blueberry Balsamic Glazed Chicken
2 tablespoons extra virgin olive oil
2 tablespoons butter
4 to 6 skinless, boneless chicken breasts (or 2 pounds chicken legs and thighs)
salt and pepper
2 shallots, thinly sliced (about ¼ cup)
2 cups fresh blueberries
½ cup balsamic vinegar
1/3 cup maple syrup
1 tablespoon coarsely chopped fresh rosemary
Preheat oven to 350°F. Heat 1 tablespoon each oil and butter in a large, heavy skillet. Season chicken with salt and pepper. Sear chicken breasts over medium-high heat until golden brown, about 1 minute per side or until a light crust forms. Remove to a baking dish and set aside. Add remaining olive oil and butter to the skillet and, when hot, stir in shallots and cook until soft and lightly caramelized, about 4 minutes. Add blueberries and cook 1 minute. Stir in balsamic vinegar, maple syrup, and rosemary and simmer about 10 minutes, or until the blueberries have collapsed. Pour the blueberry balsamic mixture over chicken and put baking dish in the top half of the oven for about 10 minutes, until the chicken has cooked through to a temperature of 165°F.
Lemon Blueberry Bars
1 cup white granulated sugar
1 teaspoon baking powder
3 cups all-purpose flour
1 cup unsalted butter
1 egg
1 teaspoon pure vanilla extract
½ teaspoon kosher salt
zest of two lemons
4 cups fresh or frozen blueberries
½ cup white sugar
3 teaspoons cornstarch
Preheat oven to 375°F. Line a 9×13 inch pan with parchment paper and spray with nonstick cooking spray. In a medium bowl, mix sugar, flour, salt, lemon zest and baking powder. In a small bowl, whisk the egg and vanilla together until combined. Use a pastry cutter or your food processor to blend the flour mixture with the butter and egg/vanilla mixture. Dough will be crumbly. Pat half of dough into the prepared pan. In another bowl, stir together sugar and cornstarch. Gently mix in the blueberries. Sprinkle the blueberry mixture evenly over the crust. Crumble remaining dough over the berry layer. Bake in preheated oven for 45 minutes, or until top is slightly brown. Cool completely before cutting into squares.
Pages