Monday May 4, 2020
Cooking With Kate: Quick Fish Tacos with White Sauce and Spicy Slaw
White sauce and spicy slaw makes Our Director of Catering Kate Rudasill's Quick Fish Tacos extra delicious.
Quick Fish Tacos with White Sauce and Spicy Slaw
Ingredients
10 small corn tortillas
1 (19 oz) box frozen battered white fish fillets
Lime wedges, for serving
White Sauce                                               
½ cup plain yogurt                                            
½ cup Food Club mayonnaise                       
½ cup Food Club sour cream                          
2 tablespoons lime juice                                  
2 tablespoons minced capers                         
½ teaspoon Italian seasoning                        
1 teaspoon cumin
½ teaspoon dill weed
½ teaspoon garlic salt                                      
1 teaspoon dry minced onion
pinch of cayenne pepper
Spicy Slaw:
1 (10 oz) pkg shredded cole slaw
1 tablespoon lime juice
1 tablespoon honey
¼ cup Food Club Italian dressing
¼ small red onion, minced
¼ bunch fresh cilantro, chopped
Directions
Preheat oven to 425°F.
Wrap corn tortillas in foil.
Line a baking sheet with aluminum foil.
Add frozen fish fillets in a single layer.
Bake in preheated oven for 20 minutes.
Remove pan, turn fillets over, return pan to the oven and add foil wrapped tortillas and cook for an additional 10 minutes or until fillets are hot and crispy.
Cut each fillet in half lengthwise. 
For white sauce:
Mix all ingredients together in a medium bowl.
Taste and adjust seasonings as needed.
Chill until ready to serve.
 For spicy slaw:
Whisk together Italian dressing, honey, and lime juice. In a large bowl, mix shredded slaw, red onion, and cilantro.
Add dressing and toss to coat.
Chill at least 1 hour before serving.
Assemble tacos:
Add crispy fish fillet to a tortilla, top with slaw and a spoonful of white sauce.
Serve with lime wedges.
---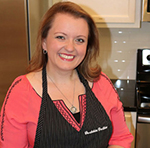 Kate knows food. She grew up with the Southern tradition of good food with the hospitality to match.  A graduate of Texas A & M University, a student of The Texas Culinary Academy, and a Nacogdoches, Texas native, Kate's greatest joy is bringing people together over a scrumptious meal.
Tuesday December 3, 2019
A Twist On Taco Night!
Everybody loves taco night. It's simple, and everyone can make tacos their own! Just add sour cream, cheese, beans and more! Keep reading for extra savings on this phenomenal Tortilla Taco Salad we've prepared for you.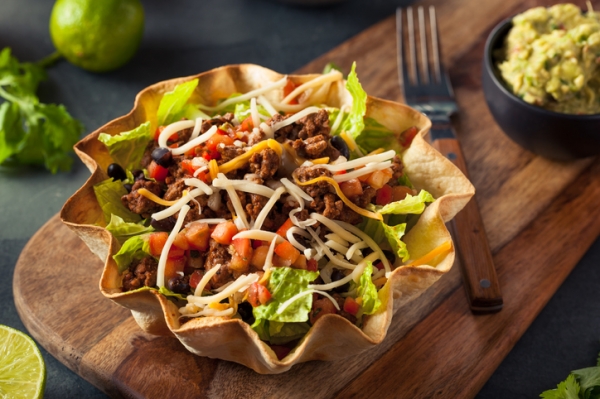 Tortilla Taco Salad
Ingredients
6 Fresh Harvest flour tortillas for burritos, 8 inch (from 11-oz package)
1 lb prepared ground beef with Food Club Taco Seasoning
1 can (15 oz) pinto beans, drained
2 tablespoons sweet-spicy French dressing
1 1/2 cups shredded lettuce
3/4 cup chopped tomato (1 medium)
3/4 cup shredded Mexican or taco-seasoned cheese blend (3 oz)
Food Club taco sauce, if desired
Directions
Heat oven to 400°F. To make tortilla bowls, cut 6 (25x12-inch) sheets of foil. Slightly crush each sheet to make 4-inch ball; flatten balls slightly with palm of hand.

On ungreased large cookie sheet, place tortillas in single layer; cover completely with another sheet of foil. Heat in oven 1 minute or just until warm. Remove tortillas from cookie sheet; place foil balls on same sheet. Top each ball with 1 warm tortilla, shaping tortilla gently to fit around ball.

Bake 6 to 8 minutes or until tortillas are crisp and lightly browned. Remove tortilla bowls from foil balls; place on wire rack. Cool 2 minutes.

Meanwhile, in medium microwavable bowl, mix taco sauce with ground beef, pinto beans and dressing. Cover with microwavable plastic wrap, folding back one edge 1/4 inch to vent steam. Microwave on High 4 to 6 minutes or until hot.

Place tortilla bowls on plates. Spoon about 1/2 cup hot beef mixture into each tortilla bowl. Top each with 1/4 cup lettuce, 2 tablespoons tomato and 2 tablespoons cheese. Serve with taco sauce.
---
But wait, there's MORE!!  
We've prepared a feast of savings perfect to pair with this delicious dish—don't miss out!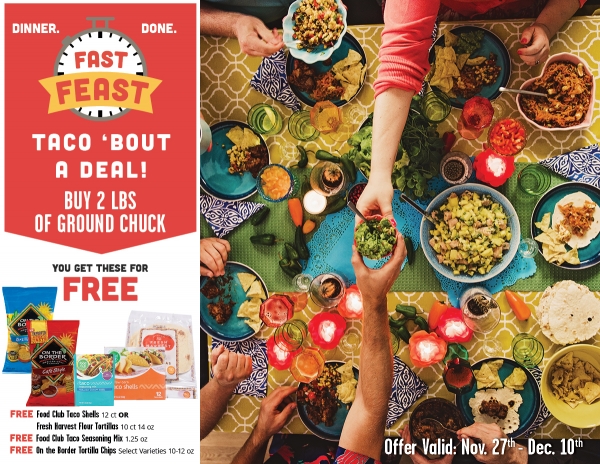 Fast Feast: Buy 2 lbs Ground Chuck, Get 3 Items Free
November 27 through December 10, 2019

When you buy 2 lbs Ground Chuck you can GET 3 items FREE:
1 - Food Club Taco Shells (12 ct) or Fresh Harvest Flour Tortillas (10 ct 14 oz)
1 - Food Club Taco Seasoning Mix (1.25 oz)
1 - On the Border Tortilla Chips (10-12 oz)
Save fast and feast big TODAY—
find a store near you
.* Can't find one of these items? Talk to your local store director!
*Promotion is not available at the following stores: