Monday November 28, 2016
Holiday Traditions
Now that Thanksgiving has passed, it seems like our December calendar is filling up quickly! Between Christmas parties, school programs, Secret Santa drawings, parades, bake sales, and gift-buying, when do you have time to start a tradition? We've asked our employee partners to share their favorite Holiday Traditions, and we hope you'll feel inspired to continue or start a new tradition of your own. Merry Christmas and Happy Holidays!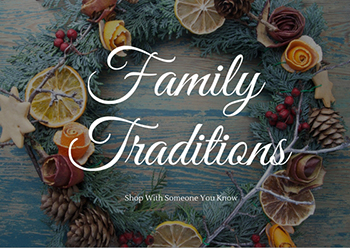 "Our family participates in the annual Lufkin Community Food Drive every year. It's something my girls, both now in college, look forward to every year. We help box the food, deliver it…the whole nine yards. I'm so glad we're able to do it as a family each year."
                                                                         Sally Alvis, Senior Director of Marketing and Public Relations
"Sharing the holiday with family is tradition enough, but we do have a few things we look forward to each year. My wife and I pick out the ugliest Christmas ornaments we can find and hang it on the tree. We've gotten so many now and it's so fun decorating the tree and retelling all the stories. We also attend a Christmas candlelight service at our church every year."
                                                                                                        Doug Barnett, Marketing and Procurement
"We have a few traditions in our house – We always have a Lego Advent calendar and we take turns who builds the item for the day, attend the midnight Mass on Christmas morning, and have a nativity scene that we do not complete until Christmas morning when we place baby Jesus in the manger. We also cook sausage balls, empanadas (fried meat pies) and banana pudding along with getting a 6-pack of glass coke bottles because it is essential to our Christmas celebration!"
                                                                         Corry Lankford, Graphic Designer/Store Signage Coordinator
"Our family traditions are long-standing and long-winded! Just to name a few, we take an annual Girls Christmas Shopping Trip, with my extended family, the first weekend of December. We try to knock out as many gifts as we can, while spending some much needed time together. With my husband and kids, we get into the Christmas spirit when we decorate our tree with themed ornaments from every year while listening to Christmas music. Finally, making Christmas candy is always a fun tradition with my mom and sisters."
                                                                                             Angela Gandy, Digital Media Associate/Copywriter
"The Lowther family always watches National Lampoon's Christmas Vacation on Christmas Eve, helps Mom make fudge and pumpkin bread, gets commemorative Christmas ornaments for each year, and eats Mexican food on Christmas Day."
                                                                                                          Adam Lowther, Public Relations Associate

Get great recipe ideas here to start your own tradition this Holiday Season!