Tuesday September 3, 2019
Gather For Family Meals Month
September is National Family Meals Month™. Let's celebrate by sharing one more family meal per week! Kids who eat with their families regularly are better nourished, have lower rates of obesity and do better in school. Join the fun and help us bring awareness to these benefits with these coloring sheets! Children can complete either sheet for a chance to be featured on our social media during September. At the end of the month, one drawing will be selected to win a special prize!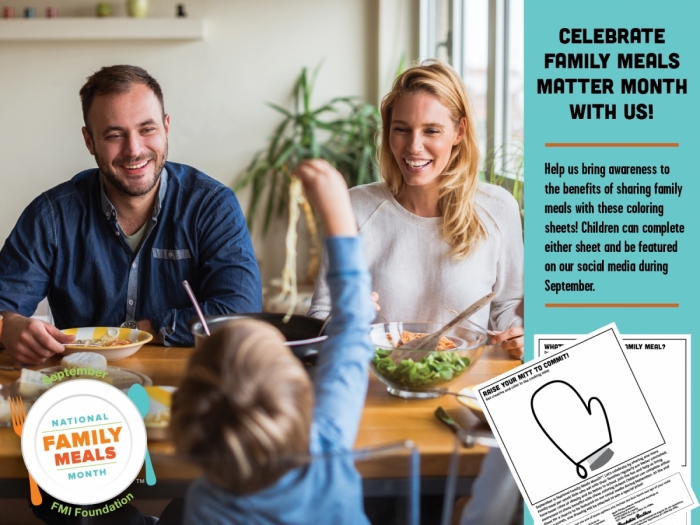 To submit, please use one of these options and include the first name and age of your child.
Via Social Media: You may upload your pictures to social media and tag us at the following handles:
Tuesday July 2, 2019
Go Digital & Save Even MORE
We're pleased to announce the expansion of our Digital Coupons program, an exclusive benefit to our Celebrate members. Starting July 3, we are rolling over our Food Club Friday, Member Monday, and Celebrate Coupon programs to digital coupons. Here's everything you need to know about this upgrade!
What's NEW?
The exclusive savings Celebrate members receive in their inbox every Wednesday morning will now feature six digital coupons with savings hotter than ever. These coupons will replace the Member Monday, Food Club Friday, and Celebrate Coupon offers. Instead, all of our deals will be housed in one simple place.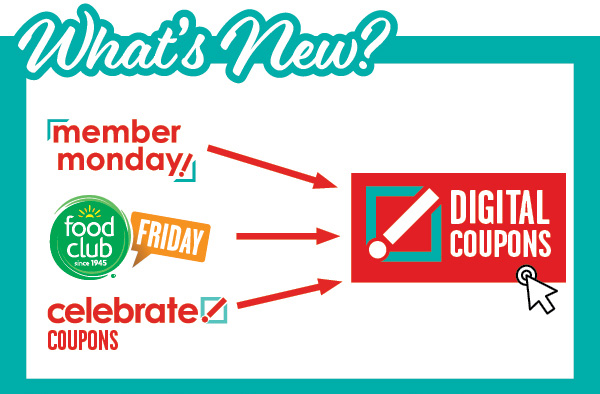 Additionally, we're using software to personalize these digital coupons to a member's shopping habits! The more a member clips coupons, the more personalized the coupons will be. For example, a mother of a newborn that clips baby care coupons will receive more baby care coupons while a young single adult that clips pet food coupons will receive more pet food coupons.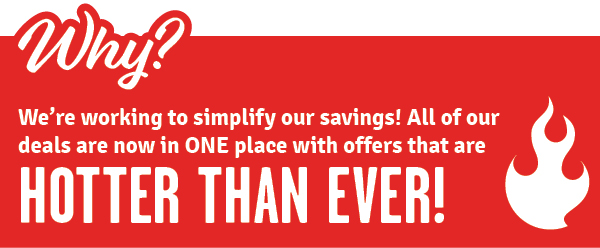 Using Digital Coupons
To participate in these exclusive savings, you can either click on one of the featured coupons in the email or
log in to your Celebrate account
from our website. This will open the Digital Coupon portal where you can "clip" (click) the coupon (and any other coupons you choose) to load it to your Celebrate account. No printing necessary! 
On your next shopping trip, shop for the qualifying products and then put in your 10-digit phone number (i.e. your Celebrate ID) at checkout to redeem.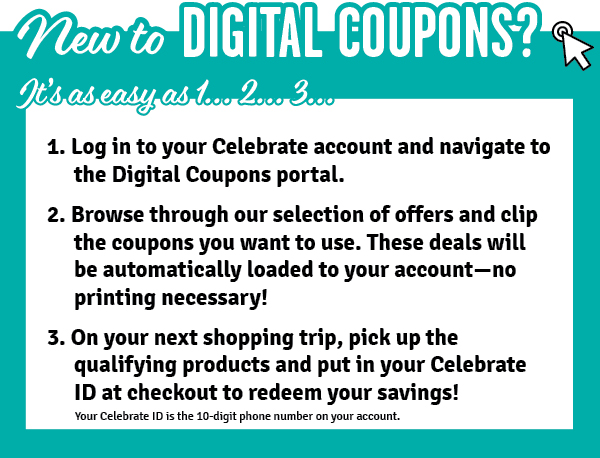 BONUS: You can also double or triple these coupons every Thursday with Thrifty Thursday!
Questions?
Saturday March 9, 2019
Create Your Own Milk Flavor & Win!
Hiland Dairy's spring milk selection is now available for a limited time! While their flavor lineup is quite delicious already, they're always looking for the next best flavor and they need YOUR help! What flavor would you make if you could? 
Create your own flavor for a chance to win a Hiland prize pack! The winning flavor will also be featured on The Hiland Home Blog and considered for future flavor lineups.
Monday April 23, 2018
Cinco De Mayo 2018 - Live Video Recipes
Any excuse to celebrate tacos and chips & dip is a good excuse in our book. With Cinco de Mayo less than two weeks away, we fixed two of our favorite salsa recipes in a Facebook LIVE video recently, and—by popular request— here are the recipes in writing! These appetizers are guaranteed party-pleasers. Visit
your local Brookshire Brothers
to get started today!
Miss the video? Visit our Facebook to check it out! There's a $100 giveaway that you can also enter!!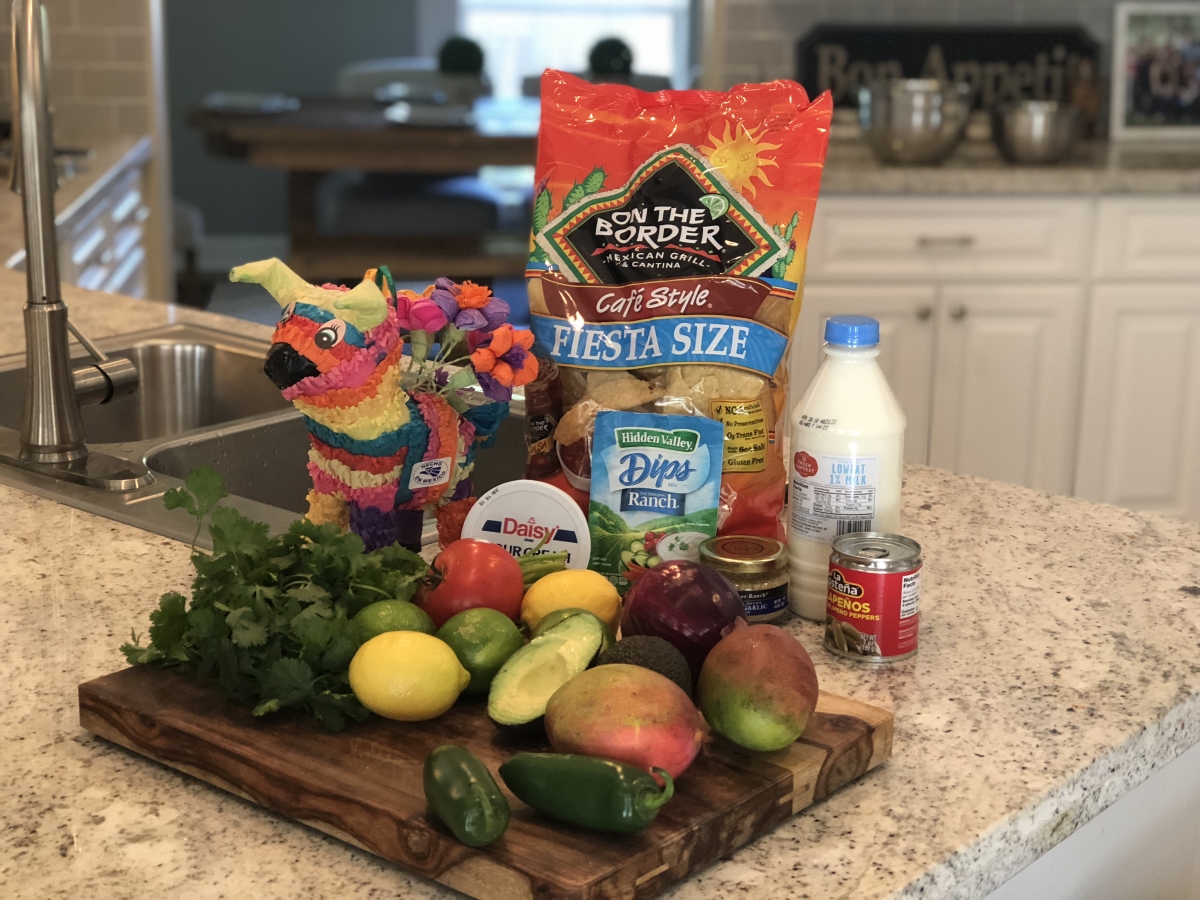 Mary's Mango Pico De Gallo
Ingredients
1/2 medium purple onion, diced
2 Roma tomatoes, diced
1 avocado, diced 
1 mango, diced
1/4 cup fresh cilantro, chopped
Lemon (Half or whole, depending on preference; lime can be substituted)
Jalapeños (Fresh or pickled, depending on preference)
Salt & Pepper to taste
Directions 
Prepare your produce (chop/dice/etc) as needed. For pickled jalapeños, I used three small peppers. If you'd rather use a fresh jalapeño, be sure to scrape out all the seeds and white flesh in the middle (unless you like your pico de gallo extra spicy!). Also, feel free to use only half a jalapeño if you're not a huge fan of spicy (you can always add more later).
Combine all ingredients in a bowl. For the lemon, salt, and pepper, add according to taste.
Enjoy!
Krista's Chuy's Knockoff
Ingredients
16 oz sour cream - Consider substituting with plain Greek yogurt for a healthier version!
1 pkg. (1oz) Hidden Valley Ranch Dip Mix
2 whole large jalapeños, seeded
2 cloves of garlic, minced - If you're short on time, you can use a jar of minced garlic too!
1/3 cup of fresh cilantro
1 whole lime, juiced
2-4 tsp of milk
Tortilla Chips for serving!
Directions
Take the seeds out of the jalapeños.
Chop the jalapeños and cilantro (you don't have to worry about chopping these super fine; blending them in the food processor will do this for you)
Add jalapenos, cilantro, and garlic to blender. Use whichever setting necessary to chop/puree/ground these ingredients into small bits. You may have to pause the blender occasionally to scrape the sides.
Add 16 oz. of sour cream to the blender and blend.
Add your lime juice to the blender.
Pulse until creamy. 
Add milk slowly until you've reached your desired consistency. I added 2 tsp.
ENJOY!
Thursday April 5, 2018
2018 Wisconsin Grilled Cheese Showdown

MAY THE MOUTH-WATERING CREATIONS COMMENCE. 
It's time for the annual Wisconsin Grilled Cheese Recipe Showdown – a nationwide grilled cheese recipe competition. New for 2018, the contest features four categories and even more prize money. And as always, enter as many recipes as you'd like.
Each week through May 15, a winning recipe from a previous year will be featured
in our weekly ad
. View the full recipe below, pick up the featured cheese in store (and
on sale
), and try it out yourself!
You may find yourself inspired to come up with your own creation to enter for a chance to win up to $40,000 in prizes.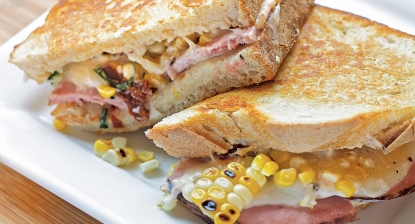 Rich Wisconsin cream cheese and fresh mozzarella come together to complement the light and delicate flavors of farm-fresh ingredients and tangy sourdough bread. With sliced ham, corn on the cob, and sundried tomatoes, it's tasty at its tastiest. Get the recipe.
This spicy number is loaded with Wisconsin pepper jack cheese, quick pickled jalapenos, Sriracha, ranch dressing and a fried egg.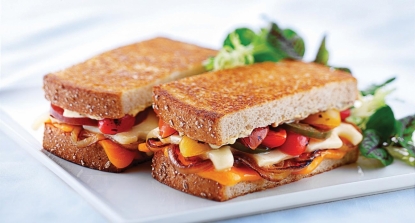 A delightful ensemble of Wisconsin Aged Cheddar, Baby Swiss, and caramelized onions on whole-grain bread—get the recipe here.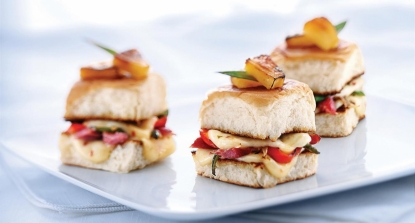 Delicious morsels of Wisconsin Pepper Jack, pineapple, and sautéed bell peppers on King's Hawaiian Sweet Bread—get the recipe here.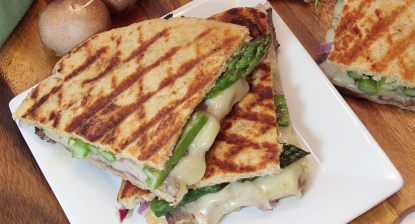 Asparagus provides a unique and delicious flavor combination when it's oven roasted and grilled with horseradish sauce, roast beef, mushrooms, onion, and Wisconsin provolone cheese. This recipe is served on crusty whole-grain flatbreads. How will your taste buds ever pay you back?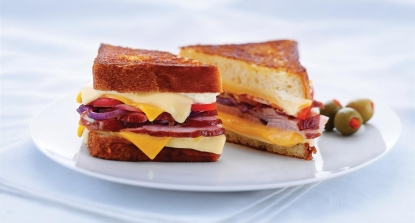 A culinary classic recipe featuring American cheese, Wisconsin Sliced Swiss, and ham on fresh white bread.

Tuesday September 13, 2016
Good Times Summer Giveaway Winners
Congratulations to our winners! Be sure to check back often for an updated list. Continue to enter your PINs & Good Points often to be entered into our weekly drawings!
Tammy Elam, Onalaska, TX - $1,000 Gift Card
Deborah Brooks, Newton, TX - $5,000 Shopping Spree
Tobin Iselt, Dime Box, TX - $1,000 Gift Card
Susan Starr, Crandall, TX - Polaris 570 Ranger Crew
Martha Crawford, Trinity, TX - $1,000 Gift Card
Lane Hartsock, Wimberley, TX - Ford F150 XLT Super Cab
Cristina Lovejoy, Huntsville, TX - $1,000 Gift Card
Brook Durham, Lufkin, TX - $5,000 Shopping Spree
Angela Dowden, DeRidder, LA - $1,000 Gift Card
Amy Jezek, Tioga, TX - Polaris 570 Ranger Crew
Brandi Hinton, Timpson, TX - Ford F150 XLT Super Cab
Tammy Driskell, Madisonville, TX - $5,000 Shopping Spree
Karla Feggestad, Cameron, TX - Ford F150 XLT Super Cab
Odia Rose, Cleveland, TX - $1,000 Gift Card
Cindy Johnson, Bronson, TX - Polaris 570 Ranger Crew
Monday February 8, 2016
Score Big Winners
Congrats to the following winners who can watch sports in style with a cooler, iPad Mini and $200 Brookshire Brothers Gift Card!
Lanett Waters - Fairfield, TX
Reuben Rosas - Tatum, TX
Peggy Lane - Teague, TX
Leslie McGaughey - Huntington, TX
Josie Miramontes - Kaufman, TX
Melissa Best - Somerville, TX
Thomas Wagner - Corrigan, TX
Jim Garvin - Corrigan, TX
Susanne Ruehle - Many, TX
Ronald Bunting - Wimberley, TX
Tuesday January 5, 2016
Score Big with the Brookshire Brothers End Zone!
The team at your local Brookshire Brothers and David's stores are gearing up for The Big Game...are you?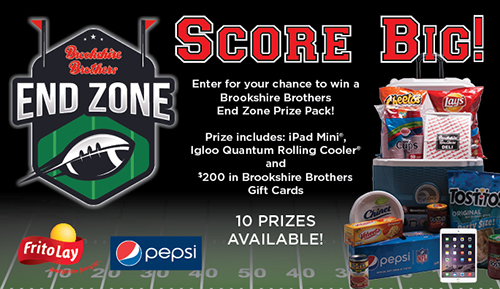 Not sure you're ready for football's finest hour yet? No worries! Try your odds at our new End Zone Contest by entering the transaction details from your receipt (dated 1/6/16-2/2/16) anytime between January 6 and February 2, 2016 at the link here -> ENTER CONTEST

If you're one of our big winners, you can win one of ten prize packs available to host the best watching party around!
No purchase necessary to enter or win. Must be a Celebrate member to participate. View the full rules here.
Tuesday November 17, 2015
Jingle the Elf Coloring Contest
Our Christmas Elf, Jingle, is ready to celebrate! Either pick up a coloring sheet in store or print one here to enter for a chance to win up to $100 Visa Gift Card!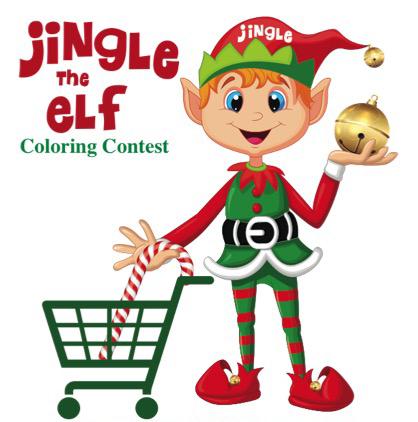 *Entries must be completed and submitted to your local store by Wednesday, December 16.
*Children 10 and under can participate.
*Prizes include $100 Visa Gift Card, $50 Visa Gift Card, and $25 Visa Gift Card.
Tuesday October 27, 2015
Ganado Celebrates its Good Fortune with Brookshire Brothers!
The small town of Ganado, Texas received a double dose of good news this week. One of its residents won the top prize in Brookshire Brothers' Hometown Celebration game. On top of that, the winner's hometown gets $25,000 – which will be shared between three non-profits. Brookshire Brothers presented checks to all four Tuesday morning at its store in Ganado. This summer thousands of customers participated in the company's collect and win game that offered more than $3 million in prizes.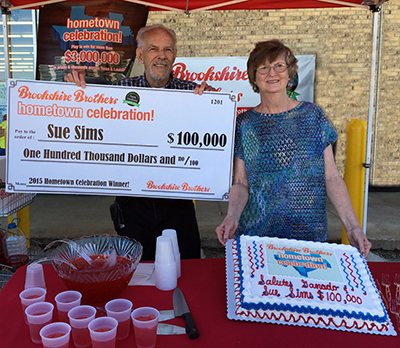 Sue Sims played the game at her Brookshire Brothers in Ganado. Her diligence paid off. The retired bank teller collected the game pieces and also played the on line game. Because no one got the winning combo in the collect and win game, the winner was drawn from all of the on-line entries. When asked what she'd do with her winnings, Sims said without hesitation, "I will give the first $10,000 to my church. My husband wants me to buy a new car, but mine has 107,000 miles on it and runs just fine."
Sim's good fortune is also a blessing for her town. As part of the Brookshire Brothers promotion, the 'big winner's' hometown gets $25,000. Store Director Donald Janik and community officials identified three organizations to share the funds – the Ganado Volunteer Fire Department, the Ganado ISD Education Foundation and Matthew 25 – a faith based outreach that provides food, clothing and utility assistance for neighbors in need.
Sims isn't the only big winner. A paramedic in Magnolia won a brand new Ford Escape as did a college student in Lufkin. Other top prizes included $20,000 in cash to a lady in Kountze, home makeovers, dream vacations, groceries and gas for a year, tablets and hundreds of free products that were 'instant wins' to be redeemed in our Brookshire Brothers and David's stores.
Brookshire Brothers is an employee-owned company operating more than 105 retail operations in Texas and Louisiana including grocery, convenience, free standing pharmacy, fuel and tobacco outlets. Started in 1921 by brothers Austin and Tom Brookshire, the company and its 6900 employee-owners remain customer driven, quality focused and dedicated to celebrating family and community. For more information, visit our website at www.brookshirebrothers.com or follow us on facebook.
Pages