Tuesday October 27, 2015
Ganado Celebrates its Good Fortune with Brookshire Brothers!
The small town of Ganado, Texas received a double dose of good news this week. One of its residents won the top prize in Brookshire Brothers' Hometown Celebration game. On top of that, the winner's hometown gets $25,000 – which will be shared between three non-profits. Brookshire Brothers presented checks to all four Tuesday morning at its store in Ganado. This summer thousands of customers participated in the company's collect and win game that offered more than $3 million in prizes.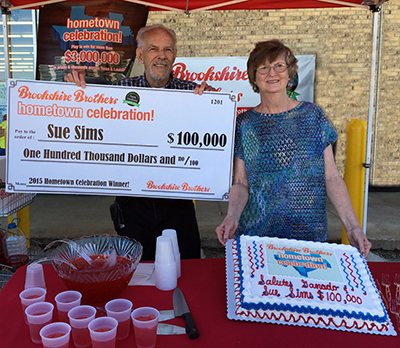 Sue Sims played the game at her Brookshire Brothers in Ganado. Her diligence paid off. The retired bank teller collected the game pieces and also played the on line game. Because no one got the winning combo in the collect and win game, the winner was drawn from all of the on-line entries. When asked what she'd do with her winnings, Sims said without hesitation, "I will give the first $10,000 to my church. My husband wants me to buy a new car, but mine has 107,000 miles on it and runs just fine."
Sim's good fortune is also a blessing for her town. As part of the Brookshire Brothers promotion, the 'big winner's' hometown gets $25,000. Store Director Donald Janik and community officials identified three organizations to share the funds – the Ganado Volunteer Fire Department, the Ganado ISD Education Foundation and Matthew 25 – a faith based outreach that provides food, clothing and utility assistance for neighbors in need.
Sims isn't the only big winner. A paramedic in Magnolia won a brand new Ford Escape as did a college student in Lufkin. Other top prizes included $20,000 in cash to a lady in Kountze, home makeovers, dream vacations, groceries and gas for a year, tablets and hundreds of free products that were 'instant wins' to be redeemed in our Brookshire Brothers and David's stores.
Brookshire Brothers is an employee-owned company operating more than 105 retail operations in Texas and Louisiana including grocery, convenience, free standing pharmacy, fuel and tobacco outlets. Started in 1921 by brothers Austin and Tom Brookshire, the company and its 6900 employee-owners remain customer driven, quality focused and dedicated to celebrating family and community. For more information, visit our website at www.brookshirebrothers.com or follow us on facebook.