Tuesday October 27, 2015
Ganado Celebrates its Good Fortune with Brookshire Brothers!
The small town of Ganado, Texas received a double dose of good news this week. One of its residents won the top prize in Brookshire Brothers' Hometown Celebration game. On top of that, the winner's hometown gets $25,000 – which will be shared between three non-profits. Brookshire Brothers presented checks to all four Tuesday morning at its store in Ganado. This summer thousands of customers participated in the company's collect and win game that offered more than $3 million in prizes.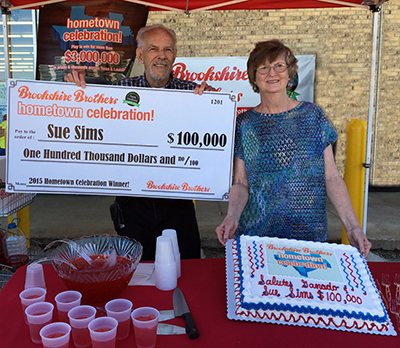 Sue Sims played the game at her Brookshire Brothers in Ganado. Her diligence paid off. The retired bank teller collected the game pieces and also played the on line game. Because no one got the winning combo in the collect and win game, the winner was drawn from all of the on-line entries. When asked what she'd do with her winnings, Sims said without hesitation, "I will give the first $10,000 to my church. My husband wants me to buy a new car, but mine has 107,000 miles on it and runs just fine."
Sim's good fortune is also a blessing for her town. As part of the Brookshire Brothers promotion, the 'big winner's' hometown gets $25,000. Store Director Donald Janik and community officials identified three organizations to share the funds – the Ganado Volunteer Fire Department, the Ganado ISD Education Foundation and Matthew 25 – a faith based outreach that provides food, clothing and utility assistance for neighbors in need.
Sims isn't the only big winner. A paramedic in Magnolia won a brand new Ford Escape as did a college student in Lufkin. Other top prizes included $20,000 in cash to a lady in Kountze, home makeovers, dream vacations, groceries and gas for a year, tablets and hundreds of free products that were 'instant wins' to be redeemed in our Brookshire Brothers and David's stores.
Brookshire Brothers is an employee-owned company operating more than 105 retail operations in Texas and Louisiana including grocery, convenience, free standing pharmacy, fuel and tobacco outlets. Started in 1921 by brothers Austin and Tom Brookshire, the company and its 6900 employee-owners remain customer driven, quality focused and dedicated to celebrating family and community. For more information, visit our website at www.brookshirebrothers.com or follow us on facebook.
Wednesday December 11, 2013
Come Celebrate With Us
It's time to cut the ribbon in Ganado following Brookshire Brothers 1.5 million dollar renovation of several existing stores.  Store Director Donald Janik says customers will see big changes including an expanded fresh department, new dairy, market and produce cases displaying a wider variety of offerings.  Janik invites folks in Ganado and surrounding communities to join in the ribbon cutting and grand re-opening festivities.  The Jackson County Chamber will kick off the celebration with aRibbon Cutting on Thursday, December 12th at 10:00 AM.  There will be cake, door prizes and giveaways.
Pharmacist Lauren Kainer urges folks to come back on Saturday for a Grand Opening Health Fair and other festivities in the store. From 10AM to 2PM the full service pharmacy will be offering blood pressure checks, glucose screenings and consulting on prescriptions.   In addition to filling prescriptions, Kainer and her Brookshire Brothers' staff provide immunizations, compounding and medication therapy management for people with chronic illnesses like diabetes and hypertension.  The convenient drive thru allows customers to drop off and pick up medications while never having to leave the car.  The over the counter section has been enlarged and the store now offers more medical equipment supplies and a private room for immunizations.
Ganado Brookshire Brothers Ribbon Cutting - Thursday, December 12th 10AM
Store and Pharmacy Grand Re-Opening - Saturday, December 14th 10AM-2PM
Wednesday July 24, 2013
Hometown Pharmacist Fills the Bill!
Brookshire Brothers in Ganado will soon have a full service pharmacy to fill the needs of residents in the region.  To add to it, the registered pharmacist at the counter will be East Bernard native Lauren Lyon Kainer. A 2009 Texas A & M graduate, Lauren obtained her Doctorate of Pharmacy from the University of Houston in May 2013.  She says, "I grew up in a small town and I always knew I wanted to practice pharmacy in a place where I could get to know the people.  I am a small town girl, and Ganado is just perfect for me and my family."  In making the announcement, Pharmacy District Director Keith Moseley, R.Ph. says, "Lauren is a great addition to our Brookshire Brothers' management team. In addition to providing excellent pharmacy health care to the people of Ganado, she will become a vital part of the community, committed to making a difference there."
Kainer's skill set will be of tremendous value to the region. Under her direction, the new pharmacy will provide services such as compounding, immunizations against the flu, shingles and pneumonia and provide medication therapy management for chronic illnesses such as diabetes and hypertension.  Kainer says, "This can help improve a patient's quality of life, while decreasing costs."  Kainer goes on to say, "At Brookshire Brothers, we hope to be an easily accessible healthcare provider for the people of Ganado, and I am very excited to be part of it."
The new pharmacy in Ganado is set to open July 29th with grand opening festivities scheduled for August and September.  Look for Lauren and her team starting July 29th at their location at 305 West York in Ganado. The pharmacy will be open Monday through Friday from 8:30 AM- 6:30 PM and from 9:00 AM - 2:00 PM on Saturday.
Brookshire Brothers is an employee-owned company operating 76 retail grocery stores and 35 convenience stores in Texas and Louisiana. Started in 1921 by brothers Austin and Tom Brookshire, the company and its 7000 employee-owners remain customer driven, dedicated to celebrating family and community.  For more information, visit our website at
www.brookshirebrothers.com
.