Posted on Tuesday, March 29, 2016
April showers bring May flowers and these bright and cheery lunchboxes celebrate the best of both!
Springtime brings lots of colorful fun, so we're celebrating by adding it into our lunchboxes! We've got two bright and cheery combos sure to bring a smile to any kid's face.
Our first lunchbox isn't just adorable, it's delicious too! We made a kid-friendly pasta salad with bowtie noodles plus a little salt and butter, then tossed it all together with Cascadian Farm frozen organic sweet peas. Next, using Betty Crocker™ Fruit Gushers®, we created an adorable flower and added fresh snap peas for greenery. Last, but not least, we also added a tasty Larabar for a hint of sweetness!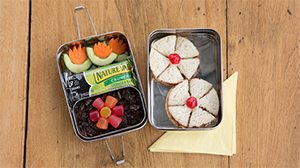 The second lunchbox is sure to satisfy your growing kid's appetite! We made peanut butter and jelly sandwiches in the shape of flowers, which is way easier than you might think. Spread peanut butter and the jelly of your choice between two pieces of bread and cut into a circle using a biscuit cutter. Then, cut 5 slits around the sandwich to make the "petals." Finally, garnish with a fruit Gusher to complete the flower!
We also made flower veggie sticks with carrots and cucumber. Simply cut a slice of cucumber about 1/3-inch thick. Cut the slice in half and remove the seeds. Take a washed and peeled carrot and also cut a slice about 1/3-inch thick. Using a small knife, cut out two small, triangular pieces from one end to create the look of flower petals. To assemble the "flower", place the carrot slice inside the cucumber slice and fasten with a toothpick for the "stem." For a sweet treat, we made a "dirt garden" with ½ cup of chocolate pudding topped with crushed Oreo cookies. The flower was made using Dots candies, but any flowery and sweet garnish will work. We also added a Nature Valley granola bar to eat at lunch or to be saved for a yummy snack.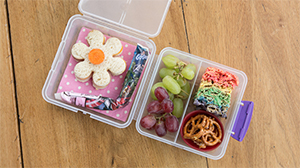 Our final flower power-packed lunch is super easy and super cute! We put together a turkey and cheese sandwich and using a cookie cutter, made it into an adorable flower. We wanted this lunchbox to be super-easy but still fun so we added a Go-Gurt, red and green grapes, and pretzels. We also packed along one of our rainbow Chex Bars (a fun take on the regular Rice Krispy Treat). Instead of making one batch, we divided the recipe into five small batches and added food coloring to each portion individually and stacked each colorful layer. Any other fun treat you have on hand would work great, but we couldn't pass this fun snack up with all the bright colors!
What are some of your favorite springtime, lunchbox-approved recipes? We want to hear from you!