Tuesday April 21, 2020
Earth Day Activities For Kids
Earth Day is for demonstrating environmental protection and a good way to show kids how to reuse and recycle items around the home! 
Repurposing Old Plastic Containers as Mini Greenhouses for Sprouting Seeds
Use old cupcakes, salad, and rotisserie chicken containers to make mini-greenhouse used to sprout seeds. Since many of these containers are not biodegradable this is a perfect way to reuse them.
Reused Cans Painted for Mini-Planters
Use cleaned tin cans to make mini-planters, can lanterns, pencil holders, and many more items. Just clean, paint, and decorate!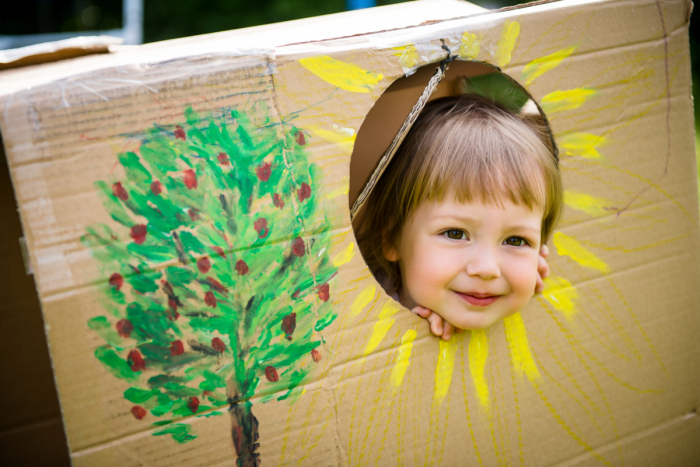 Cardboard Projects
Use a cardboard box from a recent purchase to have all kinds of fun. Kids will have fun making a cardboard playhouse/fort just decorate it with poster paint, making ramps for their cars, creating a cardboard kitchen to play in, and other fun things.
Enjoy these fun Earth Day activities for kids, and be sure to pick-up cupcakes or a rotisserie chicken to enjoy at your
local
Brookshire Brothers, and don't forget to reuse the container.
Tuesday October 23, 2018
The Trick to Handling the Treats
Halloween is serious business for the little ones. After they don the perfect costume, they are ready to hit the neighborhood in search of some tasty treats. Since Halloween only happens once a year, it's fun to indulge a little and eat some of that hard-earned candy. Help your little ones avoid a tummy ache by taking advantage of kids' innate ability to regulate their appetites. One of the easiest ways is a well-timed and nutritious snack before heading out to trick-or-treat. Young children tend to naturally regulate their appetites, so they will usually slow down on eating sweets if they begin to feel overly full. Here are some of my favorite snack ideas to help!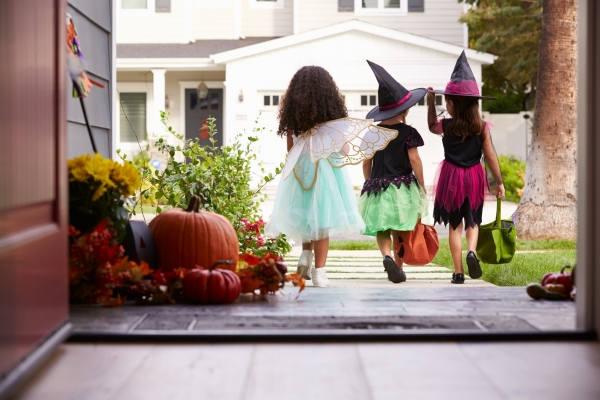 Turkey and cheese roll-ups (Turkey mummies, if you will!)
Fruit of any kind, but especially easy finger foods like grapes, oranges, apple slices, or bananas
Yogurt cups
Cheese sticks of all kinds (There are tons of different flavors to choose from at your local Brookshire Brothers!)
Cucumber slices with a little vinegar, salt, and pepper
Cinnamon toast with butter on whole wheat bread
Or see some of my favorite grab-and-go snack options here!
And if you're looking for some unique options with a healthy twist to pass out in your neighborhood this Halloween, try some of these ideas. 
Fruit snacks and gummies, especially with natural flavors and colors (These fruit-filled recipes are frightfully good—and healthy!)
Inexpensive trinkets such as stickers, temporary tattoos, or bouncy balls
Simple chocolates
100% fruit juice in small boxes or pouches
Snack-sized bags of freeze dried fruit, raisins, or pretzels (Another wicked-good snack to try: Rice Krispies Treats with fall flavors and fun topping ideas!)
Small bags of pre-popped popcorn (Make your scary movie night really pop with these three fun popcorn recipes!)
---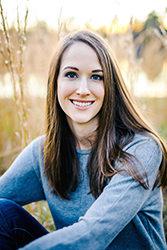 Angela Larson is a registered dietitian (RD) who works with Brookshire Brothers promoting 
real fresh, real delicious
 foods and nutrition education to the community. She is also a clinical dietitian representing Woodland Heights Medical Center in Lufkin where she does outreach education on food and nutrition. Food is her passion, so Angela loves trying new recipes and exploring the more holistic side of nutrition. Angela loves to cook, garden, and spend time outdoors. In addition to the 
Brookshire Brothers blog
, look for Angela's monthly articles in Charm East Texas. 
Tuesday August 15, 2017
9 Suggestions for School Lunches
It's back-to-school time, which means new supplies, books, sneakers… and lunch kits! One way to keep kids excited about school is by packing lunches that are
real fresh and real delicious
. Even better, packed lunches are an affordable and fun opportunity to expose them to a variety of foods.  Introducing a new food alongside familiar favorites can be a great way to ease them towards eating something different.
According to the American Academy of Pediatrics, it can take 15-20 exposures before a child—or an adult!—develops a taste for the new food. Even if they don't eat the new food the first time they see it, repeated contact can lead a child to accepting the unfamiliar item.  So, while radishes might not be a hit the first time your kid sees them, keep at it and maybe someday your kid will be a veggie-eating super-star. To that end, here are some fresh ideas and tips for school lunches:
Try to follow a general template to make sure your child get a well-balanced and nutritious meal. Aim to include a good source of protein and fat alongside the carbohydrate at each meal.  For protein and fat, think cold cuts, cheese, eggs, yogurt, jerky, nuts, nut butters, hummus, beans, peas, and lentils.  For carbs, think outside the cracker box and try to include fresh fruits and veggies with every lunch.  And for dessert, one healthy option is a mix of dark chocolate chips and dried fruit.
Invest in a lunch kit that has a plate with dividers to make it easier to provide a variety of foods in an attractive way.  Add a long-lasting cold pack to lunches with items that need to be kept cold.  If a microwave isn't available for warming foods, there are insulated double wall stainless steel containers that can keep food hot for up to 12 hours.
A fun dip can make fresh veggies more exciting and tasty
.  You might try good quality hummus or ranch dressing (my favorites are made with avocado oil); plus, there's always a variety of options in the refrigerated section at
your local Brookshire Brothers store
.  Alternatively, you can make your own zesty dips from bases like cream cheese, sour cream, yogurt, or mayonnaise.  For these, experiment with a variety of fresh herbs, green onions, garlic, and spices for endless variations. One of my go-to favorites is a
Creamy Garlic Herb Yogurt Dip
.
One
easy-to-make entrée
is a burrito bowl! All it takes is a combination of ingredients like rice, beans, corn, tomatoes, sour cream, shredded cheese, and salsa. Don't forget to add half an avocado or guacamole for a scrumptious dose of healthy fats!
If your school has restrictions on products made from peanuts (to protect children with peanut allergies), try mixing up the peanut butter and jelly sandwich with new combinations. You can choose from different types of nut butters like almond butter (a super source of vitamin E!) or cashew butter.  Cream cheese and jelly is another delicious option since cream cheese is a good source of protein, fat, and calories to fill up little tummies. You might also try swapping bread for a banana or apple for even more possibilities.  And while chips are the other half of a classic sandwich lunch, you can still get creative! Consider these other great alternatives available at your local Brookshire Brothers: nuts, seeds, popcorn, dried veggie snacks, and more—all available in a variety of flavor options.
Read more: Whether you're learning about peanut allergies or parent responsibility, the
food culture
of our society is a great thing to learn more about.
Breakfast for lunch is another a fun idea! Try oatmeal, yogurt, or pancakes cut into fun bite-sized shapes. For a delicious flavor of oatmeal, I recommend using diced apples, raisins, cinnamon, and/or maple syrup. As for yogurt, you'll find that it's a great source of healthy proteins, fats, and carbs—aka a balanced meal in and of itself! Consider buying a tub of plain full fat or whole milk yogurt, and then giving it some flavor with dried fruit, shredded coconut, slivered almonds, pecans, walnuts, unsalted sunflower seeds, granola, and/or honey.  Lastly, you might add a teaspoon of ground flax seed or chia seeds to the yogurt (or oatmeal!) to boost those nutritious omega-3 fats.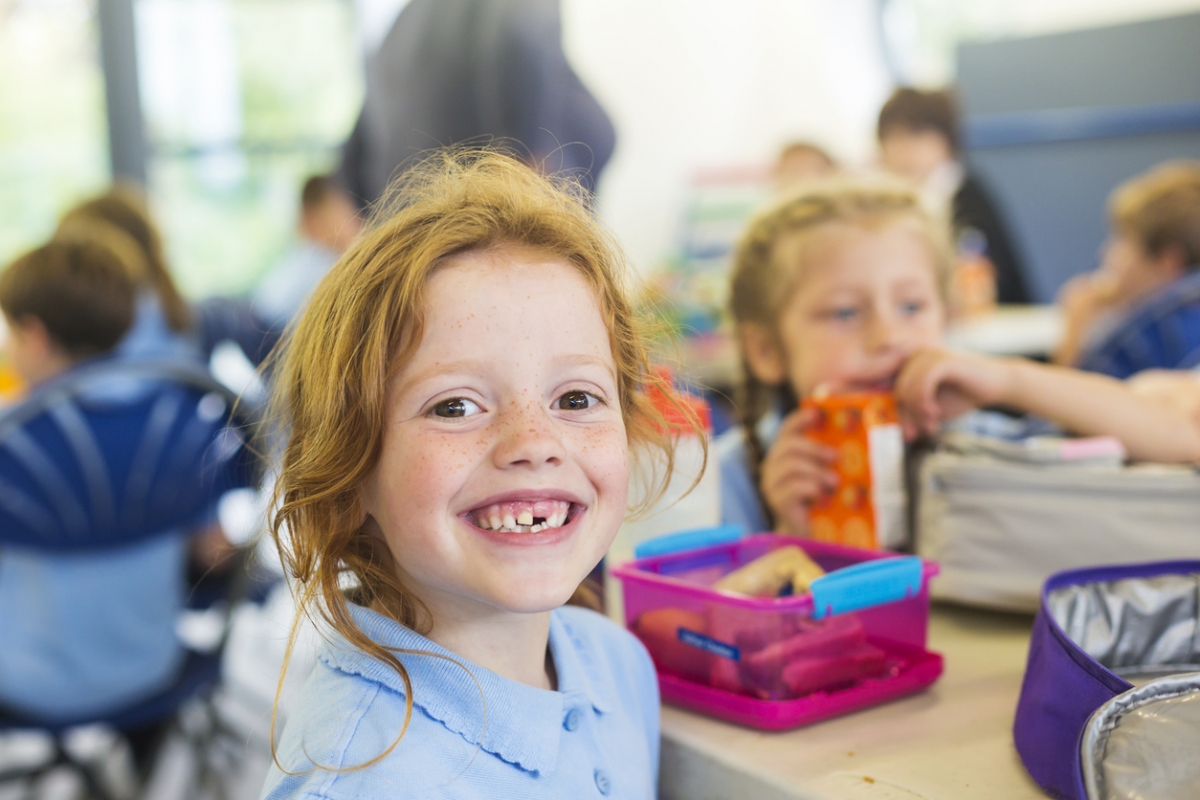 Leftovers are your best friend
when it comes to easy, ready-to-go lunches. So, when you make your delicious family dinners, pull double-duty by making a little extra and packing it up for lunch during the week. 
For more options with fruits and veggies, consider these:
One of my favorite new products is fermented sauerkraut, which is full of healthy probiotics and has a fresh salty and tangy crunch.  It can be eaten alone as a side dish or on sandwiches and hot dogs (like pickles). While it's usually located in the refrigerated section of your Brookshire Brothers, you can also just ask your store manager, or make a product request!
If you don't have time for fresh fruit, there are other good options (with minimal added sugars) to choose from: dried fruit, cut fruit packed in juice, or individually wrapped packages of unsweetened apple sauce.
Some great vegetable options include fresh baby carrots, cucumber, cherry tomatoes, sugar snap peas, broccoli, cauliflower, radishes, celery, and bell pepper strips.
Read more: For a refresher on what produce is currently in season, check out this
summer guide
!
For delicious and satisfying entrée options, try these: 
boiled eggs
cold cuts and cheese roll-ups
tortilla and cream cheese roll-ups
tuna salad, chicken salad, pasta salad, or egg salad on a bed of lettuce or with a side of wholesome crackers
cream cheese and turkey bagel-sandwiches
sandwiches of all varieties
And who says adults can't eat all this yummy stuff too?  Instead of eating out, save yourself a little time and money by packing an extra lunch for the break room.  And as always, you can visit
your local Brookshire Brothers store
for even more lunch inspiration.  There are real fresh real delicious options around every corner!
---
Angela Larson is a registered dietitian (RD) who works with Brookshire Brothers promoting real fresh, real delicious healthy foods and providing nutrition education to the community. She is also a clinical dietitian representing Woodland Heights Medical Center in Lufkin where she does community education on food and nutrition. Food is her passion, so Angela loves trying new recipes and exploring the more holistic side of nutrition. Angela loves to cook, garden, and spend time outdoors. Look for Angela's monthly articles in Charm East Texas.  
Monday September 26, 2016
From Yuck to Yum
As seen in Charm East Texas
"I want a peanut butter and jelly sandwich!" 
"No, we are having steak and baked potatoes for dinner." 
"But I want a peanut butter and jelly saaaaandwich!"
Did your blood pressure just go up a little bit? I apologize. Sounds familiar, though, doesn't it? Everyone has been around finicky eaters. Whether it's your kids, your friends' kids, your grandkids, your in-laws and even you, everybody knows somebody who is picky. Children are the usual culprits. Many picky children grow into picky adults, and picky adults tend to bring up picky children, and so the cycle continues. 
In America, it seems to be the norm to run your dinner menu by guests in advance because many people are finicky eaters. Not every place is like this, however. My husband and I lived in a rural area in France for a year, and we had many, shall we say, interesting dinner party experiences. What did they all have in common? Dinner takes a long time — a long, long time. Another common denominator was that no one ever asked us if we liked what they were serving in advance. It was just expected that we ate everything and that everything was delicious. Same goes for the children we would dine with — they ate pretty much everything. Mushrooms? Check. Scallops? Sure. Pâté? Yum! Nothing seemed to be off limits. I always marveled at this, but had only a few clues from observing their food culture as to how it was possible that everyone seemed to enjoy such a wide variety of foods, until recently when the light bulb finally went off. I read a book by Karen Le Billon titled "French Kids Eat Everything" that shed some light on why the French seem to love food so much. Maybe by incorporating one or two of her observations into your own family's food culture, you can get your kids to eat escargot. Or on second thought, maybe just settle for green beans. 
Parents are in charge of food education. 
It shouldn't be up to Popeye the Sailor Man to convince your children that all kinds of food are yummy. It is up to you. And the best way to do that is by modeling good eating behavior by eating a wide variety of foods prepared lots of different ways. The best place to start is at the dinner table. You can't educate your kids about good food if you only sit down and eat together once a month. 
Limit emotional eating. 
This guideline is so tough to follow. It means that ideally, food shouldn't be used as a reward for good behavior, as a punishment, or as a baby sitter. Food is for enjoyment and nourishment within the context of meals, but when it is used as a means of manipulating your behavior, "treat" foods may become even more desirable and "healthy" foods might seem like a punishment. Eating this way can also teach you to ignore your hunger and fullness signals. 
Parents plan the menu and kids eat what adults eat. 
No short-order cooking for the picky eaters. It's helpful to lay out what will be served in advance so meal time isn't always a surprise and complaining might be able to happen prior to the meal rather than at the dinner table. It's also helpful to serve at least two different foods at each meal so that your children have some control over what they want to eat, but it's important not to prepare a separate meal if they don't like what's being served. When introducing a new food, always make sure there's at least one familiar food served as well. If kids decide not to eat much at that meal, they can wait to eat at the next scheduled meal. 
Eat family meals together without distractions. 
In the world of cell phones and social media, it's important to unplug for a few minutes each day and just enjoy each other's company. Talk about your day. Talk about the yummy food. Talk about those awesome food articles by the dietitian in Charm. Just talk. This does, however, require that you actually eat together, so do your best to make that happen.
Eat your veggies — variety is key. 
Instead of eating the same veggies week after week, try something new, or even try a familiar veggie in a new way. Roasting is my favorite way to make veggies delicious. A sheet pan, some olive oil, salt, pepper and a high oven temperature can make almost any veggie delicious in a matter of 20-30 minutes.
You don't have to like it but you do have to taste it. 
Repeat those words after me. Say them at every meal. One taste is all that's required. Studies show that it may take up to 15 tastes of a new food before it is accepted and liked, so encourage them (gently) to taste things even if they don't dig in. If a food is refused, simply say, "Too bad, it's so yummy!" but don't make an issue of it. Keep serving that food regularly, and eventually it will be accepted. Encourage everyone at the table to say "No, thank you," instead of the words, "I don't like." 
Schedule snacks.
Amazingly, children eat their best when they are actually hungry. Who would have thought? Grazing and snacking will spoil anyone's appetite, so make meals and any appropriate snacks predictable and scheduled as much as possible. My favorite schedule is one afternoon snack at least two hours before dinner time to get everyone through until supper is ready. 
Slow down. 
Eat slowly. Savor. Listen to relaxing music. Don't rush through cooking and eating but stop to actually think about what you're doing and experiencing.
Eat mostly "real" food. 
There is a place in the world for hot dogs, chicken strips, cookies and candy, but the majority of food should be simple foods that nature provides. Even so, all food should be savored and enjoyed, no matter what it is. 
Relax. Eating is joyful. 
This principle is my favorite of all. If you could describe good eating in a nutshell, that's it. So stop stressing about calories, vitamins, fiber and achieving nutritional perfection, and just enjoy. Relax. Savor. Eat. 
Applying a few of these ideas is worth a try for a few weeks if you want to nudge a finicky eater in the right direction, even if it's your husband. I, for one, would never try to coax my husband into eating things he doesn't enjoy. Believe me? I didn't think so. Bon appetit. 
Angela Larson is a registered dietitian (RD) who works with Brookshire Brothers promoting real fresh, real delicious healthy foods and providing nutrition education to the community. She is also a clinical dietitian representing Woodland Heights Medical Center in Lufkin where she does community education on food and nutrition. Food is her passion, so Angela loves trying new recipes and exploring the more holistic side of nutrition. Angela loves to cook, garden, and spend time outdoors. Look for Angela's monthly articles in Charm East Texas.  
Tuesday March 29, 2016
3 Lunchboxes to Put Some Spring in Your Kid's Step
April showers bring May flowers and these bright and cheery lunchboxes celebrate the best of both!
Springtime brings lots of colorful fun, so we're celebrating by adding it into our lunchboxes! We've got two bright and cheery combos sure to bring a smile to any kid's face. 
Our first lunchbox isn't just adorable, it's delicious too! We made a kid-friendly pasta salad with bowtie noodles plus a little salt and butter, then tossed it all together with Cascadian Farm frozen organic sweet peas. Next, using Betty Crocker™ Fruit Gushers®, we created an adorable flower  and added fresh snap peas for greenery. Last, but not least, we also added a tasty Larabar for a hint of sweetness!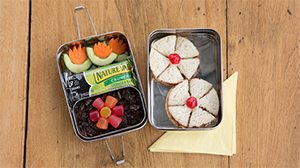 The second lunchbox is sure to satisfy your growing kid's appetite! We made peanut butter and jelly sandwiches in the shape of flowers, which is way easier than you might think. Spread peanut butter and the jelly of your choice between two pieces of bread and cut into a circle using a biscuit cutter. Then, cut 5 slits around the sandwich to make the "petals." Finally, garnish with a fruit Gusher to complete the flower!
We also made flower veggie sticks with carrots and cucumber. Simply cut a slice of cucumber about 1/3-inch thick. Cut the slice in half and remove the seeds. Take a washed and peeled carrot and also cut a slice about 1/3-inch thick. Using a small knife, cut out two small, triangular pieces from one end to create the look of flower petals. To assemble the "flower", place the carrot slice inside the cucumber slice and fasten with a toothpick for the "stem." For a sweet treat, we made a "dirt garden" with ½ cup of chocolate pudding topped with crushed Oreo cookies. The flower was made using Dots candies, but any flowery and sweet garnish will work. We also added a Nature Valley granola bar to eat at lunch or to be saved for a yummy snack.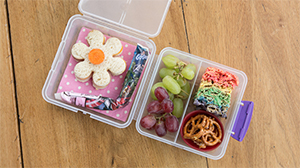 Our final flower power-packed lunch is super easy and super cute! We put together a turkey and cheese sandwich and using a cookie cutter, made it into an adorable flower. We wanted this lunchbox to be super-easy but still fun so we added a Go-Gurt, red and green grapes, and pretzels. We also packed along one of our rainbow Chex Bars (a fun take on the regular Rice Krispy Treat). Instead of making one batch, we divided the recipe into five small batches and added food coloring to each portion individually and stacked each colorful layer. Any other fun treat you have on hand would work great, but we couldn't pass this fun snack up with all the bright colors!
What are some of your favorite springtime, lunchbox-approved recipes? We want to hear from you!
Wednesday May 6, 2015
Summer Snackin'
School is almost out and I can see a pantry full of cookies, chips, and popcorn. This is the go-to for most school-aged kids, but what if we made healthy snacks just as available? This year, take the time to prepare some cute and healthy snacks and your kids will thank you.
String Cheese & Pretzel Sticks
Give your kids a protein boost and a low-fat snack. This combo will keep your kids satisfied while you can catch up on a good book!
Want to make this snack extra fun? Split the cheese stick half way up and push the pretzel stick in the other end of your cheese stick to make a witch broomstick. We all know the way to a kid's tummy is through fun food!
Apples & Peanut Butter
You can't get away from this classic duo when thinking of healthy snacks. However, you can put a spin on it for your kids. Make little sandwiches out of apple slices and peanut butter. Create an even more filling combo by adding oats and raisins on the peanut butter. This treat will help you remember…an apple a day really will keep the doctor away.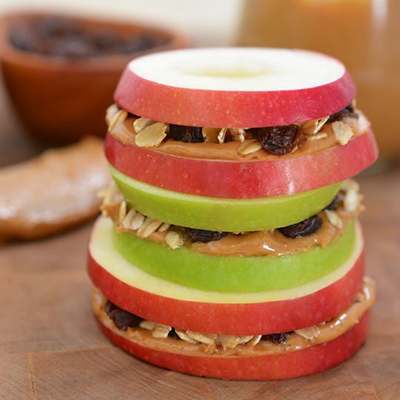 Grapes and Cheese Cubes
This fresh snack will be a family favorite. Stack the grape on top of the cheese cube and use toothpicks to make this a grab-and-go snack. If your kids are craving a sweet and salty bite, they'll polish off a plate of these.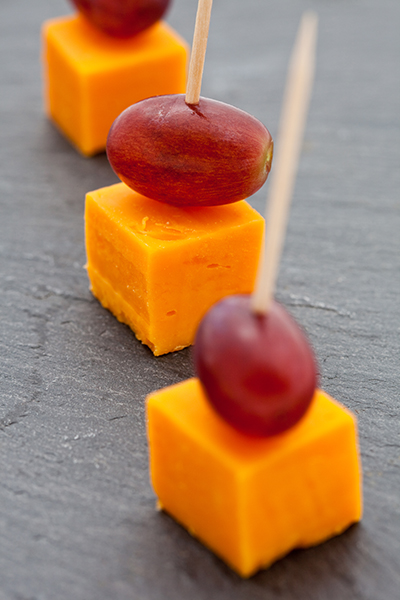 Don't just stop there. Continue making food fun for your kids with bento box ideas. Grab cookie cutters to create shapes or create a face in your yogurt. You could even use cheerios for eyes! Be playful and your kids will love the time and creativity spent in each delightful dish.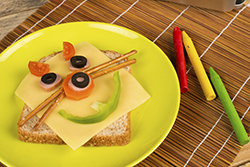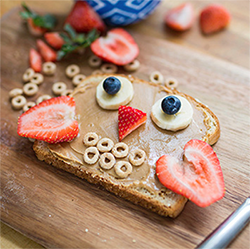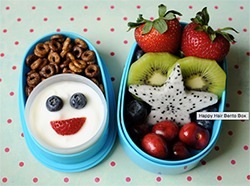 Borden Cheese is helping to keep your summer healthy!