Tuesday August 15, 2017
9 Suggestions for School Lunches
It's back-to-school time, which means new supplies, books, sneakers… and lunch kits! One way to keep kids excited about school is by packing lunches that are
real fresh and real delicious
. Even better, packed lunches are an affordable and fun opportunity to expose them to a variety of foods.  Introducing a new food alongside familiar favorites can be a great way to ease them towards eating something different.
According to the American Academy of Pediatrics, it can take 15-20 exposures before a child—or an adult!—develops a taste for the new food. Even if they don't eat the new food the first time they see it, repeated contact can lead a child to accepting the unfamiliar item.  So, while radishes might not be a hit the first time your kid sees them, keep at it and maybe someday your kid will be a veggie-eating super-star. To that end, here are some fresh ideas and tips for school lunches:
Try to follow a general template to make sure your child get a well-balanced and nutritious meal. Aim to include a good source of protein and fat alongside the carbohydrate at each meal.  For protein and fat, think cold cuts, cheese, eggs, yogurt, jerky, nuts, nut butters, hummus, beans, peas, and lentils.  For carbs, think outside the cracker box and try to include fresh fruits and veggies with every lunch.  And for dessert, one healthy option is a mix of dark chocolate chips and dried fruit.
Invest in a lunch kit that has a plate with dividers to make it easier to provide a variety of foods in an attractive way.  Add a long-lasting cold pack to lunches with items that need to be kept cold.  If a microwave isn't available for warming foods, there are insulated double wall stainless steel containers that can keep food hot for up to 12 hours.
A fun dip can make fresh veggies more exciting and tasty
.  You might try good quality hummus or ranch dressing (my favorites are made with avocado oil); plus, there's always a variety of options in the refrigerated section at
your local Brookshire Brothers store
.  Alternatively, you can make your own zesty dips from bases like cream cheese, sour cream, yogurt, or mayonnaise.  For these, experiment with a variety of fresh herbs, green onions, garlic, and spices for endless variations. One of my go-to favorites is a
Creamy Garlic Herb Yogurt Dip
.
One
easy-to-make entrée
is a burrito bowl! All it takes is a combination of ingredients like rice, beans, corn, tomatoes, sour cream, shredded cheese, and salsa. Don't forget to add half an avocado or guacamole for a scrumptious dose of healthy fats!
If your school has restrictions on products made from peanuts (to protect children with peanut allergies), try mixing up the peanut butter and jelly sandwich with new combinations. You can choose from different types of nut butters like almond butter (a super source of vitamin E!) or cashew butter.  Cream cheese and jelly is another delicious option since cream cheese is a good source of protein, fat, and calories to fill up little tummies. You might also try swapping bread for a banana or apple for even more possibilities.  And while chips are the other half of a classic sandwich lunch, you can still get creative! Consider these other great alternatives available at your local Brookshire Brothers: nuts, seeds, popcorn, dried veggie snacks, and more—all available in a variety of flavor options.
Read more: Whether you're learning about peanut allergies or parent responsibility, the
food culture
of our society is a great thing to learn more about.
Breakfast for lunch is another a fun idea! Try oatmeal, yogurt, or pancakes cut into fun bite-sized shapes. For a delicious flavor of oatmeal, I recommend using diced apples, raisins, cinnamon, and/or maple syrup. As for yogurt, you'll find that it's a great source of healthy proteins, fats, and carbs—aka a balanced meal in and of itself! Consider buying a tub of plain full fat or whole milk yogurt, and then giving it some flavor with dried fruit, shredded coconut, slivered almonds, pecans, walnuts, unsalted sunflower seeds, granola, and/or honey.  Lastly, you might add a teaspoon of ground flax seed or chia seeds to the yogurt (or oatmeal!) to boost those nutritious omega-3 fats.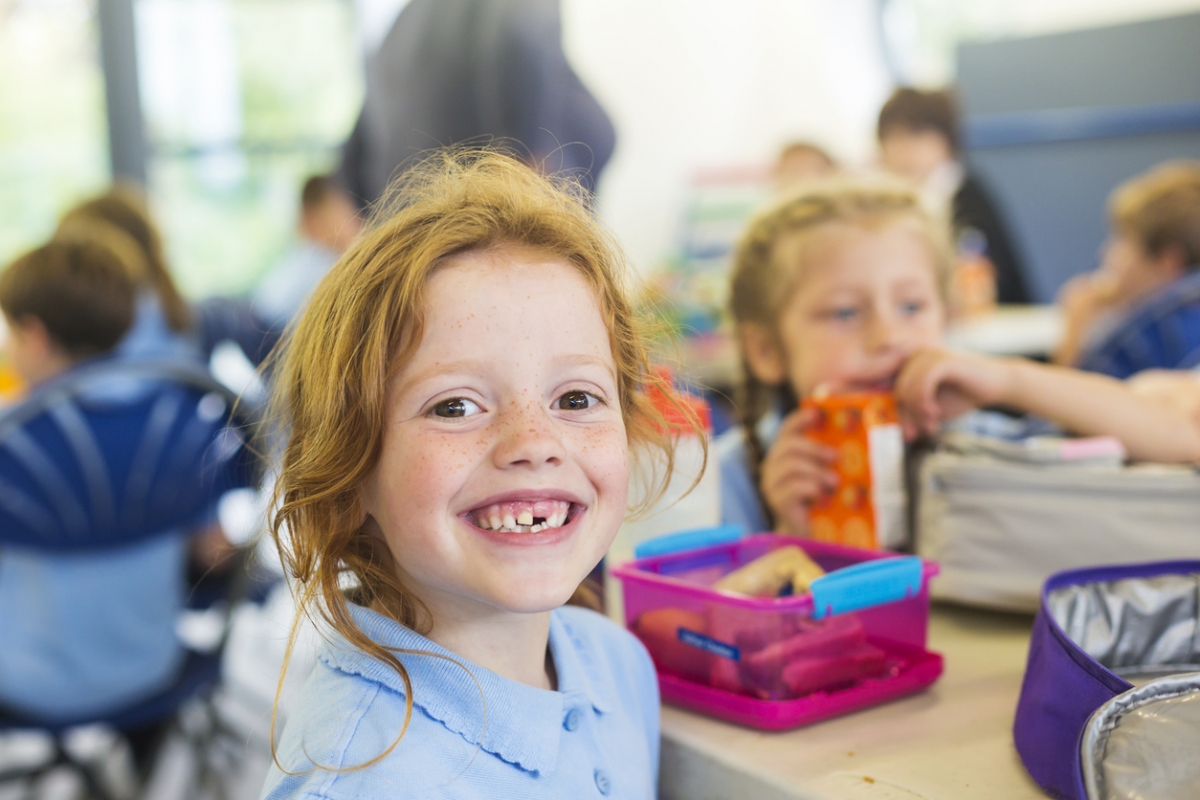 Leftovers are your best friend
when it comes to easy, ready-to-go lunches. So, when you make your delicious family dinners, pull double-duty by making a little extra and packing it up for lunch during the week. 
For more options with fruits and veggies, consider these:
One of my favorite new products is fermented sauerkraut, which is full of healthy probiotics and has a fresh salty and tangy crunch.  It can be eaten alone as a side dish or on sandwiches and hot dogs (like pickles). While it's usually located in the refrigerated section of your Brookshire Brothers, you can also just ask your store manager, or make a product request!
If you don't have time for fresh fruit, there are other good options (with minimal added sugars) to choose from: dried fruit, cut fruit packed in juice, or individually wrapped packages of unsweetened apple sauce.
Some great vegetable options include fresh baby carrots, cucumber, cherry tomatoes, sugar snap peas, broccoli, cauliflower, radishes, celery, and bell pepper strips.
Read more: For a refresher on what produce is currently in season, check out this
summer guide
!
For delicious and satisfying entrée options, try these: 
boiled eggs
cold cuts and cheese roll-ups
tortilla and cream cheese roll-ups
tuna salad, chicken salad, pasta salad, or egg salad on a bed of lettuce or with a side of wholesome crackers
cream cheese and turkey bagel-sandwiches
sandwiches of all varieties
And who says adults can't eat all this yummy stuff too?  Instead of eating out, save yourself a little time and money by packing an extra lunch for the break room.  And as always, you can visit
your local Brookshire Brothers store
for even more lunch inspiration.  There are real fresh real delicious options around every corner!
---
Angela Larson is a registered dietitian (RD) who works with Brookshire Brothers promoting real fresh, real delicious healthy foods and providing nutrition education to the community. She is also a clinical dietitian representing Woodland Heights Medical Center in Lufkin where she does community education on food and nutrition. Food is her passion, so Angela loves trying new recipes and exploring the more holistic side of nutrition. Angela loves to cook, garden, and spend time outdoors. Look for Angela's monthly articles in Charm East Texas.  
Tuesday March 29, 2016
3 Lunchboxes to Put Some Spring in Your Kid's Step
April showers bring May flowers and these bright and cheery lunchboxes celebrate the best of both!
Springtime brings lots of colorful fun, so we're celebrating by adding it into our lunchboxes! We've got two bright and cheery combos sure to bring a smile to any kid's face. 
Our first lunchbox isn't just adorable, it's delicious too! We made a kid-friendly pasta salad with bowtie noodles plus a little salt and butter, then tossed it all together with Cascadian Farm frozen organic sweet peas. Next, using Betty Crocker™ Fruit Gushers®, we created an adorable flower  and added fresh snap peas for greenery. Last, but not least, we also added a tasty Larabar for a hint of sweetness!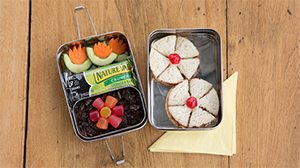 The second lunchbox is sure to satisfy your growing kid's appetite! We made peanut butter and jelly sandwiches in the shape of flowers, which is way easier than you might think. Spread peanut butter and the jelly of your choice between two pieces of bread and cut into a circle using a biscuit cutter. Then, cut 5 slits around the sandwich to make the "petals." Finally, garnish with a fruit Gusher to complete the flower!
We also made flower veggie sticks with carrots and cucumber. Simply cut a slice of cucumber about 1/3-inch thick. Cut the slice in half and remove the seeds. Take a washed and peeled carrot and also cut a slice about 1/3-inch thick. Using a small knife, cut out two small, triangular pieces from one end to create the look of flower petals. To assemble the "flower", place the carrot slice inside the cucumber slice and fasten with a toothpick for the "stem." For a sweet treat, we made a "dirt garden" with ½ cup of chocolate pudding topped with crushed Oreo cookies. The flower was made using Dots candies, but any flowery and sweet garnish will work. We also added a Nature Valley granola bar to eat at lunch or to be saved for a yummy snack.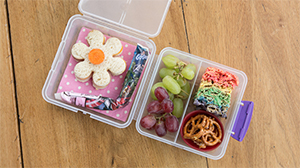 Our final flower power-packed lunch is super easy and super cute! We put together a turkey and cheese sandwich and using a cookie cutter, made it into an adorable flower. We wanted this lunchbox to be super-easy but still fun so we added a Go-Gurt, red and green grapes, and pretzels. We also packed along one of our rainbow Chex Bars (a fun take on the regular Rice Krispy Treat). Instead of making one batch, we divided the recipe into five small batches and added food coloring to each portion individually and stacked each colorful layer. Any other fun treat you have on hand would work great, but we couldn't pass this fun snack up with all the bright colors!
What are some of your favorite springtime, lunchbox-approved recipes? We want to hear from you!
Wednesday September 11, 2013
Dressed for Success – Manhattan's Dressing
Customers will soon find a product in their local Brookshire Brothers that originates right here in Lufkin, Texas!  Destin Sabani, the creator of Manhattan Dressing, developed the recipes during his thirty years in the restaurant business. A native of northeastern Italy, Sabani has lived in Lufkin for 18 years operating several successful restaurants including Manhattan and Roma's - anchors in downtown Lufkin.  Sabani says, "For years, my customers have asked me for my recipes. They are the ones who encouraged me to offer my salad dressings on the retail market." Sabani approached his friends at Brookshire Brothers for their expertise.  The Lufkin-based grocer is proud to partner with Sabani to stock and promote his four dressings - Italian Tomato Vinaigrette, Tomato Ranch, Tomato Blue Cheese and Chipotle Tomato Ranch.  Each one is carefully mixed with the finest ingredients and are fabulous not only on salads but also as marinades.  Shoppers can now find Manhattan Dressings at all seven Brookshire Brothers locations in Angelina and Nacogdoches counties.  Company spokesperson Sally Alvis adds, "It's a great partnership. Destin has a home-grown product and as another locally owned company, we have the synergies to help him get his dressings on the market.  It's a highly competitive category in supermarkets, but Brookshire Brothers is confident customers in the Lufkin/Nacogdoches area will support Destin's dressing debut and be loyal to the new product." 
The media is invited to taste Manhattan Dressing at a red carpet unveiling onThursday, August 8th at Manhattan'sin downtown Lufkin.  Sabani will unveil his products during the 4:30-6:00 PM event. Representatives from Brookshire Brothers will also be available for comment.
Brookshire Brothers is an employee-owned company operating 76 retail grocery stores and 35 convenience stores in Texas and Louisiana. Started in 1921 by brothers Austin and Tom Brookshire, the company and its 7000 employee-owners remain customer driven, dedicated to celebrating family and community.  For more information, visit our website at
www.brookshirebrothers.com
.
Red Carpet Roll Out of Manhattan Dressing
Thursday, August 8th  4:30PM-6:00PM
Manhattan Restaurant - Cotton Square in Downtown Lufkin