Submitted by
Angela Larson - Dietitian
on Wednesday, May 20, 2020
Noodle bowl. Need I say more?
Okay, I'll say more. I always have plenty to say about everything (much to my husband's dismay). There are so many options for noodle bowls that makes my heart sing. Need a place to use up random produce left in the fridge? Noodle bowl. Need a quick dinner that's filling and made with pantry staples? Noodle bowl. Have chicken? Add it. A random head of broccoli? Add it. A half-empty week old jar of baby food? Don't add that. Don't add that to anything.
Sorry, I am easily distracted. But, back to noodles. I love them. But, you say, what if I don't have rice noodles on hand? This recipe also works great with rice as a starchy stand-in. Have only half the ingredients on hand? Just go with it. That's how easy it is to not mess up this recipe.
And, yes, I know it looks like a lot of ingredients, but you can totally swap things in as desired or omit things if certain ingredients aren't available. As long as you have rice noodles or rice, some kind of vegetable, soy sauce, and some kind of tahini or peanut butter, then you've got dinner. All the other ingredients are just a bonus (and a great opportunity for using up some odds and ends, as outlined above.)
And did I mention that this dish is totally plant-based? That is, as long as you don't decide to add any non-plant-based ingredients. (If you're a strict vegan, feel free to omit the honey.)
So, what are you waiting for? Let's eat some noodles!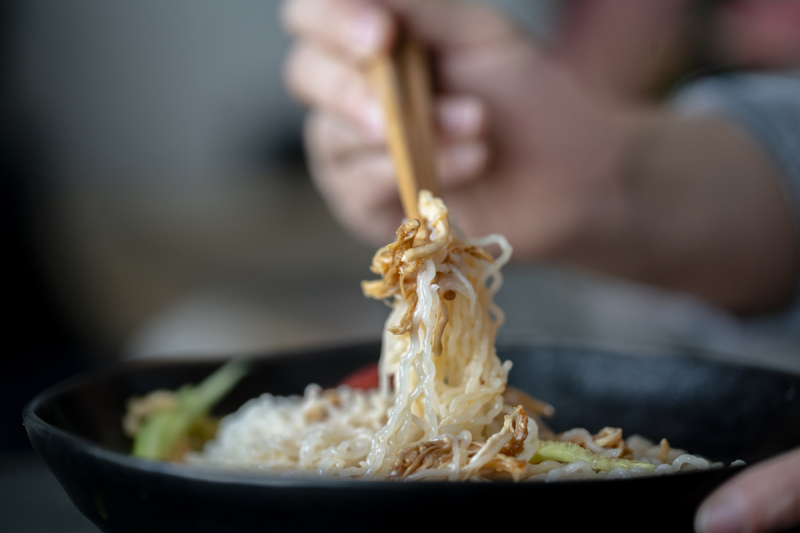 Rice Noodles with Roasted Sweet Potatoes, Spinach, and Sesame Seeds
Equipment Needed
Medium mixing bowl
1 large sheet pan
Parchment paper
Extra-wide aluminum foil
1 medium saucepan
Food processor or blender
Ingredients
Roasted Sweet Potatoes
5 small sweet potatoes, peeled and sliced into ½ inch thick rounds
3 tablespoons extra-virgin olive oil
1 tablespoon sesame seeds
1 teaspoon salt
¼ teaspoon red pepper flakes
1 tablespoon honey
Sauce
3-inch section of fresh ginger, peeled and roughly chopped (Alternately 1 teaspoon of ginger powder can be used.)
2 cloves of fresh garlic (or 1 teaspoon garlic powder)
½ cup tahini (or creamy peanut butter, if preferred)
½ cup low sodium soy sauce or tamari
2 tablespoons toasted sesame oil
3 tablespoons honey
1 tablespoon of red chili paste (I used Thai chili paste)
Zest of 1 lime
Juice of 1 lime
Water, as needed to thin consistency
½ cup of a combination of fresh cilantro and fresh basil leaves (use more or less of either depending on availability and taste)
Noodles
8 ounces of rice noodles
2 cups fresh baby spinach
Optional Toppings (mix and match as desired)
Toasted sesame seeds
Peanuts
Cucumber, sliced
Sweet bell pepper, cut into strips
Sliced green onions
Instructions
For the sweet potatoes:
Cover a large sheet pan with a piece of parchment paper.
Toss sweet potatoes in a medium bowl with olive oil, sesame seeds, salt, and red pepper flakes.
Spread sweet potatoes out on the prepared baking sheet, making sure that the flat side is down and none are touching.
Cover the sheet pan tightly with extra-wide aluminum foil. Place oven rack at top position and place sheet pan with sweet potatoes in the cold oven.
Turn on oven to 425 degrees and cook for 20 minutes.
Remove foil after 20 minutes and return to the top rack of the oven, roasting for an additional 25-30 minutes, rotating pan halfway through (drizzle the 1 tablespoon honey on potatoes when rotating pan).
Cook until golden brown around the top and bottom edges.
If top edges are not caramelized, turn the broiler on high for 2 minutes until browned, and watch carefully to prevent burning.
Remove from the oven and set aside.
For the sauce:
Add fresh ginger and garlic (if using) to the food processor or blender, and pulse several times until chopped finely.
Add all other ingredients except fresh herbs to the blender, and blend until sauce is smooth and uniform in appearance (about 30 seconds).
Thin with water as needed to achieve the right consistency (should drizzle off a spoon).
Add fresh herbs and pulse 7-8 times until coarsely chopped within the sauce.
Set sauce aside.
For the noodles:
Meanwhile, bring a large pot of salted water to a boil.
Cook the rice noodles according to package directions.
Add spinach to pot with noodles during last 1 minute of cooking time.
Drain noodles and spinach in a colander and set aside. (If noodles stick together after cooking, rinse gently with cool water to separate before serving.)
To serve:
Plate spinach and noodles, drizzle with sauce as desired, and top with roasted sweet potatoes. Serve warm or at room temperature.
Finish with optional toppings.
---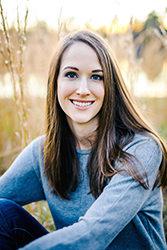 Angela Larson is a registered dietitian nutritionist (RDN) who works with Brookshire Brothers promoting real fresh, real delicious foods. Delicious food is her passion, so she loves trying new recipes and exploring the more holistic side of health and nutrition. When Angela isn't working with Brookshire Brothers, she's a mostly stay-at-home mom who loves to cook, garden, and spend time outdoors with her husband, Austin, and their two daughters.