Posted on Thursday, September 9, 2021
Pot pie - the humblest of titles, but so much more than it sounds. Creamy filling stuffed with vegetables and chicken topped with savory crust – it is the ultimate one-pot dinner, especially during National Chicken Month! I have always enjoyed pot pie but shied away from making it because I thought it would be complicated to prepare at home. I'm so glad I gave it a go because I was wrong. It was so easy and delicious that this recipe will definitely be part of my regular dinner rotation.
This recipe is a little "fancier" than your typical pot pie, but this only means it has more amazing flavor without any extra fuss. The vegetables can easily be swapped out for your favorites to use whatever you have on hand. I also love it with roasted cherry tomatoes or cauliflower, or you could go with the traditional favorites, peas and carrots. Give homemade pot pie a try, and I promise you won't be disappointed.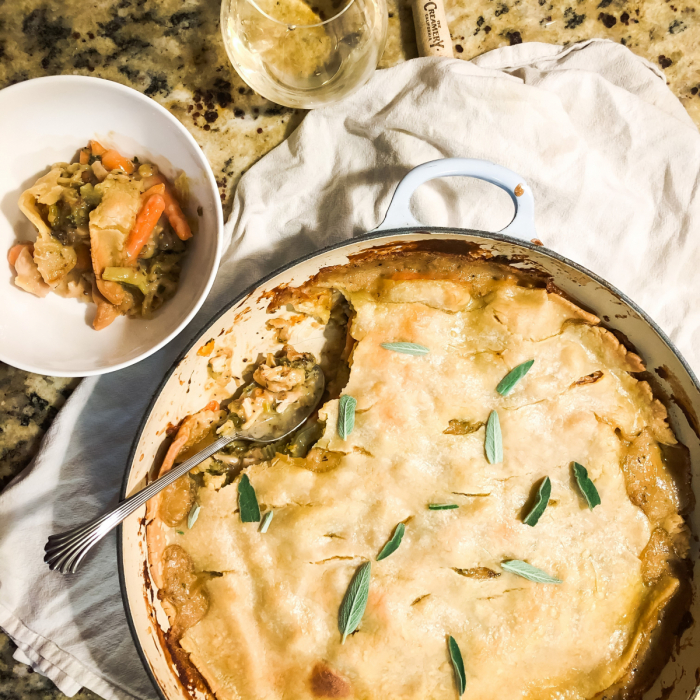 Chicken Pot Pie with Roasted Vegetables and Sage
Adapted from Half-Baked Harvest – Super Simple by Tieghan Gerard
Ingredients
3 tablespoons extra-virgin olive oil
12 ounces petite baby carrots
2 cups of broccoli florets, washed and chopped in bite-sized pieces
2 stalks of celery, diced (optional)
1 ¼ pounds boneless, skinless chicken tenders (or 1 ½ cups cooked rotisserie chicken shredded)
3 tablespoons butter
2 shallots, chopped fine
2 tablespoons fresh sage leaves, chopped, plus whole leaves for serving
1 ½ teaspoons dried thyme leaves
1/3 cup all-purpose flour
3 cups low-sodium chicken stock (I prefer high protein type)
1 cup whole milk
¼ cup fresh parsley, chopped
1 frozen or refrigerated prepared roll-out style pie crust, thawed
Directions
Move oven rack to middle position and preheat oven to 425 degrees.
Cover a large rimmed baking sheet with a piece of aluminum foil and toss carrots, broccoli, and celery with 3 tablespoons of olive oil and sprinkle with salt and pepper. Spread in an even layer on baking sheet.
Roast vegetables in the oven until they are lightly browned and beginning to get tender, about 20 to 25 minutes. When finished, remove from oven, reduce oven temperature to 375 degrees, and set vegetables aside while preparing filling.
(If using shredded rotisserie chicken, skip to step 5.) While vegetables roast, heat a large 12-inch oven-safe skillet over medium high heat. After pan is hot, add chicken tenders to dry pan and cook without moving for 3-4 minutes. When they are well browned, they will release easily from the pan and then flipped to cook for an additional 3-4 minutes. Remove chicken from the pan and set aside to cool slightly before chopping into bite sized pieces.
Reduce heat to medium and add butter to skillet. After butter has melted add shallots, chopped sage, and thyme. Cook, stirring often, until shallot is fragrant and butter is lightly browned with a nutty aroma, about 3-5 minutes.
Add flour to pan, and cook for about 1 minute, stirring constantly. Gradually whisk in broth and milk. Bring to a simmer then reduce heat to medium-low. Season with salt and pepper to taste. Simmer until slightly thickened, about 10 minutes.
Remove skillet from the heat and add chopped chicken, roasted vegetables, and chopped parsley. Stir to combine.
Roll out prepared pie crust until it is large enough to cover filling in pan, and lay over the top of the filling in the skillet. Cut a few slits in the top of the crust. Brush with a little bit of melted butter or whole milk, if desired.
Bake until pastry is golden brown, 40-45 minutes. Let cool for 10 minutes, sprinkle with remaining fresh sage leaves, and serve.
---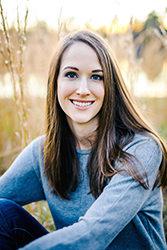 Angela Larson is a registered dietitian nutritionist (RDN) who works with Brookshire Brothers promoting
real fresh, real delicious
foods. Delicious food is her passion, so she loves trying new recipes and exploring the more holistic side of health and nutrition. When Angela isn't working with Brookshire Brothers, she's a mostly stay-at-home mom who loves to cook, garden and spend time outdoors with her husband, Austin, and their two daughters.