Tuesday October 10, 2017
6 Nutrition Tips for Surviving Midterms
Healthy suggestions for making the most of your brain when it's needed most
It's that time of the year again. Fall is full-on pumpkin, Thanksgiving is fast approaching, and—dun dun DUN—college midterms are here! For those of you who know a student—or you yourself!—that could use a little extra brainpower during the long study sessions and test taking, I'm here to save the day with my favorite brain-boosting study foods, plus some tips and tricks for acing those exams.
(P.S. – While these tips are particularly important during times when the brain is working extra hard—like midterms—they're also great to keep in mind for your everyday habits!)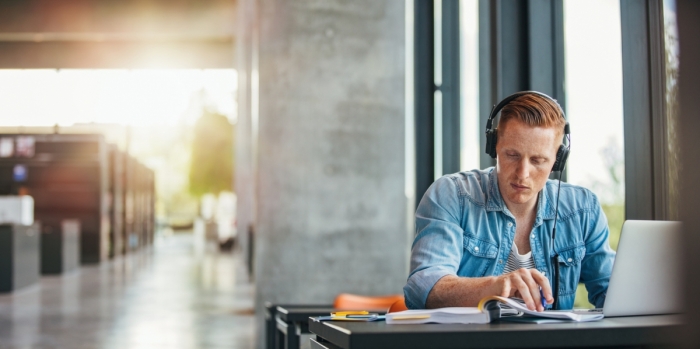 Fatty Fish
You may have heard it before, but I'm telling you again omega-3 fats really are good for the brain. Keep your noggin filled with good vibes by eating at least 3-4 oz each week of fatty fish like salmon or sardines.  Your dorm mates or coworkers don't appreciate you microwaving a filet of salmon? No problem. Try ready-to-eat foods like canned sardines instead, or—my favorite—packages of wild caught Alaskan salmon. Slap it on some bread with mayo and a little relish, and you've got a full-fledged feast that's on-the-go convenient.  Thank you… your brain says.
Dark Chocolate
Do I really need to give you an excuse to eat chocolate?  Chocolate is rich in antioxidants and brain-boosting minerals like iron and magnesium.  Best of all, it has a little bit of caffeine to get you through a slow slump, and I would wager that snacking on such a treat would help ease some anxiety (exam-related or otherwise).
Nuts and Seeds
Take your snack a step further by pairing the dark chocolate with some nuts and seeds. When you eat a variety of nuts and seeds, you also get a variety of brain boosting benefits.  Case in point: brazil nuts are loaded with the antioxidant selenium; walnuts are rich in omega-3;  almonds are full of vitamin E; and pumpkin seeds are packed with zinc and magnesium.  Mix up some trail mix and munch away.
Mozart
Okay, so not exactly a nutrient, but listening to some calming yet stimulating music can help maintain focus—a particularly useful perk during long study sessions.  Besides, Mozart was pretty smart, so maybe listening to his music will make you smarter by osmosis.
Coffee or Green Tea
A little caffeine has been shown to improve alertness and mental acuity, so an hour or so before heading into an exam (or, say, a major meeting) have a small cup of coffee or green tea.  Be cautious, however, about using caffeine to stay up late to study or work. It may interfere with your much-needed sleep.
Peppermint
One last trick to use is to pop a peppermint into your mouth before the big event (test, meeting, interview, etc). Studies have show that eating a mint is stimulating and can help improve blood flow to the brain.
---
Angela Larson is a registered dietitian (RD) who works with Brookshire Brothers promoting 
real fresh, real delicious
 foods and nutrition education to the community. She is also a clinical dietitian representing Woodland Heights Medical Center in Lufkin where she does outreach education on food and nutrition. Food is her passion, so Angela loves trying new recipes and exploring the more holistic side of nutrition. Angela loves to cook, garden, and spend time outdoors. In addition to the 
Brookshire Brothers blog
, look for Angela's monthly articles in Charm East Texas.