Posted on Wednesday, July 28, 2021
We know that the back-to-school season can be exciting and hectic for students, parents, and teachers alike. So, from lunches to snacks to dinners, we've got you covered to make the start of this school year a great one! Get a head-start on meal-prep with these tasty, easy recipes.
School Lunches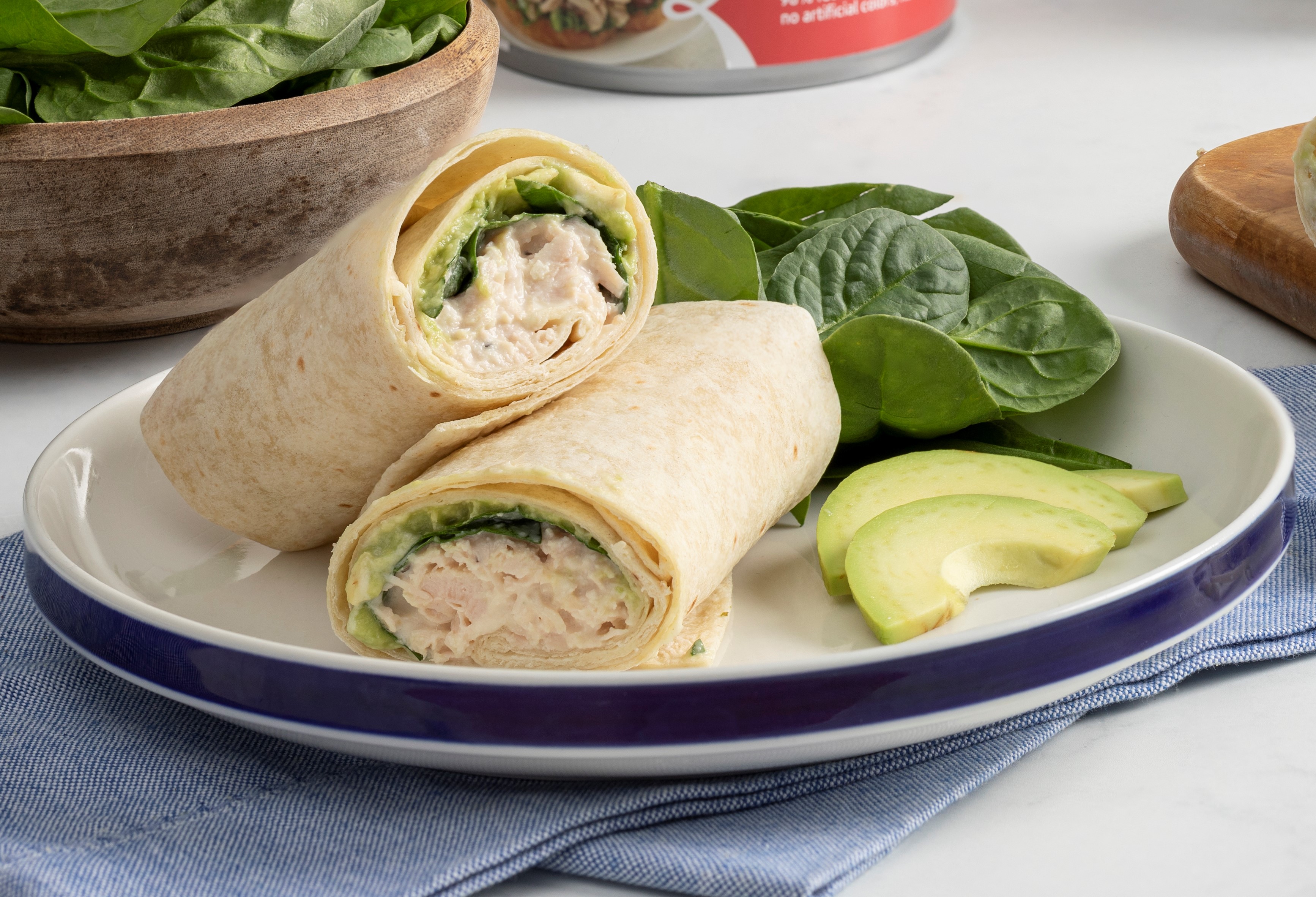 Chicken Caesar Wraps
Ingredients
1 (12.5-ounce) can Food Club Chunk White Chicken Breast in Water, drained
1/2 cup Food Club Classic Caesar Dressing
1/4 cup Food Club Shredded Parmesan Cheese
1 large avocado
2 teaspoons lemon juice
1/4 teaspoon kosher salt
4 10 inch Food Club Flour Tortillas
4 cups baby spinach
Directions
Place chicken, Caesar dressing, and parmesan cheese in a medium bowl. Stir until combined.
In a small bowl, mash avocado with a fork. Add lemon juice and kosher salt. Stir until combined.
Divide avocado mixture between tortillas. Top with chicken mixture and baby spinach.
Fold in ends and roll tightly.
Slice in half and serve.
Pepperoni Pizza Pinwheels
Ingredients
1 (8-ounce) block cream cheese, room temperature
2/3 cup pizza sauce, plus extra for dipping
1 teaspoon Italian seasoning
4 flour tortillas, room temperature
1/2 cup chopped pepperoni slices
3 ounces Food Club Mozzarella String Cheese Bites
Directions
In a large bowl, combine cream cheese, pizza sauce, and Italian seasoning.
Spread a generous layer of the mixture over each tortilla, evenly covering the surface to the edges.
Sprinkle mixture with chopped pepperoni and line up string cheese bites end-to-end across one side of the tortilla.
Roll up tightly, wrap in plastic wrap and repeat with remaining tortillas.
Chill rolls in the fridge for 2 to 3 hours before slicing into 1/2"-pinwheels.
Place rolls in the largest lunch box compartment and extra pizza sauce in a smaller compartment for dipping.
After School/Work Snacks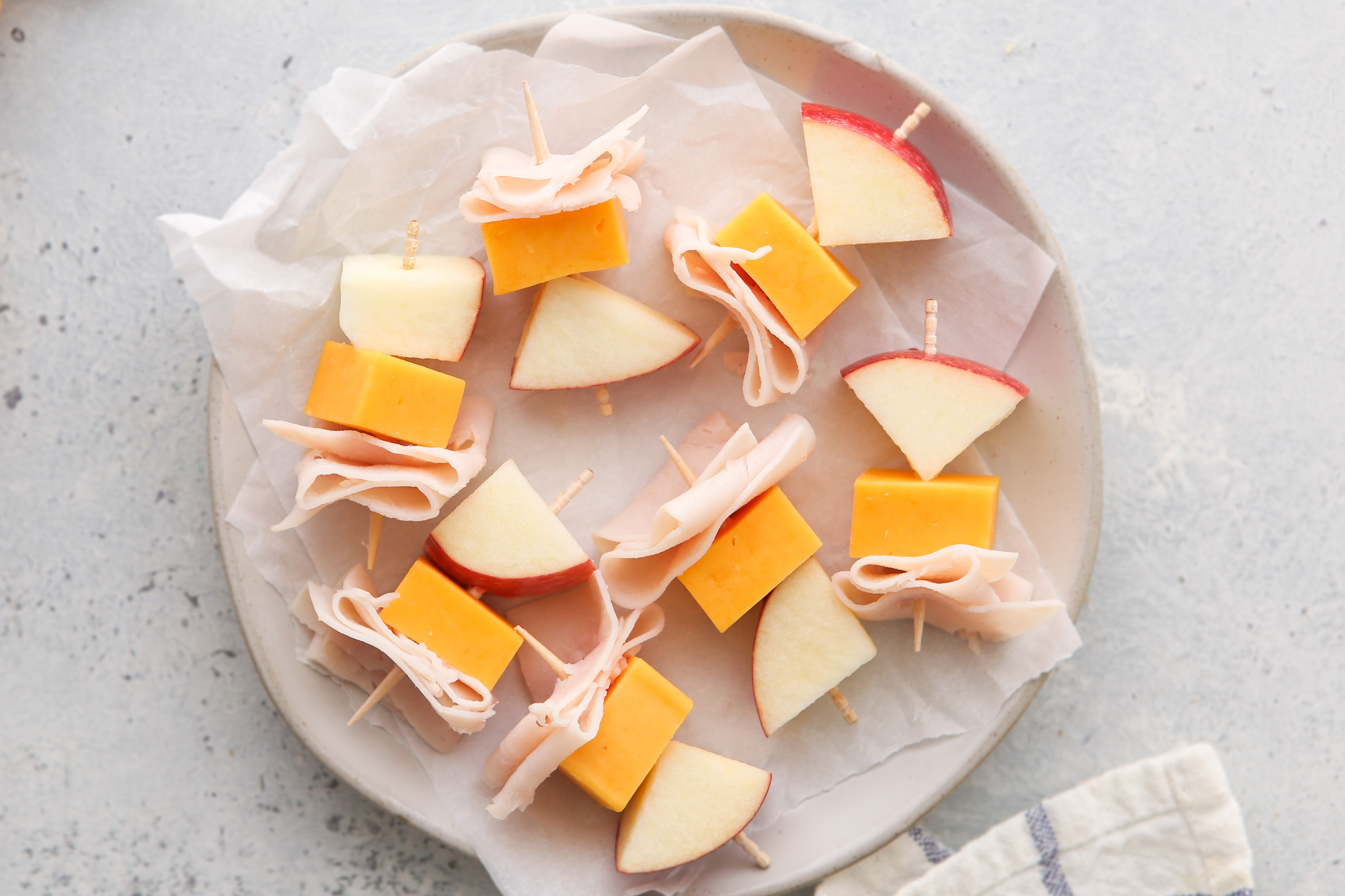 Tukey, Apple, Cheddar Bites
Ingredients
About 10 slices deli turkey breast (about third of 9oz package)
8 oz cheddar cheese
2 apples
1 tablespoon lemon juice (optional, see Note)
20 toothpicks
Directions
Cut slices of deli turkey breast into 1-inch wide strips and fold into square stacks.
Cube cheddar cheese into roughly 1-inch pieces.
Slice apples into roughly 1-inch pieces.
Skewer an apple piece, cheddar cheese cube, and stack of deli turkey breast onto a
toothpick. Repeat with remaining ingredients and toothpicks.
Serve immediately or chill and serve later.
Notes:
If serving bites later, toss apple cubes with lemon juice to prevent browning.
This recipe can easily be scaled down as needed.
Milk and Cereal Bars
Ingredients
5 (6-ounce) tubs Food Club Vanilla Yogurt
1 tablespoon honey
2 cups Food Club Fruit Frenzy, Hokus Pokus or Honey Nut Toasted Oats Cereal
Directions
In a medium bowl, combine yogurt and honey and stir until blended.
Line 8"x8" pan with wax paper and leave extra hanging over sides to use as handles.
Spread yogurt mixture evenly over bottom of pan. Top yogurt with cereal, gently pressing
it down into yogurt so it sticks together.
Cover the pan with plastic wrap and freeze for 5 hours, or until solid.
Remove bars from pan by lifting up wax paper handles and slice into 8 even servings.
Enjoy immediately or wrap individually and return to freezer.
Family Dinners

Cheesy Pesto Bake Pasta
Ingredients
1 tablespoon olive oil
1 cup Food Club Panko Breadcrumbs
1 box (16 ounces) Food Club Mostaccioli
2 packets (2.5 ounces) Food Club Alfredo Sauce Mix
1 cup whole milk
8 ounces prepared pesto
4 cups Food Club California Blend Frozen Vegetables, thawed
2 cups Food Club Shredded Mozzarella Cheese, divided
1 cup Food Club Shredded Parmesan Cheese, divided
Fresh basil for garnish
Directions
Combine olive oil and breadcrumbs in a small skillet over medium heat. Cook, stirring occasionally, until breadcrumbs are light golden brown, about 7 minutes. Remove from heat and set aside.
Preheat oven to 350°F and lightly coat a baking dish with nonstick spray. Bring a large pot of salted water to a boil over high heat. Cook pasta according to package directions. Reserve 1 cup of pasta cooking liquid before draining pasta. Return cooked pasta to pot.
In a small bowl whisk alfredo sauce mix, milk and reserved cooking water until smooth. Add alfredo mixture, pesto, frozen vegetables, 1 cup mozzarella cheese and 1/2 cup parmesan cheese to pasta. Stir to combine and transfer mixture to prepared baking dish. Top with remaining cheese and toasted breadcrumbs.
Cover tightly with aluminum foil and bake for 20 minutes. Remove foil and bake for an additional 15 minutes or until golden brown and bubbling. Garnish with fresh basil
Slow cooker Lemon Chicken and Rice
Ingredients
2 lbs Food Club boneless skinless chicken breasts
1 cup long grain white rice
2 cups chicken broth
4 cloves garlic, minced
Zest of 1 lemon
Juice of 1 lemon, divided
1 teaspoon salt
1/2 teaspoon ground black pepper
1 tablespoon olive oil
Directions
Grease a large (5 or 6-quart) slow cooker with nonstick cooking spray.
Add rice, chicken broth, minced garlic, lemon zest, juice of ½ the lemon, salt and pepper to the slow cooker and stir until combined.
Preheat a skillet over medium high heat and add olive oil. Sprinkle chicken with additional salt and pepper and brown in skillet on both sides, about 4-5 minutes on each side.
Place browned chicken breasts in slow cooker on top of rice mixture.
Cover and cook on high for 2 hours, or until chicken is cooked through and rice is al dente. Check chicken after 1 ½ hours for doneness and remove from slow cooker early if necessary. Chicken is done with no longer pink in the middle and an instant read thermometer reads 165°F.
When rice and chicken are done, drizzle with juice from remaining ½ lemon and fluff rice with a fork. Serve immediately.
Bonus Recipe!
A good breakfast provides the energy and nutrients your child needs to take on the school day. Enjoy this tasty and simple breakfast bake that makes every morning a good one!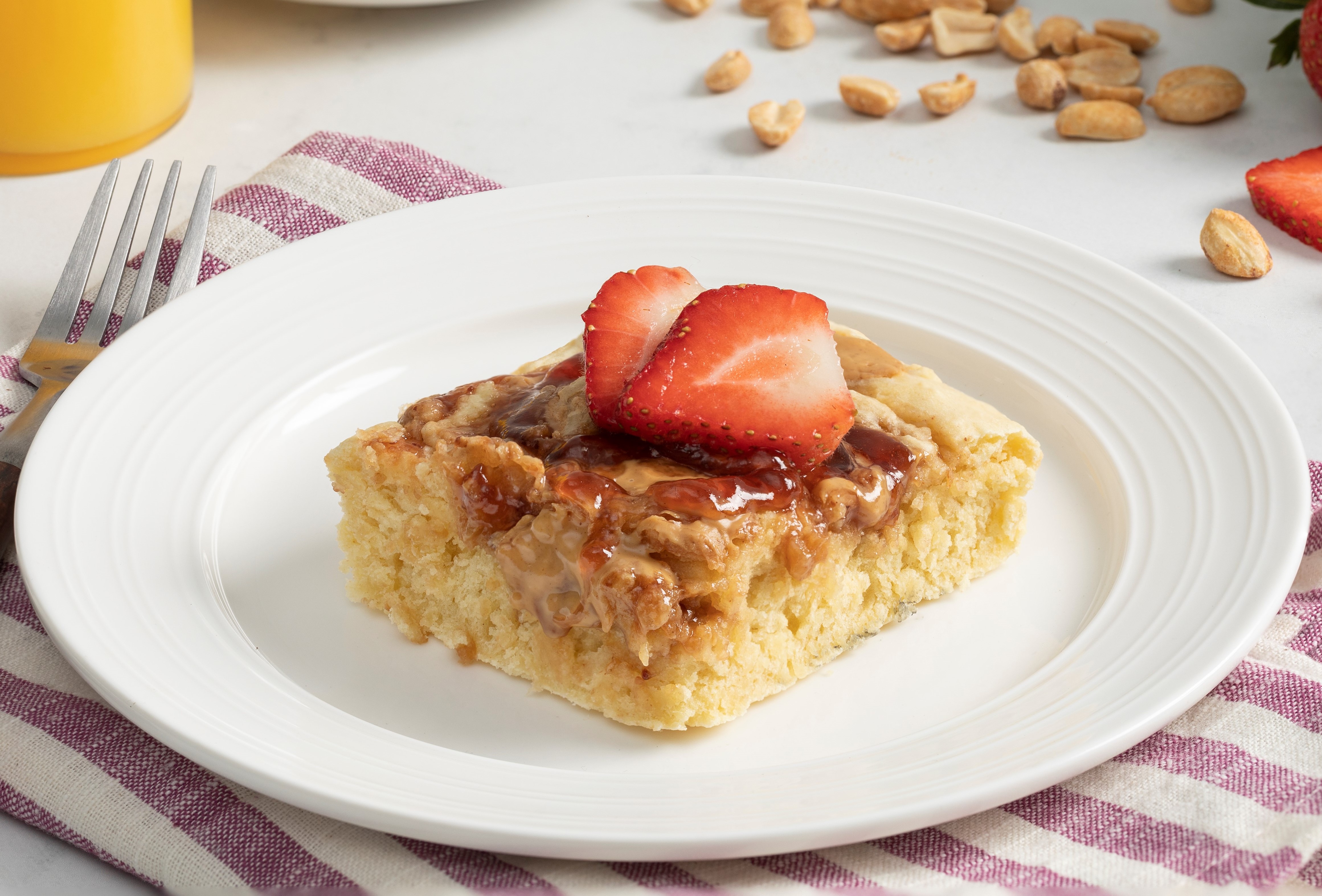 PB & J Pancake Bake
Ingredients
1/2 cup Food Club Peanut Butter
● 1/2 cup Food Club Strawberry Jam
● 3 1/2 cups all purpose flour
● 2 teaspoons baking powder
● 1/2 teaspoon salt
● 2 tablespoons sugar
● 1 1/2 cups milk
● 2 large eggs
● 3 tablespoons melted butter
● 1 cup Food Club Greek Yogurt
● 1/4 cup chopped Food Club Dry Roasted Peanuts
● Food Club Maple Syrup, for serving
Directions
Preheat oven to 350°F and line a 9x13 inch baking dish with parchment paper. Place peanut butter in a microwave safe bowl and heat for 30 seconds or until peanut butter is warm and loose in texture. Repeat same process with jam. Set aside.
In a large bowl whisk together flour, baking powder, salt and sugar. In a separate bowl whisk together milk and eggs. Add wet ingredients to flour mixture and stir until just combined. Add melted butter and mix until incorporated.
Pour batter into prepared pan, spreading evenly. Dollop peanut butter and jam over surface of batter and use a dinner knife to swirl into batter. Bake for 15-18 minutes or until set.
Slice into squares and top with Greek yogurt, chopped peanuts and maple syrup.