Submitted by
brookshire-blog
on Tuesday, March 1, 2016
What wine to use? What to do with the leftover? Red or white, dry or sweet? So many questions, but they're all answered here with three simple rules!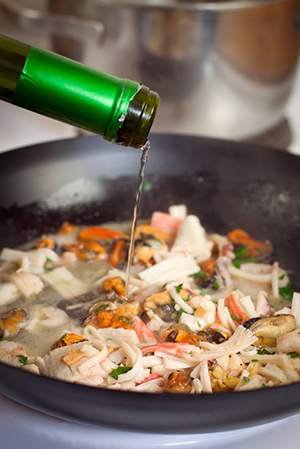 Buy a bottle you'll drink
Rule #1 - Don't venture into a new recipe that calls for a wine that you know you don't like. When cooking with wine, the alcohol cooks out and the flavors are more concentrated. If you are not a fan of a varietal of wine, don't attempt the recipe.
Money isn't everything
Rule #2 - Just because the price tag is more expensive, doesn't mean your meal needs it. Most recipes that call for using wine can have a price cap at $12-$15 per bottle. Also, "cooking wines" are not necessary. Buy your favorite bottle for your taste buds and budget.
Leftover wine?
Rule #3 - You've just finished your decadent dish, but you have half a bottle of wine leftover. Most people may know what we would do with it (drink it, right?)...But, for those who are avid chefs-in-the-making, store that bottle (with the cork) in the refrigerator. It should have a shelf life for up to a week for you to tackle your next recipe!
Now, go have some fun in the kitchen!