Thursday June 29, 2017
Pour & Explore: A Trip Around the World of Wine - Argentina
How would you like to visit Argentina without ever buying a plane ticket? You can immerse yourself in the wines, culture and food of this amazing country on Thursday, July 20th.
It's called Pour & Explore: A Trip Around the World of Wine. This quarterly event is hosted by Brookshire Brothers alongside our partners from the Lufkin Convention and Visitors Bureau. This is the fourth installment in this fine wine and dinner series. Tickets for the five-course paired meal, featuring Finca Agostino wines and Chef Kate Rudasill's Argentina-infused menu, are on sale through the Lufkin CVB. For more information, call 936-633-0359.
Find other Specialty Beverage Events here.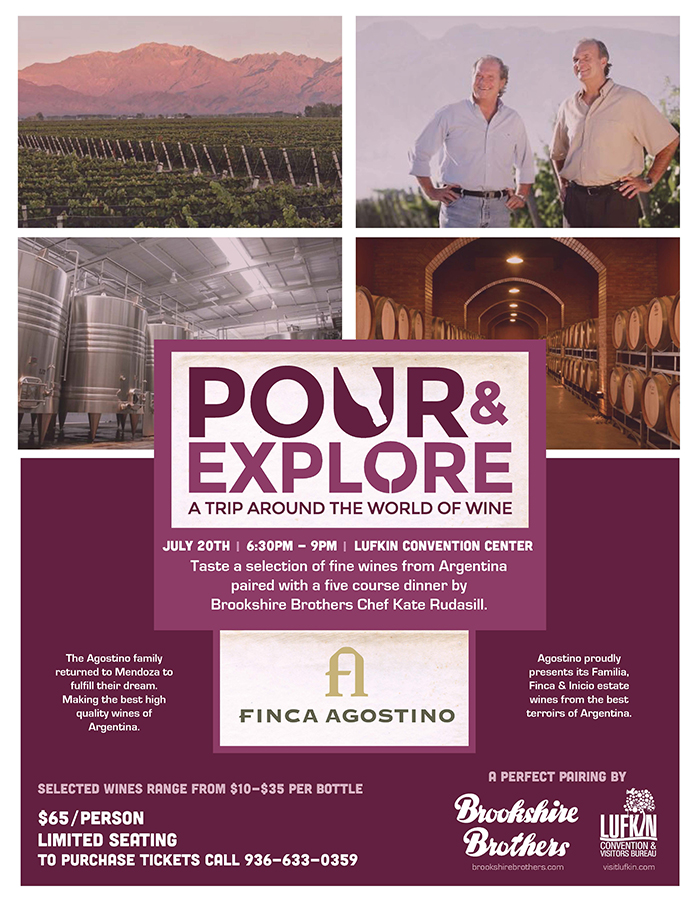 Thursday February 9, 2017
Pour & Explore Takes You on a Tour of California Wines
Brookshire Brothers and the Lufkin Convention and Visitors Bureau are teaming up for round three with another evening of elegance and education at Pour & Explore: Destination California. 
By TARA WATSON-WATKINS
Lufkin Convention and Visitors Bureau
Pour & Explore begins at 6:30 p.m., Thursday, February 23, at the Pitser Garrison Convention Center in Lufkin with a guided tasting tour through the famous wine-producing regions of California. Featured wines will be paired with a delicious five-course dinner by Brookshire Brothers' catering chef, Kate Rudasill. During the "tour" of the California wine regions, the renowned winemakers themselves will walk guests through the menu and the wines they've selected to accompany each course.  
"The Lufkin Convention and Visitors Bureau is proud to continue to partner with Brookshire Brothers and Pour and Explore," said Tara Watkins, Executive Director of the Lufkin Convention and Visitors Bureau. "We hope to establish Lufkin as a haven for foodies and fine-wine aficionados, and Brookshire Brothers has always been such a great supporter of the LCVB. It's wonderful to work with partners who not only understand that people will travel for an exceptional culinary experience, but also know how to provide that experience."
Pour & Explore: Destination California will spotlight the country's number one grape-producing state. Featured wines will include Korbel Sweet Rosé, KJ Pinot Gris, KJ Grand Reserve Pinot Noir, KJ Grand Reserve Chardonnay and Stonestreet Reserve Cabernet.
Pour & Explore: Destination California will begin with a cocktail hour. A specialty cheese board with assorted crackers and Hiland Dairy dips, including Southwest and Sour Cream Chive, will be available, and the Korbel Sweet Rosé will be served.
Following the cocktail hour, the five-course meal created by Chef Rudasill will begin with Mushroom Agnolotti with Browned Butter Sage and Pine Nuts, served family style and paired with the KJ Pinot Gris. The second course, Potato and Chanterelle Soup with Arugula Pesto and Shaved Parmesan will be served with Pesto and Parmesan Cheese Straws and will be paired with the KJ Grand Reserve Pinot Noir. The third course, a California Salad with Sesame Maple Orange Vinaigrette, features fresh greens, butter lettuce, endive, broccoli slaw, cilantro and green onion, along with seasoned cashews, steamed edamame and crispy wontons. It will be served family style and paired with the KJ Grand Reserve Chardonnay. The entrée will be Grilled Ribeyes with Cabernet Thyme Reduction, Butternut Squash Risotto, Steamed Haricot Verts  with Herbed Butter and Parker House Dinner Rolls with Herbed Butter, paired with the Stonestreet Cabernet. Dessert will be individual Praline Mille Feuille with Praline Pastry Cream, Praline Paste, and Ferrero Roche, and will be paired with the Korbel Sweet Rosé  .
Don't miss this elegant night out! Seating is limited, and tickets are available through the Lufkin CVB, (936) 633-0359, for $65 a person or $550 for a reserved table of eight.
For more information on Pour & Explore and other upcoming wining and dining events "Like" us on Facebook at Visit Lufkin and check out our event calendar on www.visitlufkin.com.
Tuesday April 19, 2016
Sutter Home DIY: Wine Cork Vase
Let's get creative and uncork your crafty side with this DIY cork flower vase project.​ It will add handcrafted flair to your décor and makes for a great conversation piece when friends and family come to visit. ​
Starting this project is as easy as drinking your favorite Sutter Home wines. All you have to do is collect enough corks to get started. This cork flower vase makes a wonderful centerpiece for any table or fireplace mantel, a candelabra or a vase for your favorite seasonal floral arrangements. If you love discovering new DIY projects and reasons to uncork your favorite Sutter Home wines for family and friends, we think this handcrafted and unique vino-inspired vase will really hit home.  ​
​What You'll Need:​
•   4-sided glass vase​
•   About 40-80 wine corks, depending on the size of your vase​
•   Craft glue​
 Directions: ​
​Position the corks horizontally and glue them along the sides of the vase with a strong adhesive craft glue.​
Stack the corks vertically along the four outer edges and glue into place.​
When the glue is dry, fill the vase with water and add flowers of your choice.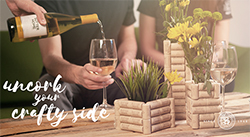 Tuesday March 22, 2016
How to Speak Wine Geek
The terms said in any in-depth discussion of wine can seem like a foreign language at times, but these basic definitions will help make it all feel more accessible.
General Terms
Aging
Holding wines for a period of time in barrels, tanks or bottles to affect the character of the finished wine.
Appellation
The official geographic origin of a wine.
Barrel
A wooden container typically made of oak (generally 60 gallons in capacity) used for fermenting and/or aging wines.
Barrel-aged
A term used for wines that matured in oak barrels for a period of time after fermentation.
Maturation
The aging period at the winery during which the wine evolves to a state of readiness for bottling. Also, the ongoing development of fine wines during a period of bottle aging.
Terroir
A French word for the particular growing conditions of a vineyard (soil, slope, climate and altitude) that give the grapes grown there their unique characteristics.
Varietal
A wine made principally from one variety of grape (e.g., Zinfandel).
Varietal character
The characteristics common to a particular grape variety or the characteristics of a wine related to the grape variety from which it is made.
Wine Characteristic Terms
Aroma
Odors in a wine that originate from the grape. Some distinguish these smells from "bouquet," but the term is often used to describe all smells of a wine.
Balance
The relationship between a wine's alcohol, acid, fruit and tannin. A wine is considered well balanced when none of these components stand out significantly from the rest.
Body
A tactile sensation describing the viscosity or "weight" of wine in the mouth. Body is correlated with the level of alcohol and extract. Wines are described as light, medium or full bodied.
Bouquet
The odors of wine attributed to the winemaking process, such as fermentation, processing and aging, particularly those that develop after bottling.
Crisp
A term for a wine that feels clean and slightly brittle in the mouth, usually from high acidity.
Dry
A wine that is not sweet because all perceptible sugar was consumed during the fermentation process.
Finish
The final impression a wine leaves after you have swallowed or spit it out.
Length
A term describing a wine's sustained sensory impression across the tongue.
Mature
A wine that has reached its optimum point during aging, exhibiting a pleasing combination of aromas, flavors and bouquet.
Oaky
Toasty, smoky or vanilla smells and flavors contributed by the oak during barrel aging. Coffee, chocolate and butterscotch are among many flavors that can be affected by the level of toasting done to a barrel. The origin of the oak used in a barrel can also influences flavors.
Palate
A term used as a synonym for "mouth," or to refer to the characteristics of a wine that manifest in the taster's mouth.
Rich
Description of a wine that offers an abundance of flavor and texture.
Style
The characteristic combination of components (alcohol, acid, tannin and sugar) associated with the wines of a region, a winery or a particular winemaker.
Tannin
A substance found in the skins, seeds and stems of grapes and a principal component of red wine's structure, extracted during fermentation while in contact with the skins and seeds. Oak barrels also impart some tannin to wine. Tannins can be detected in wine by the slight drying sensation along the gum line that they create.
Tuesday March 1, 2016
Cooking with Wine
What wine to use? What to do with the leftover? Red or white, dry or sweet? So many questions, but they're all answered here with three simple rules!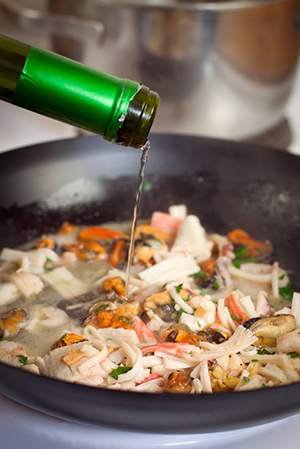 Buy a bottle you'll drink
Rule #1 - Don't venture into a new recipe that calls for a wine that you know you don't like. When cooking with wine, the alcohol cooks out and the flavors are more concentrated. If you are not a fan of a varietal of wine, don't attempt the recipe.
Money isn't everything
Rule #2 - Just because the price tag is more expensive, doesn't mean your meal needs it. Most recipes that call for using wine can have a price cap at $12-$15 per bottle. Also, "cooking wines" are not necessary. Buy your favorite bottle for your taste buds and budget.
Leftover wine?
Rule #3 - You've just finished your decadent dish, but you have half a bottle of wine leftover. Most people may know what we would do with it (drink it, right?)...But, for those who are avid chefs-in-the-making, store that bottle (with the cork) in the refrigerator. It should have a shelf life for up to a week for you to tackle your next recipe!
Now, go have some fun in the kitchen!
Tuesday February 9, 2016
How to Get Cozy with Your Special Someone
Valentine's Day Shopping can be frightful, but getting cozy with your S.O. can be oh-so-delightful! If you find yourself empty-handed on Valentine's Day, heat things up on your own terms with these sizzling ways to warm their heart.
Build a Blanket Fort
When is the last time you've done something this fun and carefree? Go all out with mountains of blankets and plush pillows to create your own cuddle-worthy hideaway. If you really want to go the extra step, take candles with you and create a warm and cozy space to treat both of you!
Steamy Bubble Bath
Take a dip together in a piping hot bath drawn with calming bubbles and plenty of mood-setting candles. Don't forget to throw in some equally mood-setting Ménage à Trois Silk!
Wine & Dine
We've all heard the quickest way to a man's heart is through his stomach, but it doesn't stop with the men! Everyone likes to feel special with a homecooked meal and a nice glass of wine. 
Never underestimate the power of a simple, but thoughtful Valentine's Day celebration!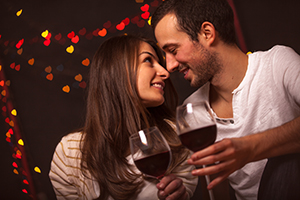 Monday November 2, 2015
From the Farm to Your Table
Everyone loves fall. The cool crisp, air, the leaves changing gorgeous colors, and outings to pick pumpkins and apples, make it the perfect season for a farm-to-table dinner party. The flavors of fall, anchored by spice and pumpkin, are different compared to spring or summer fruits and vegetables, with notable flavors of citrus and floral. The fall harvest is perfect to create hearty stews, apple cider, pumpkin pies, and roasted squash and sweet potato dishes. Here's a few simple tips on how to host a memorable farm-to-table dinner.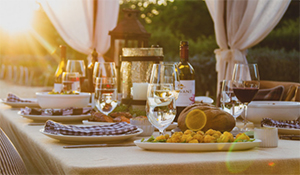 Plan Your Menu According to the Season
Flexibility is key. Go to your local grocer's produce department and get inspiration for your menu. Depending upon your area, you'll like find fall staples like a variety of squashes – delicata, butternut, acorn. A wide of variety of apples will also likely be available – remember these are out year round – but they will be best from September to November. Pears, Sweet Potatoes and Mushrooms are also at their peak this season – so look for these on your trip to the market.
Keep it Simple
A fall salad complete with spinach and the best fall fruits and vegetables will please your guests. Plate a different fresh herb on each setting to keep it fresh. Top simply with some cracked sea salt or fresh mozzarella cheese and a drizzle of balsamic vinegar. Serve with the best simple flavored wines for a full palate of delightfulness.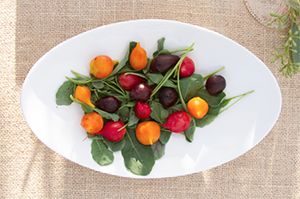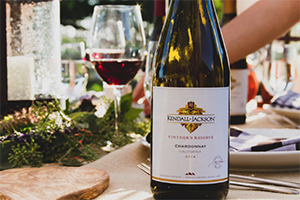 Consider Fresh Herbs and Seasonal Vegetables as Decorations
There are many beautiful fresh herb leaves that can be used to beautifully decorate your table in a fresh and natural way. Bay leaves and other herbs when bunched together and tied with a string make a great base for a place card or look pretty underneath a roasted veggie or main plated dish. Pumpkins and squash are abundant this season and make for beautiful table scapes. Try using a pumpkin as your vase for fresh flavors for extra flair.
Pair Wines According to Flavor & Color
When thinking about which wines to pair with the farm-to-table menu, keep in mind that often pairing a wine is as simple as matching the color of your dish to the color of your wine. For example, delicata or yellow squash will pair well with Sauvignon Blanc or Chardonnay – the citrus and fruit flavors in these wines will balance with the vegetables nicely. Try Kendall-Jackson AVANT Sauvignon Blanc or Vintner's Reserve Chardonnay. For darker vegetables like pumpkin or mushrooms, choose Pinot Noir that will pair with more earthy flavors like Kendall-Jackson's Grand Reserve Pinot Noir or AVANT Red Blend. Consider the flavors in addition to the colors of your dish and match those to the flavor descriptors in the wine. 
Enjoy
Once your menu and decor is set, enjoy with family and friends!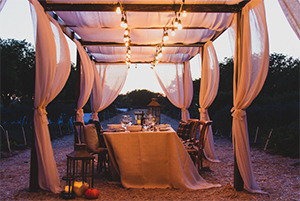 Friday October 23, 2015
"A Bottle of Boos" - A Halloween Wine DIY
Don't throw away those wine bottles you've been drinking the past few weeks... Halloween is coming and with it comes parties. Save your wine bottles, corks, and even some of your older wine glasses, and have a Halloween DIY! Did you know you could paint, accessorize, cut, decorate, and melt wine bottles and glasses? We've got some great ideas of how to spice up your Halloween party!
Candy Corn Wine Bottle
Are you like me and can't get enough candy corn this time of year? If so, you'll love this DIY! Collect 3 similarly shaped wine bottles and paint them orange, white, and yellow to match candy corn. You could even make them a focal point or centerpiece at your get together and have a bowl of candy corn in front of the 3 bottles.
Upside Down Wine Glass Candle Holders
Frankenstein, ghosts, witches, and mummies come to life in this project. Using a standard wine glass, paint the entire glass with colored paint (green for Frankenstein, white for ghosts and mummies, purple for a witch) and then sprinkle glitter on the wet paint (in the same color). Let dry and create your character by adding eyes and face, hair, clothes, etc (remember to decorate upside down). Finally, use them as candle holders by displaying upside down and putting tea candles on the bottom of the glass.
Cork Pumpkin
As you're opening your wine, try to keep your corks in good condition and repurpose them to be a pumpkin. Paint or color 24 wine corks orange and let dry. Next, glue the corks in a pumpkin shape - we recommend the following pattern: 4 corks, 5 corks, 6 corks, 5 corks, 4 corks. Finally, find a cream color wide ribbon or use wide burlap ribbon and wrap around the edges and tie at the top. You've just made your first cork pumpkin!
Wine Glass Characters
By using small amounts of fabric and your imagination, you can create your party guests and friends their own wine glass character. For example, a witch can have a hat that acts as a wine glass topper and a few ribbons acting as the stem's clothes. 
Let your imagination soar and Happy Halloween!
Wednesday October 21, 2015
Selfies & Sutter Home Deliver Hope
Get involved with Sutter Home's campaign for hope by sharing a Sutter Home wine selfie using the #sutterhomeforhope. For every selfie received, Sutter Home will donate $1 to National Breast Cancer Foundation, up to $50,000. Everyone at Sutter Home are as committed as you are to showing support toward finding a cure in the fight against breast cancer, which is why the Sutter Home for Hope initiative began in 2001. Thanks to you, Sutter Home has been able to contribute over $900,000 to National Breast Cancer Foundation. The goal for this year is $1,000,000! 
To continue the efforts this year, we are asking you to share how much you care by posting your Sutter Home wine selfie through Twitter, Instagram or Facebook. Just remember to tag it #sutterhomeforhope and make your posts public so Sutter Home can capture them.
By partnering with National Breast Cancer Foundation, the Sutter Home goal is to provide women with early detection, education and support service, while inspiring hope.
#SutterHomeForHope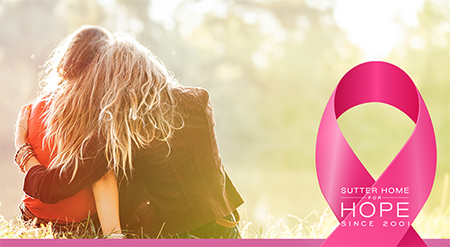 Friday October 9, 2015
Guide to Stemware
Red or white? Short or tall? Thin or wide? Bubbly or not? All questions to think about when serving your next glass of wine. Read up on this guide to stemware!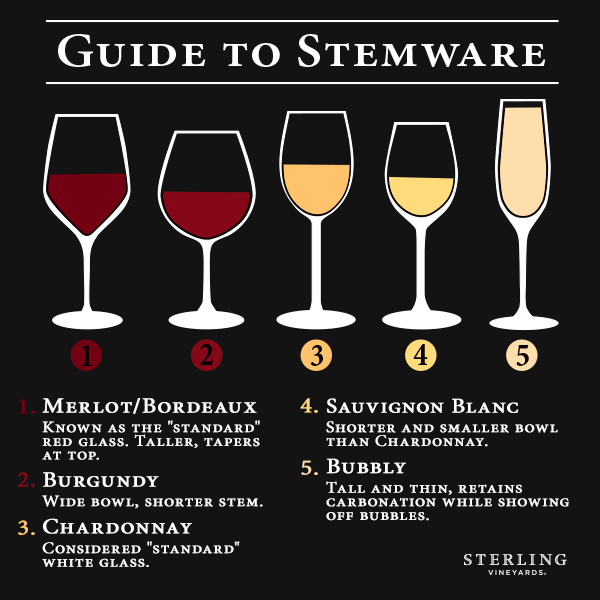 Pages