Submitted by
Kate Rudasill - Director of Catering
on Tuesday, June 4, 2019
Happy National Fresh Fruit and Vegetables Month! I
LOVE
this time of the year for the sheer abundance and variety of fresh fruits and vegetables! Celebrate the bounties of summer by visiting
your local Brookshire Brothers
to pick up all the produce for one of these three great recipes!
---
Italian Roasted Vegetables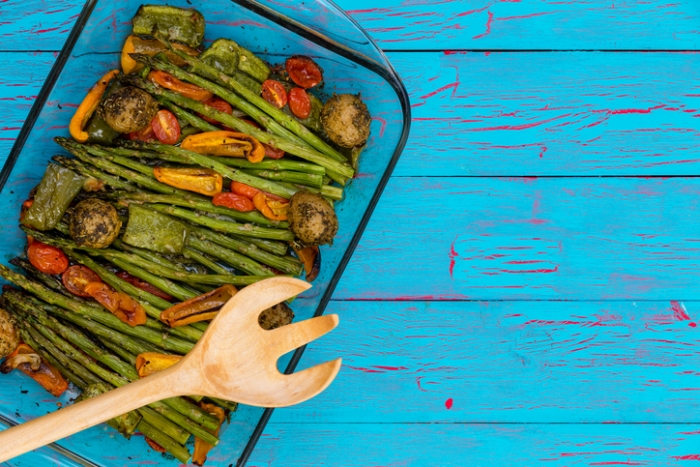 *Makes 8-10 servings
Ingredients
1 large yellow or red onion
1 yellow bell pepper
1 red bell pepper
1 green bell pepper
3 zucchini
3 yellow summer squash
2 bunches asparagus spears
8 ounces mushrooms
1 carton grape tomatoes
¼ cup olive oil
2 tablespoons fresh rosemary, chopped
8 cloves fresh garlic, finely minced
Salt and pepper, to taste
Directions
Preheat oven to 450ºF.
Wash all produce.
Cut onion into large chunks.
Remove cores from bell peppers and cut into 1-inch pieces.
Slice zucchini and squash in half lengthwise, and then slice into ½-inch pieces.
Trim asparagus spears and slice into 1-inch pieces.
Cut mushrooms in half. Add cut vegetables to 2 large, rimmed cookie sheets.
Drizzle with olive oil and sprinkle with rosemary, garlic, salt and pepper.
Toss to coat and spread into an even layer.
Roast vegetables for 20 minutes.
Stir well.
Add grape tomatoes to the mix.
Continue roasting for an additional 10-25 minutes or until vegetables are crisp tender.
Serve warm.
---
Mexican Street Corn Pasta Salad
*Makes 12-16 servings
Ingredients
8 ounces miniature Farfalle or other short, shaped pasta, uncooked
2 (15 ounce) cans grilled corn
1 large avocado
3 green onions, sliced thinly
½ bunch cilantro, chopped
½ fresh jalapeno, finely chopped
1 (3 ounce) package cooked bacon pieces
½ cup Queso Fresco, crumbled
For the dressing:
½ cup real mayonnaise
1 lime, zested and juiced
1/8 teaspoon ground cumin
¼ teaspoon paprika
½ teaspoon chili powder
1 teaspoon Sriracha or hot sauce
Salt and ground black pepper, to taste
Directions
Cook the pasta according to package directions.
Drain and rinse under cold water.
Lay cooked pasta onto a sheet pan so that it can dry.
Open cans of grilled corn and drain well.
Peel and chop the avocado into small pieces, thinly slice the green onions, coarsely chop the cilantro, and very finely chop the jalapeno.
Crumble the cheese into small pieces.
In a large bowl combine the completely dry and cooled pasta, drained corn, avocado, onions, cilantro, jalapeno, bacon, and cheese.
In a small bowl, combine all of the dressing ingredients and whisk together until completely combined.
Toss dressing with the salad until everything is well-coated.
Refrigerate for 20-30 minutes before serving.
*NOTE: If making this salad ahead of time, mix together but omit the avocado and cheese. Chill until ready to serve and add the avocado and cheese right before serving.
---
Spicy Pineapple Mango Salsa
*Makes 12 servings
Ingredients
1 cup chopped peeled mango, about 2 mangoes
1 fresh pineapple, peeled, cored, and cut into small pieces
½ cup red onion, minced
½ cup diced sweet red, orange, or yellow pepper
¼ cup fresh cilantro, minced
2 green onions, thinly sliced
1 jalapeno pepper, finely chopped
2 limes, juiced
Salt, to taste
Tortilla chips, for serving
Directions
Combine diced mangoes, pineapple, red onion, sweet peppers, cilantro, green onions, and jalapeno.
Squeeze in lime juice and add salt.
Stir to combine.
Chill for at least one hour before serving with tortilla chips or on top of grilled chicken or fish.
Visit your local Brookshire Brothers for all your summer cookin' needs!

---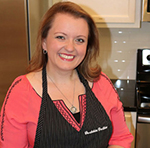 Kate knows food. She grew up with the Southern tradition of good food with the hospitality to match. A graduate of Texas A & M University, a student of The Texas Culinary Academy, and a Nacogdoches, Texas native, Kate's greatest joy is bringing people together over a scrumptious meal.
View other recipes from Kate Rudasill, Coordinator for 1921 Catering by Brookshire Brothers.