Posted on Tuesday, December 20, 2016
The sounds and smells of the season have you feeling festive, but is something missing? Maybe your decorations are a little light this year, or you want to change them up. Let us help you bring the cheer indoors with our ideas of the best holiday centerpieces!
For the DIY Diva
If you're the type who is crafty, artsy, and likes using your creative flair, this is for you! Head to your local Brookshire Brothers Floral Department and grab your favorite single stem flowers. As a DIY Diva, we're sure you have a vase around your craft closet somewhere that you can use. Fluff up your centerpiece by adding some ornaments, candles, paper snowflakes, doilies or draped fabric to create a fun and simple table-scape.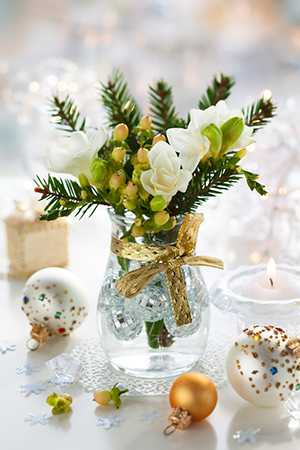 For the Holiday Hostess
Yes, you love the holidays and parties. But, do you find yourself wanting to change decorations for each party you host? You may be a DIY Diva at heart, but sometimes, even the best run out of ideas. We're here to give your next celebration the boost it needs! Our florists are pros at Seasonal Arrangements and have exactly what you need. Go by your Floral Department and speak to the florist to brainstorm. We know that between the two, the centerpiece will transform into the center of the party.
For the Maxed-Out-Mama
Between making your list for perfect presents, shopping for those hard-to-find presents, wrapping said perfect presents, you're likely to be wiped out come Christmas Day. Although you've thought long and hard on each gift, we don't want you to miss out on the best part of the entire Christmas Season: giving gifts and watching your loved ones' reactions. Swing in and browse the broad selection of Gifts and Gift Baskets we have! You're only limited by your imagination when selecting the perfect gift at your local Brookshire Brothers Floral Department.