Tuesday December 10, 2019
DIY Hot Chocolate Buddy
Keep the kiddos occupied this winter break with this fun & edible craft. A Hot Chocolate Buddy is the perfect treat while you binge watch your favorite Christmas movies, and make your hot cocoa EVEN MORE delicious. So make your hot cocoa a "sweet" companion and enjoy this simple Christmas treat!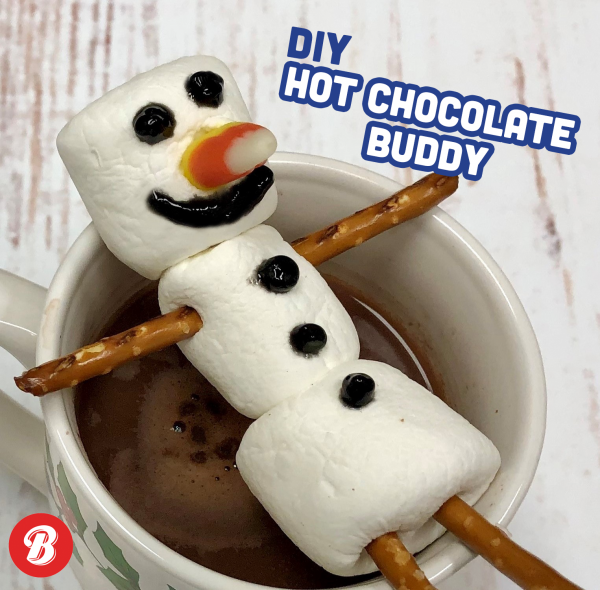 DIY Hot Chocolate Buddy
Supplies
Large marshmallows
4 inch toothpicks
Pretzel sticks
Candy Corn
Decorating Gel
Directions
Start by placing a toothpick through center of one marshmallow, leave enough room on both ends for the head and bottom.
Place a marshmallow on both ends of the toothpicks.
Use a second toothpick to make holes for the nose, arms and legs.
Place a piece of candy corn in the nose hole. 
Bite off the ends of 4 pretzel sticks for the arms and legs (pretzel sticks are a little bit too long for the arms and legs otherwise).
Use the decorating gel to draw the mouth, eyes and three buttons down the front of the snowman.

Serve with hot cocoa and enjoy!
*Be sure to let small children know about the toothpick in the center.
And for even more savings check out this deal on Food Club Hot Chocolate, Food Club Marshmallows and Simply Done Foam Cups: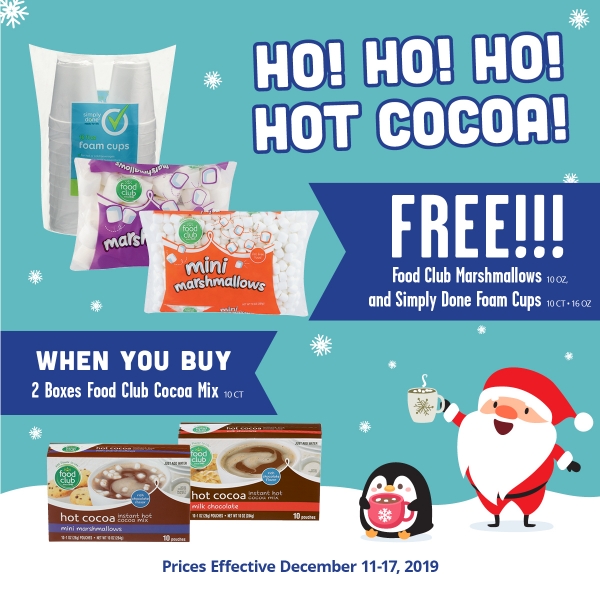 Get all of your Christmas grocery and edible craft needs at your local 
Br
ookshire Brothers
 store!
Tuesday April 24, 2018
Make Your Own Beautiful Bouquet
• Step-By-Step Guide to DIY Flower Arrangements •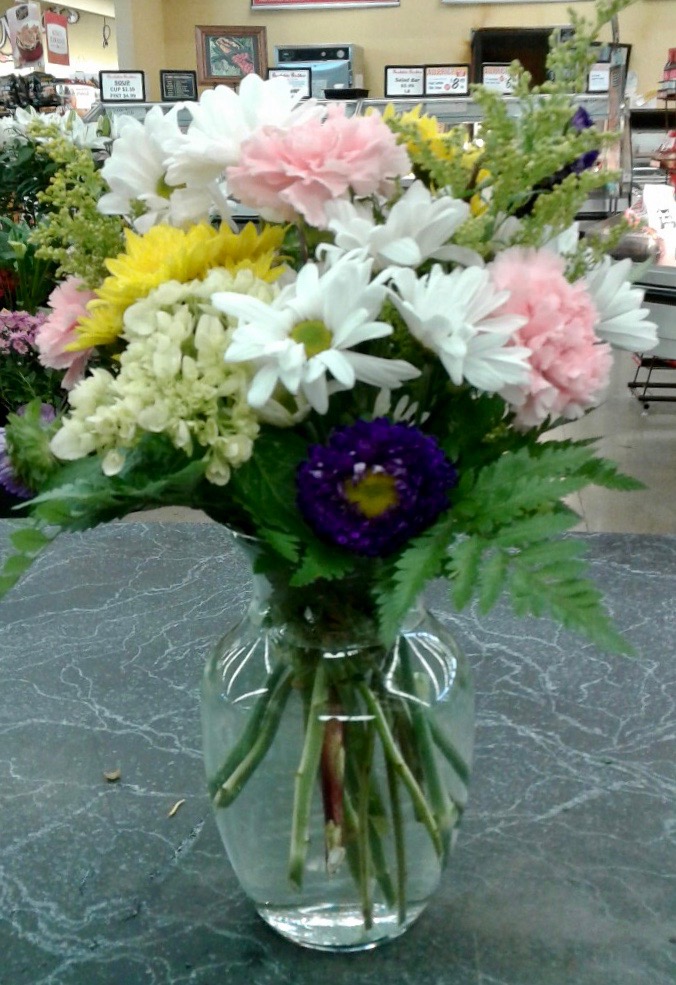 When people walk by my design area, they will often say, 
You make that look so easy
, or, 
I wish I could do that. You should teach a class
. I always tell them that there are simple designs you can do at home or in the office. It's easy, plus you can start with any of the great selections in the floral department at your local Brookshire Brothers. We carry a variety of
assorted blooms and premade seasonal bouquets
, whether you're looking for the latest general trend or something more particular. 
Additionally, we receive flowers on a weekly basis. Feel free to talk to someone in the floral department about which day they arrive so you can pick up the freshest blooms. In my 45+ years in the floral industry, the quality of our mixed bouquets, roses, blooming plants, and seasonal outdoor plants are a great value for the price.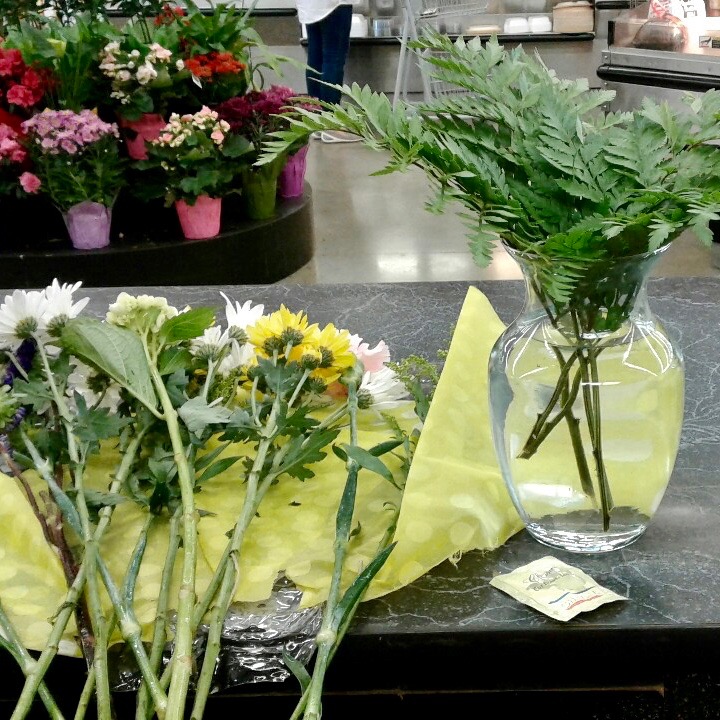 Once you've pick out your favorite flowers, you are DIY ready! First, open up your package and see how many stems in the bouquet that you can use. Usually, there is not much foliage so you might want to purchase a few extra stems of Leather Leaf, a fern-like foliage that will help hold the flowers in place. If you're unsure what Leather Leaf is, your Brookshire Brothers florist will be happy to help.
Add the packet of floral preservative to a vase with fresh tap water and mix well. Slide your vase to the edge of the counter, and begin taking one stem at a time to measure how tall the tips of greenery should be from the rim of the vase. Start cutting your stems accordingly and add them to the vase in a circular pattern around the rim. When all the foliage is in, begin the same process with your flower stems. Make sure to leave some space between each flower head. The foliage helps support the flowers, which means the stems do not all need to touch the bottom, so long as all of them are under the water level.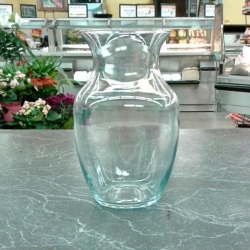 When choosing your vase, focus on picking one with an opening that fits the size of your arrangement. In other words, avoid using vase with a mouth that's too wide for a small amount of flowers. I actually find that an under-sized vase opening is somewhat better than an overly large vase where the flowers can get lost in the overall look.
Remember, cutting stems is like cutting hair. If it's too long, you can always take it out and trim it again. However, you can't add stems back to the flowers when they've been cut too short. If you want the head of the flower to be at more of an angle, then you might need to cut it shorter so that it lays more closely to the edge of the vase. Once you've added all your stems, tweak it to your liking and then you're done! Sit back and enjoy the view.
---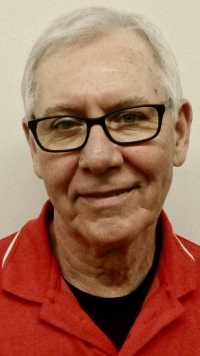 G. Dean Mooney is the Floral Manager at the Brookshire Brothers in Salado, TX—one of the largest floral departments in the company. With 45 years of experience, he is widely respected and his floral designs are immensely popular. 
Tuesday December 20, 2016
Holiday Centerpieces You'll Love
The sounds and smells of the season have you feeling festive, but is something missing? Maybe your decorations are a little light this year, or you want to change them up. Let us help you bring the cheer indoors with our ideas of the best holiday centerpieces!
For the DIY Diva
If you're the type who is crafty, artsy, and likes using your creative flair, this is for you! Head to your local Brookshire Brothers Floral Department and grab your favorite single stem flowers. As a DIY Diva, we're sure you have a vase around your craft closet somewhere that you can use. Fluff up your centerpiece by adding some ornaments, candles, paper snowflakes, doilies or draped fabric to create a fun and simple table-scape.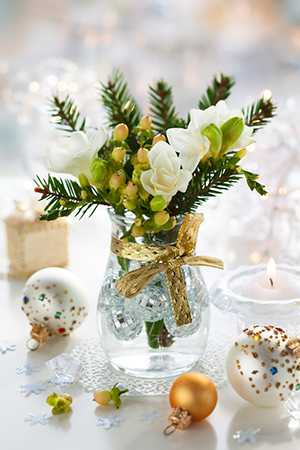 For the Holiday Hostess
Yes, you love the holidays and parties. But, do you find yourself wanting to change decorations for each party you host? You may be a DIY Diva at heart, but sometimes, even the best run out of ideas. We're here to give your next celebration the boost it needs! Our florists are pros at Seasonal Arrangements and have exactly what you need. Go by your Floral Department and speak to the florist to brainstorm. We know that between the two, the centerpiece will transform into the center of the party.
For the Maxed-Out-Mama
Between making your list for perfect presents, shopping for those hard-to-find presents, wrapping said perfect presents, you're likely to be wiped out come Christmas Day. Although you've thought long and hard on each gift, we don't want you to miss out on the best part of the entire Christmas Season: giving gifts and watching your loved ones' reactions. Swing in and browse the broad selection of Gifts and Gift Baskets we have! You're only limited by your imagination when selecting the perfect gift at your local Brookshire Brothers Floral Department.
Tuesday April 19, 2016
Sutter Home DIY: Wine Cork Vase
Let's get creative and uncork your crafty side with this DIY cork flower vase project.​ It will add handcrafted flair to your décor and makes for a great conversation piece when friends and family come to visit. ​
Starting this project is as easy as drinking your favorite Sutter Home wines. All you have to do is collect enough corks to get started. This cork flower vase makes a wonderful centerpiece for any table or fireplace mantel, a candelabra or a vase for your favorite seasonal floral arrangements. If you love discovering new DIY projects and reasons to uncork your favorite Sutter Home wines for family and friends, we think this handcrafted and unique vino-inspired vase will really hit home.  ​
​What You'll Need:​
•   4-sided glass vase​
•   About 40-80 wine corks, depending on the size of your vase​
•   Craft glue​
 Directions: ​
​Position the corks horizontally and glue them along the sides of the vase with a strong adhesive craft glue.​
Stack the corks vertically along the four outer edges and glue into place.​
When the glue is dry, fill the vase with water and add flowers of your choice.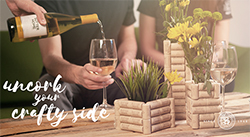 Friday October 23, 2015
"A Bottle of Boos" - A Halloween Wine DIY
Don't throw away those wine bottles you've been drinking the past few weeks... Halloween is coming and with it comes parties. Save your wine bottles, corks, and even some of your older wine glasses, and have a Halloween DIY! Did you know you could paint, accessorize, cut, decorate, and melt wine bottles and glasses? We've got some great ideas of how to spice up your Halloween party!
Candy Corn Wine Bottle
Are you like me and can't get enough candy corn this time of year? If so, you'll love this DIY! Collect 3 similarly shaped wine bottles and paint them orange, white, and yellow to match candy corn. You could even make them a focal point or centerpiece at your get together and have a bowl of candy corn in front of the 3 bottles.
Upside Down Wine Glass Candle Holders
Frankenstein, ghosts, witches, and mummies come to life in this project. Using a standard wine glass, paint the entire glass with colored paint (green for Frankenstein, white for ghosts and mummies, purple for a witch) and then sprinkle glitter on the wet paint (in the same color). Let dry and create your character by adding eyes and face, hair, clothes, etc (remember to decorate upside down). Finally, use them as candle holders by displaying upside down and putting tea candles on the bottom of the glass.
Cork Pumpkin
As you're opening your wine, try to keep your corks in good condition and repurpose them to be a pumpkin. Paint or color 24 wine corks orange and let dry. Next, glue the corks in a pumpkin shape - we recommend the following pattern: 4 corks, 5 corks, 6 corks, 5 corks, 4 corks. Finally, find a cream color wide ribbon or use wide burlap ribbon and wrap around the edges and tie at the top. You've just made your first cork pumpkin!
Wine Glass Characters
By using small amounts of fabric and your imagination, you can create your party guests and friends their own wine glass character. For example, a witch can have a hat that acts as a wine glass topper and a few ribbons acting as the stem's clothes. 
Let your imagination soar and Happy Halloween!
Friday May 22, 2015
DIY Wine Stoppers
What's better than wine and DIY? We have a great idea on how to step into summer fun!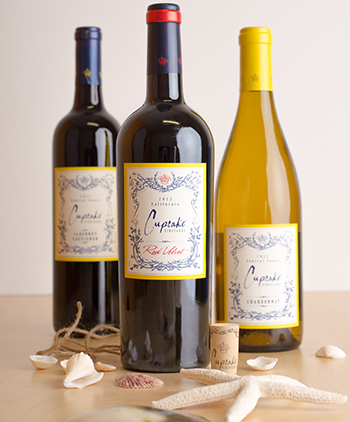 Step 1: Gather supplies! What you'll need:
A few bottles of your favorite Cupcake varietals plus the corks
Sea shells, starfish, or coral
Exact-o blade
Hot glue gun
Glue stick
Twine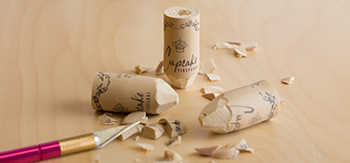 Step 2: Carefully cut the lower half of a cork to form a taper.
Step 3: Cut a small hole in the top of the cork, approximately 1/4 inch deep. This is where you will insert your shell.
Step 4: Place a small dab of hot glue in the hole and insert your shell, starfish, or coral. Hold until dry. To hide the glue, wrap the base with a small piece of twine. Secure with a tiny bit of hot glue.
Step 5: Use your new Sea Shell Wine Stopper next time you enjoy a bottle of Cupcake!