Wednesday December 23, 2015
Brunch & Mimosas
Brunch is one of life's great pleasures, or at least it can be if done properly. With the right mix of food, drinks, and of course friends, it's possible to make brunch an epic experience. Whether you're looking for a spot in the streets of Houston or prepping for breakfast on a lake-front property – Read on and learn how to brunch like a boss.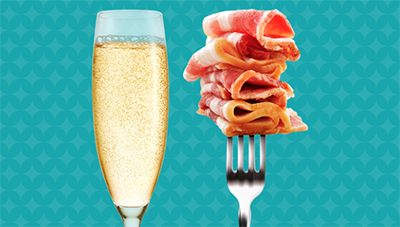 The Mimosa
Since you've found your way to this blog, I hope you know about this classic cocktail. In case you need a refresher, it's easy. A mimosa is simply equal parts champagne and orange juice.
If you have trouble remembering that, then just remember this: Mix Andre and OJ. Easy, right?
Eggs & Frittatas
What's brunch without eggs? Let's not even think about a world without them.
Various egg dishes are a lock to help balance out any acidity from a breakfast cocktail. Frittatas are an egg based dish that helps class up your brunch to the next level.
Want to give it a shot? Just mix your eggs with anything tasty in the fridge, heat in a pan, and serve when there's just a little bit of jiggle left in the 'ttata.
Add some sharp cheese to kick the savory factor up a notch.
Bacon
Talk about balance. You really can't beat the salty, savory flavors of a good piece of bacon mixed with the protein kick from your eggs.
Fried to a crisp, or cooked just well enough. Bacon is the, without question, the perfect breakfast food. (In my opinion, but really, come on. You know it's true.)
Finish up with a sip of that mimosa and you have entered brunch paradise.
French Toast & Pancakes
This might sound crazy, but adding a little champagne to your French toast or pancake mix injects an extra dose of deliciousness.
Pro tip: whisk in the champagne with the eggs, and then add the dry ingredients.
Presto, your breakfast just got fancy.
Salmon
Looking to take this epic brunch to the next, next, level? Don't write off salmon as a menu option.
Champagne has always made fast friends with seafood, and brunch is no exception.
Try pairing your bubbly with a little smoked salmon on either a bagel or within an omelet, and you'll feel like you're at a five star hotel instead of on your couch's four cushions.