Tuesday December 18, 2018
Mrs. Lynne's Famous Holiday Party Punch
This holiday, we are delighted to feature Mrs. Lynne Haney with Lufkin Coca-Cola and her famous Holiday Party Punch. Simple to make and spectacular to taste, this punch is everything you and your favorite folks needs for a holiday get-together. Trust us, you'll be thanking Mrs. Lynne later!
Lufkin Coca-Cola has always been one of our favorite companies to collaborate with because our stories and values have grown from the same rich Texas roots. We both began as family-owned companies in the early 1900's and care deeply about our local communities. What an honor it is to live and work alongside another local business always seeking better growth for our community!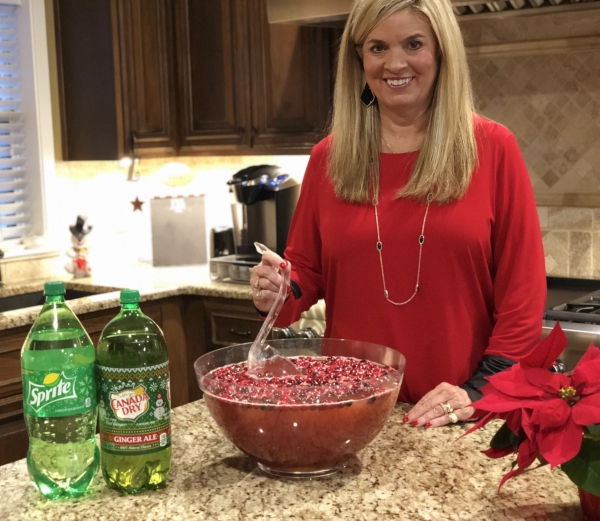 And oh by golly,
DON'T FORGET
: The deals are coming down like confetti this week, one of which is PERFECT for this recipe!
Coca-Cola and Dr Pepper products (2 liter bottles) are $0.88,* now through January 1.**
THAT'S RIGHT, you better check your RSVP list twice—you might need to double down on this great deal!! 
*When you buy 5
**Offer valid at these participating stores: Groveton, Trinity, Apple Springs, Corrigan, Diboll, Huntington, Pollok, Wells, Zavalla, Livingston, Onalaska, and all Lufkin locations.
Mrs. Lynne's Famous Holiday Party Punch
This recipe is wonderful for any occasion but we especially love it during the holidays! So easy, so yummy, such a great compliment to your holiday party!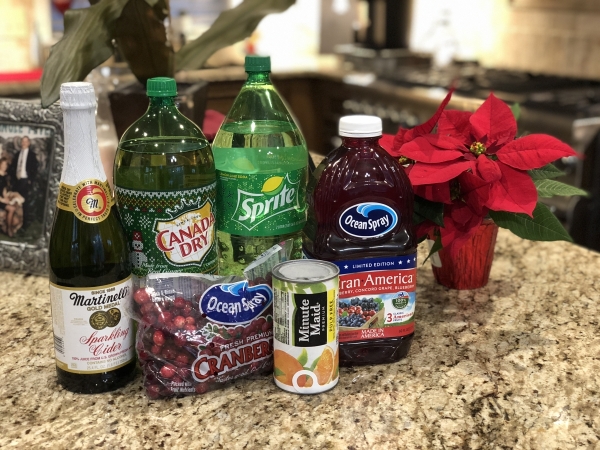 INGREDIENTS
One 2 liter bottle of Sprite, chilled
One 2 liter bottle of Ginger Ale, chilled
25 ounces (one bottle) Sparkling Cider, chilled
12 ounces Frozen Orange Juice Concentrate, slightly thawed
64 ounces (one bottle) Cranberry Juice, chilled
Fresh Cranberries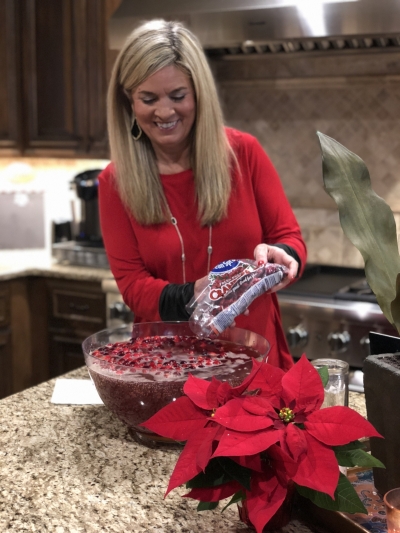 DIRECTIONS
Combine all ingredients together, stir… and serve! ENJOY!
PRO TIPS
Serves approximately 35 one-cup servings. Depending on party size, you may want to double or triple the recipe. When determining amount to make, take into consideration the size of your cups, and keep in mind that guests may want seconds (or even thirds).
If you would like your party punch to have a little more "punch", add champagne!
Wednesday December 23, 2015
Brunch & Mimosas
Brunch is one of life's great pleasures, or at least it can be if done properly. With the right mix of food, drinks, and of course friends, it's possible to make brunch an epic experience. Whether you're looking for a spot in the streets of Houston or prepping for breakfast on a lake-front property – Read on and learn how to brunch like a boss.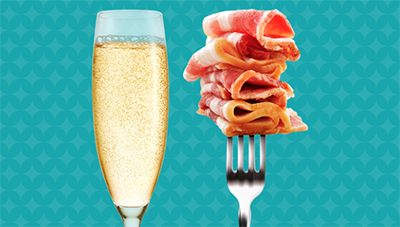 The Mimosa
Since you've found your way to this blog, I hope you know about this classic cocktail. In case you need a refresher, it's easy. A mimosa is simply equal parts champagne and orange juice.
If you have trouble remembering that, then just remember this: Mix Andre and OJ. Easy, right?
Eggs & Frittatas
What's brunch without eggs? Let's not even think about a world without them.
Various egg dishes are a lock to help balance out any acidity from a breakfast cocktail. Frittatas are an egg based dish that helps class up your brunch to the next level.
Want to give it a shot? Just mix your eggs with anything tasty in the fridge, heat in a pan, and serve when there's just a little bit of jiggle left in the 'ttata.
Add some sharp cheese to kick the savory factor up a notch.
Bacon
Talk about balance. You really can't beat the salty, savory flavors of a good piece of bacon mixed with the protein kick from your eggs.
Fried to a crisp, or cooked just well enough. Bacon is the, without question, the perfect breakfast food. (In my opinion, but really, come on. You know it's true.)
Finish up with a sip of that mimosa and you have entered brunch paradise.
French Toast & Pancakes
This might sound crazy, but adding a little champagne to your French toast or pancake mix injects an extra dose of deliciousness.
Pro tip: whisk in the champagne with the eggs, and then add the dry ingredients.
Presto, your breakfast just got fancy.
Salmon
Looking to take this epic brunch to the next, next, level? Don't write off salmon as a menu option.
Champagne has always made fast friends with seafood, and brunch is no exception.
Try pairing your bubbly with a little smoked salmon on either a bagel or within an omelet, and you'll feel like you're at a five star hotel instead of on your couch's four cushions.
Thursday December 18, 2014
Casual New Year's Eve Get-Together
Keep it SIMPLE! That's our advice for celebrating the New Year.
You can make the night special without creating a fuss.
Start things popping with sparkling wine or champagne.  Pick up a small carton of fresh raspberries or cranberries. Drop one in the bottom of the champagne flute and you have a specialty drink!
To make things really sparkle – stir a little cranberry juice in the bubbly and call it a poinsettia!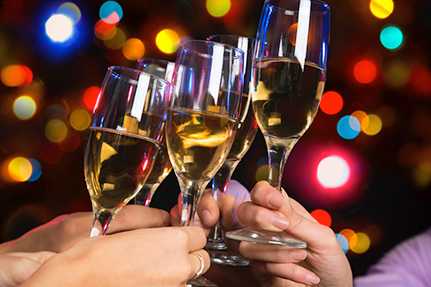 10-9-8-7-6-5-4-3-2-1!
DECORATIONS
Less is MORE!  Ask everyone to bring a battery operated alarm clock (or set their cell phones with a fun ring tone for an alarm)   Place the clocks all over the party area or a collection on a mirrored tray as a centerpiece. You know what happens at midnight – you've got 'live' music just like Times Square.
Make a quick centerpiece by placing glittering ball ornaments in a wire basket or crystal bowl.
Fun Serving Ideas
Use hollowed-out colorful bell peppers, cabbage, squash or round bread loaves for fun and colorful containers to hold veggie dip.

Add a little swag to your glasses! Tie a little metallic curly ribbon to the stems!  A different color of ribbon for each guest can keep drinkware from being misplaced.

Bump up plain coffee served with dessert to an inviting espresso bar! Set up espresso carafes (regular and decaf) with extras for stir-ins and toppers.
Stir-Ins: flavored syrups, flavored creams or eggnog, cream and sugar
Toppers: whipped cream, ice-cream toppings, candy sprinkles, ground nutmeg or cinnamon
TOASTS (not so Trivial!)
Pour out some trivia to stir things up.
Did you know the name 'champagne' is copyrighted? Only wine produced in the Champagne region of France can be called Champagne.
Everything is considered sparkling by using the method champenoise.
How many bubbles are in one bottle of champagne?  49 million
Under pressure – The pressure in a champagne bottle is three times higher than in an automobile tire.
Tub time!  American actress Marilyn Monroe is believed to have taken a champagne bath. That would require about 350 bottles of the good stuff!
How fast does a cork travel?  Try 38-40 miles per hour. It pops out as fast as 100 mph then slows down!