Friday February 7, 2020
Chia Yogurt Cantaloupe Boats
These delicious CantaGold Chia Yogurt Cataloupe Boats are sure to make your weekend brunch plans perfect.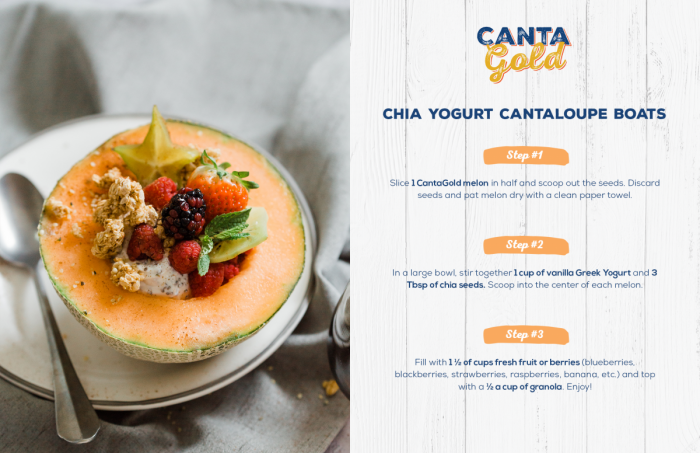 For all of your CantaGold Cantaloupe needs visit your
local
Brookshire Brothers!
Thursday March 28, 2019
Create a Brunch Burger Fast Feast
Everybody loves brunch. Why? Any dish is acceptable! Everything from breakfast, lunch, and dinner can be served, and this Brunch Bacon and Egg Burger is no exception! Keep reading for extra savings on this phenomenal brunch dish.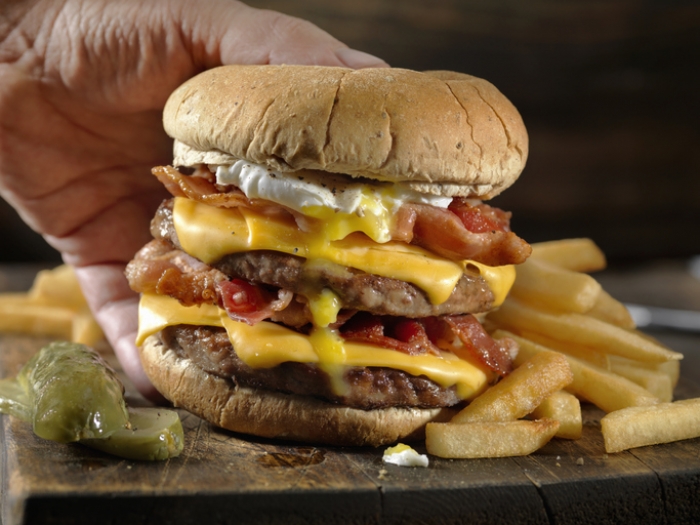 Ingredients:
1lb ground beef
8 slices of bacon
4 Fresh Harvest Hamburger Buns
6 Fresh Harvest Eggs
4 slices of Food Club Sliced Cheese
1/2 cup sliced onions
1 head of lettuce
1 large tomato, sliced
Salt & pepper to taste
Directions:
Cook the bacon on medium-high heat and be sure to drain them after they are done.
Combine the ground beef, salt, and pepper; form into four patties.
Cook the hamburger patties in the same pan as the bacon on medium-high heat until they are just slightly pink inside.
Right before they are finished cooking, add the cheese on top so that it melts.
Drain the pan.
Fry your eggs to your preference.
Finally, assemble your buger with the veggies to your liking!
* Serve with Food Club Snack Chips to finish your Fast Feast.
---
But wait, there's MORE!!  
We've prepared a feast of savings perfect to pair with this delicious dish—don't miss out!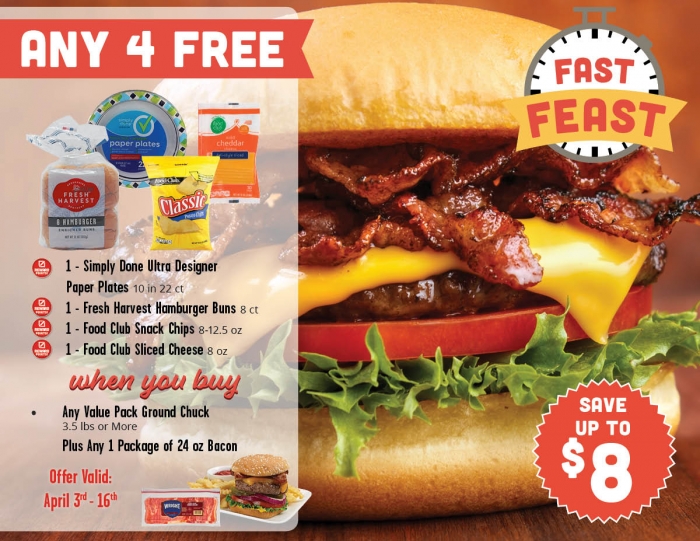 Fast Feast: Buy 2, Get 4 Free
April 3 through April 16, 2019

When you buy ANY value pack Ground Chuck (3.5lbs or more) and ANY one (1) package of 24 oz bacon, you can choose between 2-4 items FREE! The best part? You can mix and match your free items or get up to four of one kind free!
1 - Simply Done Ultra Designer Paper Plates (10 in 22 ct)
1 - Fresh Harvest Hamburger Buns (8 ct)
1 - Food Club Snack Chips (8-12.5 oz)
1 - Food Club Slice Cheese (8 oz)
Save fast and feast big TODAY—
find a store near you
.* Can't find one of these items? Talk to your local store director!
*Promotion is not available at the following stores: 
Monday April 3, 2017
How to Brunch 101
Dinner parties may be in your wheelhouse, but can you transition into a 10am brunch? With the Easter season around the corner, we're here to teach you how to make your next brunch extra delightful!
Brunch Buffet
We love a good brunch because it's easy on the host, and who doesn't love good coffee cake? Most of the menu items can be prepared ahead, giving you ample opportunity to mingle and enjoy the party along with your guests.
A staple brunch recipe is some kind of egg bake, along with a breakfast meat and lots of cheese. Many casserole recipes can be interchanged for your preference of bacon or sausage. 
*Expert tip: A vegetarian dish is always a good backup idea!
Fresh Flowers
Nothing says "brunch" like a bouquet of Spring's best flowers. Pick up whatever blossoms look the prettiest at your local Brookshire Brothers and scatter informal bouquets throughout your home. 
*Expert tip: White ceramic pitches make charming vases!
Ribbons & Bows
Traditionally, brunches are a "women only" kind of gathering. The men usually stick to the football game on prime time TV, sitting on the sofa with a rack of ribs. With this in mind, don't skimp on the feminine touches. Wrapping your forks and spoons with a simple ribbon can give a bit of cheer and elegance to your brunch. 
*Expert tip: Your floral department can assist in making large bows!
Final Touches
We love seeing a host go the extra mile in creating the perfect scene for any occasion. To really set the stage for a perfect spring-theme brunch, try your hand at creating the perfect adornment for your guests' glasses below.
Easy Candied Mandarins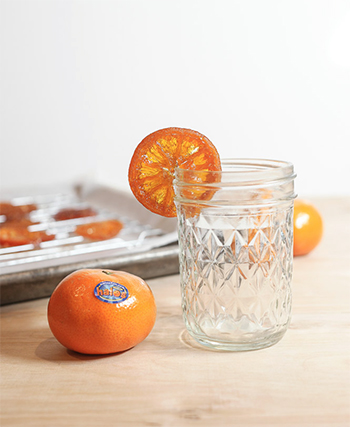 Recipe courtesy of Halos Mandarins
Ingredients
1/3 cup honey
1 cup water
5 Halos mandarins
Directions
1. In a wide-base pan, mix honey with water and heat over low until combined completely.
2. Slice mandarins as thin and uniform as possible, discarding the end pieces. Gently add them to the honey-water, and add a small amount of additional water if necessary to keep the mandarins completely submerged.
3. Cover and heat on low for 45 minutes to an hour, checking it occasionally to ensure that the mandarin slices don't burn.
4. Turn the heat up to a low-medium and keep covered for another half hour, checking frequently. Remove from the stovetop as soon as they start to bubble. The honey will have formed a caramel-colored syrup that hardens as it dries.
5. Remove the mandarin slices onto a slotted stainless steel baking rack or broiler rack placed on top of parchment paper on a baking sheet. Cook in a 250-degree preheated oven for thirty minutes. Turn them over and cook for another thirty minutes. Let cool completely.
Expert tip: If they're still slightly tacky, you can dust with coconut sugar to help make them easier to handle!
Wednesday December 23, 2015
Brunch & Mimosas
Brunch is one of life's great pleasures, or at least it can be if done properly. With the right mix of food, drinks, and of course friends, it's possible to make brunch an epic experience. Whether you're looking for a spot in the streets of Houston or prepping for breakfast on a lake-front property – Read on and learn how to brunch like a boss.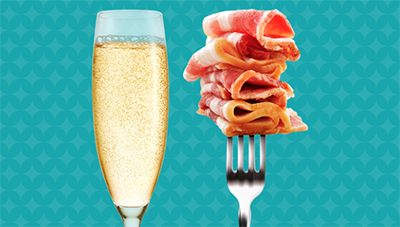 The Mimosa
Since you've found your way to this blog, I hope you know about this classic cocktail. In case you need a refresher, it's easy. A mimosa is simply equal parts champagne and orange juice.
If you have trouble remembering that, then just remember this: Mix Andre and OJ. Easy, right?
Eggs & Frittatas
What's brunch without eggs? Let's not even think about a world without them.
Various egg dishes are a lock to help balance out any acidity from a breakfast cocktail. Frittatas are an egg based dish that helps class up your brunch to the next level.
Want to give it a shot? Just mix your eggs with anything tasty in the fridge, heat in a pan, and serve when there's just a little bit of jiggle left in the 'ttata.
Add some sharp cheese to kick the savory factor up a notch.
Bacon
Talk about balance. You really can't beat the salty, savory flavors of a good piece of bacon mixed with the protein kick from your eggs.
Fried to a crisp, or cooked just well enough. Bacon is the, without question, the perfect breakfast food. (In my opinion, but really, come on. You know it's true.)
Finish up with a sip of that mimosa and you have entered brunch paradise.
French Toast & Pancakes
This might sound crazy, but adding a little champagne to your French toast or pancake mix injects an extra dose of deliciousness.
Pro tip: whisk in the champagne with the eggs, and then add the dry ingredients.
Presto, your breakfast just got fancy.
Salmon
Looking to take this epic brunch to the next, next, level? Don't write off salmon as a menu option.
Champagne has always made fast friends with seafood, and brunch is no exception.
Try pairing your bubbly with a little smoked salmon on either a bagel or within an omelet, and you'll feel like you're at a five star hotel instead of on your couch's four cushions.
Monday February 23, 2015
Chardonnay Day - Chardonnay-themed Brunch
It's never too early to include Clos du Bois Chardonnay into your day! Host a fun Chardonnay Day-themed brunch for friends by incorporating the wine into everything from your food to décor and of course, your drinks.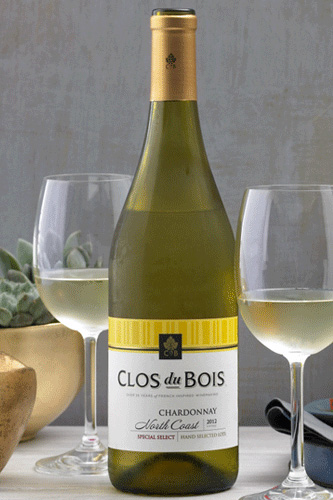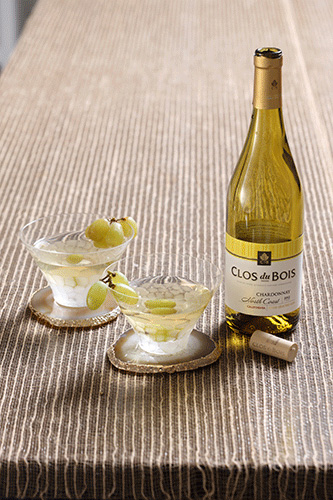 For those of us who have made a habit of dropping ice cubes into white wine, try a more elegant solution: frozen grapes. If you like your Chardonnay extra chilled, freeze green grapes for a few hours and drop them in your wine glass; no need for ice cubes which dilute your wine! Frozen grapes are also visually appealing and elevated.
For a fun DIY activity at your brunch, place several bottles of Clos du Bois North Coast Chardonnay in a large silver bucket and the frozen grapes in another beautiful bowl. Include a variety of mix-and-match glassware and create a DIY bar where guests can pour a glass of Clos du Bois Chardonnay, drop in a few frozen grapes, and top it off with edible flower petals.
Keep the corks from all of the open bottles of Clos du Bois Chardonnay and create placeholders for guests by cutting a slit into the cork, writing guests' names on a card and putting the card into the cork.
I like to make easy and delicious food that doesn't take a whole day to prepare. Incorporating Clos du Bois Chardonnay elevates any recipe and adds a fun twist. Some of my favorite ideas include:
Top off any salad, such as goat cheese and micro greens, or thinly sliced summer squash, or grapefruit and lobster, with a homemade (easy!) or store bought (easier!) Clos du Bois North Coast Chardonnay dressing. Mix olive oil with 1/2 cup of Clos du Bois Chardonnay, and season to taste with garlic, lemon juice, salt & pepper, garden herbs, or whatever seasoning you prefer.
Elevate asparagus with a Clos du Bois Chardonnay-infused cream sauce.
Potato salad is hearty and filling. I like to serve my red potato salad with a Chardonnay vinaigrette using 1/4 cup Clos du Bois Chardonnay, 1/4 cup red wine vinegar, 1/2 cup olive oil, 2 tablespoons lemon juice, 2 tablespoons Dijon mustard and seasoning.
The secret to a breakfast pound cake is the topping. Take a store bought pound cake and top it with a Chardonnay glaze. Mix 1/4 cup of melted butter into 2 cups of sifted powdered sugar and add 1 tablespoon of Clos du Bois Chardonnay and 1 tablespoon of milk. Beat until smooth and drizzle over pound cake.