Thursday December 12, 2019
Spread Holiday Magic with Magic Reindeer Food
Oh deer! What a magical time of year! We've crafted this Magic Reindeer Food for the kids that is sure to keep Santa's reindeer happy while Santa delivers gifts this Christmas. Be sure to follow the recipe below and put some outside on Christmas Eve!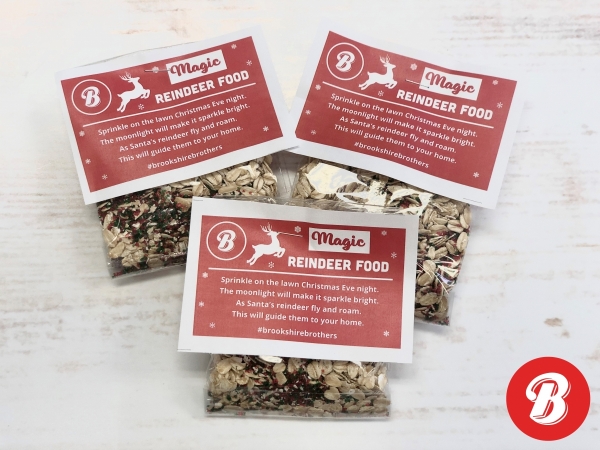 Magic Reindeer Food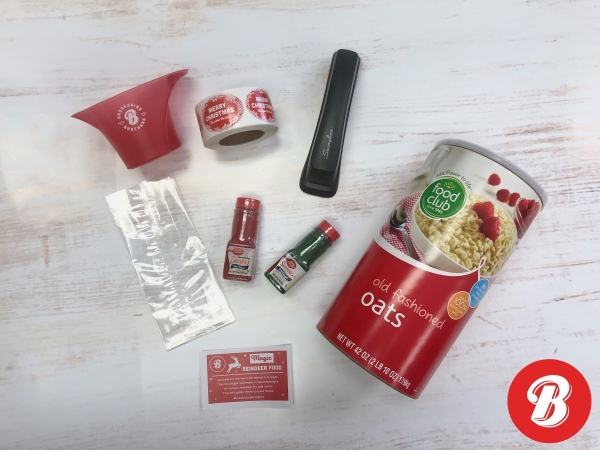 Supplies
For a single bag:
1/4 cup of Food Club Old Fashioned Oats
1 tsp each of red and green Betty Crocker Decorating Decors
For a bulk amount:
Food Club Old Fashioned Oats (42 oz can)
2 each bottles of each of red and greenBetty Crocker Decorating Decors (2.25 oz)
Small cellophane bags
Stickers to seal bags
Printed poem to staple to the front (we've got a handy printable poem sheet here!)
 Directions
Single bags:
Mix oats and red and green decorating decors in cellophane bag for Chrstmas eve.
Bulk amount:
In a large bowl mix the entire can of oats and all four bottles of Decorating Decors. The Decorating Decors like to settle so use hands to mix them well.
With a 1/4 cup distribute mixture into cellophane bags and seal with a sticker and staple the poem to the front for distribution.
These are super fun and the kids will love to sprinkle them in the yard for the reindeer to enjoy while Santa delivers their gifts!
---
And for some extra fun this Christmas holiday season, the Brookshire Brothers Charitable Foundation is proud to be the Presenting Sponsor of Rudolph the Red-Nosed Reindeer - The Musical at the Angelina Arts Alliance on Friday, December 13 at 7pm. Take the family and your favorite holiday special live on stage!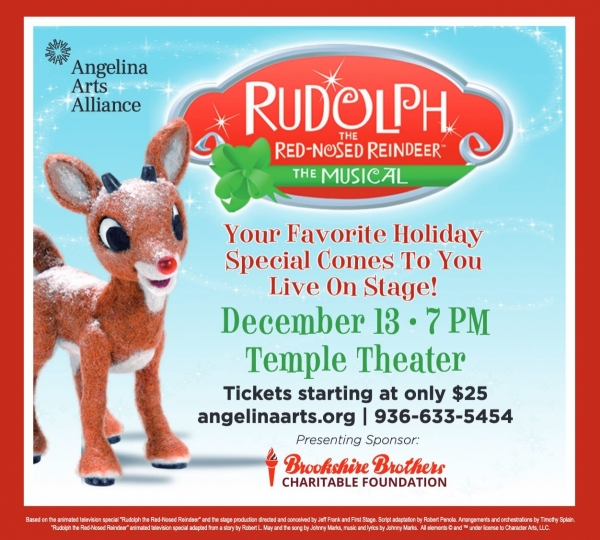 Get your tickets today!
Tuesday April 10, 2018
Cooking with Kate: A Batch Made in Heaven
Fun eats often come from inventive pairings (Exhibit A:
Nacho Popcorn
), but it's hard to beat one of the most classic pairings of all: cookies and ice cream. These treats are perfect for satisfying your every sweet tooth need: hot + cold, sweet + salty, crunchy + creamy, and more. Have some fun in the kitchen using these easy recipes for homemade ice cream sandwiches—especially with hot summer days just around the corner!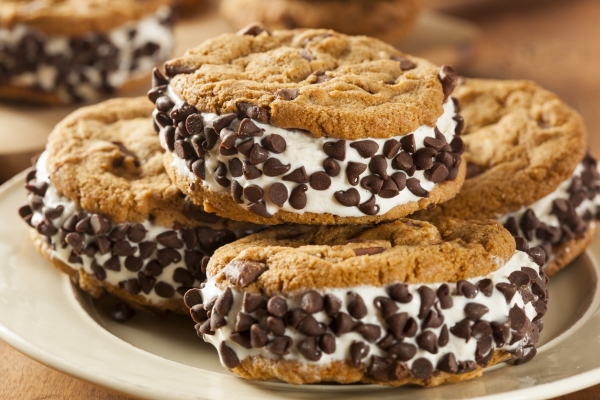 Not to mention, ice cream sandwiches are party perfect: just make them ahead of time, wrap them in plastic wrap or individual sandwich bags, and freeze them until you need them. As for the ice cream, be sure to check out Fresh Harvest Ice Cream, our very own private label brand of ice cream here at Brookshire Brothers! You can find every flavor you need for any of these yummy combinations:
Cowboy or Oatmeal Chocolate Chip Cookies (see below for recipe!) with Homestyle Vanilla Ice Cream rolled in Mini Chocolate Chips
Snickerdoodle Cookies with Butter Pecan Ice Cream rolled in Chopped Pecans
Soft Peanut Butter Cookies (see below for recipe!) with Dutch Chocolate or Moose Tracks Ice Cream rolled in Chopped Peanut Butter Cup Candies
Sugar Cookies with Strawberries & Cream Ice Cream Rolled in Colorful Sprinkles
To make cookie ice cream sandwiches: Allow the cookies to cool completely. Spoon 1 scoop (about ¼ cup) of softened ice cream (depending on the size of your cookies) onto 1 cookie and sandwich with another cookie. Immediately wrap in plastic wrap, wax paper, or an individual sandwich bag and place in the freezer for 2-3 hours to freeze firm. If you want to store them for longer, place the frozen cookie sandwiches into a gallon or larger freezer bag. Enjoy these straight from the freezer on really hot summer days!
SWEET DEAL: Get FREE Food Club Chocolate Syrup when you purchase Fresh Harvest Ice Cream (64 oz)! To sign up for this offer, text JOIN [insert your store number] to 59652.
---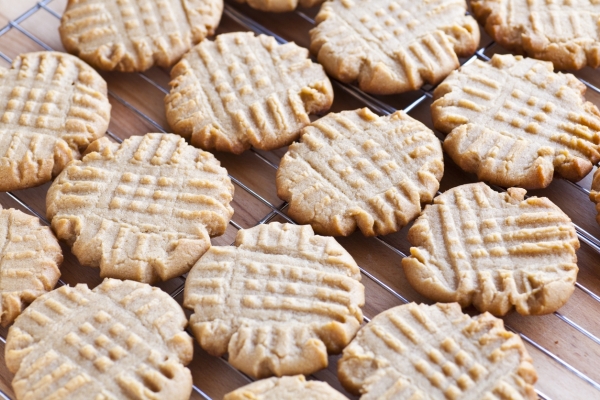 Quick 3 Ingredient Peanut Butter Cookies
This cookie recipe is not overly sweet so they are a great combination with sweet ice cream when you make these into ice cream sandwiches!
Ingredients
1 cup creamy peanut butter
1 cup white sugar
1 egg, room temperature
Directions
Preheat oven to 350 degrees. Line cookie sheets with parchment paper or spray with non-stick cooking spray.
In a medium bowl, mix peanut butter, sugar, and egg until smooth and fully incorporated. Scoop tablespoons of dough onto the prepared sheets. Roll the scoops in your palms to smooth them out and then slightly flatten with a cup dipped in a little sugar (so they don't stick). Use the tines of a fork to crosshatch mark the cookies.
Bake in the pre-heated oven for 7-9 minutes or until just lightly browned. Cool completely on wire racks.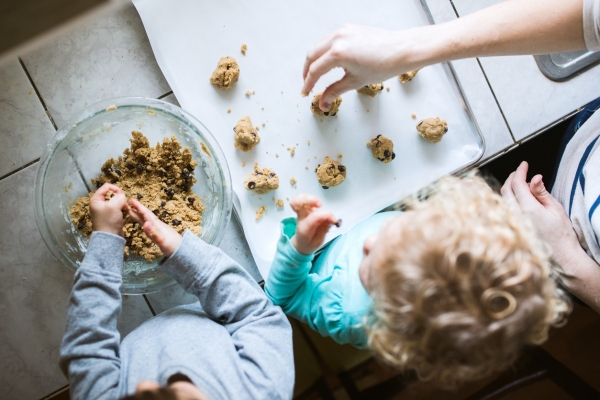 William's Family Oatmeal Cookies
This family cookie recipe is my go to for cookies and can easily be adapted with your favorite ingredients. My sister, Elaine, loves these with butterscotch chips instead of chocolate.
Ingredients
½ cup butter, softened
½ cup firmly packed brown sugar
¼ cup white sugar
1 egg, room temperature
1 tablespoon vanilla extract
1 cup all-purpose flour
½ teaspoon baking soda
¼ teaspoon salt
1 cup old-fashioned rolled oats
Optional Additions (1 – 1 ½ cup total):
butterscotch chips, dark or semi-sweet chocolate chips, raisins, chopped almonds, pecans, or walnuts
Directions
Preheat oven to 375 degrees. Line cookie sheets with parchment paper or spray with non-stick cooking spray. In a large mixing bowl, combine butter and sugars and beat until light and creamy, scraping down the sides of the bowl often. Add egg and vanilla and continue mixing until blended. In a small bowl or measuring cup, mix flour with baking soda and salt. Add dry ingredients to butter mixture and blend slightly. Add rolled oats and any of the optional additions and mix until fully incorporated.
Drop tablespoons of the dough 2 inches apart on prepared cookie sheets. Flatten slightly with the palm of your hand. Bake in preheated oven for 8-12 minutes or until lightly browned. Be careful not to overbake. Enjoy!
---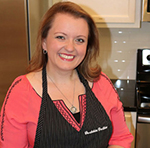 Kate Rudasill, Catering Coordinator for Brookshire Brothers, has been in the food-service industry for the past 14 years. As a graduate of Texas A&M University, a student of The Texas Culinary Academy, and a Nacogdoches, Texas native, Kate grew up with Southern tradition in her blood which caused her to have a deep love for bringing people together with food.
Monday August 7, 2017
5 Fun Ways to Fix S'mores
Any day that commemorates s'mores will be a beautiful day, but #NationalSmoreDay (Aug. 10) is also likely going to be very hot. If you're looking to bring the fun indoors while celebrating this classic campfire treat, we've got recipes for every need. Check it out: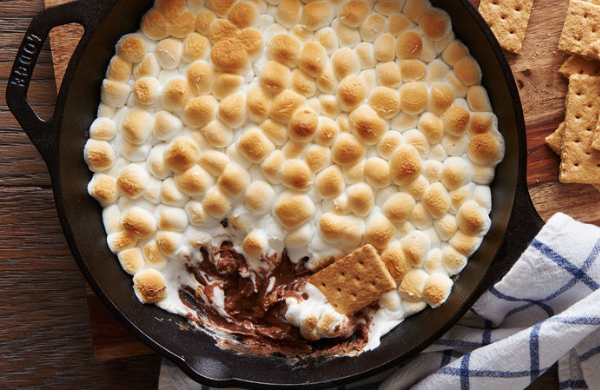 Peanut butter cups + s'mores? We need some-more of this one! This recipe is quick to fix and popular at parties, no matter the weather.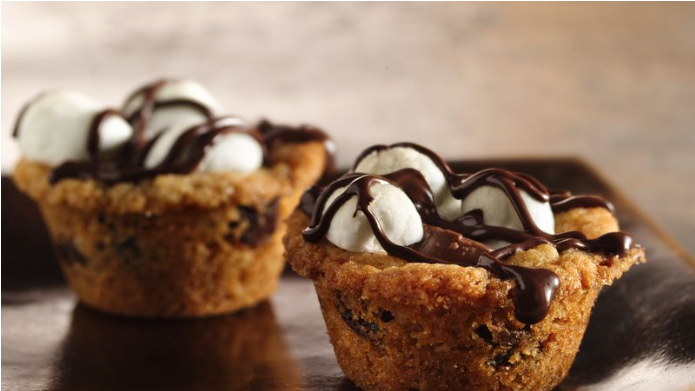 Take dessert or your bake sale to the next level with this popular Betty Crocker recipe!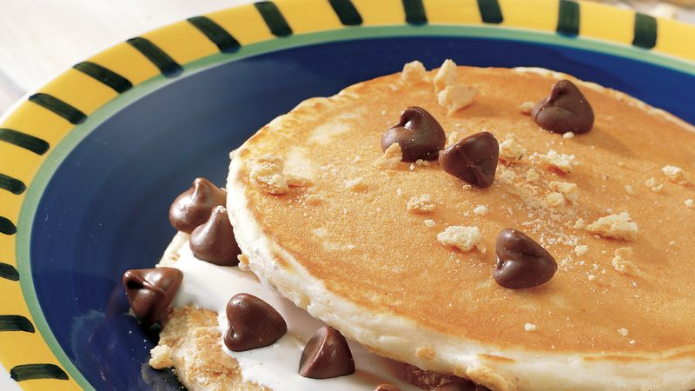 Who knew breakfast could taste so fun.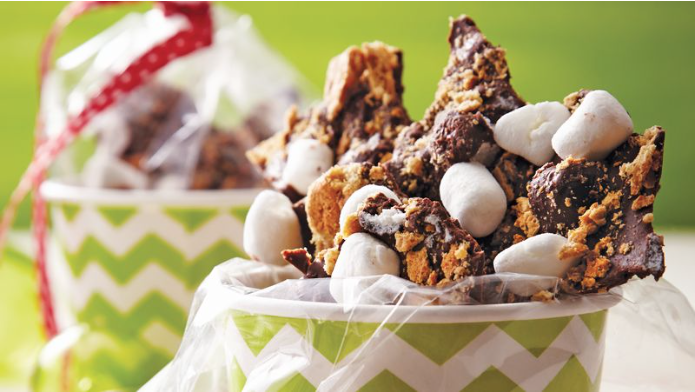 If this bark has bite, it's all delicious crunch. This super-simple recipe has three ingredients and only takes ten minutes to prep!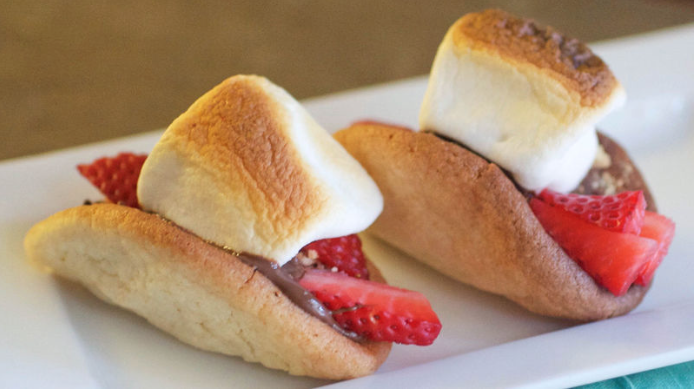 The pinnacle of s'more evolution—a sweet s'more taco.
Friday June 30, 2017
Popcorn + Movies = Summer Movie Nights
Need to unwind after a full day of summer fun? A movie night is a classic option that won't break the bank and requires only a few crucial ingredients: the movie, the people, and—of course—the popcorn. We've pulled together a few ideas and recipes to make your evening really pop!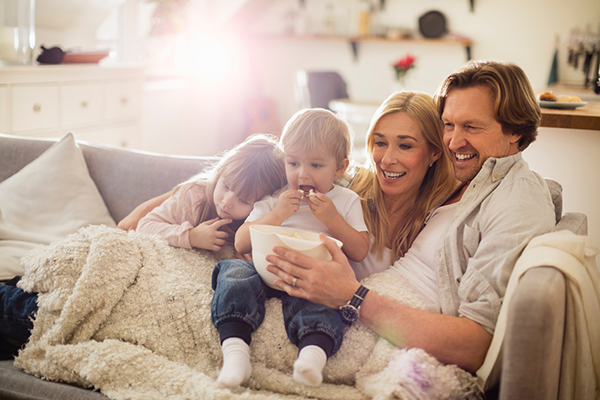 Some might say you can't do better than regular popcorn, but have you considered what happens when you put TWO great things together? Case in point: Nacho Popcorn. It's the best thing since the donut taco, and it only takes fifteen minutes to prepare. To go along with your salty and spicy popcorn, we recommend watching The LEGO Batman Movie or The Fate of the Furious.
The pairing of caramel and popcorn is as time-honored as Belle and the Beast. Furthermore, this sweet and salty happily-ever-after only gets better when it's prepared in the oven. Most people agree that oven cooking creates a better texture and taste, plus the clean up is easy if you line your pan in foil. Allow yourself to have a little fun with this recipe and enjoy our recommended tale as old as time, Beauty and the Beast.
The wonderful thing about movies is that they can give you a glimpse of the world without ever leaving your couch potato position. Consider complementing your adventure with a spice that has its own exotic history—cinnamon. In other words, this snack bursts with flavor, and at only 150 calories per serving! Check out the recipe above while you're movie surfing. We suggest Smurfs: The Lost Village and Kong: Skull Island.
Find a store near you to get started on creating your own popcorn recipes!
Monday August 8, 2016
Cooking with Kate: The Last Hoorah of Summer
It's August…otherwise known as the month that Texans wonder why they live in Texas! But besides the scorching temperatures and seatbelt buckle branding irons, August also means that school is just around the corner. Before school lunches, schedules, and report cards take over every thought – enjoy one last pool party or backyard barbeque with friends and one of these great recipes featuring some of our favorite summer fruits, available at your local Brookshire Brothers!
Amaretto Peach Parfaits
from Catering with Kate
4-6 cups sliced peaches
1 cup sugar
1 cup water
½ cup good quality amaretto liqueur
8 ozs mascarpone cheese
½ cup white sugar
2 tablespoons vanilla extract
3 cups heavy whipping cream
1-2 packages Amaretti or almond shortbread cookies
½ cup sliced or slivered almonds, toasted
In a small saucepan, bring water and sugar just to a boil, stirring occasionally, until the sugar is completely dissolved. Let cool completely. Add amaretto and mix well. In a large container with a lid, mix sliced peaches with the amaretto syrup. Refrigerate for at least 24 hours. In an electric mixer, beat mascarpone cheese, sugar, and vanilla until smooth and creamy. Set aside. With an electric mixer and the whip attachment, whip heavy cream until soft peaks form. Fold ¼ of the soft whipped cream gently into the cheese mixture until well blended. Continue whipping the remaining cream until stiff peaks form. Fold whipped cream into the cheese mixture, cover well, and refrigerate until ready to assemble. Crumble ½ of the cookies and leave ½ whole.
To assemble: In parfait or dessert glasses – add 3-4 sliced peaches with a small drizzle of the amaretto syrup, a small spoonful of mascarpone cream, 2-3 whole cookies and a small handful of cookie crumbs. Repeat layers 2 times (depending on the size of your glasses). Add another scoop of cream on top, another whole cookie, and a sprinkle of toasted almonds. Chill for up to 1 hour before serving.
NOTE: Amaretti cookies will get soft very quickly. If you prefer a bit of crunch in your dessert – wait until just before serving to add the top cookies and almonds.
Peach Blueberry Upside-Down Cake
Original Recipe from www.howtocakeit.com
For the batter:
1 cup butter, softened
2 cups sugar
1 teaspoon vanilla
4 eggs
1 cup milk
2 ½ cups all purpose flour
2 ½ teaspoons baking powder
½ teaspoon salt
For the cake:
6 peaches, pitted and sliced into 8 wedges each
¼ cup butter
¼ cup brown sugar
1 cup fresh blueberries
¼ cup sugar
1 teaspoon cinnamon
¼ teaspoon nutmeg
Whipped Cream, for serving
Preheat the oven to 350°F. Grease a 10" round cake pan with butter. Line with parchment paper on the bottom and sides and grease the paper with butter. For the batter: Using an electric mixer, cream butter and sugar until pale and fluffy. Add vanilla and eggs, and cream until well mixed. In a separate bowl, mix flour, baking powder, and salt. To the mixer, on low speed, add 1/3 of the flour mixture, then ½ of the milk. Continue alternately adding the dry ingredients and milk, ending with flour. Set the batter aside. In a medium skillet, melt 2 tablespoons of butter over medium heat. Add ½ the peach slices, sliced side down and not overlapping. Sauté for 1 minute and then flip to the other side. Sprinkle the slices with 2 tablespoons of brown sugar and sauté for another minute. Remove to a plate and repeat with remaining sliced peaches, butter, and brown sugar. In a small bowl, mix ¼ cup sugar with cinnamon and nutmeg. To assemble the cake for baking: In the bottom of the pan, arrange your peach slices in a single-layer, fanned out from the center, close together, but not overlapping. Sprinkle blueberries on top of peach slices. Carefully spread ½ of the cake batter over the fruit. Sprinkle with the cinnamon sugar, swirling it into the batter, and then spread with the remaining cake batter. Bake the cake at 350°F for 1 hour and 30 minutes or until a toothpick inserted in the center comes out clean. Allow the cake to cool for 15-20 minutes before inverting it onto a cake stand and removing the parchment paper. Serve warm or room temperature with whipped cream!
Wednesday December 23, 2015
Brunch & Mimosas
Brunch is one of life's great pleasures, or at least it can be if done properly. With the right mix of food, drinks, and of course friends, it's possible to make brunch an epic experience. Whether you're looking for a spot in the streets of Houston or prepping for breakfast on a lake-front property – Read on and learn how to brunch like a boss.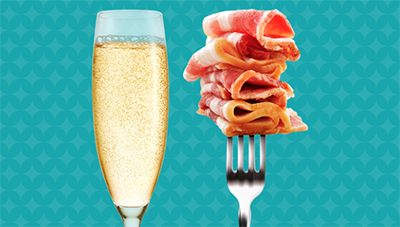 The Mimosa
Since you've found your way to this blog, I hope you know about this classic cocktail. In case you need a refresher, it's easy. A mimosa is simply equal parts champagne and orange juice.
If you have trouble remembering that, then just remember this: Mix Andre and OJ. Easy, right?
Eggs & Frittatas
What's brunch without eggs? Let's not even think about a world without them.
Various egg dishes are a lock to help balance out any acidity from a breakfast cocktail. Frittatas are an egg based dish that helps class up your brunch to the next level.
Want to give it a shot? Just mix your eggs with anything tasty in the fridge, heat in a pan, and serve when there's just a little bit of jiggle left in the 'ttata.
Add some sharp cheese to kick the savory factor up a notch.
Bacon
Talk about balance. You really can't beat the salty, savory flavors of a good piece of bacon mixed with the protein kick from your eggs.
Fried to a crisp, or cooked just well enough. Bacon is the, without question, the perfect breakfast food. (In my opinion, but really, come on. You know it's true.)
Finish up with a sip of that mimosa and you have entered brunch paradise.
French Toast & Pancakes
This might sound crazy, but adding a little champagne to your French toast or pancake mix injects an extra dose of deliciousness.
Pro tip: whisk in the champagne with the eggs, and then add the dry ingredients.
Presto, your breakfast just got fancy.
Salmon
Looking to take this epic brunch to the next, next, level? Don't write off salmon as a menu option.
Champagne has always made fast friends with seafood, and brunch is no exception.
Try pairing your bubbly with a little smoked salmon on either a bagel or within an omelet, and you'll feel like you're at a five star hotel instead of on your couch's four cushions.