Thursday April 27, 2017
Cinco de Drinko
Throw a Cinco de Mayo fiesta like your amigos have never seen before! This Cinco de Drinko Guide will make you wish it was Cinco de Mayo year-round!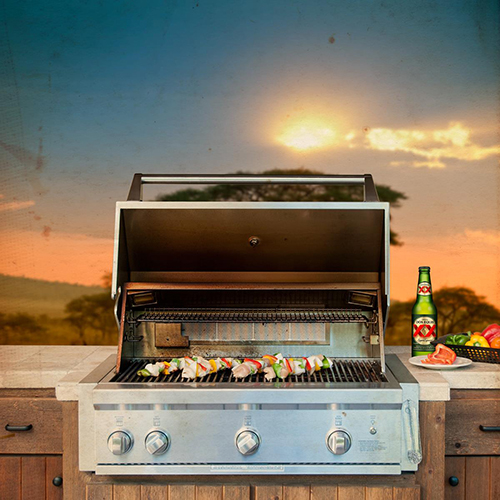 Dos Equis pairs well with any season, but especially grilling season. The refreshing and distinctive taste of Dos Equis Lager brings out the smoke and grilling flavor notes from any chicken or seafood dish, but we recommend this pairing. 
The Chelada
This may be roughly translated as "cold beer," but we think it's more than just that. This authentic cocktail concoction consists of a delicious mix of beer with lime. It is authentic to Mexico and has landed itself as our #1 pick for your Cinco Celebration. Simply mix Dos Equis Lager and the juice from one lime and call yourself bartender for the night. Before you pour, rim your glass with salt and you've just taken your party to the next notch.
Find out more about Dos Equis from our Beverage Depot. Check out What's Hot here!
Dos Equis Coconut Beer Shrimp with Sweet & Tangy Sauce
You'll be able to taste the highlighted sweet notes from cirtus orange marmalade and coconut through the malt, hops and unique strains of yeast found in Dos Equis Lager. 
Ingredients
4 eggs
1 cup Dos Equis
3-1/2 tsp Creole seasoning (divided use)
1-1/4 cup all-purpose flour
2 Tbsp baking powser
48 large raw shrimp, peeled, tails on, de-veined (Find what you need in your local Brookshire Brothers Market department!)
1-1/2 to 2 cups fresh or moist-packed shredded coconut
Oil for deep frying
2 cups orange marmalade (for the Sweet & Tangy Sauce)
1/4 Creole or Dijon Mustard (for the Sweet & Tangy Sauce)
3 Tbsp shredded horseradish (for the Sweet & Tangy Sauce)
Directions
Combine eggs, beer, 1 tsp Creole seasoning, flour and baking powder. Blend well. Season shrimp with remaining seafood seasoning. Dip the shrimp in beer batter and roll in coconut. Fry in oil heated to 350°F. in deep fryer, wok or deep saucepan. The oil should be at least 1-1/2 inches deep. Drop shrimp in a few at a time and fry until golden brown. Remove and drain on paper towel. For the Sweet & Tangy Sauce, blend ingredients and serve.
Cheers to you this Cinco de Mayo!
Monday April 10, 2017
Leftover Eggs No More
Grab our Top 5 recipes (courtesy of Betty Crocker) for leftover hard-boiled Easter eggs and enjoy new favorites from sandwiches to pasta salads!
Ham and Egg Salad Sandwiches
Uses 3 eggs
Get rid of more than just your leftover eggs with this recipe! Use up the uneaten ham, too.  Sprinkle in a little broccoli and chives for a new twist on a classic salad. Get the recipe here.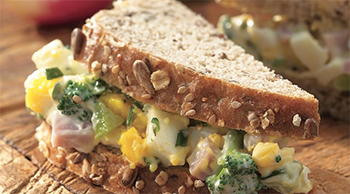 Eggs à la Goldenrod
Uses 4 eggs
This is a classic you won't want to miss! Find the tried and trued 1950's recipe here.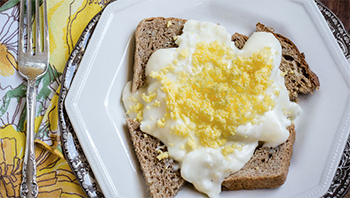 Grilled Honey Mustard Chicken Salad
Uses 3 eggs
Eggs go great in any salad, but what we love more is that this quick and easy salad can be finished in a matter of minutes...all with ingredients you already have in your kitchen! Try the recipe out here.
Blue Cheese Deviled Dogs
Uses 4 eggs
This unexpected, but totally delicious treat will have you wishing for more leftover eggs! Check out the gourmet recipe here.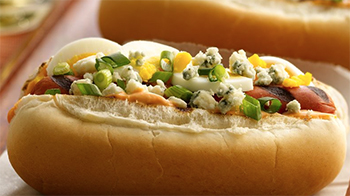 Cobb Salad Wraps
Uses 1 egg
Go for this cobb salad with a twist. Make this fun and easy recipe for your next lunch! Read more on this recipe here.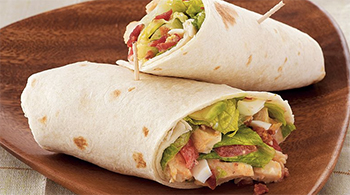 Have fun with these recipes and don't stress about a full refrigerator of leftovers! You'll work through these dishes sooner than you think.
Monday April 3, 2017
Easter Egg-cellent Chocolate Covered Strawberries
Take an untraditional spin on Easter this year! When you hide those decorative and colorfully-dyed Easter eggs, save the cartons and hurry down to your local Brookshire Brothers for fresh strawberries. These chocolate covered strawberries can be the perfect sweet treat to complement your Easter celebration!
Easter Chocolate Covered Strawberries
Ingredients
16 large strawberries
1 1/2 cups milk, dark or white chocolate chips
Candied sprinkles, colored sugars, etc.
Parchment paper
Directions
1. Wash strawberries thoroughly. Dry carefully by patting gently with paper towels.
2. Place chocolate chips into small, microwaveable towl with tall sides.
3. Heat bowl in the microwave on high for 30 seconds. Remove bowl; stir chips with spoon. Return bowl to microwave and continue to microwave on high for an additional 30 seconds. Stir and repeat until chocolate is melted.
4. Dipping on strawberry at a time, submerge into melted chocolate by holding the steam between your fingers.
5. Slowly remove the strawberry from the chocolate (allowing excess chocolate to run off) and place on a piece of parchment paper to dry.
6. Immediately decorate the chocolate-covered strawberry with your favorite sprinkles.
7. Allow the chocolate to cool and harden at room temperature. Serve immediately or store in a tightly covered container in the refrigerator for up to 24 hours.
Monday March 27, 2017
Make Me Some Peanuts & Cracker Jacks
With local youth baseball and softball games starting and the big league's opening day right around the corner, we're having some fun with these baseball-inspired recipes (courtesy of Kraft).
Dill Pickle-Popcorn Mix
Pick a piece of dill pickle popcorn, grab your favorite seat on the couch or on the bleachers and root on your favorite team with a perfectly pleasant popcorn snack! This Dill Pickle-Popcorn Mix is ready to be enjoyed in just 5 minutes.
Ingredients
1 pkg. (3 oz.) microwave popcorn, popped
1 Tbsp. butter, melted
2 Tbsp. chopped fresh dill
1/2 cup Planters Sea Salt & Vinegar Peanuts
Directions
1. Place popcorn in large bowl.
2. Add butter and dill; toss until evenly coated.
3. Add nuts; mix lightly.
Peanut Grillers
Steaks on the grill...sure.
Shrimp on the barbie... ok.
But nuts? Oh, yes! This baseball treat
will have you holding onto your
helmet! Don't miss out on the 
next big thing! 
Ingredients
1 cup Planters Dry Roasted Peanuts
Directions
1. Heat grill to medium heat.
2. Fold 30-inch-long piece of heavy-duty foil crosswise in half; crimp edges to make rim around all sides. Spray with cooking spray.
3. Spread nuts in single layer in foil pan; place on grate of grill.
4. Grill 6 to 8 min. or until nuts are lightly toasted, stirring frequently. Cool 5 min.
Baseball Dessert
Finish off sweet and score one for the home team with our easy pudding-and-cookie dessert. Red licorice makes easy seams on this big-league-worthy ball. This crowd-pleaser will be going, going, gone soon!
Ingredients
1 pkg. (3.9 oz.) Jell-O Chocolate Flavor Instant Pudding
2 cups cold milk
35 Oreo Cookies, divided
1-1/2 cups thawed Cool Whip Whipped Topping
1 piece red string licorice (36 inch)
Directions
1. Beat pudding mix and milk with whisk 2 min. Let stand 5 min. or until thickened.
2. Line 8-inch round pan with plastic wrap. Arrange 14 cookies on bottom of pan, cutting to fit if necessary; cover with 1 cup pudding. Repeat layers. Cover with plastic wrap. Refrigerate 24 hours.
3. Uncover dessert. Invert onto serving plate; remove plastic wrap. Frost dessert with Cool Whip. Cut remaining cookies in half; arrange around edge of dessert. Cut licorice into 2 (8-inch) pieces and 20 (1-inch) pieces. Use licorice to decorate top of dessert to resemble a baseball.
Monday March 20, 2017
Cooking with Kate: March into Spring
Texas might have skipped winter this year, but I could not be more excited for the sunshine and flowers! This is the season for fantastic fresh produce, so take a look at all of the new fruits and vegetables at your local Brookshire Brothers and enjoy these two produce-packed recipes!
Strawberry Pineapple Green Goddess Smoothie
Makes 2 servings
1 cup whole or 2% milk
2 cups fresh spinach
1 banana, peeled and frozen
1 cup fresh pineapple chunks, frozen
1 cup fresh strawberries, stemmed and frozen
½ avocado, peeled and seed removed
In an electric blender, add milk and spinach and pulse until smooth. Add remaining ingredients and blend until smooth and creamy. Serve immediately!
Broccoli Bacon Ranch Pasta Salad
Makes 8-10 servings
2 cups broccoli florets, blanched and chopped into small pieces
1 lb. sliced bacon, cooked, drained, and crumbled
1 cup cherry or grape tomatoes, cut in half
1 (8 ounce) package shredded sharp cheddar cheese
1 cup frozen sweet peas, thawed
8 ounces mini pasta shells, cooked according to package directions, drained and cooled
1 cup of your favorite ranch dressing*
*OR
¾ cup mayonnaise
½ cup milk
2 tablespoons dry ranch dressing mix, or more to taste
In a large bowl, combined chopped blanched broccoli, chopped cooked bacon, whole cherry tomatoes, shredded sharp cheddar cheese, cooked sweet peas, and cooked pasta shells. If making the dressing from the mix – In a small bowl, combine mayo and milk and add dry ranch dressing mix. Blend well and taste to see if more mix is needed. Add half the salad dressing to the pasta salad and toss. Add additional dressing if pasta salad is too dry. Chill until ready to serve.
---
Click here to see other recipes from Brookshire Brothers Catering Coordinator, Kate Rudasill.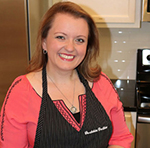 Kate Rudasill, Catering Coordinator for Brookshire Brothers, has been in the food-service industry for the past 14 years. As a graduate of Texas A&M University, a student of The Texas Culinary Academy, and a Nacogdoches, Texas native, Kate grew up with Southern tradition in her blood which caused her to have a deep love for bringing people together with food.
Monday March 13, 2017
A Madness-Inspired March
Grab your friends and turn on your favorite game – we've got a starting lineup that you're sure to enjoy!
When you think of March, you may think of spring, St. Patrick's Day, and spring break. But we know the sports-lovers around the world think of the buzzer-beaters, overtimes, and dramatic upsets. Whether you're keeping track of your bracket or enjoying the company of your family and friends, we're happy to bring you the best recipes, game plans and activities that will make your house the place to be this March! 
Warm-up
When sending invitations or calling your best friends to join your watching party, encourage them to wear a color of their team or a team shirt/jersey. Once everyone arrives, make sure you snap a picture of your guests. You can even hashtag #BrookshireBrothers or tag us on Facebook @BrookshireBros to share your party with us!
Decorations
Plan according to the game you're watching. Have fun theming your living room or man cave with streamers, pennants and sports posters. And don't fear color when it comes to party accessories – go for the coordinating plates, cups and napkins!
Activities
Everyone loves a little fun! When your guests arrive, ask them on whom they're rooting for and have an ongoing tally of who's going to win. You could make it even more interesting if there was a prize for the guests who pick the winning team! 
Recipes
Start off savory and serve a game-day favorite, pizza! Try out this recipe, courtesy of Betty Crocker – Moroccan Madness Pizza. Then top it off with a sweet treat! We love these Malted Madness Cookies from Betty Crocker.
Looking for more advice? Visit with one of our Employee Partners in-store! Find a store near you.
Monday February 13, 2017
Cooking with Kate: An Adventure in Food and Wine
Brookshire Brothers and the Lufkin Convention and Visitors Bureau is on its third round of
Pour & Explore: A Trip Around the World of Wine.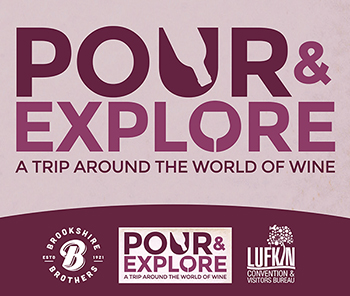 So far we've visited several wine-producing vineyards including Washington, Oregon, and coming up soon, California. This partnership with the Lufkin CVB is long-standing and has several events under its belt. After recent Pour & Explore Events, several requests have been made for recipes that were served by Brookshire Brothers Catering. As we continue our trail down the West coast, we don't want to ruin the surprise of California's recipes, but we want to share a past recipe from November's Pour & Explore: Destination Oregon. These cheese puffs were a favorite that night and will be a hit when you serve alongside soup or as a snack for your guests!
Gougères - French Cheese Puffs
Makes 24 medium cheese puffs
1 cup (8 ounces) water
1 stick unsalted butter, cut into several pieces
½ teaspoon salt
½ teaspoon dry mustard powder
1 cup (5 ounces) all-purpose flour
4 large eggs, lightly beaten
1 ½ cups (6 ounces) grated cheese, like gruyère or sharp cheddar
Combine the water, butter, salt, and dry mustard in a medium saucepan and bring to a rolling boil. Once all the butter has melted, remove the pan from heat and add the flour all at once. Stir vigorously until the mixture comes together and resembles mashed potatoes. Return the pan to medium-low heat and stir for 3-5 minutes to dry out the dough. The dough is ready when it glistens and is thick enough to hold a spoon upright. (Some starch buildup on the bottom of the pan is normal.) Transfer the dough to the bowl of a stand mixer fitted with a paddle attachment. Beat the dough on a medium-low speed for one minute until it stops steaming and is just warm to the touch. Continue beating and add the egg in four additions. Wait for each addition to be absorbed and for the dough to smooth out before adding the next. Scrape down the sides of the bowl if needed between additions. In the end, the dough should come together in a very smooth, creamy batter. Stir in the shredded cheese.
Heat the oven to 450°F. Scoop rounded tablespoons of dough onto sheet pans lined with silicone mats or parchment paper. Space them at least an inch apart. Bake the gougères for 5 minutes and then turn the heat down to 350°F. Bake for another 20-25 minutes, rotating the pans once during baking. The finished gougères will be puffed, deep golden-brown, and dry to the touch (the cheese may still be bubbling a bit). They will also feel light and hollow when picked up. Transfer the sheet pan to a cooling rack. Serve warm or room temperature. Leftovers can be stored in the refrigerator and re-crisped in a warm oven before serving or frozen for up to three months.
Additional Notes:
• Freeze for Later: To have gougères on hand for later, try freezing them shaped but un-baked. Scoop and then freeze them directly on the baking sheet. Once frozen, you can transfer them to a freezer storage container. Bake them directly from the freezer while still frozen; just add a couple of extra minutes in the oven.
• Bigger or Smaller Gougères: Make the gougères any size that appeals to you. Teaspoon scoops are a fun party snack or soup topper while double-sized gougères are nice for making sandwiches or as part of a brunch spread.
---
Pour & Explore: Destination California will be held at the Pitser Garrison Convention Center on Thursday, February 23rd, at 6:30p.m. As we "tour" the California wine regions, the renowned winemakers will be on hand to walk you through the wines they've selected to accompany each of the five courses. This specially designed menu includes ingredients native to California, like wild mushrooms and hazelnuts, and the fusion cuisine that has made California a destination culinary hot spot. Seating is limited, and tickets are available through the Lufkin CVB, (936) 633-0359, for $65 a person or $550 for a reserved table of eight.
---
Click here to see other recipes from Brookshire Brothers Catering Coordinator, Kate Rudasill.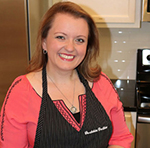 Kate Rudasill, Catering Coordinator for Brookshire Brothers, has been in the food-service industry for the past 14 years. As a graduate of Texas A&M University, a student of The Texas Culinary Academy, and a Nacogdoches, Texas native, Kate grew up with Southern tradition in her blood which caused her to have a deep love for bringing people together with food.
Monday August 8, 2016
Cooking with Kate: The Last Hoorah of Summer
It's August…otherwise known as the month that Texans wonder why they live in Texas! But besides the scorching temperatures and seatbelt buckle branding irons, August also means that school is just around the corner. Before school lunches, schedules, and report cards take over every thought – enjoy one last pool party or backyard barbeque with friends and one of these great recipes featuring some of our favorite summer fruits, available at your local Brookshire Brothers!
Amaretto Peach Parfaits
from Catering with Kate
4-6 cups sliced peaches
1 cup sugar
1 cup water
½ cup good quality amaretto liqueur
8 ozs mascarpone cheese
½ cup white sugar
2 tablespoons vanilla extract
3 cups heavy whipping cream
1-2 packages Amaretti or almond shortbread cookies
½ cup sliced or slivered almonds, toasted
In a small saucepan, bring water and sugar just to a boil, stirring occasionally, until the sugar is completely dissolved. Let cool completely. Add amaretto and mix well. In a large container with a lid, mix sliced peaches with the amaretto syrup. Refrigerate for at least 24 hours. In an electric mixer, beat mascarpone cheese, sugar, and vanilla until smooth and creamy. Set aside. With an electric mixer and the whip attachment, whip heavy cream until soft peaks form. Fold ¼ of the soft whipped cream gently into the cheese mixture until well blended. Continue whipping the remaining cream until stiff peaks form. Fold whipped cream into the cheese mixture, cover well, and refrigerate until ready to assemble. Crumble ½ of the cookies and leave ½ whole.
To assemble: In parfait or dessert glasses – add 3-4 sliced peaches with a small drizzle of the amaretto syrup, a small spoonful of mascarpone cream, 2-3 whole cookies and a small handful of cookie crumbs. Repeat layers 2 times (depending on the size of your glasses). Add another scoop of cream on top, another whole cookie, and a sprinkle of toasted almonds. Chill for up to 1 hour before serving.
NOTE: Amaretti cookies will get soft very quickly. If you prefer a bit of crunch in your dessert – wait until just before serving to add the top cookies and almonds.
Peach Blueberry Upside-Down Cake
Original Recipe from www.howtocakeit.com
For the batter:
1 cup butter, softened
2 cups sugar
1 teaspoon vanilla
4 eggs
1 cup milk
2 ½ cups all purpose flour
2 ½ teaspoons baking powder
½ teaspoon salt
For the cake:
6 peaches, pitted and sliced into 8 wedges each
¼ cup butter
¼ cup brown sugar
1 cup fresh blueberries
¼ cup sugar
1 teaspoon cinnamon
¼ teaspoon nutmeg
Whipped Cream, for serving
Preheat the oven to 350°F. Grease a 10" round cake pan with butter. Line with parchment paper on the bottom and sides and grease the paper with butter. For the batter: Using an electric mixer, cream butter and sugar until pale and fluffy. Add vanilla and eggs, and cream until well mixed. In a separate bowl, mix flour, baking powder, and salt. To the mixer, on low speed, add 1/3 of the flour mixture, then ½ of the milk. Continue alternately adding the dry ingredients and milk, ending with flour. Set the batter aside. In a medium skillet, melt 2 tablespoons of butter over medium heat. Add ½ the peach slices, sliced side down and not overlapping. Sauté for 1 minute and then flip to the other side. Sprinkle the slices with 2 tablespoons of brown sugar and sauté for another minute. Remove to a plate and repeat with remaining sliced peaches, butter, and brown sugar. In a small bowl, mix ¼ cup sugar with cinnamon and nutmeg. To assemble the cake for baking: In the bottom of the pan, arrange your peach slices in a single-layer, fanned out from the center, close together, but not overlapping. Sprinkle blueberries on top of peach slices. Carefully spread ½ of the cake batter over the fruit. Sprinkle with the cinnamon sugar, swirling it into the batter, and then spread with the remaining cake batter. Bake the cake at 350°F for 1 hour and 30 minutes or until a toothpick inserted in the center comes out clean. Allow the cake to cool for 15-20 minutes before inverting it onto a cake stand and removing the parchment paper. Serve warm or room temperature with whipped cream!
Tuesday July 5, 2016
Cooking with Kate: Beat the Heat with Sweet Nectarines!
June flew by this year, and before we noticed it's already July. I always forget how hot it gets during a Texas summer until we hit mid-July and it feels like the whole world is melting! But fortunately, we have two great recipes to help you beat the heat this summer with the July Produce Pick of the Month – nectarines! This fruit is similar to peaches, but slightly sweeter. And with its smooth skin, nectarines are in season throughout the summer. Pick some up today at your local Brookshire Brothers and try out these great recipes.
Strawberry Nectarine Bruschetta
½ cup strawberries, diced
1 nectarine, diced
1 baguette, sliced into ½ inch thick slices and lightly toasted
4 ozs goat cheese (we recommend MontChevré Fresh Goat Cheese – Honey, Lemon, or Blueberry Vanilla flavors)
1 tablespoon balsamic vinegar
5-6 fresh basil leaves, cut into thin ribbons
In a small bowl, mix the strawberries and nectarine pieces. Set aside. Spread the baguette slices with the goat cheese and top with the fruit mixture, pressing the fruit into the cheese to keep it in place. Drizzle with balsamic vinegar and sprinkle with the basil ribbons. Chill for up to 2 hours. Serve at room temperature.
Sweet Nectarine Sangria
1 bottle prosecco, champagne, or sparkling rosé, chilled
4 fresh nectarines, pitted
½ cup brandy or white rum
1, 11 or 12 oz, can peach nectar – Kern's or Jumex
Juice from 1 lemon
In a large bowl, add brandy or rum, peach nectar, lemon juice and cubed nectarines. Toss gently to coat. Cover and chill for at least 4 hours. Add chilled mixture to the bottom of a large pitcher. Top with prosecco or sparkling wine and serve immediately.
Monday May 16, 2016
Snackspiration!
Melon with Prosciutto: Sweet melon and salty prosciutto go together like peanut butter and jelly. Which is to say, you'll probably never want to eat one without the other ever again. 
Grape Sticks: There's something about eating off of a stick that makes everything more delicious—grapes included. If you have extra time on your hands, pop them in the freezer for a super-chill twist.
Melon Rings: Sure you could just eat slices of melon, but what's the fun in that? To make these show-stopping rings, we first cut slices of watermelon, muskmelon and cantaloupe in 1.5-inch slices, then we used circle cookie cutters to make the rings. Last step is to stack them and you're set!
Grilled Peach Salsa: If you thought salsa was just made from tomatoes, think again! Throw some grilled peaches in your next batch for a summertime spin that you can't get enough of.


Pages