Posted on Wednesday, July 14, 2021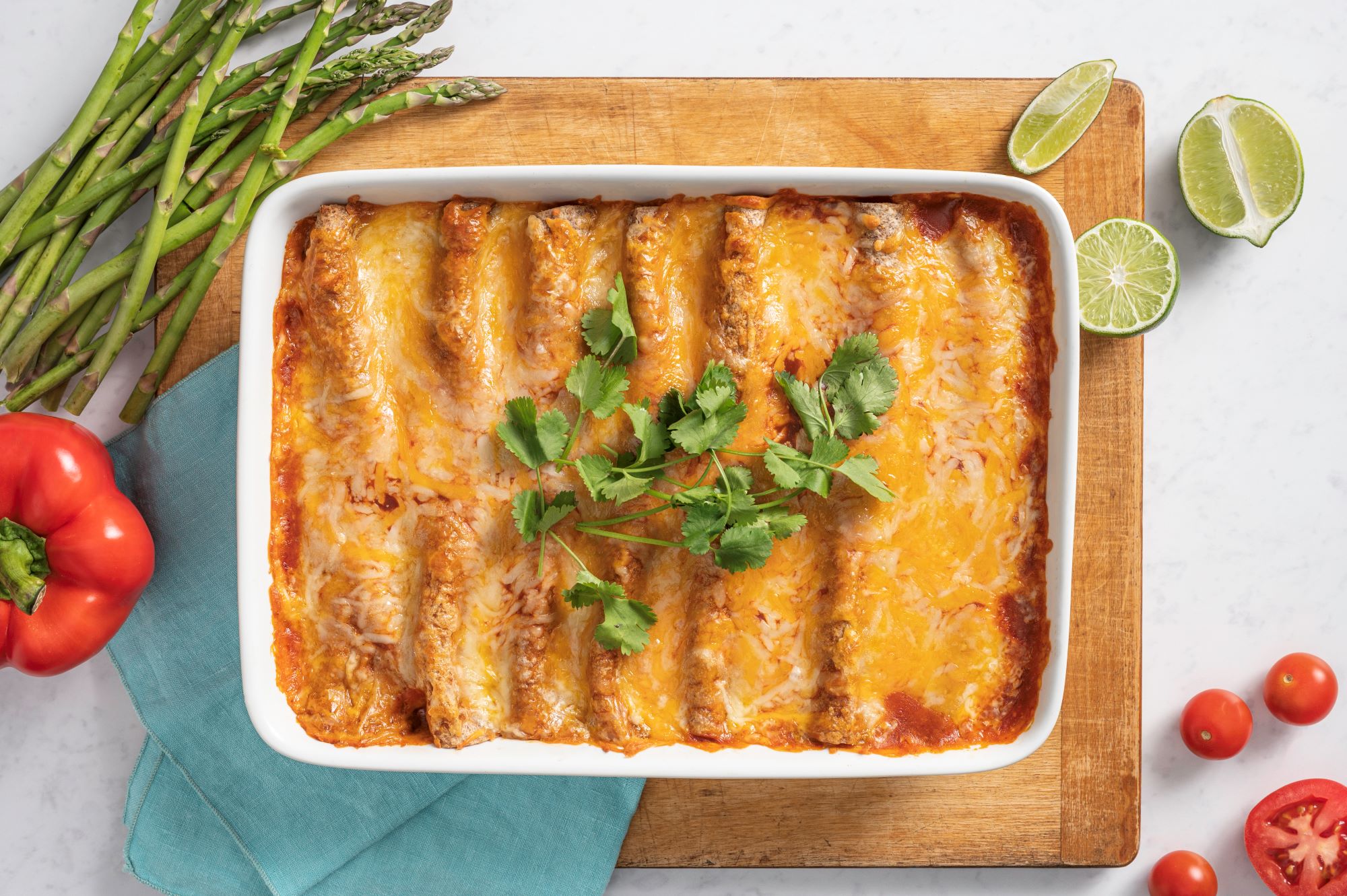 Prep time: 15 minutes
Cook time: 45 minutes
Total time: 1 hour
Serves: 6

Ingredients:

● 1 tablespoon olive oil
● 1 medium onion, diced
● 3 garlic cloves, chopped
● 1 red bell pepper, chopped
● 1 pound fresh asparagus, trimmed and cut into 1-inch pieces
● 2 ears corn, husked, rinsed and kernels removed
● 8 ounces white button mushrooms, cleaned and diced ● 1 teaspoon Full Circle Market Chili Limón Spice Blend
● 1 teaspoon Full Circle Market Umami Spice Blend
● 1 (15-oz.) can black beans, rinsed and drained
● 2 cups shredded Mexican-blend cheese, divided
● 2 cups enchilada sauce, divided
● Kosher salt, to taste
● Ground black pepper, to taste
● 8 (8-inch) whole wheat tortillas

Method:

1. Preheat oven to 400°F. Heat olive oil in a large sauté pan over medium heat. Sauté onions for 4-6 minutes until translucent. Add garlic and continue cooking for 1 minute. Add the bell pepper and asparagus to the sauté pan and cook for 8-10 minutes, until the vegetables are tender. Add the corn, mushrooms and spices, and sauté for an additional 2-3 minutes. Remove from heat and transfer mixture to a large mixing bowl.
2. Add in black beans, 1 cup shredded cheese, and 1/4 cup enchilada sauce. Season with salt and pepper, to taste. Gently mix to combine.
3. Pour 1/2 cup enchilada sauce into the bottom of a 9x13-inch baking dish.
4. Evenly divide the filling mixture between the centers of the tortillas. Roll each tortilla snugly, and place side-by-side, seam-side-down in the baking dish. Pour remaining sauce over the enchiladas and sprinkle with remaining cheese.
5. Cover baking dish tightly with aluminum foil. Bake for 20 minutes, remove foil and continue baking an additional 5-10 minutes until the cheese is melted and lightly golden. Allow to cool 10 minutes before serving.