Monday April 25, 2016
Sweet Tea Float
Rich vanilla ice cream in the refreshing Southern Breeze Sweet Tea. The number of scoops is up to you.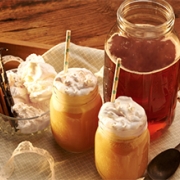 Ingredients (Makes 1 half gallon)
2 Southern Breeze Sweet Tea Bags
4 cups boiling water
1 quart club soda
1-2 scoops per glass Vanilla Ice Cream
Directions
Pour boiling water into a half-gallon pitcher over tea bags. Steep for 10 minutes.
Discard tea bags. Chill in refrigerator.
Mix chilled club soda with tea.
In a glass, add ice cream scoops; top it off with tea blend.