Submitted by
brookshire-blog
on Thursday, April 18, 2019
Skip the steakhouse and savor a sizzling night at home with this simple Peppered T-Bone Steak recipe (courtesy of our vendor partner
AngusPride
) as well as side dish ideas. This menu makes a flavorful, romantic dinner for two, or it can be easily doubled for a quality family meal.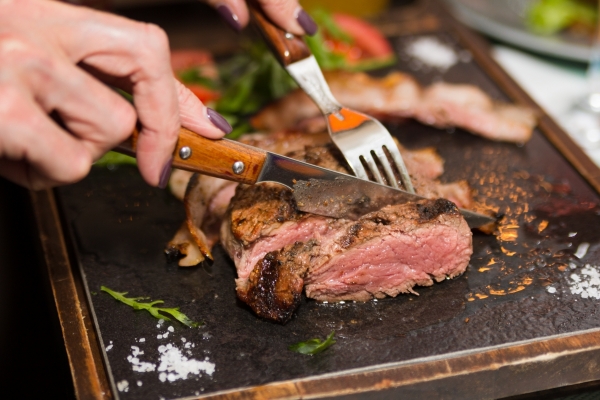 Peppered T-Bone Steak
Ingredients

2 T-bone steaks
2 tablespoons steak sauce
4 1/2 teaspoons fresh thyme, minced
1/4 teaspoon coarse ground black pepper
1/4 teaspoon cayenne pepper
1/2 teaspoon salt
Recommended pairing (optional): Alamos Malbec

Instructions
In a small bowl, combine steak sauce, thyme, pepper and cayenne.
Sprinkle steak on both sides with salt. Spoon about 2 teaspoons steak sauce mixture over one side of each steak.
Place steaks, sauce side down, on grill over medium, ash-covered coals. Grill, covered, over medium heat for 6 minutes.
Brush steaks with remaining sauce and turn over. Continue to grill 4 to 6 minutes or until meat reaches 160*F on a meat thermometer for medium doneness.
Let stand 5 minutes before slicing. Pair with Alamos Malbec and any of the below sides.

Healthy Steak Dinner Side Dish: Roasted Sweet Potatoes
INGREDIENTS
2 medium potatoes
1/2 tablespoon extra virgin olive oil
1/2 tablespoon butter, cut into small pieces
1/2 teaspoon salt
Pepper, to taste
DIRECTIONS
This recipe starts in a cold oven.
Peel potatoes (or scrub well) and trim ends. Cut into ¾ inch thick rounds.
Toss potatoes in a large bowl with olive oil, salt, and pepper to taste until evenly coated. Line an 18- by 13-inch heavy-duty rimmed baking sheet with aluminum foil and coat with nonstick cooking spray (recommended: coconut oil spray). Arrange potatoes in a single layer on two baking sheets, dotting evenly with pieces of butter, and cover tightly with aluminum foil. Adjust oven racks to upper and lower middle positions and place potatoes in cold oven. Turn oven to 425 degrees and cook potatoes 30 minutes.
Remove baking sheets from oven and carefully remove top layer of foil. Return potatoes to oven and cook until bottom edges of potatoes are golden brown (reversing and rotating pans halfway through cooking time), 15 to 25 minutes.
Remove baking sheets from oven and, using a thin metal spatula, flip slices over. Continue to roast until the bottom edges of the potatoes are golden brown, 18 to 22 minutes longer. Remove from oven and let potatoes cool 5 to 10 minutes, then transfer to platter and serve.
Optional toppings: If desired, drizzle lightly with real maple syrup, chopped toasted pecans, or fresh/dried thyme leaves, to taste.

More Side Dish Ideas