Tuesday November 20, 2018
No-Fuss Side Dishes (Plus a Fun Dessert!)
I love Thanksgiving-style sides so much that I cook them year-round. Why not? Everyone needs healthy, delicious, no-fuss side dishes that can please the whole family. As you'll soon see, oven roasting is my absolute favorite way to prepare any vegetable. It can bring out their magical qualities enough to lure even the wariest eaters to the table. Even better, roasting veggies means I can toss them in a hot oven while I'm working on something else. A giant piece of foil on the sheet pan makes clean-up a cinch too.
So, here's the run-down on my family's go-to Thanksgiving sides (plus a special dessert).
Roasted Veggies
Roast your green beans instead of casserolizing them this year ("casserolizing" is my new word contribution to English language—you're welcome). If you prefer another veggie over green beans (Brussels sprouts, asparagus, etc.), this roasting recipe will still do the trick; your choice greens will come out of the oven spotty brown with a few crisp edges. Yum. Top the roasted vegetables with a little chopped bacon (cooked) or a sprinkle of cheese, and you'll be in side dish heaven. 
This is more of a method than an exact recipe, so have fun with it and enjoy!
INGREDIENTS
Brussels sprouts, fresh green beans, or asparagus—trimmed and washed (amount can vary based on needs but it should still be able to fit in a single layer on a large sheet pan)
Extra virgin olive oil
Salt and pepper, to taste
Optional toppings: chopped pecans or walnuts, parmesan cheese, chopped cooked bacon
DIRECTIONS
Preheat oven to 425F degrees. Cover a large sheet pan with heavy-duty foil. 
Take prepped veggies and place them on the sheet pan with a good drizzle of olive oil for a light coating. Add salt and pepper to taste. Add other seasonings and spices as desired.
Place veggies in the oven and roast for about 20-25 minutes. 
Optional (if you'd like them to be even more browned): Before removing from the oven, turn the broiler on high and place on top rack for a minute or two. Watch closely as they turn even more spotty brown and caramelized. 
Top with any other optional toppings and serve immediately. 
Pro Tip: Sometimes it works best to place veggies on very bottom rack for first 10 minutes of cooking time and then move to very top rack of oven for last 10 minutes of cooking to help brown both top and bottom, but this is optional. Check on veggies toward the end of cooking time and look for them to have little brown spots.
Roasted Sweet Potatoes
Any time I get sweet potato duty for Thanksgiving, roasted sweet potatoes are my go-to recipe. The prep is a breeze, and they come out caramelized on the outside while still creamy on the inside. Moreover, they're perfectly delicious left as is, or you can jazz them up even further with a drizzle of maple syrup, fresh herbs, or chopped pecans. You can also easily substitute with butternut squash for another spin on this delicious recipe.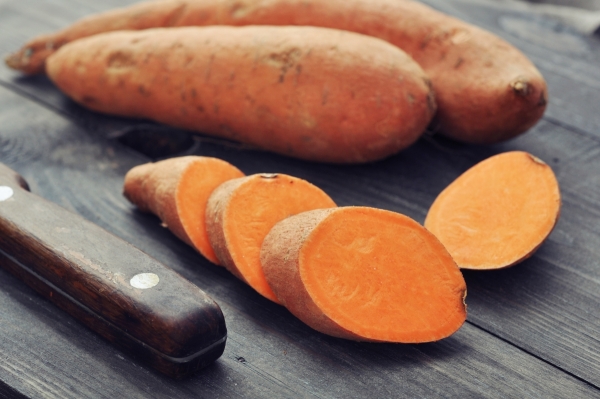 INGREDIENTS
5 pounds of sweet potatoes (about 8 medium potatoes)
2 tablespoons extra virgin olive oil
2 tablespoons butter, cut into small pieces
1 ¾ teaspoon salt
Pepper, to taste
DIRECTIONS
This recipe starts in a cold oven.
Peel potatoes (or scrub well) and trim ends. Cut into ¾ inch thick rounds. 
Toss potatoes in a large bowl with olive oil, salt, and pepper to taste until evenly coated. Line an 18- by 13-inch heavy-duty rimmed baking sheet with aluminum foil and coat with nonstick cooking spray (my favorite is coconut oil spray). Arrange potatoes in a single layer on two baking sheets, dotting evenly with pieces of butter, and cover tightly with aluminum foil. Adjust oven racks to upper and lower middle positions and place potatoes in cold oven. Turn oven to 425 degrees and cook potatoes 30 minutes.
Remove baking sheets from oven and carefully remove top layer of foil. Return potatoes to oven and cook until bottom edges of potatoes are golden brown (reversing and rotating pans halfway through cooking time), 15 to 25 minutes. 
Remove baking sheets from oven and, using a thin metal spatula, flip slices over. Continue to roast until the bottom edges of the potatoes are golden brown, 18 to 22 minutes longer. Remove from oven and let potatoes cool 5 to 10 minutes, then transfer to platter and serve.
Optional toppings: If desired, drizzle lightly with real maple syrup, chopped toasted pecans, or fresh/dried thyme leaves, to taste.
Five Cup Fruit Salad
This super simple fruit salad is a family favorite recipe. Everyone is always fighting for the last serving, and the best part is it's portable, healthy, and oh-so-easy to make. We always double (or triple) the recipe to make it go a little further and help settle any fights over who gets the last spoonful.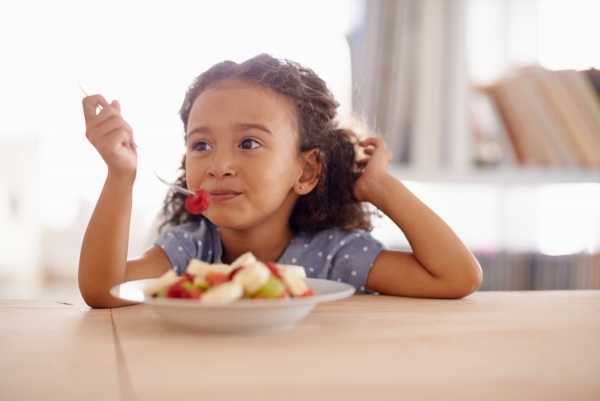 INGREDIENTS
1 cup drained pineapple chunks
1 cup grapes (any variety)
1 cup mandarin orange segments, canned or fresh
1 cup shredded coconut, sweetened or unsweetened
1 cup sour cream (regular or light) 
DIRECTIONS
Mix together all ingredients and serve.
Pecan Pie with Maple Syrup and Brown Sugar
Dessert is always a highly anticipated part of any Thanksgiving celebration. This dietitian isn't going to tell you to skip the dessert table because that's just cruel. Instead, what I recommend is to contribute a delicious dessert made of
real fresh, real delicious
ingredients from
your neighborhood Brookshire Brothers
. Above all, enjoy your dessert fully without any guilt. There's a time and a place for restraint and Thanksgiving ain't it. 
My favorite recipe is a pecan pie that skips corn syrup in favor of brown sugar and maple syrup. The flavors are out of this world.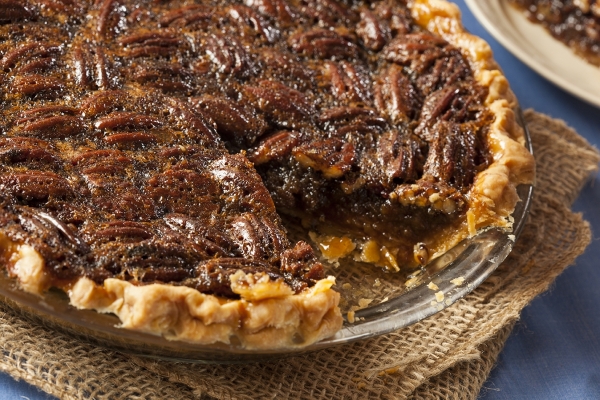 Adapted from America's Test Kitchen "Old-Fashioned Pecan Pie"
INGREDIENTS
1 cup maple syrup
1 cup packed light brown sugar
½ cup heavy cream
1 tablespoon regular molasses
4 tablespoons unsalted butter, cut into ½ inch pieces
½ teaspoon salt
6 large egg yolks, lightly beaten
2 cups toasted and chopped pecans
One 9-inch unbaked pie shell, chilled in the pie plate for 30 minutes
DIRECTIONS
Make Filling: Adjust oven rack to lowest position and heat oven to 450 degrees. Heat sugar, syrup, cream, and molasses in saucepan over medium heat, stirring occasionally until sugar dissolves (about 3 minutes). Remove from heat and let cool 5 minutes. Whisk butter and salt into syrup mixture until combined. Whisk in egg yolks until incorporated.
Bake Pie: Scatter pecans in pie shell. Carefully pour filling over. Place pie in hot oven (on a sheet pan covered with foil in case of spills) and immediately reduce oven temperature to 325 degrees. Bake until filling is set and the center jiggles slightly when pie is gently shaken (45 to 60 minutes). Cool pie on rack for 1 hour, then refrigerate until set (about 3 hours and up to 1 day). Bring to room temperature before serving.
Serve: Serve with homemade whipped cream and go to dessert heaven.
---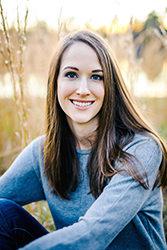 Angela Larson is a registered dietitian (RD) who works with Brookshire Brothers promoting 
real fresh, real delicious
 foods and nutrition education to the community. She is also a clinical dietitian representing Woodland Heights Medical Center in Lufkin where she does outreach education on food and nutrition. Food is her passion, so Angela loves trying new recipes and exploring the more holistic side of nutrition. Angela loves to cook, garden, and spend time outdoors. In addition to the 
Brookshire Brothers blog
, look for Angela's monthly articles in Charm East Texas.