Posted on Tuesday, August 6, 2019
Back to school is upon us and that means fast-paced days and evenings full of after-school activities. Take a little extra stress off your plate with this easy-to-make Slow Cooker Chicken Marsala that will give your dinner an Italian flair while keeping your kitchen cool in the August heat.
Slow Cooker Chicken Marsala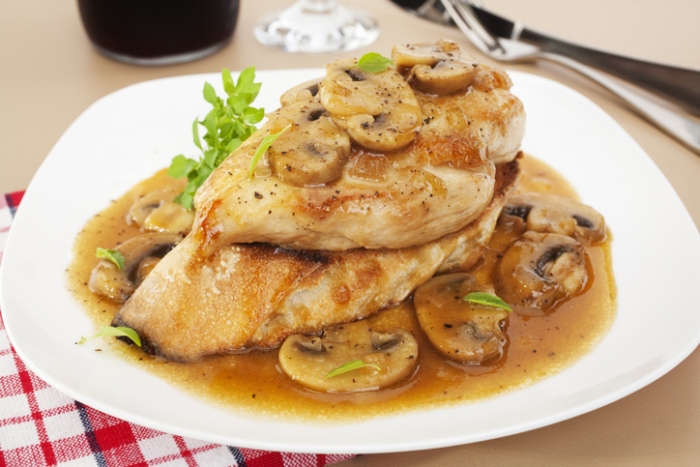 Ingredients
6 boneless skinless chicken breasts
1 tablespoon olive oil
2 teaspoons minced garlic
1/2 cup marsala wine
Salt and pepper to taste
1/2 cup chicken broth
1 1/2 cups sliced mushrooms
1/4 cup heavy cream
2 tablespoons chopped parsley
1/4 cup cornstarch
Optional: Baguette, toasted and sliced.
Directions
Heat the olive oil in a large pan over medium high heat.
Season the chicken breasts on both sides with salt and pepper.
Cook the chicken in the pan for 4-5 minutes on each side or until golden brown.
Place the chicken breasts, garlic, wine, chicken broth and mushrooms in the slow cooker.
Cook on low for 5 hours, or until the chicken is done.
Remove the chicken from the slow cooker.
Whisk together the cornstarch with 1/3 cup cold water.
Pour the cornstarch into the slow cooker and stir to combine.
Add the chicken back to the slow cooker, turn the heat to high and cook for 30 minutes or until sauce has thickened.
Stir in the heavy cream and season the sauce with salt and pepper to taste.
Sprinkle with parsley and serve. Optional: Serve over toasted baguette, sliced (as pictured).