Submitted by
Angela Larson - Dietitian
on Tuesday, June 30, 2020
The 4th of July is such a relaxed holiday, and one of my favorite parts of every holiday is of course, the food. Picnic fare is what the 4th is famous for, and I can't say I'm mad about it. Picnic food should be simple, portable, fun, and most of all, delicious. That's where my broccoli salad comes in. Once upon a time, I whipped this salad up on a whim and my kids gobbled it up in a day. Better yet, this salad is so easy to adjust to fit your style. There's really no way to get this wrong. Best of all, this dish will be the hit of the picnic as it makes the perfect accompaniment to almost anything. And I wouldn't blame you one bit if you sneaked a bowl for breakfast, lunch, or dinner.
Happy Fourth!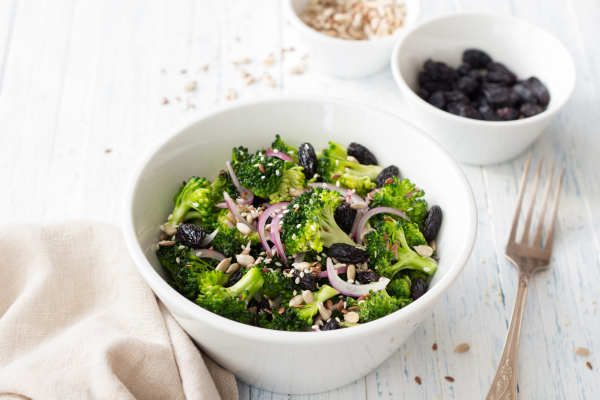 Broccoli Salad
Ingredients
Pickled Shallots
2 shallots, sliced thinly
3 tablespoons red wine vinegar
½ teaspoon salt
½ teaspoon sugar
Dressing
½ cup plain Greek yogurt (I like Fage best)
1/3 cup mayonnaise
1 tablespoon apple cider vinegar
1/2 cup unsweetened applesauce
1 tablespoon honey
1 teaspoon salt
½ teaspoon black pepper
Salad
One 12-ounce bag of pre-washed broccoli florets, chopped into small bite-sized pieces
¾ cup pecans, chopped and toasted
½ cup dried cranberries
½ cup raisins (I like golden raisins)
1 cup purple grapes, sliced in half
6 slices bacon, cooked and chopped roughly
Directions
Stir salt and sugar into red wine vinegar until dissolved.
Add shallots and stir to combine.
Set aside for at least 10 minutes while preparing other salad ingredients.
Whisk together all dressing ingredients in a large bowl until well combined.
If a thinner dressing is desired, add additional applesauce.
Add all salad ingredients to the bowl with the dressing and toss to combine.
Discard pickling liquid and add pickled shallots.
Toss to combine and serve.
*Adapted from Smitten Kitchen's "Broccoli Slaw."
---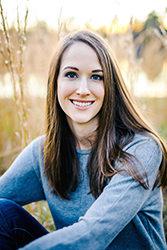 Angela Larson is a registered dietitian nutritionist (RDN) who works with Brookshire Brothers promoting real fresh, real delicious foods. Delicious food is her passion, so she loves trying new recipes and exploring the more holistic side of health and nutrition. When Angela isn't working with Brookshire Brothers, she's a mostly stay-at-home mom who loves to cook, garden, and spend time outdoors with her husband, Austin, and their two daughters.