Monday October 21, 2019
Real Fresh, Real Delicious Crockpot Salmon with Fresh Herb Caper Relish
Need a dinner that's delicious, healthy, and comes together in flash?  Try this simple and flavorful crockpot recipe for braised salmon!  While the fish is cooking, there's plenty of time to throw together some tasty side dishes to round out the meal.  This dish pairs nicely with all kinds of sides, so I chose to make mashed potatoes and roasted mixed vegetables.  The accompanying herb caper relish is a flavor explosion with the perfect blend of sour, salty, and sweet making a harmonious combination that goes wonderfully with the salmon. 
I was inspired to make this meal after spotting some beautiful Alaskan Sockeye Salmon in the seafood case at my neighborhood Brookshire Brothers.  I love that I can have fish custom cut for me in the store to get just the right amount for my family.  Any type of fresh salmon will work in this recipe, as long as the pieces are fairly thick.  Frozen salmon fillets would also work here, but they should be thawed in advance for even cooking. 
And can we just talk for a moment about how amazingly healthy salmon is?  Salmon is a major superstar when it comes to getting omega-3 fatty acids into the diet, which are essential for preventing inflammation and supporting good health.  Wild-caught fish naturally have the highest omega-3 and vitamin D levels, but farmed salmon still have plenty of the same good stuff to go around.  Even better, salmon is always low in mercury, making it a great everyday choice for anyone including pregnant women and children.  The most recently published Dietary Guidelines for Americans recommends that adults eat at least 8 ounces of seafood each week, especially types that are lowest in mercury and highest in omega-3s, like salmon. 
So give this winner-winner salmon dinner a try, with a simple crockpot recipe that's as easy as 1-2-3!
Crockpot Salmon with Fresh Herb Caper Relish
Ingredients for Salmon
1 lemon, sliced ¼ inch thick
2 tablespoons fresh parsley, stems removed and reserved
2 tablespoons fresh dill, stems removed and reserved
¼ cup dry white wine (alternately 1 Tbs white vinegar mixed with 3 Tbs water)
4 (6-ounce) skin-on salmon fillets, 1 to 1 ½ inches thick
Salt and pepper
1 small shallot, minced
2 tablespoons capers, rinsed and minced
1 tablespoon honey
1 tablespoon cider vinegar
1 tablespoon extra-virgin olive oil
Directions for Salmon
Fold sheet of aluminum to fit into bottom of the slow cooker with a 1-2 inch lip all around to keep liquids in.
Arrange lemon slices in bottom of slow cooker and scatter reserved herb stems over lemon. 
Pour wine into slow cooker. 
Add water until liquid is level with the top of the lemon slices. 
Season salmon with salt and pepper and place skin-side down in the slow cooker on top of the lemon slices. 
Cover slow cooker and cook on low setting until salmon is opaque and registers 135F. 
Begin checking for doneness after 1 hour. 
Salmon may take 1-2 hours to cook, depending on size of the pieces and the slow cooker.
After salmon is cooked through, discard cooking liquid and serve immediately with herb caper relish. 
Instructions for Herb Caper Relish
While salmon is cooking, mince parsley and dill leaves. 
Mix together with minced shallot, capers, honey, vinegar, and olive oil. 
Season with salt and pepper to taste. 
Cover and allow relish to sit at room temperature until salmon is finished cooking. 
Serve with cooked salmon.
---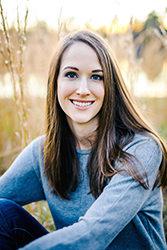 Angela Larson is a registered dietitian nutritionist (RDN) who works with Brookshire Brothers promoting real fresh, real delicious foods.  Delicious food is her passion, so she loves trying new recipes and exploring the more holistic side of health and nutrition.  When Angela isn't working with Brookshire Brothers, she's a mostly stay-at-home mom who loves to cook, garden, and spend time outdoors with her husband, Austin, and their two daughters.