Monday October 21, 2019
Real Fresh, Real Delicious Crockpot Salmon with Fresh Herb Caper Relish
Need a dinner that's delicious, healthy, and comes together in flash?  Try this simple and flavorful crockpot recipe for braised salmon!  While the fish is cooking, there's plenty of time to throw together some tasty side dishes to round out the meal.  This dish pairs nicely with all kinds of sides, so I chose to make mashed potatoes and roasted mixed vegetables.  The accompanying herb caper relish is a flavor explosion with the perfect blend of sour, salty, and sweet making a harmonious combination that goes wonderfully with the salmon. 
I was inspired to make this meal after spotting some beautiful Alaskan Sockeye Salmon in the seafood case at my neighborhood Brookshire Brothers.  I love that I can have fish custom cut for me in the store to get just the right amount for my family.  Any type of fresh salmon will work in this recipe, as long as the pieces are fairly thick.  Frozen salmon fillets would also work here, but they should be thawed in advance for even cooking. 
And can we just talk for a moment about how amazingly healthy salmon is?  Salmon is a major superstar when it comes to getting omega-3 fatty acids into the diet, which are essential for preventing inflammation and supporting good health.  Wild-caught fish naturally have the highest omega-3 and vitamin D levels, but farmed salmon still have plenty of the same good stuff to go around.  Even better, salmon is always low in mercury, making it a great everyday choice for anyone including pregnant women and children.  The most recently published Dietary Guidelines for Americans recommends that adults eat at least 8 ounces of seafood each week, especially types that are lowest in mercury and highest in omega-3s, like salmon. 
So give this winner-winner salmon dinner a try, with a simple crockpot recipe that's as easy as 1-2-3!
Crockpot Salmon with Fresh Herb Caper Relish
Ingredients for Salmon
1 lemon, sliced ¼ inch thick
2 tablespoons fresh parsley, stems removed and reserved
2 tablespoons fresh dill, stems removed and reserved
¼ cup dry white wine (alternately 1 Tbs white vinegar mixed with 3 Tbs water)
4 (6-ounce) skin-on salmon fillets, 1 to 1 ½ inches thick
Salt and pepper
1 small shallot, minced
2 tablespoons capers, rinsed and minced
1 tablespoon honey
1 tablespoon cider vinegar
1 tablespoon extra-virgin olive oil
Directions for Salmon
Fold sheet of aluminum to fit into bottom of the slow cooker with a 1-2 inch lip all around to keep liquids in.
Arrange lemon slices in bottom of slow cooker and scatter reserved herb stems over lemon. 
Pour wine into slow cooker. 
Add water until liquid is level with the top of the lemon slices. 
Season salmon with salt and pepper and place skin-side down in the slow cooker on top of the lemon slices. 
Cover slow cooker and cook on low setting until salmon is opaque and registers 135F. 
Begin checking for doneness after 1 hour. 
Salmon may take 1-2 hours to cook, depending on size of the pieces and the slow cooker.
After salmon is cooked through, discard cooking liquid and serve immediately with herb caper relish. 
Instructions for Herb Caper Relish
While salmon is cooking, mince parsley and dill leaves. 
Mix together with minced shallot, capers, honey, vinegar, and olive oil. 
Season with salt and pepper to taste. 
Cover and allow relish to sit at room temperature until salmon is finished cooking. 
Serve with cooked salmon.
---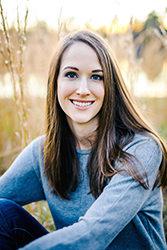 Angela Larson is a registered dietitian nutritionist (RDN) who works with Brookshire Brothers promoting real fresh, real delicious foods.  Delicious food is her passion, so she loves trying new recipes and exploring the more holistic side of health and nutrition.  When Angela isn't working with Brookshire Brothers, she's a mostly stay-at-home mom who loves to cook, garden, and spend time outdoors with her husband, Austin, and their two daughters.
Monday April 24, 2017
Cooking with Kate: Summer Grilling
Summer is almost upon us, and that means time to fire up the grill and keep your kitchen cool!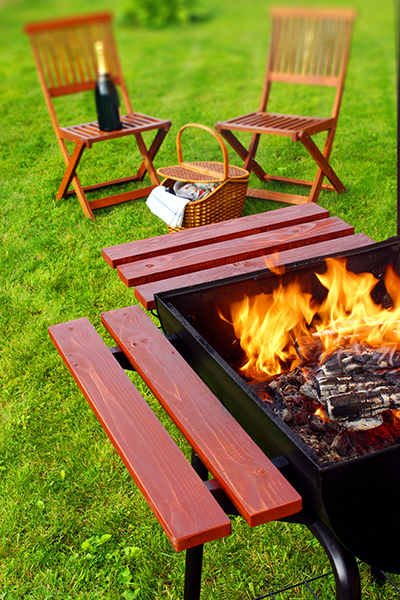 Brookshire Brothers' Market carries a wide array of Angus Pride steaks and Trident Alaskan salmon fillets perfect for a special dinner or a family get-together. A little herb compound butter right at the end of cooking steaks or salmon fillets will add some extra richness and flavor! Our favorite compound butter recipe below includes lemon zest for a burst of freshness in every bite and is also fantastic spread on toasted crusty bread. Look below for some great tips on cooking the perfect steak or piece of salmon. Happy Grilling!
Lemon, Herb, and Garlic Compound Butter
1 lb salted butter, softened
2 lemons, zested and juiced
4 garlic cloves, minced
1 bunch fresh parsley, stems removed and finely chopped
1 teaspoon red pepper flakes
1 teaspoon dried minced onion
½ teaspoon dried thyme leaves
In a medium bowl, add softened butter, lemon zest, lemon juice, minced garlic, chopped parsley, and all seasonings. Beat with a whisk or large spoon until completely mixed. Store in an airtight container in the refrigerator for up to two weeks.
NOTE: For easier slicing – Lay a square of Saran Wrap or cling film flat on the counter. Add softened butter and shape into a log with a 1" to 1 ½" diameter. Roll up in the cling film keeping it in the log shape. Refrigerate until ready to use; or freeze for up to six months.
7 Tips for Grilling the Perfect Steak!
Buy good quality meat! If you are unsure about what cut of meat to use for grilling, ask any of our friendly meat cutters, and they can help you find the perfect steak!
Season the steak with salt and black pepper and let come to room temperature before grilling so it cooks more evenly.
Preheat your grill to high heat before cooking!
Sear steaks over high heat for 1 minute per side before moving steaks to indirect medium heat to finish cooking to desired doneness. Searing locks in the juices and will give you great grill marks.
Use tongs to turn your steaks instead of a grill fork. Puncturing the steak with a fork allows juices to escape causing a dry steak!
In the last 1 minute of cooking, lay a piece of herb butter on each steak and allow to melt.
Remove steaks from grill and cover with a piece of foil. Allow steaks to rest for 5-10 minutes before serving to absorb juices, butter, and seasonings.
7 Tips for Grilling the Perfect Salmon!
Before grilling salmon, rinse the fillets with cool water and pat dry with paper towels.
If your salmon fillets have the skin on, cook the fillets with the skin side up first, leave the skin on while grilling and remove it after cooking. This helps the fillets stay together during cooking.
Preheat your charcoal or gas grill to medium heat before grilling.
Place salmon on well-greased grill racks, in well-greased grill baskets, or well-greased sheets of heavy-duty aluminum foil directly over coals or heat. This ensures that the fish doesn't stick and fall apart during cooking.
Turn the fish only once halfway through cooking to limit the chance it might fall apart.
Test the fish with a fork at the thickest part to check doneness. Salmon will be opaque and flake easily when fully cooked.
Remove from the grill and add a piece of herb butter on top of each fillet right before serving.
---
Click here to see other recipes from Brookshire Brothers Catering Coordinator, Kate Rudasill.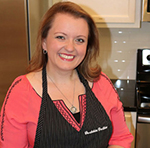 Kate Rudasill, Catering Coordinator for Brookshire Brothers, has been in the food-service industry for the past 14 years. As a graduate of Texas A&M University, a student of The Texas Culinary Academy, and a Nacogdoches, Texas native, Kate grew up with Southern tradition in her blood which caused her to have a deep love for bringing people together with food.