Posted on Wednesday, June 10, 2020
I'm all about blueberries right now. I always get a little antsy waiting for blueberry season, and when it finally arrives I get a little carried away. After filling my fridge with the tiny little blue orbs of delight, I realize that I might need to get a little creative to use them all up. This isn't a bad problem to have though, because most things blueberry-themed are A-OK in my book. A favorite easy go-to recipe is always going to be a smoothie. They are satisfying, easy to make, pretty, and best of all, delicious. What could possibly be more fun than drinking a smoothie? I'm glad you asked. Well, putting it in a bowl and adding toppings turns a plain-Jane smoothie into a full out experience. Perhaps it's my childhood daydream of getting all the toppings I could dream of at the ice cream shop, but I'm always looking for an excuse for toppings for most everything I eat. The toppings make it feel extra special for kids too, and my kids love to get involved in making (or as they call it "decorating") their own bowls when the toppings are laid out buffet style. If you make the optional chia seed pudding to put on top, you'll have an over the top smoothie bowl nirvana-like experience. I dare you to try it – no, really, double-dog dare you.
What are you waiting for? Let's make smoothies!
Happy Blueberry Season!

Blueberry Smoothie Bowls with All the Toppings
Smoothie Ingredients
4 cups blueberries, fresh or frozen, washed and picked over
1 ripe banana, fresh or frozen
1 14-ounce can coconut milk
5-6 large ice cubes
Additional milk or juice, as needed to thin
Toppings
Fresh blueberries (or other types of fruit, as desired)
Nuts and seeds (I love toasted pecans and shelled sunflower seeds)
Plain yogurt
Honey
Chia seed pudding (see recipe below)
Directions
Put all smoothie ingredients into blender and blend for 30-60 seconds until smooth.
Thin, as needed with additional milk or juice to desired consistency.
Place smoothie into a bowl and top with desired toppings.
Chia Seed Pudding
Ingredients
1 can coconut milk
2 Tbs chia seeds
1 tablespoon pure maple syrup or honey
1 teaspoon vanilla extract
A pinch of salt
Directions
Mix all ingredients and allow to thicken for at least two hours or overnight.
Note: Recipe was adapted from "Buddha Smoothie Bowl" as featured in Half-Baked Harvest by Tieghan Gerard.
---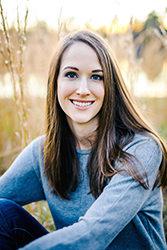 Angela Larson is a registered dietitian nutritionist (RDN) who works with Brookshire Brothers promoting real fresh, real delicious foods. Delicious food is her passion, so she loves trying new recipes and exploring the more holistic side of health and nutrition. When Angela isn't working with Brookshire Brothers, she's a mostly stay-at-home mom who loves to cook, garden, and spend time outdoors with her husband, Austin, and their two daughters.