Tuesday August 25, 2020
Real Fresh, Real Delicious Back-to-School – Favorite Overnight Oats with Coconut Milk and Dried Fruit
Back-to-school time also means it's back to packing for lunchtime.  It's easy to get stuck in a lunch-time rut by putting the same few things on repeat. Still, there are plenty of possibilities for keeping everyone in the family healthy and happy with the help of your neighborhood Brookshire Brothers grocery store.  Check the full list of all my favorite ideas for school lunches
here
. 
Today, I wanted to share one of my all-time favorite recipes for an easy, portable, nourishing, and delicious lunch.  This recipe also makes a fabulous breakfast, but what I especially like about it is how well it travels – it doesn't even need to be warmed up!  This recipe is very nutritious and filling, thanks to coconut milk, rolled oats, and plain yogurt.  And best of all, it's sweetened naturally with mashed bananas and dried fruit! 
It couldn't be any easier to make either.  You simply mash up bananas and then mix the whole thing up and stick it in the fridge overnight.  It's ready to eat the next morning!  No heating, no extra dishes, no making oatmeal glue that has to be scrubbed off pots and pans - just delicious and creamy oatmeal.  And I actually love to eat this oatmeal cold.  Just trust me on this one and try it.  You'll be hooked!  You can heat it if you must, but my favorite way to eat it is cold, straight out of the fridge.  We love this recipe so much at my house that I make a batch several times a week! 
To keep it interesting, I rotate dried fruit selections and top with whatever fresh fruits are available and in season.  I also love to top with pecans, pistachios, sunflower seeds, and freeze-dried berries for a nice crunch. 
Favorite Overnight Oats with Coconut Milk
Ingredients
2 bananas, peeled and smashed well with a fork
1 cup old-fashioned rolled oats
1 can coconut milk (I like regular, not light)
¼ teaspoon salt
¼ cup raisins, or other types of dried fruit as desired
1/3 cup full fat plain yogurt
2 tablespoons unsweetened shredded coconut
2 tablespoons chia seeds
¼ teaspoon cinnamon (optional)
3 tablespoons water
Optional toppings
Pecans, walnuts, pistachios, or sunflower seeds
Muesli
Fresh fruit
Freeze-dried fruit
Drizzle of honey
Directions 
Mash up the bananas in a medium-sized bowl, and then add all other ingredients and mix.
Put in the refrigerator overnight or for at least 2-3 hours.
Serve cold with optional toppings from the refrigerator or warmed up, as desired. 
---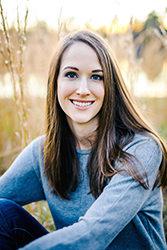 Angela Larson is a registered dietitian nutritionist (RDN) who works with Brookshire Brothers promoting real fresh, real delicious foods.  Delicious food is her passion, so she loves trying new recipes and exploring the more holistic side of health and nutrition.  When Angela isn't working with Brookshire Brothers, she's a mostly stay-at-home mom who loves to cook, garden, and spend time outdoors with her husband, Austin, and their two daughters.