Posted on Friday, May 1, 2015
Cheddar Cheese Beer Dip
featuring Pedernales Brewery's Lobo Texas Lager
8-10 servings:
2 (8 oz) packages Hytop cream cheese, softened
½ cup beer
1 packet ranch dressing mix
2 cups Hytop fancy shredded mild cheddar cheese
Pretzels, crackers, or chips
Place cream cheese, beer, and ranch dressing mix in a bowl. Beat with an electric mixer until smooth and creamy. Add the cheddar cheese and mix on low until blended. If the dip is too thick, add a little more beer and mix well.
Keep refrigerated until ready to serve.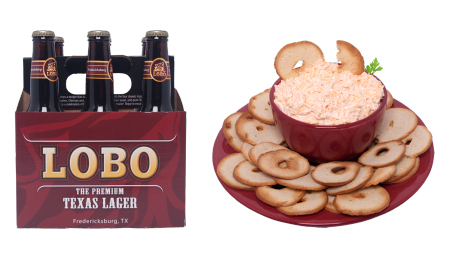 ---
Sweet and Spicy Beer Braised Sausage
featuring Pedernales Brewery's Lobo Negro Black Lager
12 servings:
2 links (14 oz packages) smoked sausage or smoked jalapeño sausage
1 cup brown sugar, divided
12 oz. Lobo Negro Black Lager beer
Preheat the oven to 325F. Slice each link of sausage into ½" pieces. Spray a large baking dish with non-stick spray. Add the sliced sausage and half the brown sugar. Pour the beer over the sausage. Stir the mixture a bit, cover with foil, and bake in preheated oven for 1 ½ - 2 hours. Remove from oven, sprinkle with remaining brown sugar and stir. Reduce oven to 250F and bake sausage another 2 hours, stirring occasionally to baste the sausage in the sauce. Serve warm.